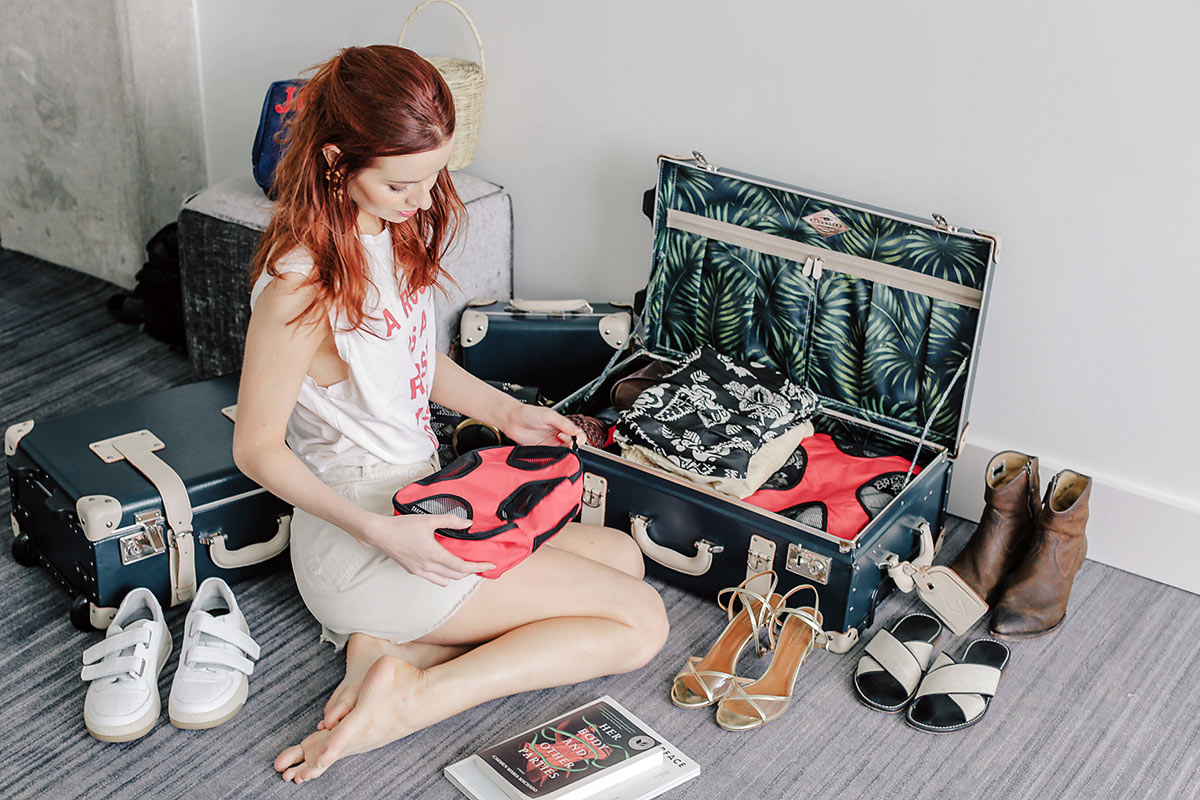 This post has been a long time coming. I travel pretty frequently and learning to pack the right way has made a big difference in the quality of my life when I'm on the road. I've been an over-packer and I've been an under-packer, and I've learned to find a happy in between by focusing on what sparks joy in my wardrobe. A lot of what I speak about here relates to Marie Kondo's books The Life Changing Magic of Tidying Up and Spark Joy. When I read these books, I changed my approach to my wardrobe completely and it has made me a much happier person. It also revolutionized the way I pack and I've been able to travel much less stressfully than I used to. Here are my biggest secrets to packing effectively.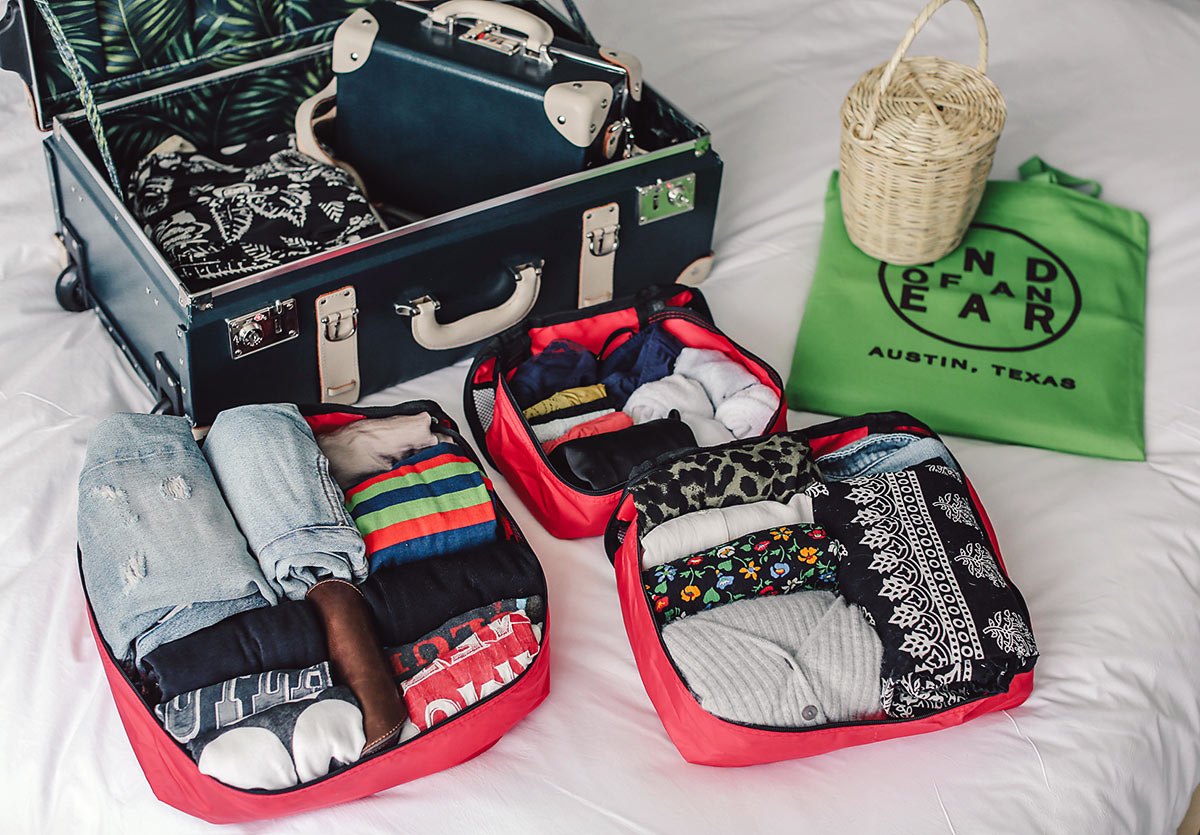 1. Master KonMari folding

The best thing I learned from reading Marie Kondo's books is the revolutionary KonMari folding method, which makes clothes as compact as possible. It also allows you to see all of your clothes clearly when they are stored or packed because they are stood upright rather than having your clothes piled on top of each other. The KonMari folding method is never more helpful than when you're packing a suitcase. I've heard it argued for years that "rolling" is the most effective way to pack your clothes for travel but after trying the KonMari method I would disagree. I am somebody who favors very voluminous clothing and I usually have no problems folding large dresses or full skirts in the KonMari method. I've been practicing for months, and you get better and better at it over time.
There are many, many videos and diagrams that demonstrate how to fold various items of clothing in the KonMari method on YouTube. The basic principle is that you fold your clothing into a rectangle, then in half, then in thirds to make a compact rectangle that can be stood upright. "But what about wrinkles?", I hear you say. When done effectively, the KonMari fold puts enough tension on the clothing to keep the fabric taught and prevent wrinkling. However, some fabrics just aren't terribly forgiving, so if I have packed something that will wrinkle I bring a travel steamer with me.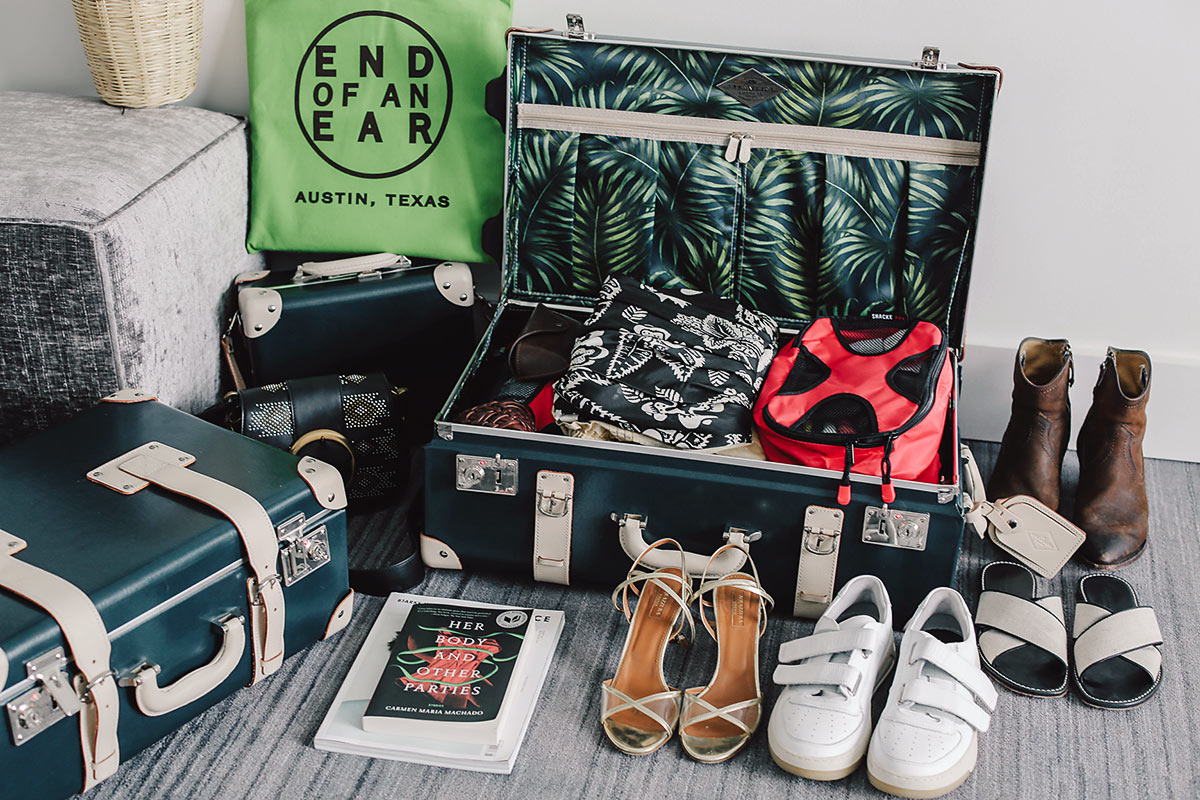 2. Luggage Matters
Have you ever had a suitcase break on you when you're traveling? It's a huge pain, and you'll likely have to replace it with another crappy suitcase at the airport that is also bound to break in a year or two's time. We recently made the move to Steamline luggage after months of admiring them from afar and it's a worthy investment. The suitcases are extra durable and stylish. Just looking at them makes me happy and excited to leave for a trip. I love the tropical lining inside the Anthropologist set and the helpful compartments and protective hanging covers. They come with a nylon ripstop cover to protect the beautiful luggage when you are traveling, which you'll definitely want to do if you have to check it. The carryon size was absolutely perfect for a weekend trip to Austin.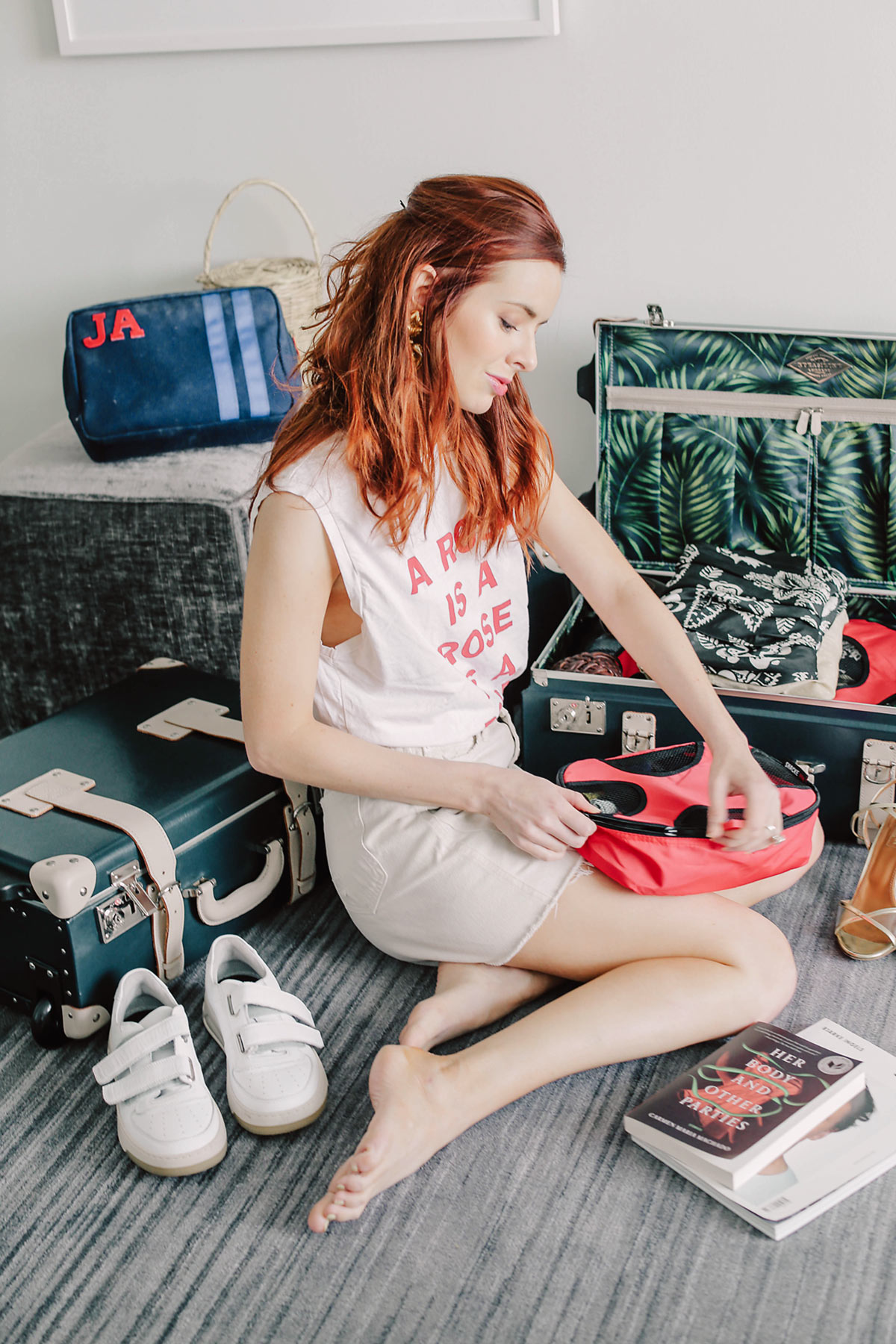 3. Use Packing Cubes
I got this tip from Kim of EatSleepWear when we were on a trip to Rome together a few years ago. She said that packing cubes were total game changers for traveling, so I decided to give them a try and I have never looked back since. Now they are a necessity for me when I pack my suitcase. 
What are the benefits of using packing cubes as opposed to just putting your clothes straight in your suitcase? Being organized when you travel prevents a lot of stress and extra work.  For one, it prevents the pandemonium of having to repack all of your belongings should you need to get into your luggage pre-boarding. But I love it because it means I never really have to unpack when I arrive at my destination. I'll remove larger items like coats and dresses to hang in my hotel closet, and then I'll just tuck my packing cube into a dresser drawer. Because I've neatly folded everything KonMari style, it makes it easy to put my clothing right back after I've worn it. It also means that when I have to pack up to leave, I just have to put my cubes back in my suitcase because everything has been neatly folded and contained all along. 
 I use the brand Shacke Pak and they come in a four pack of varying sizes. For week long tips I usually up all four sizes, but for weekend trips like this one just two packing cubes did the trick for me.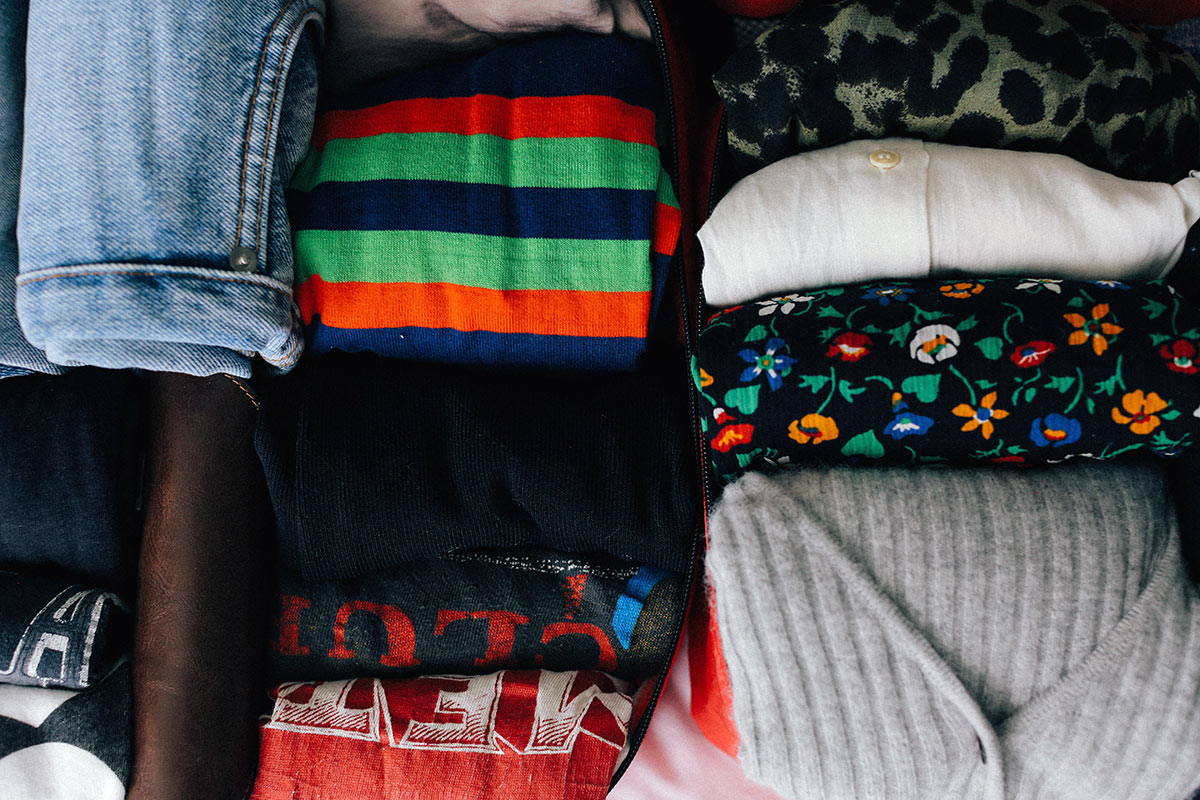 4. Have A Color Scheme
If you are having trouble deciding what clothes to bring, lay out all of the clothes you are thinking about. Which ones "go together"? Pick a few shades you want to focus on and it will help you narrow your packing down while also helping you get the most outfit possibilities out of your travel wardrobe. I love pairing blue denim with crisp white blouses and tan leather shoes when I travel, so I always try to pack a few variations on this theme. Think of what you pack as a "capsule" wardrobe and try to pick an overall theme for your clothes. I did an Instastories series about a capsule travel wardrobe, go to my IG highlights to see it if you need some inspiration. 
5. Bring Clothes You Actually Love and Wear
It is important to be realistic about your style when you are packing. Try to bring the clothes you love to wear the most at home. It is extra important to be comfortable and feel "like yourself" when you are on the road. I feel kind of weird admitting this, but I have always believed that clothes have energies and lives of their own. That is a reason that the Spark Joy book really resonated with me when I read it, it speaks to the power that the objects in our lives hold. Clothes are some of the most deeply personal objects in our lives. If you have an item of clothing that has positive associations for you (good memories, good luck)  this is definitely the time to pack it. I have a few "lucky" old vintage tee shirts that I always bring with me when I travel. It makes me feel a little more secure when I'm in a place I've never been before.
Travelling is definitely not the time to bring a pair of pants that have been hanging in your closet for a year but you've never worn. Bring clothing that you are already comfortable wearing and styling. That being said, if you have a brand new dress or pair of shoes you've been dying to wear, pack them! You'll be making special memories in them if you take them on an exotic trip.
6. Pack luxe jammies
Pajamas are extremely important when you are traveling. Traveling can be stressful, particularly when you are on an important work trip. Make sure you bring nice jammies so when you finally do get to retire to the privacy of your hotel, you can feel pampered and relaxed. I love to bring a two piece set of silk pajamas and a slip with a matching robe when I travel. It really lifts up my mood at the end of the day and helps me feel a little less homesick. If you are going on a romantic getaway, pack some sexy lingerie. There is never going to be a better time to wear it.

7. Pack your toiletries at least a day in advance
I don't know about you, but I always seem to forget something when I travel. It's usually something pretty important, like toothpaste or mascara. I've trained myself to pack my toiletries in a mini travel bag at least a full day or so before I leave for a trip. I then only use cosmetics and toiletries from these bags, so if there is something I have forgotten or would like to add, I'll know by the time I leave for my trip. Nothing sucks like forgetting your deodorant, right? My favorite toiletry bag is my custom monogrammed bag from Corroon. It's super durable, well sized, and it's definitely a "spark joy" organizer in my life.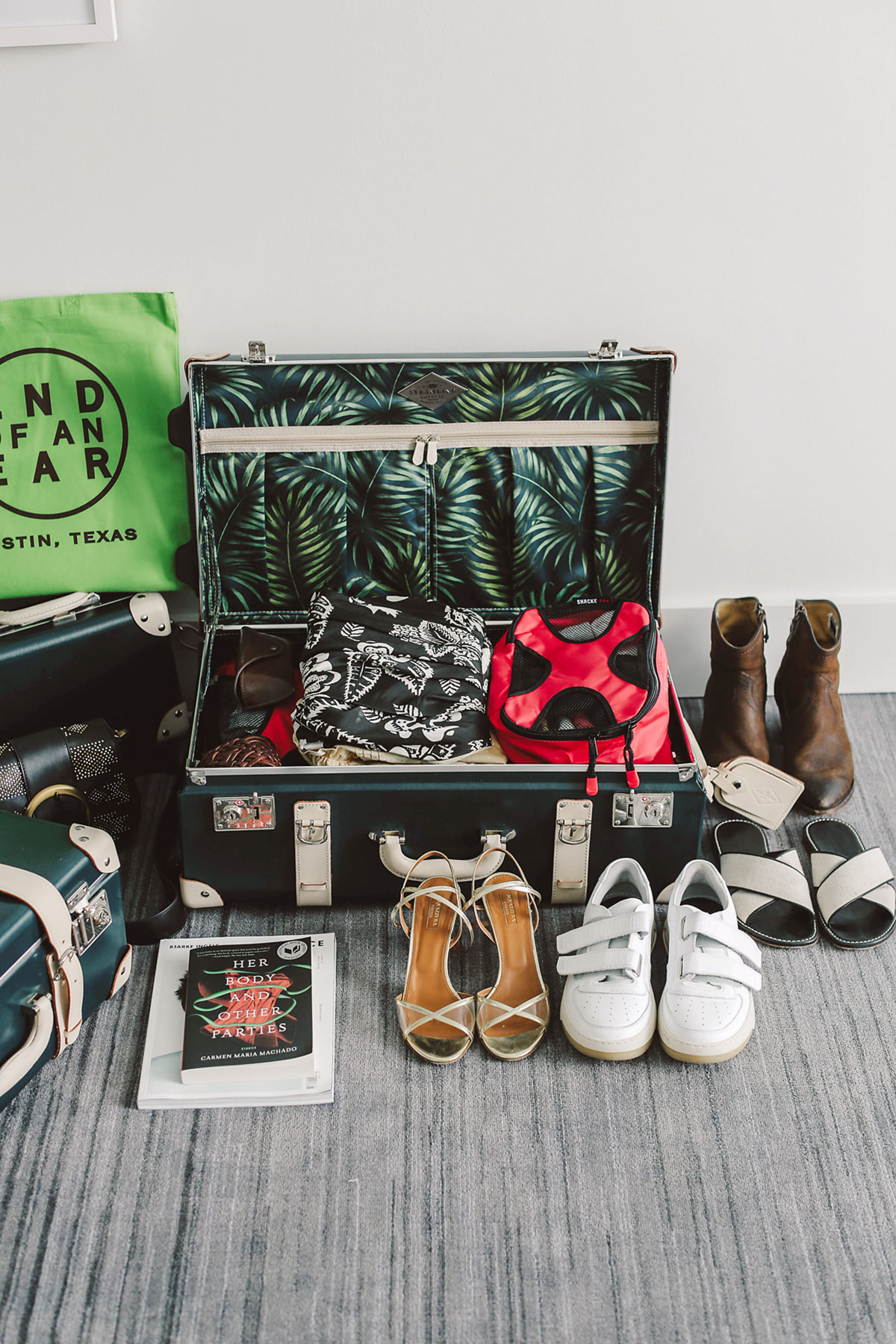 8. Rely on your standby's
There are a few items of clothing that are musts for me when I am traveling. I always like to bring a black ribbed pencil skirt because they fold easily and look great with sneakers for day or dressed up with heels and a blazer for evening. A figure flattering t-shirt dress is comfortable and chic with brown leather sandals. I always bring my Frye Sacha boots when I travel because I don't mind them getting damaged. I've already worn these to hell and back traveling over the last few years and they actually look better for it. Definitely a type of shoe every frequent traveler needs! An a-line skirt is always easy to style with a t-shirt or silk blouse, ballet flats or strappy heels. A striped t-shirt always looks smart and pairs easily with other basics. A leather jacket (I wear this one by Polo Ralph Lauren) looks cool over basically anything so its always a safe bet for your travel wardrobe.

I hope that you guys found this guide helpful. If you have some tips of your own, leave them in the comments below, I'd love to hear from you!