Hurrah! Today the friends and family sale at Net-a-Porter has started, and there are some truly fabulous choices if you're looking to take advantage of the hefty 25% discount. Helpful hint: everything marked "seasonal pick" on the site denotes an item that the discount applies to. I have had way too much coffee today and I used the extra energy to put together a list of thirty of my top shopping picks, along with some thoughts on what's good right now.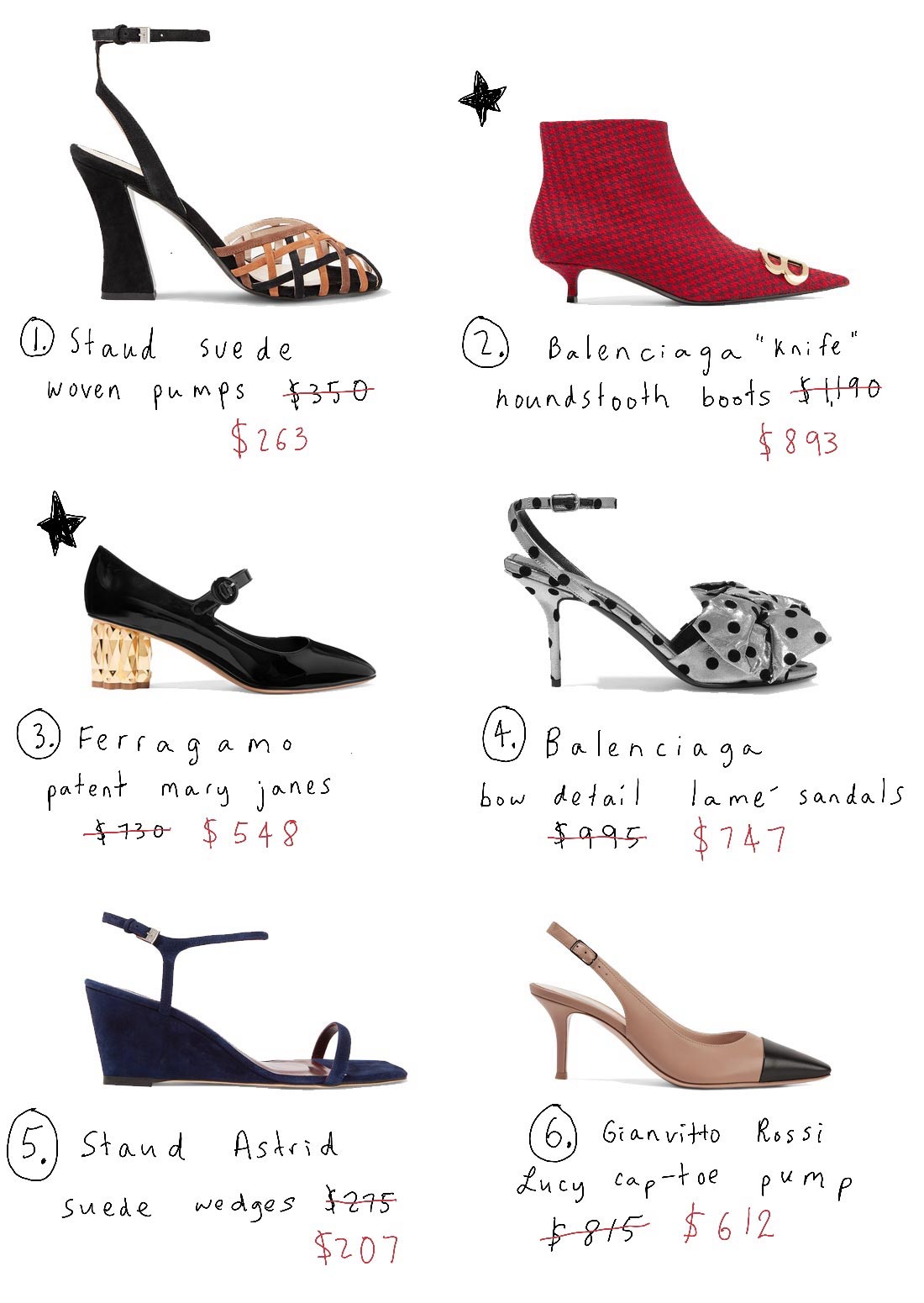 SHOES
2. Balenciaga houndstooth print wool 'Knife' boots
I own a red tweed version of the Knife boot and I have no regrets. You wouldn't think that a red non-leather shoe would be so wearable, but I love to pair mine with black cropped pants and oversized punchy blazers. I would absolutely go for this version, with the lower heel and logo detail. I bet I would wear it even more.
3. Ferragamo patent leather Mary Janes
I have these shoes and they are so comfortable and endlessly wearable. I like mine with oversized babydoll dresses and with cropped denim and sheer blouses.
4. Balenciaga bow-detail lame sandals
My mom just got the hot pink version of these Balenciagas and I was there when she tried them on. They are too much fun! I am seriously coveting the silver version.
6. Gianvitto Rossi 'Lucy' pumps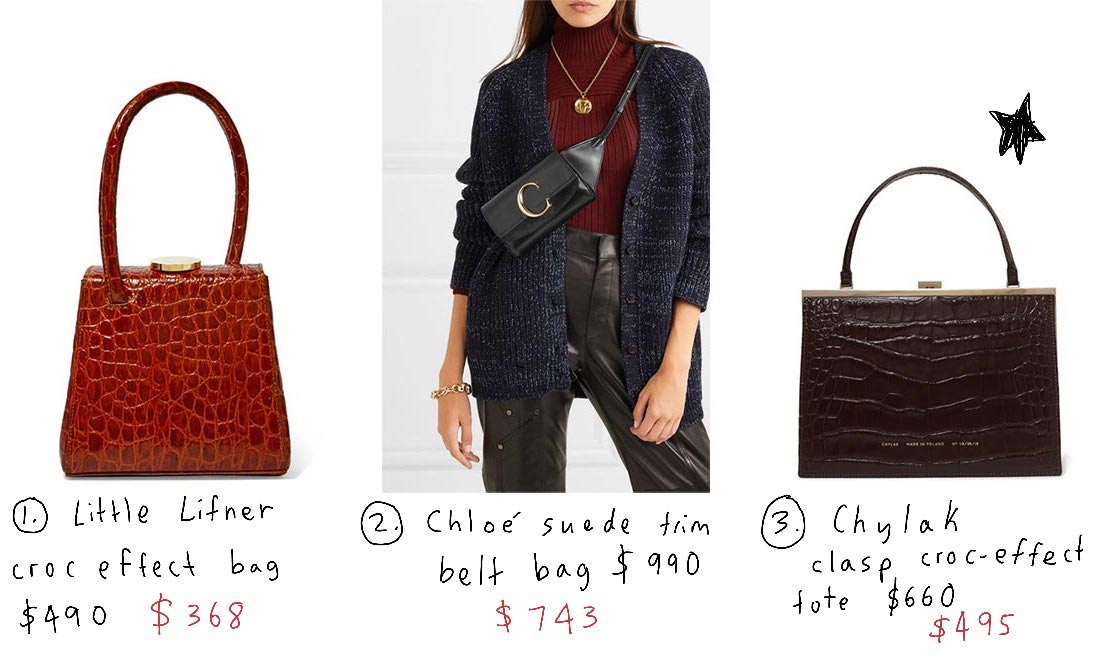 BAGS
1. Little Lifner croc-effect tote
3. Chylak clasp croc-effect tote
This bag is my top pick because it looks so sophisticated and reminds me of Old Celine. You would never guess the price point to look at this bag. It would elevate every outfit to look more polished in a way that most bags couldn't.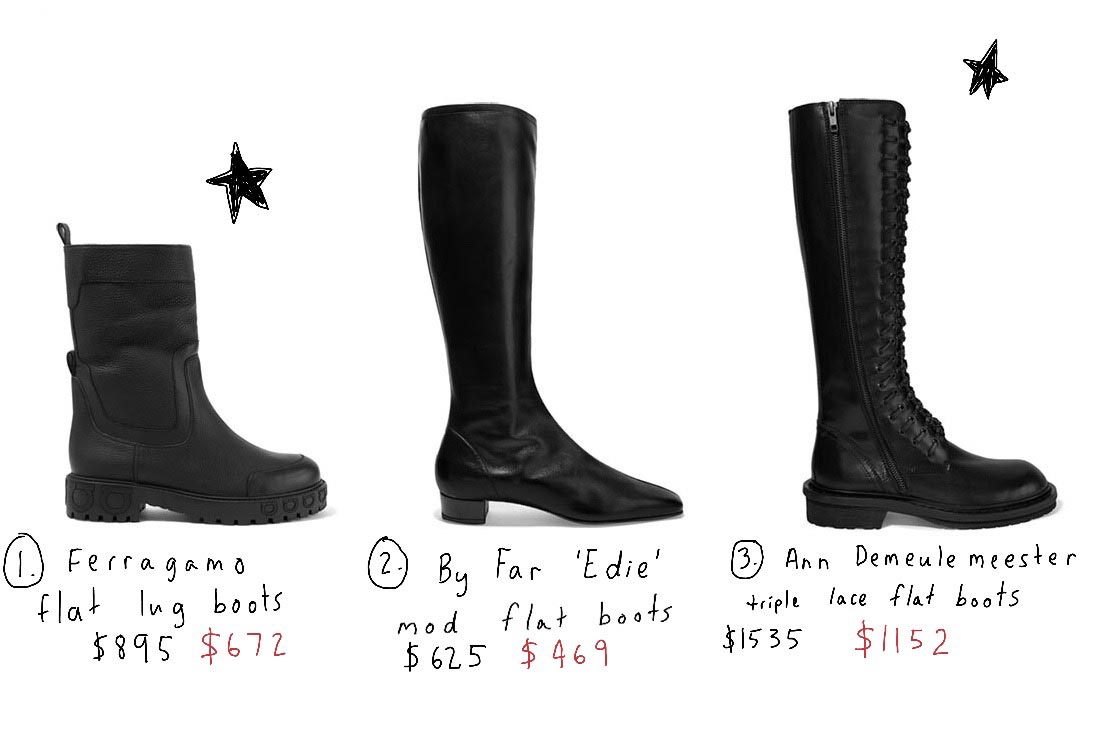 BOOTS
I die for the clumpy silhouette of these boots. They feel like a better version of the popular Bottega Veneta boots being worn by influencers everywhere right now. They also have the feel of the wonderful Celine Pre-Fall 2018 boots, the last collection designed by Phoebe Philo. I coveted those boots so these Ferragamos are high on my wish list.
3. Ann Demeulemeester triple lace flat boots
If you have been following Sea of Shoes for a long time, you may guessed why I have selected these boots. Ann Demeulemeester's famous triple lace boots from 2008 are some of the most coveted shoes in recent memory, and still claim a high price on eBay more than a decade later. This updated version from this season is absolutely beautiful and given the collectibility of the triple lace boots, I think you'd be smart to snag these while they're on sale. But move quickly, because they are selling out!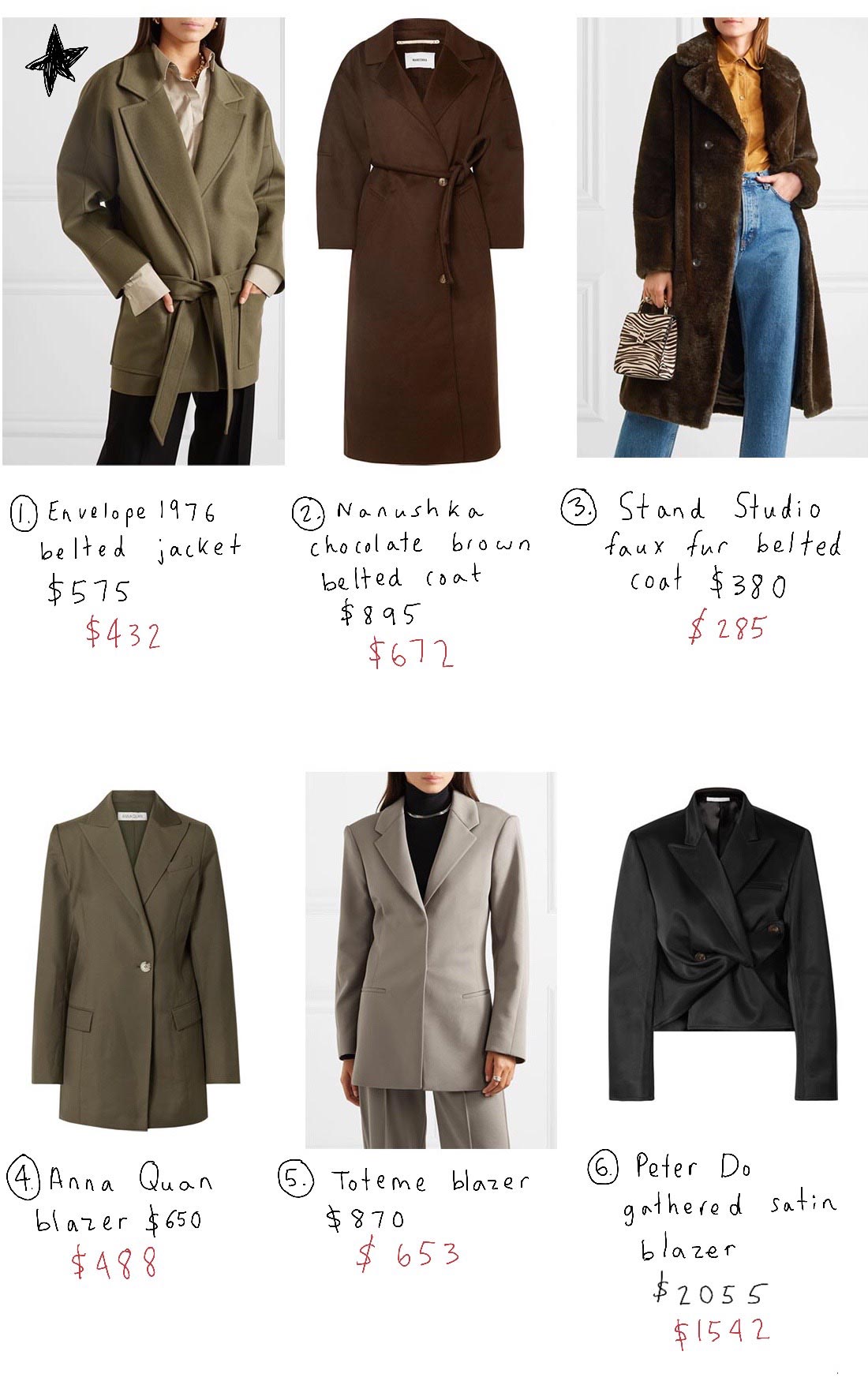 Smart buys for coats and jackets: some timeless choices you will never regret:
$432 is quite the steal for a coat so chic and versatile. This would be a great buy for someone with minimalist style. I love the low slung belt, that makes this coat very unique and striking.
2. Nanuska chocolate brown belted coat
3. Stand Studio faux fur belted coat
What a fabulous price for the perfect Margot Tenenbaum coat.
6. Peter Do gathered satin-blazer $1542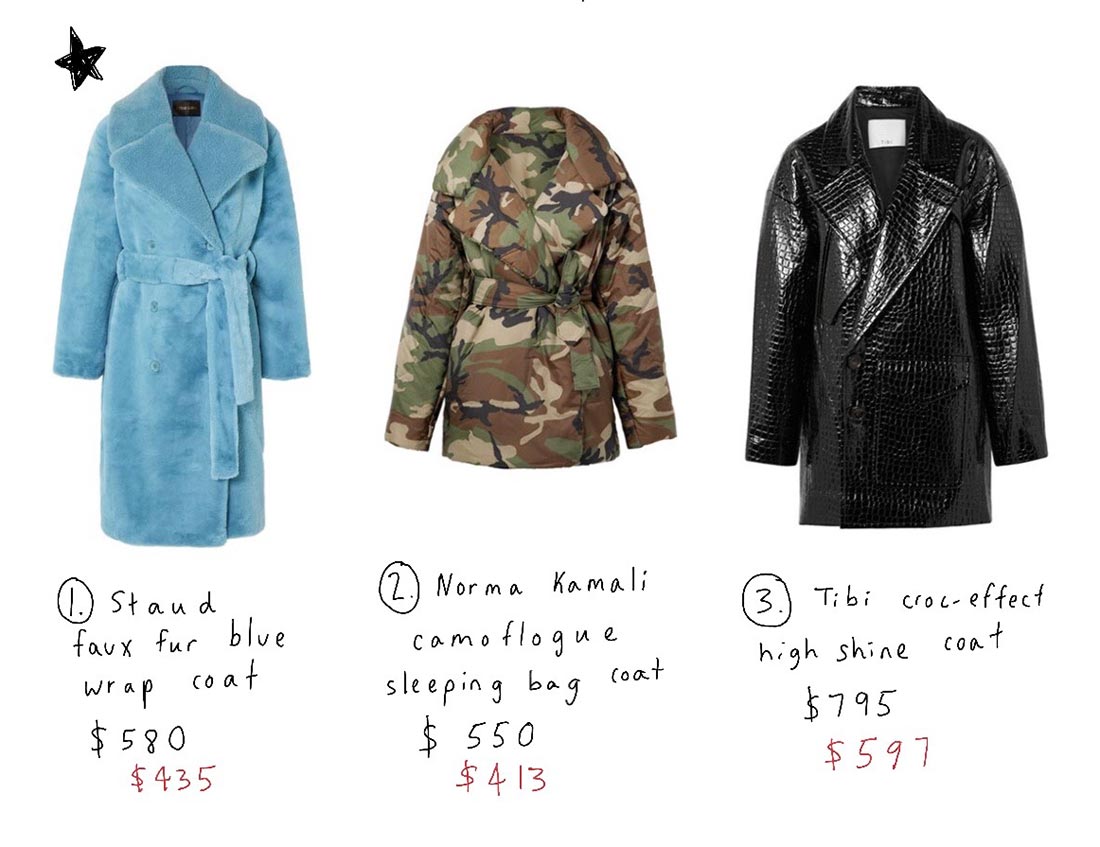 FUN COATS
1. Staud faux-fur blue wrap coat
What a great price for a coat that packs so much punch. I die for this baby blue color. I would be so delighted if I saw someone in real life wearing this coat.
2. Norma Kamali camoflogue sleeping bag coat 
Have you ever tried Norma Kamali's famous sleeping bag coat? She designed it on a camping trip in the 70's and it has been her top seller ever since. They are so warm and cozy, I love this camo version.
3. Tibi croc-effect high shine coat 
The texture and shine on this Tibi coat are so eye-catching and I like how it looks extremely now but also gives a nod to 60s mod.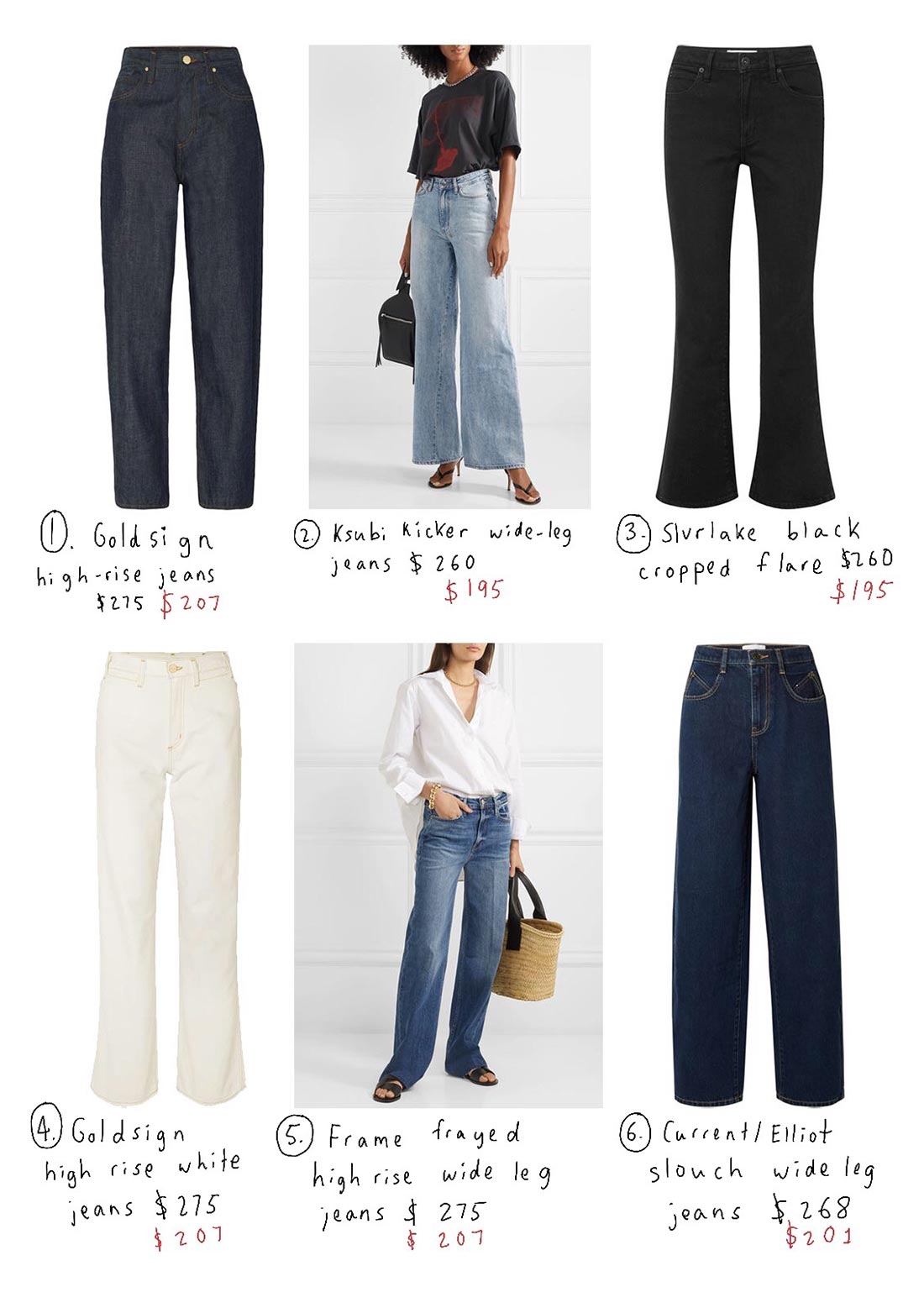 JEANS
I feel like denim is having a really important shift right now in terms of what shapes and sillouhettes look fresh. We are moving towards more 90s shapes, and I also think that we will be coming all the way around to flares in the next year. It's been a slow warm up to wider leg jeans and I am so excited to finally see so many great new denim options. It would be a great time to update your wardrobe for the new decade we are entering with some fresh denim.
What I love about these jeans is the crisp wash, the rigid denim, and most of all, the big wide belt loops. I love wearing major belts with my jeans but so few pairs have loops wide enough to fit them.
2. Ksubi 'Kicker' wide leg jeans
These look so adorable on the model here, and I love the styling of a slouchy tee with this denim. Would look great with a white tank and sandals in the summer too.
3. Slvrlake cropped black flare
4. Goldsign high-rise white jeans
5. Frame frayed high-rise wide leg jeans
6. Current Elliot slouch wide leg jeans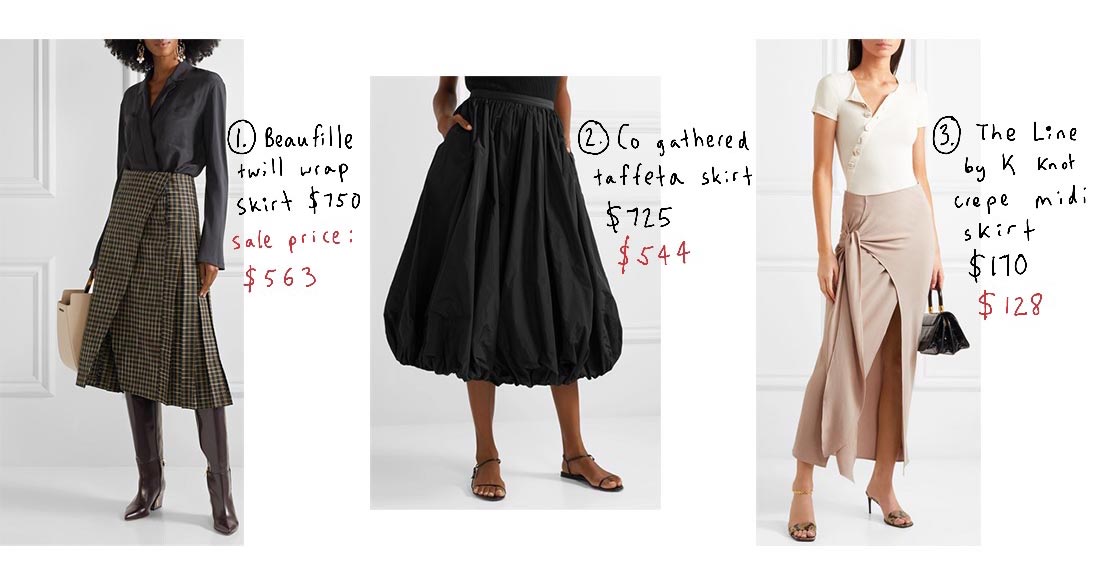 SKIRTS