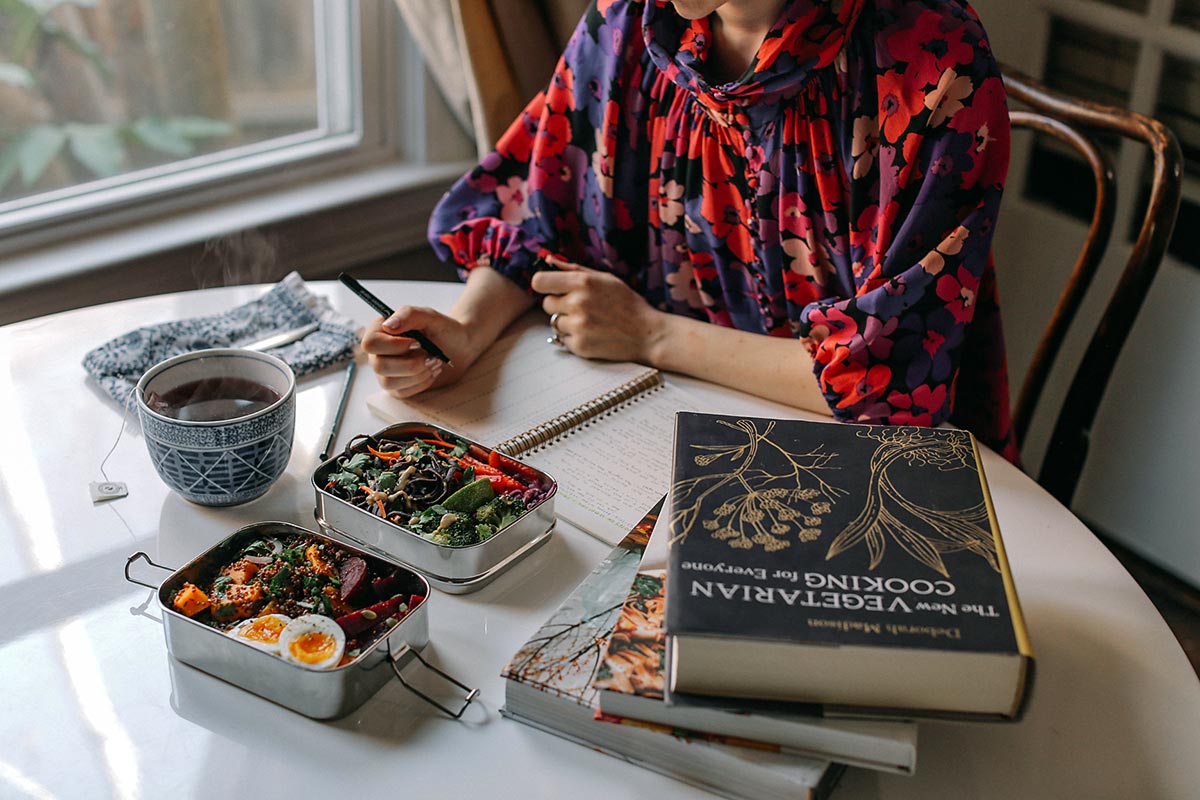 Disclaimer: I am not certified to give medical advice in any way, shape or form and that is the furthest thing from my intent with this post. I am just speaking to my personal experience living with endometriosis, some of what I've learned and read over the last few years, and what has worked for me with regards to managing it. If you think you are suffering from endometriosis, please speak to a health professional. I am not qualified to give anyone advice on treating this disease in any way. I'm still struggling to cope with endometriosis too.
Hi guys! I wanted to finally write a post that has been highly requested by you over the last few months. As some of you may know, I have struggled with endometriosis over the last six years and in the last year have changed my diet to alleviate some of the pain and other symptoms of endo.
Some of you may be wondering what endometriosis is. In short, endometriosis is a disease where the endometrial tissue that lines your uterus starts growing outside the uterus, where it is not supposed to grow. It creates a lot of scar tissue and can grow all over your organs, sometimes fusing them together. Google a picture of it, it looks like something out of the movie Alien. Endometriosis can be an incredibly painful disease. Some of the other symptoms are excruciating pain and cramps, abnormally heavy menstruation, cystic acne, infertility, nausea, frequent urination, lower back pain, bladder pain, rectal pain, pain during sex, abdominal cramping and swelling, depression, and fatigue. It is important that I note that some women with endometriosis may not experience any symptoms at all. I have a friend who found out at the age of 43 that she had endometriosis because the endometrial growth had started cutting off some of her organ functions. She had experienced no symptoms her entire life.
Endometriosis is a disease that affects one in ten women. No one knows the cause of endometriosis. There is no cure for endometriosis. You can only manage the symptoms. It is diagnosed through a laraposcopy, and laraposcopies can also be performed to remove some of the endometrial growth. Many women have found relief from larapscopies, but the endometrial tissue typically grows back and more surgeries are required. Other options to treat endometriosis are Lupron (a chemo like treatment that puts you into menopause) This is also a treatment with mixed results that is very expensive and you guessed it, has very severe side effects. During one of my consultations with a doctor who I wanted to perform a laraposcopy, I was told that she would rather perform a hysterectomy on me or get me on Lupron than perform surgery on me. It is very difficult finding someone who will hear you out and has experience dealing with endometriosis. I think most women who have sought treatment for their endometriosis have had very difficult experiences with doctors.
Many women with endometriosis have found relief from birth control and IUDs, and some women choose to get hysterectomies. Hysterectomies have mixed results as endometriosis is by definition a disease that occurs outside of the uterus. Many doctors have told me that some women find relief from endometriosis by getting pregnant. I don't know if this true at all, it seems I know a lot of women who still suffer from endometriosis after having kids. It's very frustrating and hurtful to be told to "get pregnant" (as two doctors flippantly suggested to me in the last year) when I don't know if I am ready for kids but I do know I have a disease that may make having them very difficult.
It's been said before but if endometriosis were a male disease there would probably be some kind of cure for it by now. I think getting past the stigma of reproductive illness might help us get better options for treatment and pain management. Sadly, with one in ten women are dealing with endometriosis, the road to "recovery" remains a mysterious one. It breaks my heart that so many women are going through the same struggle trying to receive treatment.
Options for treatment of endometriosis are complicated, finding someone to treat you can be difficult, and the options are overwhelming. We need to make endometriosis part of sex education for young women so they know living in pain is not normal and aren't afraid to speak up when they are suffering. We need to more doctors who are experienced in performing laraposcopies and other endometriosis treatments. Endometriosis can cut young women off from access to education and from earning a living as they get older. It was incredibly difficult for me to work during the worst years of dealing with this disease, but I have the tremendous privilege of being self employed and I could work around my flare ups. There are so many women struggling to make it to work, to make it through the work day, or stay employed at all because of their endometriosis. This is why endometriosis is a social issue, it is a feminist issue, and it is high time we begin to treat endometriosis as such.
My struggles with endometriosis began about five and a half years ago. I had always had really painful periods growing up where I bled heavily and missed a lot of school but I thought that was normal. Around the age of 21, I suddenly I started getting severe stabbing pains in my lower pelvis. It felt like someone was snipping at my uterus with sharp scissors. I remember laying in bed wondering if I needed to go to the emergency room. I scheduled an appointment with my gynecologist immediately. I told them something had to be very wrong with me, that I was in an huge amount of pain. They told me I was fine and to go home and take some Advil. 
Over the next year the pain got much worse. I felt like the inside of my uterus was being attacked with hot serrated knives. Lacerating nerve pain shot down my legs and frequently made it difficult to walk. My joints ached and my lower back was seized with pain. The worst part was my pelvis felt bound up in tension and pain constantly. The pain was constant and the nature of it could be extremely violent and totally debilitating. A lot of people seem to be under the impression that endometriosis just means having "difficut periods", which for some women it does. But for me, and some others with endometriosis, I was under siege all day every day with extreme pelvic pain. The pain often left me laying on my bathroom floor, waiting to vomit or pass out. It was getting difficult to perform basic functions like showering or cooking, or working on Sea of Shoes. When my then boyfriend, now husband went to work, I would lay under a blanket sandwiched between two heating pads, and wonder what the hell had happened to me. It was staggering how quickly the chronic pain of endometriosis made my own life unrecognizeable to me. 
I kept going to doctors and not getting answers, until I finally did three years ago. Endometriosis. Great, I thought, now I can finally get treated. Except not really, because as I've mentioned before, the options aren't exactly cures. I remember my doctor actually rolling her eyes and sighing when I asked what my  options were. I continued to live in miserable pain, varying degrees of it I guess, for the next few years. I had one year that wasn't as bad as the first two, but then the severe and constant pain returned with a vengeance in 2017. I have Polycystic Ovarian Syndrome (PCOS) as well as endometriosis, and in the summer of 2017 I had a complete hormonal freak out. I started dealing with ruptured ovarian cysts and overnight I developed two ping pong sized acne cysts on my face. It was a living nightmare. This was in the months leading up to our wedding and it was the single most stressful time of my life.
To deal with the acne, I found an amazing dermatologist who operated on me and prescribed Accutane, along with some other steroid treatments and antibiotics. I am lucky to have no scarring on my face. I also went on birth control. I had tried many kinds of birth control in the past but every kind just made me bleed heavily constantly, but I finally found a brand that worked (Yaz). The birth control did not alleviate my pain but it did make my period shorter, which meant less days that I was completely incapacitated from menstrual pain. Still, the constant pelvic pain was unbearable. The medication I was on to treat my acne and hormonal flareup was pretty intense stuff. At one point I had lost almost 15 pounds from the stress and medications. I looked like a ghost, I was in total shell shock. I remember being at a meeting with our wedding caterer, and I was in so much pain I literally had to hold my rear end up with arms to walk. It was mortifying. I felt like I had completely lost control of my life.
I consider getting through our wedding with all of my health problems a milestone in itself. For some reason, I imagined things would get better for me after the wedding. Except they didn't. Over the next few months I needed painkillers just to get out of bed every day. My mental state was deteriorating from the severe and constant pain I was in. My pelvis was always painful and tense, but I would get violent lacerating stabbing pains that would take my breath away and cause me to vomit. I was in tears constantly, and I felt terribly afraid and alone. I was frustrated by the merry-go-round of unhelpful doctors I was seeing. To give my husband a break from hearing me cry, I went to a movie by myself in the middle of the day to cry in private. By February of 2018, I had fallen into a deep depression. Endometriosis had isolated me so much that I felt I no longer could participate in my life in any kind of meaningful way. I had to confront the fact that I was beginning to have suicidal thoughts.
I am not someone who is prone to depression, in fact I would categorize myself as generally a happy person even though I struggled coping with chronic pain. I have many friends and family who deal with clinical depression and I know what that looks like, it's just not me. The pain had blotted everything else out. My self esteem had plummeted in my years dealing with the pain, I felt so inadequate because I could not be as productive or active as other people my age. I was really hard on myself about all of the things I couldn't physically do or accomplish. I felt completely shut out of my own life by my illness. I didn't leave our house unless I had to because I didn't want to have to deal with the pain in public view. I never could have imagined myself getting to such a point in my life.  If you are struggling with depression related to chronic illness or pain, I suggest seeking out a therapist who has experience working with people who suffer chronic illness. It's a different kind of beast. I should have sought help before I let things get so bad.
I was at the lowest point of my life and I knew I had to do something to get better. When researching treatment for endometriosis, diet comes up a lot. I ate "healthyish" but I was also a passionate baker and cook, as you probably know. Food is one of my greatest joys in life and cooking was always a refuge of happiness for me even at my lowest points in dealing with endometriosis. Even if it took sitting on a chair to prep food or stir a pot, or a tramadol, I always felt like my old self when I was in the kitchen making pasta with my husband or kneading bread for breakfast pastries.  Food was my sanctuary and I was very reluctant to give up one of the last things that made me feel "normal" and happy. The thought of living without gluten depressed me to no end. Even so, I knew I had to try every option out there to get myself feeling better. I began to research endometriosis diets extensively, and ordered a slew of books on the topic.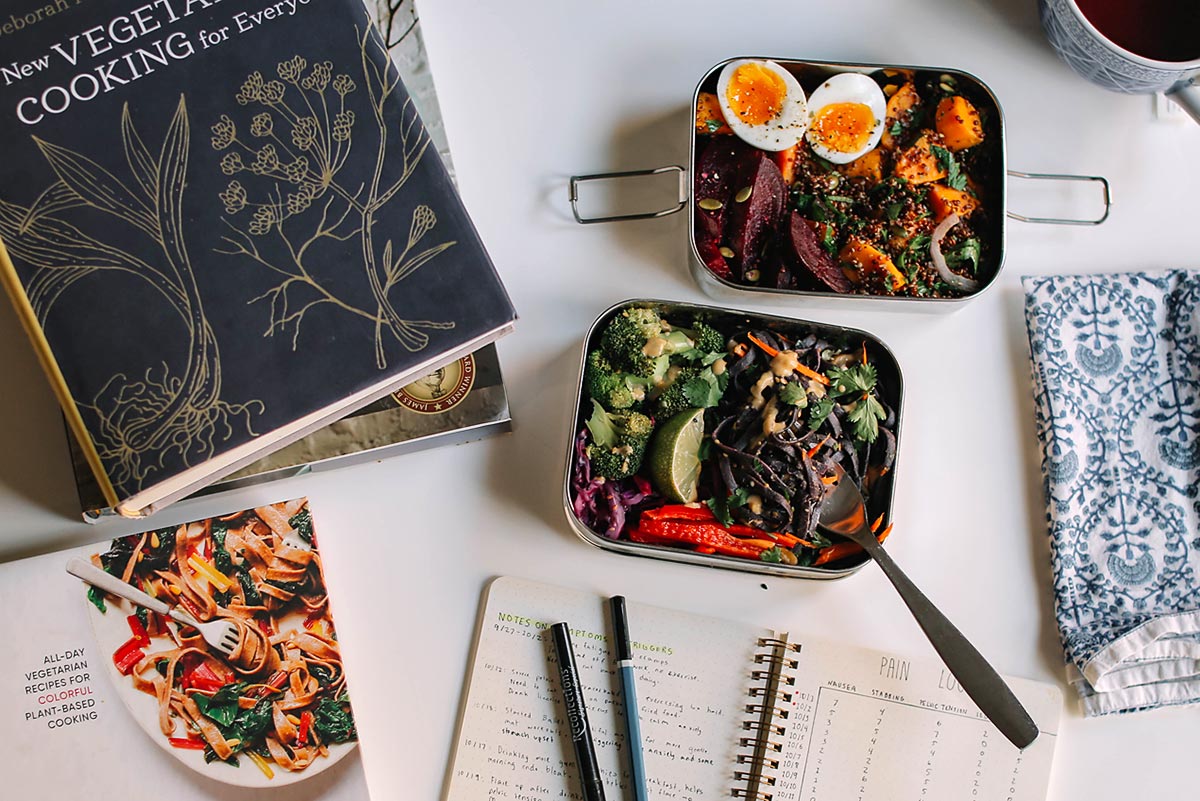 I decided I would do a two month elimination diet based on my findings. I cut out gluten, rice, corn, soy, sugar, alcohol, dairy, red meat, caffeine, and all processed or fried foods. Yes, it was very strict, but it was not a diet I intended to stay on forever. I was so desperate for relief from the pain and I needed to feel some improvement as quickly as possible. It took three weeks to feel any kind of discernible difference in my pain levels. I was thrilled by the progress and kept a food and pain diary to track my health trajectory.
One month into my elimination diet, and I was starting to feeling better. By two months my pain had decreased by about half, and I was not spending all day in bed anymore. I was starting to feel like myself again, and every day that I woke up not seized with pain felt like a gift. I had become very cynical in my years dealing with endometriosis, and to discover that relief was actually possible turned my state of mind around. Slowly I added rice and corn and some dairy back in to my diet, with few ill effects. 
As the pain subsided, I realized I was not going crazy all of those years living in intense pain. Living in constant pain is like experiencing life at 10% when you used to experience it at 100%. Your body is not meant to withstand the stress of intense pain for years on end. It's no wonder I was unravelling. When you start to recognize again what life was like before your chronic pain started, it puts things back into perspective. The feeling of "spiraling" was finally subsiding. Relief feels like a miracle and I spend every day feeling thankful I don't feel the way I did in February of this year. I hope I do not find myself there again but I am prepared for the reality that the pain might return. I am very grateful for the painkillers that allowed me to continue to work and earn a living over the last few years, but they were incredibly hard on my body and I deeply despise having to take them. I now have severe sound sensitivity issues when I take pain medications. This motivates me to do everything I can to manage my endometriosis on my own.
I don't want to paint the diet I follow as a cure-all for endometriosis. I'm still in some degree of pain almost always, just not as often the kind where I can't walk from one end of my house to the other. I'm actually looking to schedule an excision surgery very soon. As I said I still have a lot of bad days. The last three days for instance have been very painful for me and I have relied on painkillers to help me remain productive. If I stray from my endo diet, I have symptoms come up immediately. I have terrible hormonal nausea frequently.  I even had a bad pain flare up in July, which freaked me out and brought on a lot of panic attacks. Chronic illness is called chronic illness for a reason sadly, and it isn't something that just goes away. It's always going to be part of my life and I just have to learn to manage it as best I can.
One of the more difficult factors of living with chronic illness is the overwhelming amount of suggestions or ideas on what you can do for relief. There are so many opinions being offered that it's not always helpful. I've tried CBD and acupuncture, and they help a bit but not much.  For me, a controlled diet has relieved my symptoms the most. As I've mentioned, there are many ways women can choose to manage this disease and there isn't one answer that is "the right one". I think most women like myself end up trying a combination of a few or a lot of things, but what gave one person relief from endometriosis might be a really bad experience or waste of resources for another person suffering from endo.
Diet is not a substitute for consulting your doctor. It can however help manage some of the symptoms. If you are suffering from endometriosis, first of all, let me say I am so sorry and you are not alone. If are thinking about making this change, I would love to recommend these books for you to read up on. Knowledge is power and just reading these books made me feel empowered to tackle my illness. I hope it does the same for you.
BOOKS FOR READING ON ENDOMETRIOSIS AND DIET:
The Endometriosis Health and Diet Program: Get Your Life Back by Dr. Andrew Cook and Danielle Cook
I highly recommend this book as a place to start, it is easy to understand and gives good information about the treatments and surgeries available to endometriosis sufferers, while also offering an inclusive holistic healing approach. This book offers information on an elimination plan that was very helpful to me when I started my endo diet.
Endometriosis: A Key to Healing Through Nutrition: Dian Shepperson Mills
This book is pretty dated as it was written in 1995 but there is still a lot of useful information on the disease and fertility, if you are interested in that. She does include soy in her diet. I don't eat soy as it promotes estrogen dominance and the general consensus nowadays is that women with endometriosis should really not be consuming soy. I do like the rest of her diet plan though and this book did turn me on  to buckwheat, which actually is an estrogen blocker and now I'm addicted to it.
The Keystone Approach: Healing Arthritis and Psoriasis by Restoring the Microbiome
This has a lot of fascinating information about diet and autoimmune disease. It was a pretty fascinating read for me even if I can't practically apply this diet plan in my life (it recommends eating almost no carbs, I tried it for almost a week and got so weak I had to stop) Still, even though I can't follow the diet advice it taught me a lot about inflammation. It's thanks to this book that I no longer use coconut oil, which it turns out is a big inflammation creator for those with autoimmune conditions.
The Doctor Will See You Now: Recognizing and Treating Endometriosis
A friend suffering from endometriosis recommended this book to me and I have to say it's a must read for anyone suffering. If you have been going to doctors and wondering why they all try to weasel out of treating you by any means possible, this will be enlightening (and a bit disheartening) for you. I know it was for me. Read this if you are looking into scheduling a laraposcopy, this will book will empower you to be your own advocate in your doctor's office.
Also: check out ThisEndoLife's podcast.
This has been a very long post already, I'll cut it off here. This is the first post in a series, and I'm really looking forward to my next post, which will delve more into the diet. I am deeply passionate about food and baking and I was worried that I would never get to enjoy those things in full living on this diet. I am happy to say that I could not have been more wrong and I'm still cooking and loving my food as much as ever.  I'm really looking forward to sharing with you some of the cookbooks, recipes, and tips that made this diet doable for me.