Happy Friday! I've been looking forward to our next edition of Fashion in Film very much and I hope you love this one as much as I do. Today we are going to delve into the 1993 erotic thriller Body Of Evidence, starring Madonna, Willam Dafoe, and Julianne Moore. This movie may have a two star rating on IMBD, and an 8% on Rotten Tomatoes, but it is a personal favorite of mine. Why let lukewarm acting and ridiculous plot lines get in the way of enjoying a fun sexy movie? That's why I've been looking forward to a long time to rewatching this one for our next Fashion in Film feature. Pour  yourself some wine and grab a box of Cheez Its. You are about to watch a movie with a lot of sex scenes set to saxophone.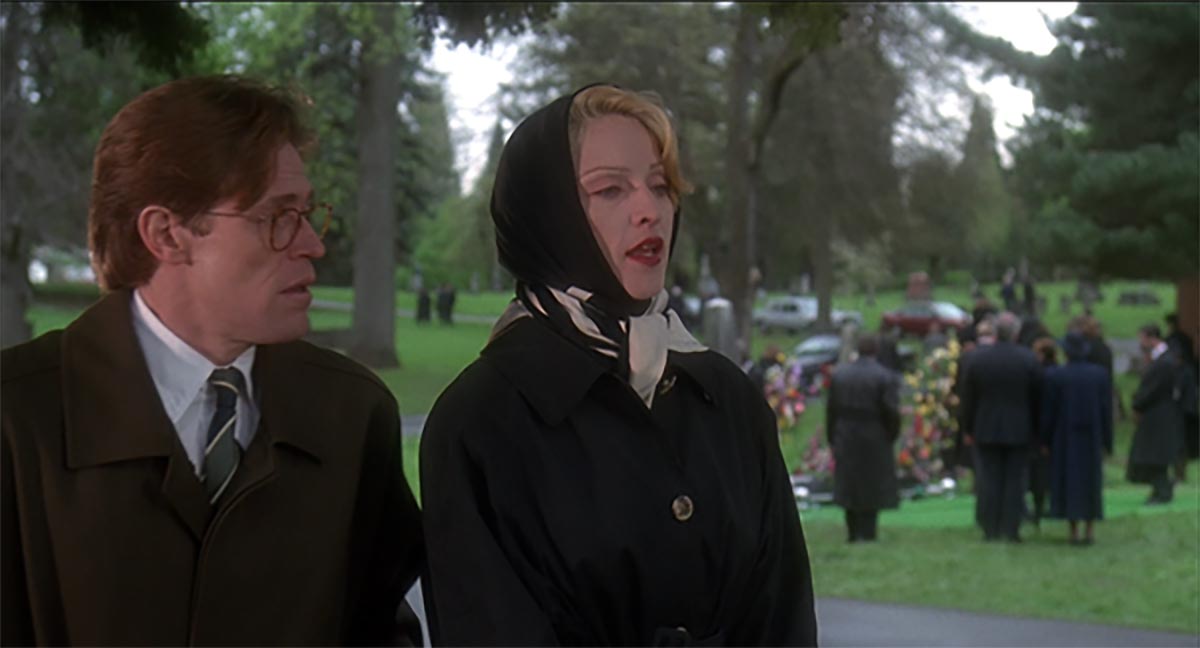 Madonna plays a femme fatale in the same ludicrously literal vein as her Dick Tracy character. Lately I find myself watching a lot of these insanely cheesy genre-obsessive neo noirs and I love them. Because they take the genre so seriously, you often get to see a lot of 1980s or 1970s looks that are interpretations of 1930s or 1940s looks. I'm always fascinated by how different era's interpret looks of the past, so this is always a treat to see. I love this early 90's take on the vamp look.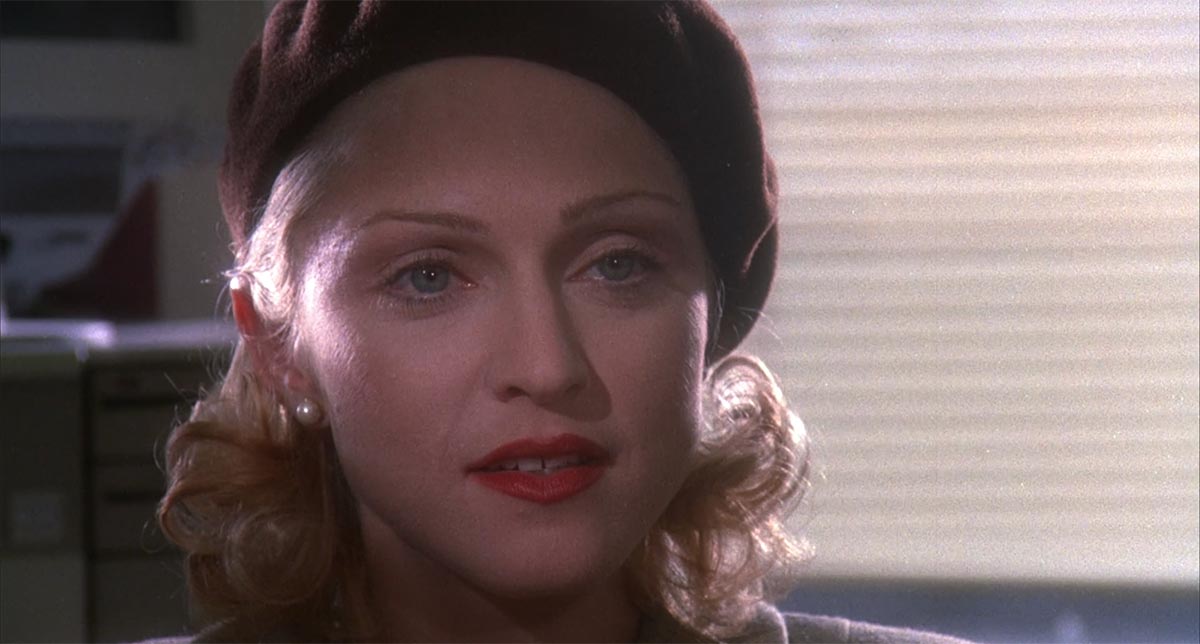 The first time we see her she's got her eyebrows plucked into 1930's starlet arches, with Greta Garbo's signature beige eyeshadow hollowing the sockets of her eyes. She wears gamine curls under a brown beret, a la Dietrich. Despite being in full vamp mode already, she wears pearl stud earrings and a pearl necklace.
When the full look is revealed, we can see she is wearing a khaki suit. Under the pantsuit she wears a cream crewneck cashmere sweater, a detail I absolutely love. That is so 30s and something you see a lot when you look at photos of Marlene Dietrich and Carole Lombard, but you never see sweaters worn under suits these days. Over this suit she wears a mannish trench coat, something she wears throughout the rest of the movie. Very chic!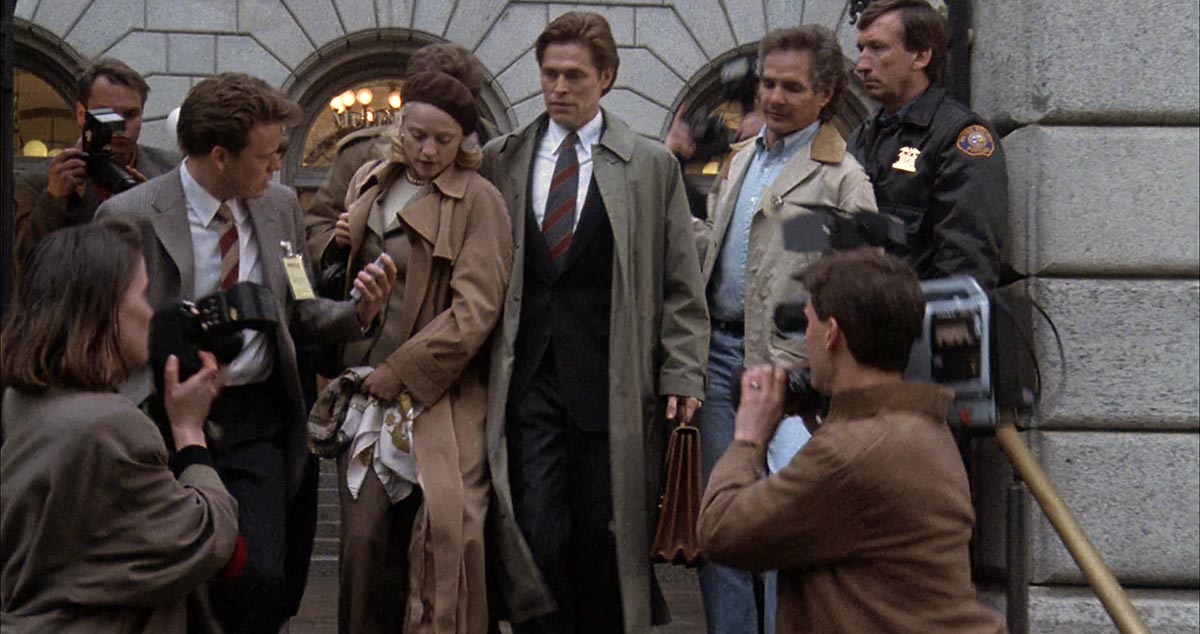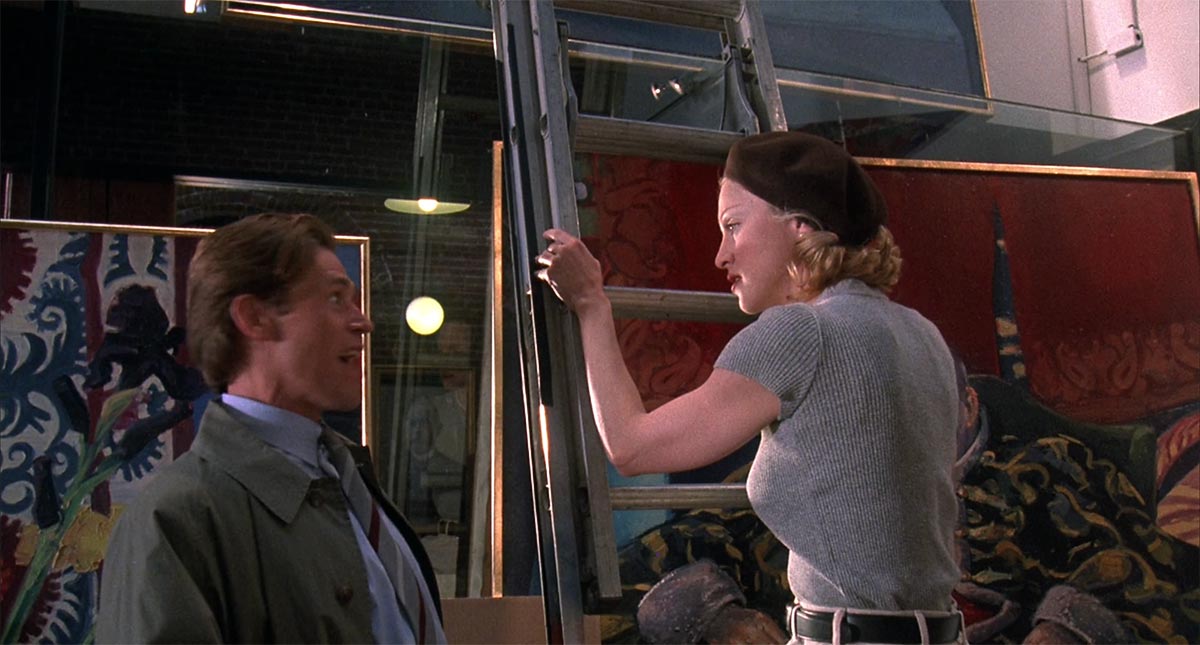 A few gauzy sex scenes later we get to see Madge at work in her gallery as she gets paid a visit by her lawyer Willem Dafoe. Here is my favorite outfit from the movie. Madonna is wearing a grey ribbed short sleeve cardigan, tucked and belted into tomboyish cropped chinos. So cute, especially with her jaunty beret. Anyone who has followed this blog for a while knows how I love a short sleeved sweater, so naturally this look is my favorite.
In this sequence we get to see Madonna pay a visit to her herbalist's apothecary, which of course is just an excuse for a sexy naked shot of her getting acupuncture. It seems in noir films, at some point they always end up going to a Chinese restaurant or some ramshackle rare bookstore to lend the story some kind of exoticism and I guess the apothecary scene was an homage to that. I did enjoy the apothecary scene so I've included a few pictures here.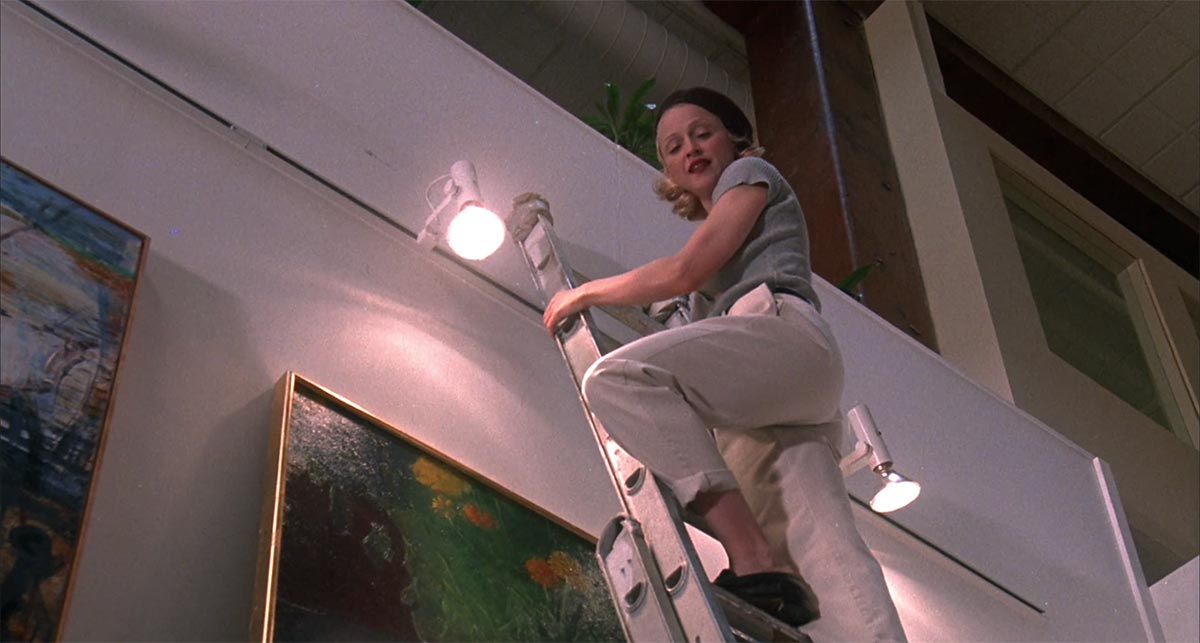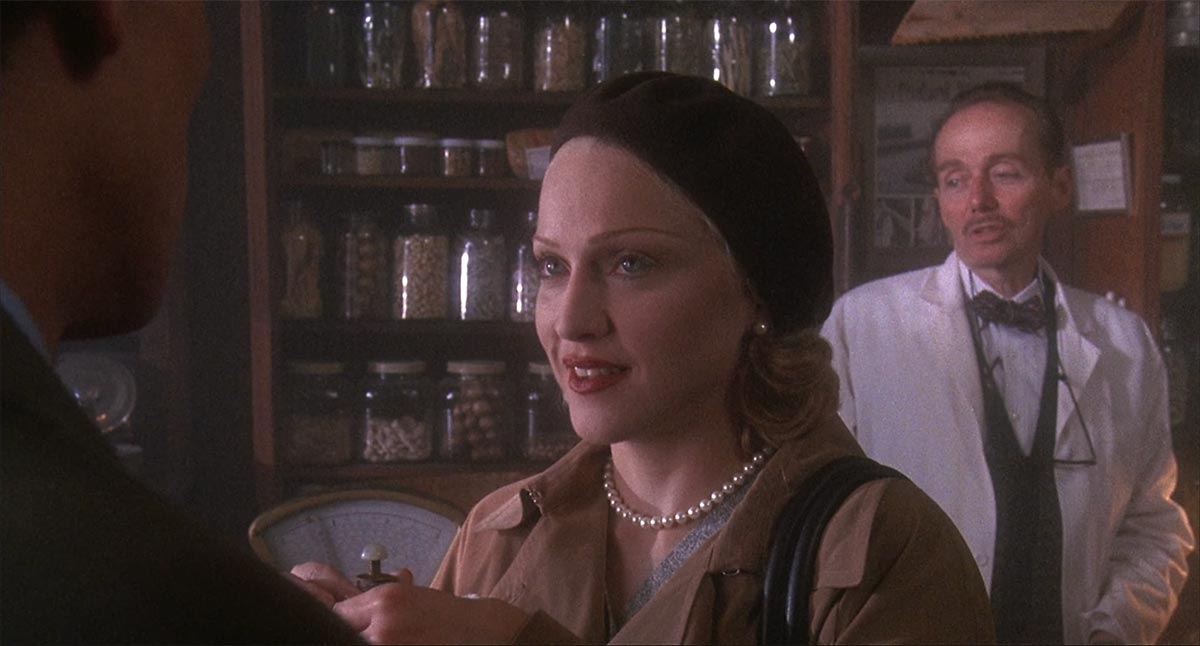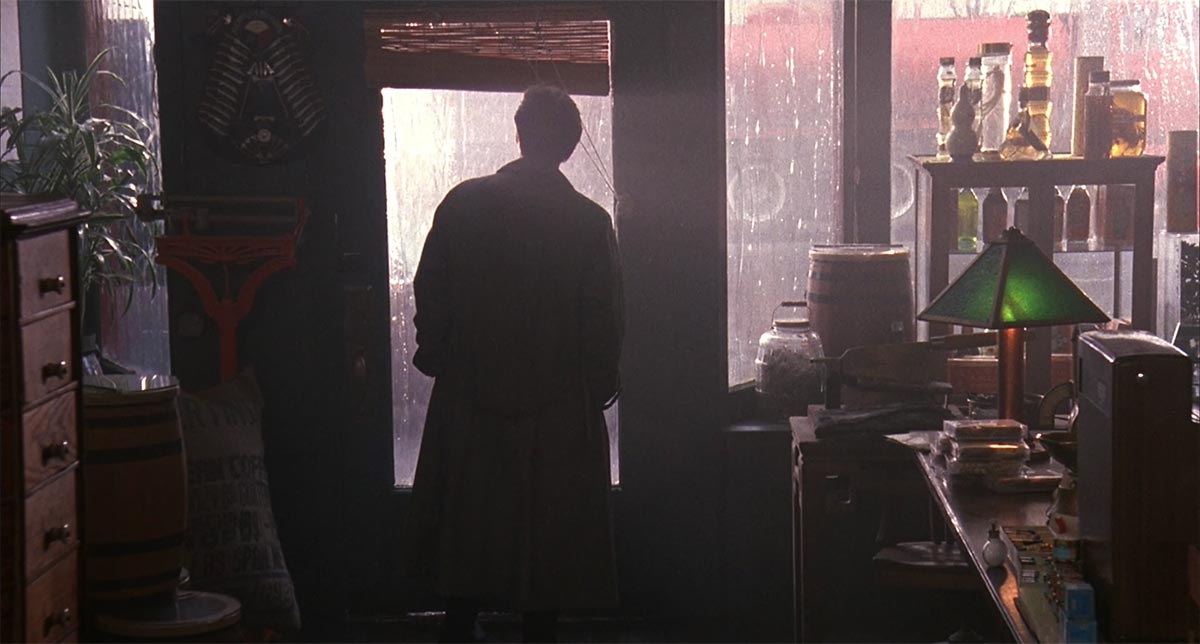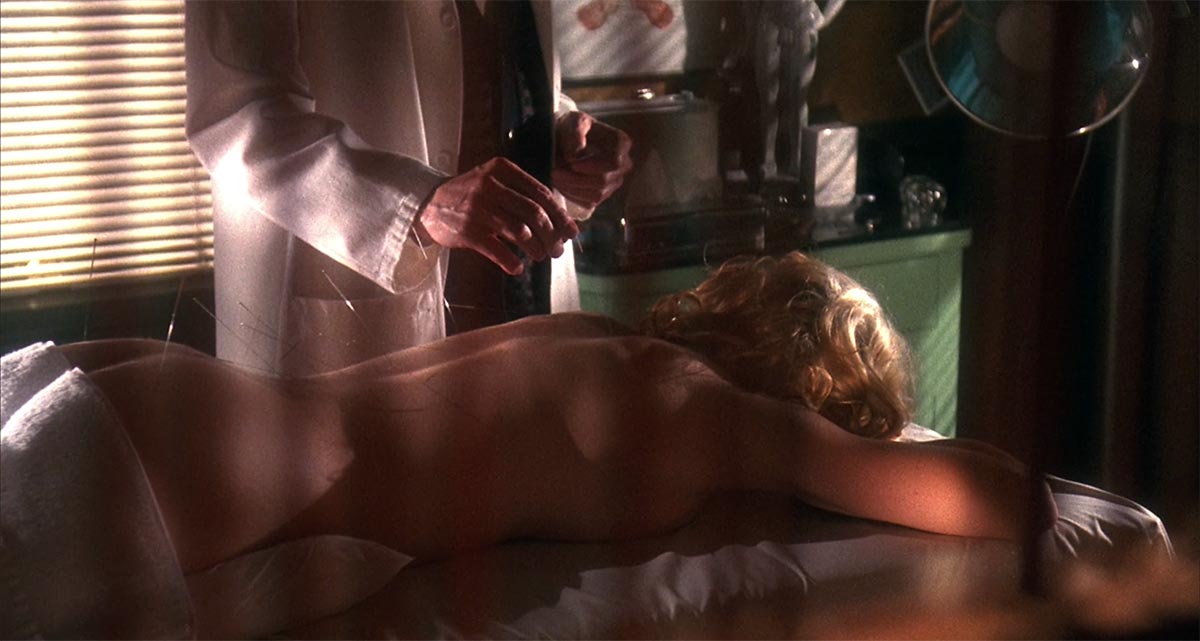 This movie is set in Portland, and it is absolutely hell-bent on making Portland seem sexy. I feel like they bring up the fact that they are in Portland constantly. Did the city of Portland fund this movie? It is never not raining in this movie and all of the sex scenes look like they were filmed through a fogged up window. Maybe the best part about Body of Evidence is the incredible houseboat Madonna lives in.  (I find the interior design hilariously bad, a hideous mix of that 90s asian design that was so popular and a lot of ugly vases. )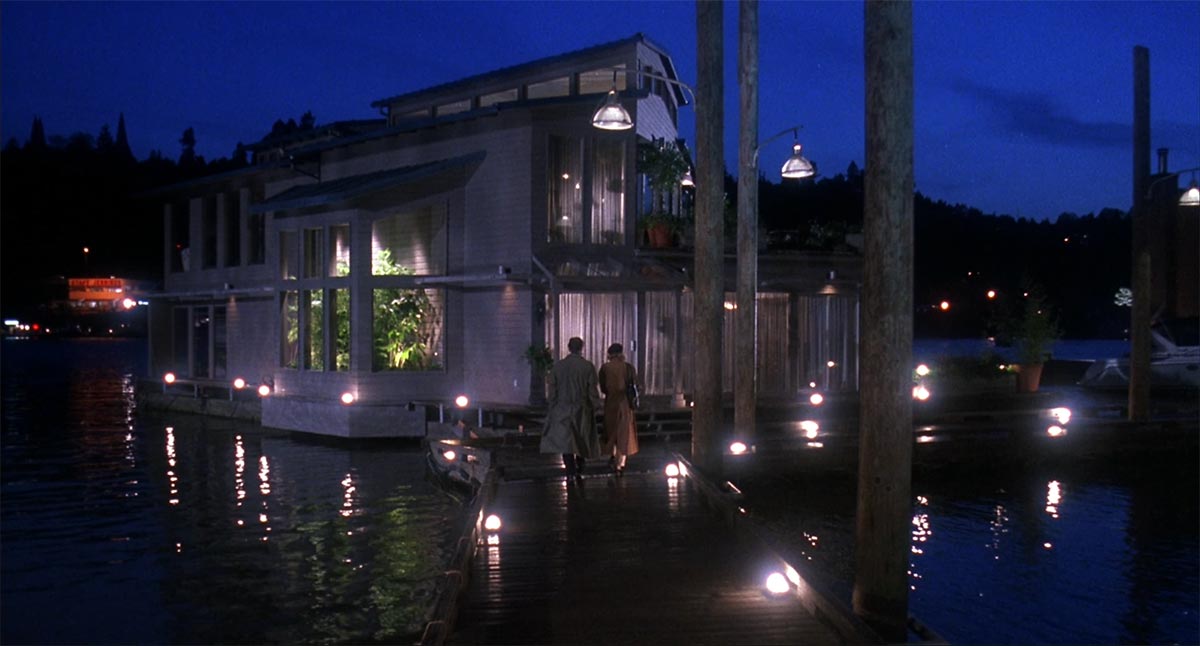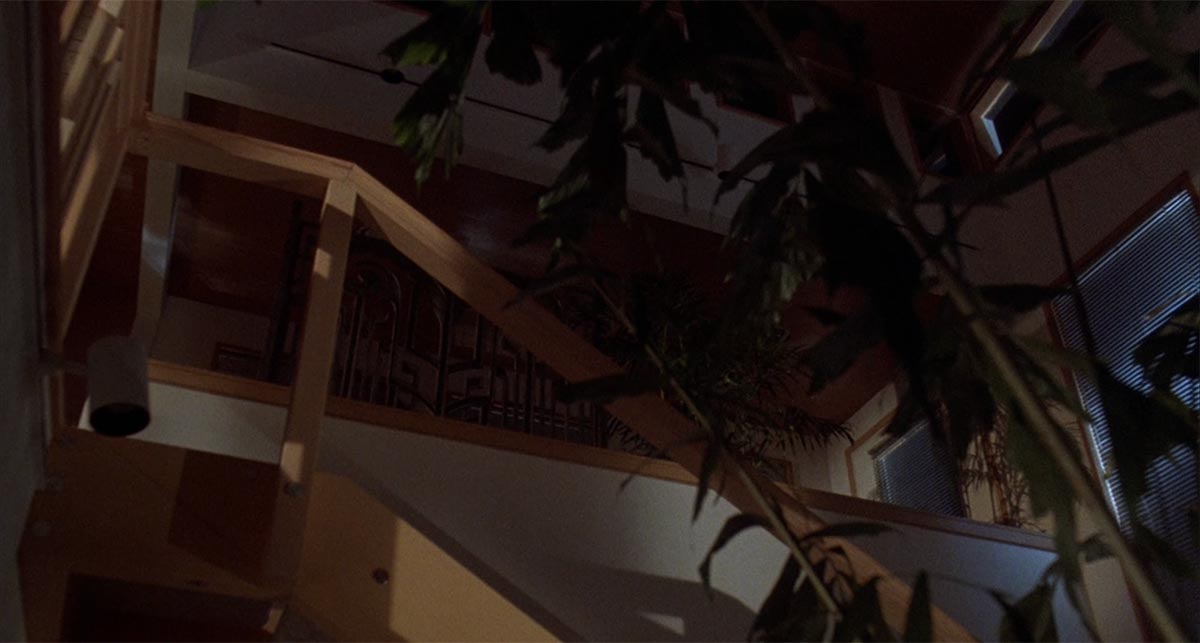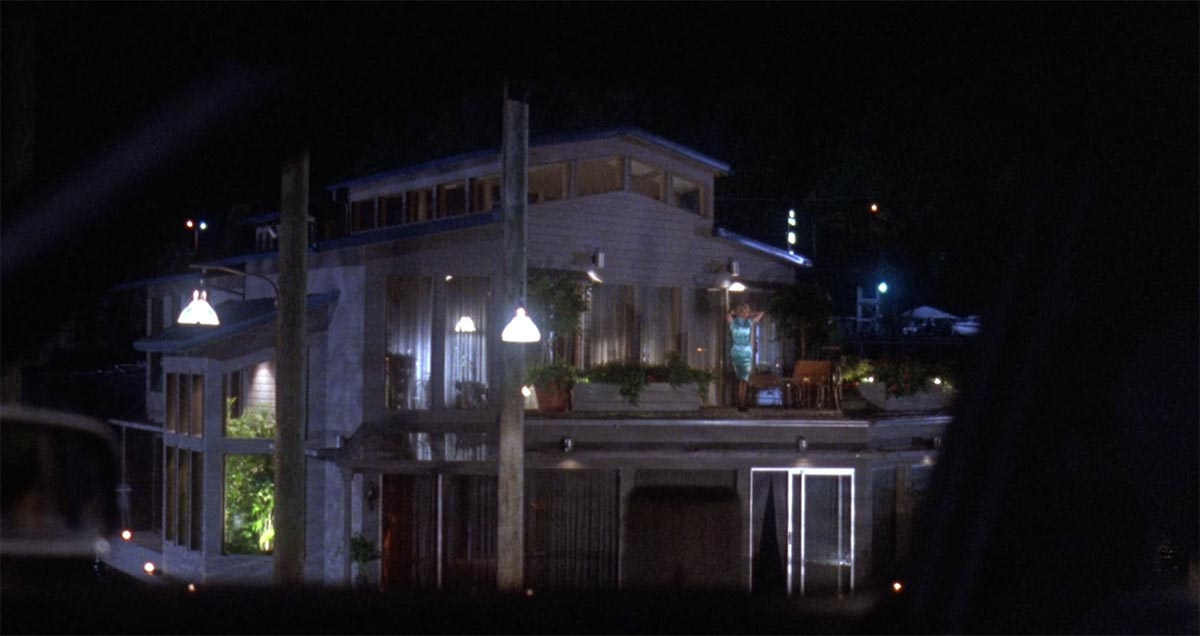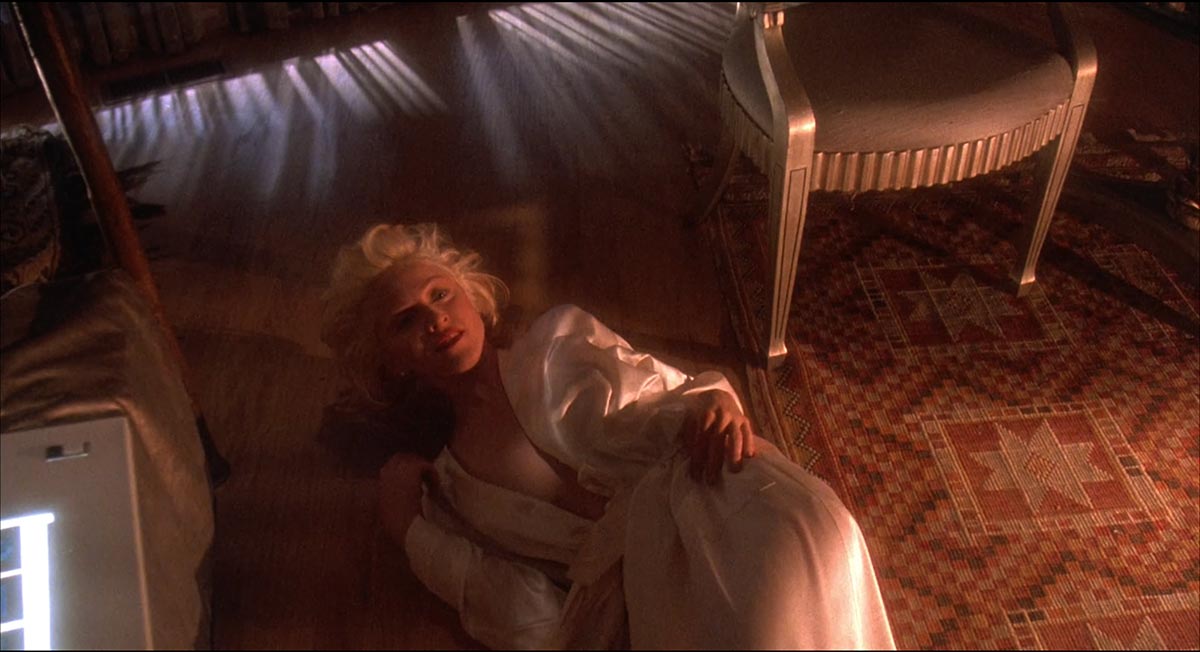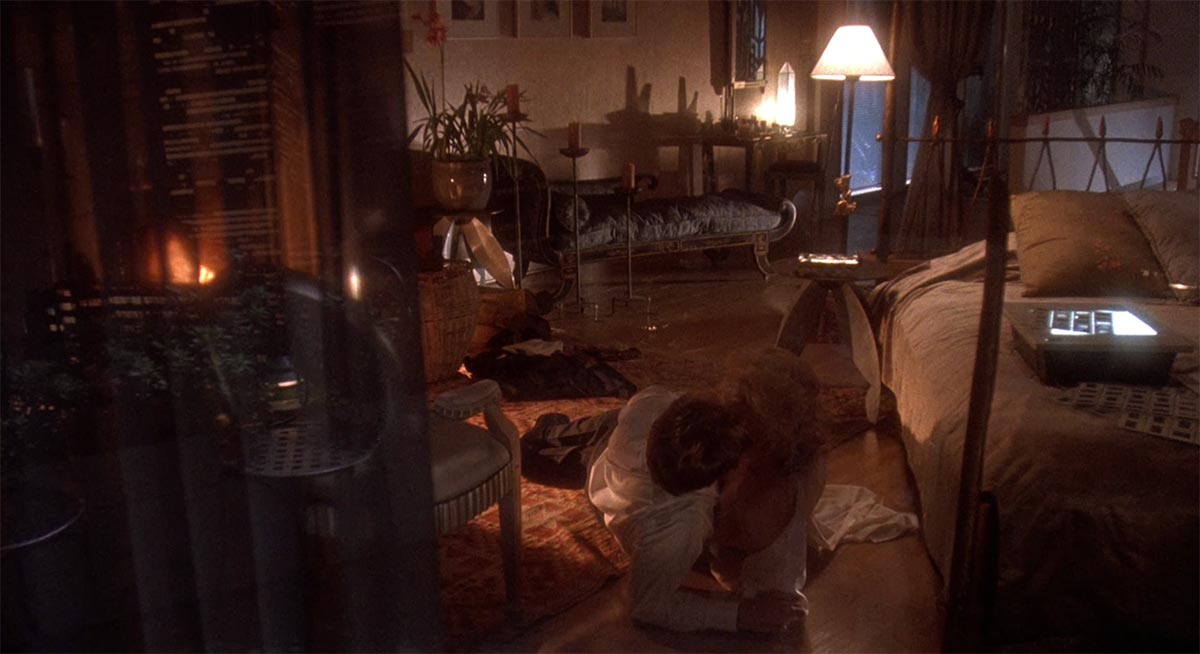 A lot of this movie takes place in a courtroom with lawyer Frank (Willem Dafoe) arguing Madonna's innocence, and for the majority of those scenes she wears really dull skirt suits. Kind of a shame! For one of the courtrooms scenes she wears an absolutely devilish grey pinstripe skirt suit with broad 40s-ish lapels and velvet accents. This is the outfit in which she has sex with Willam Dafoe on the hood of a car scattered with broken glass. Crazy times.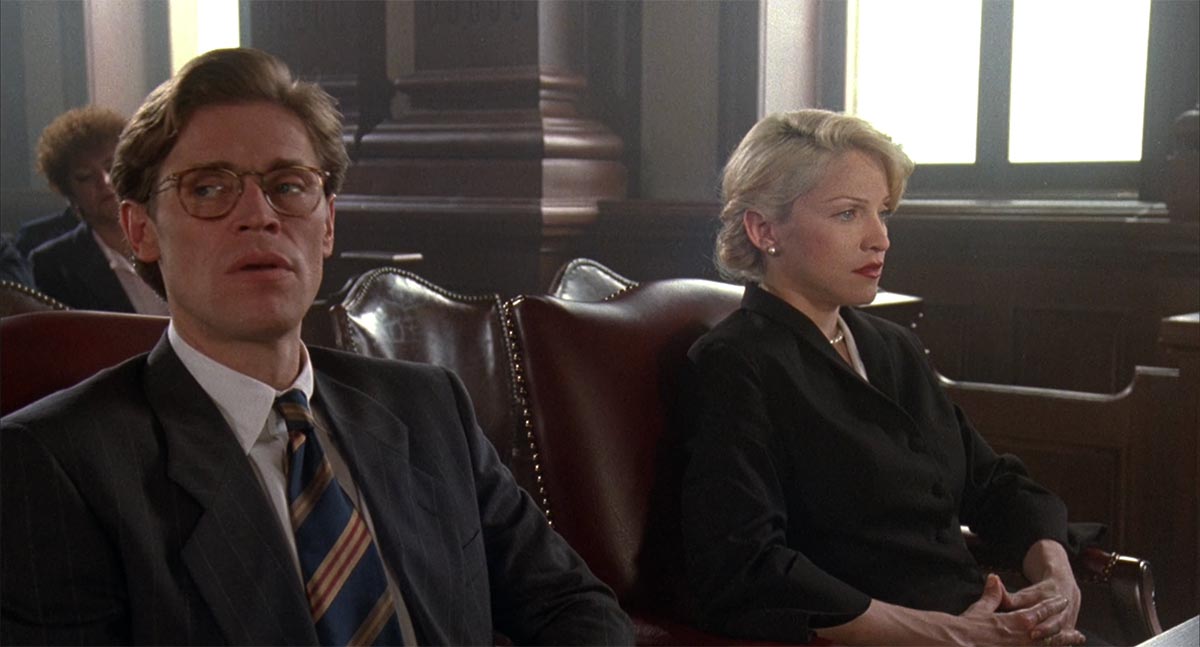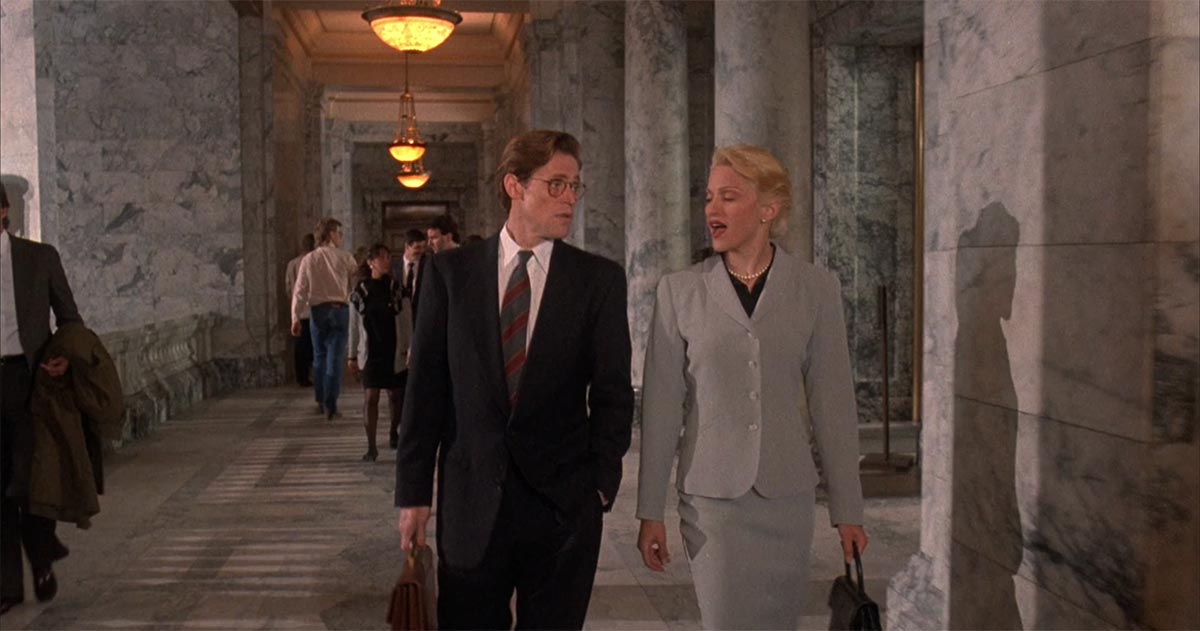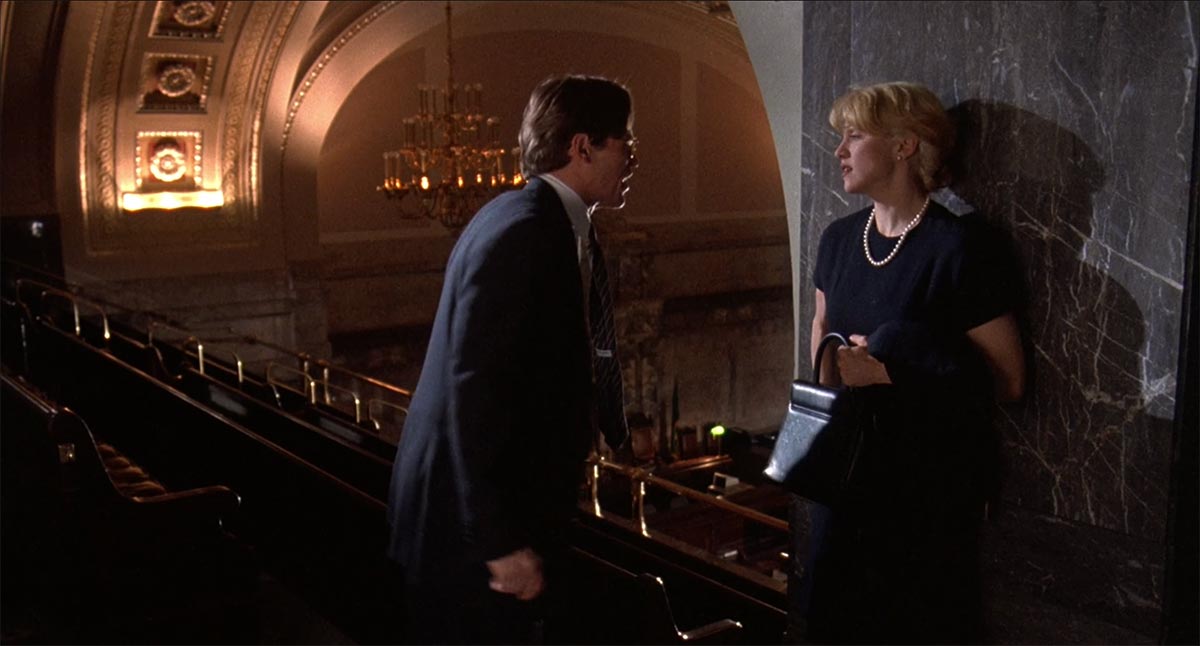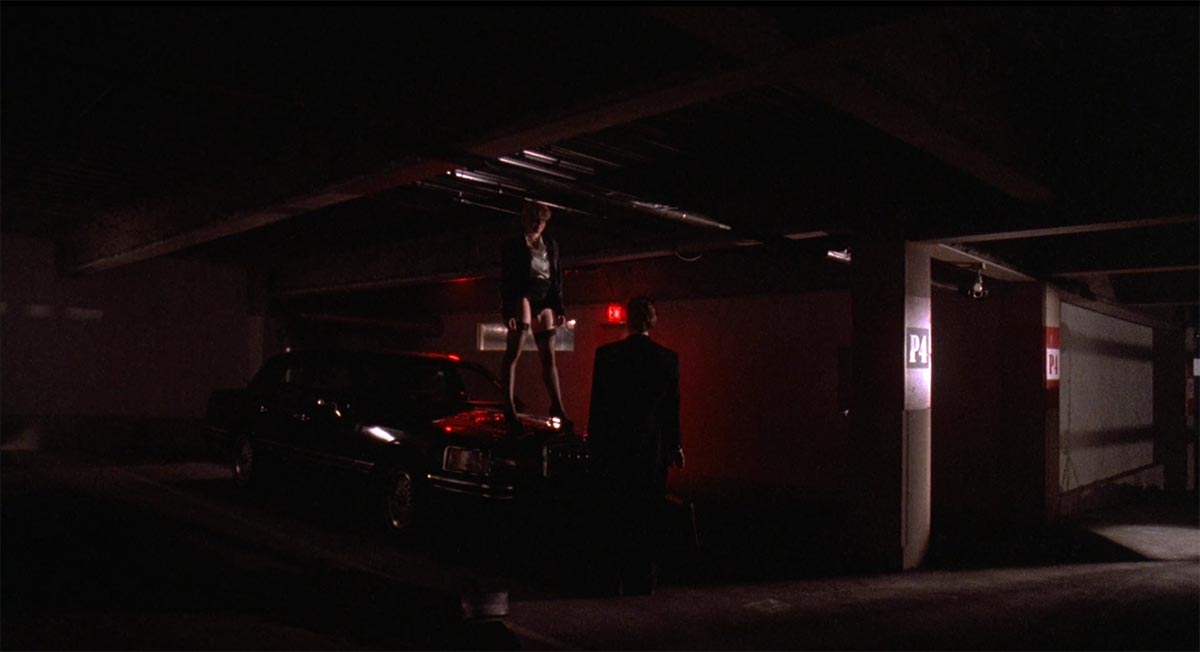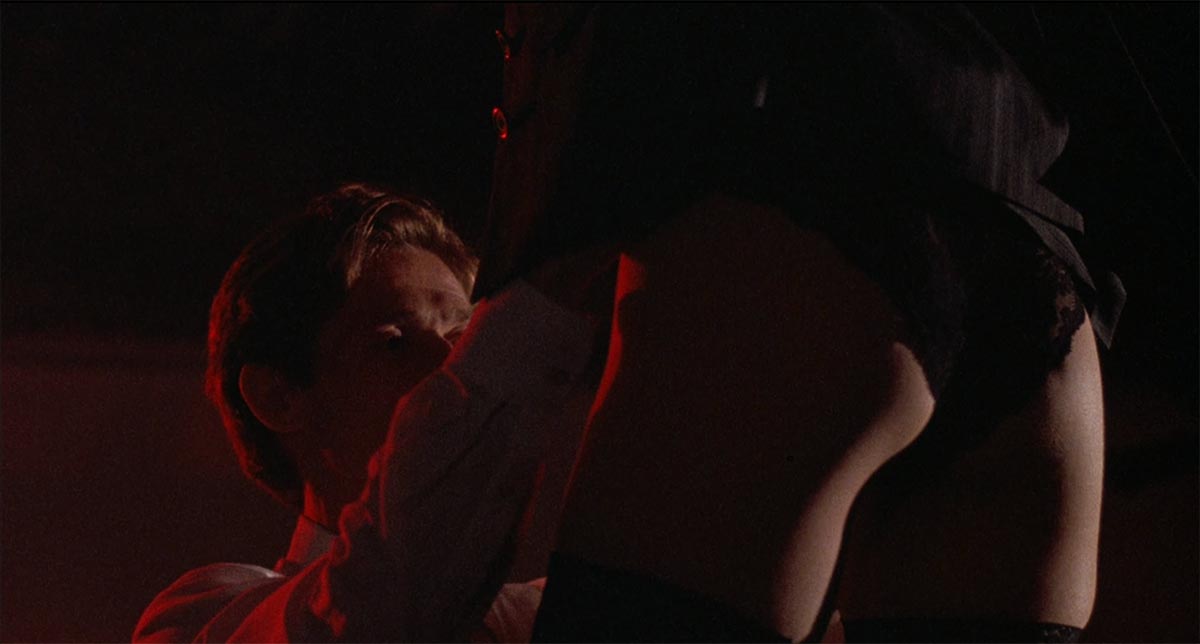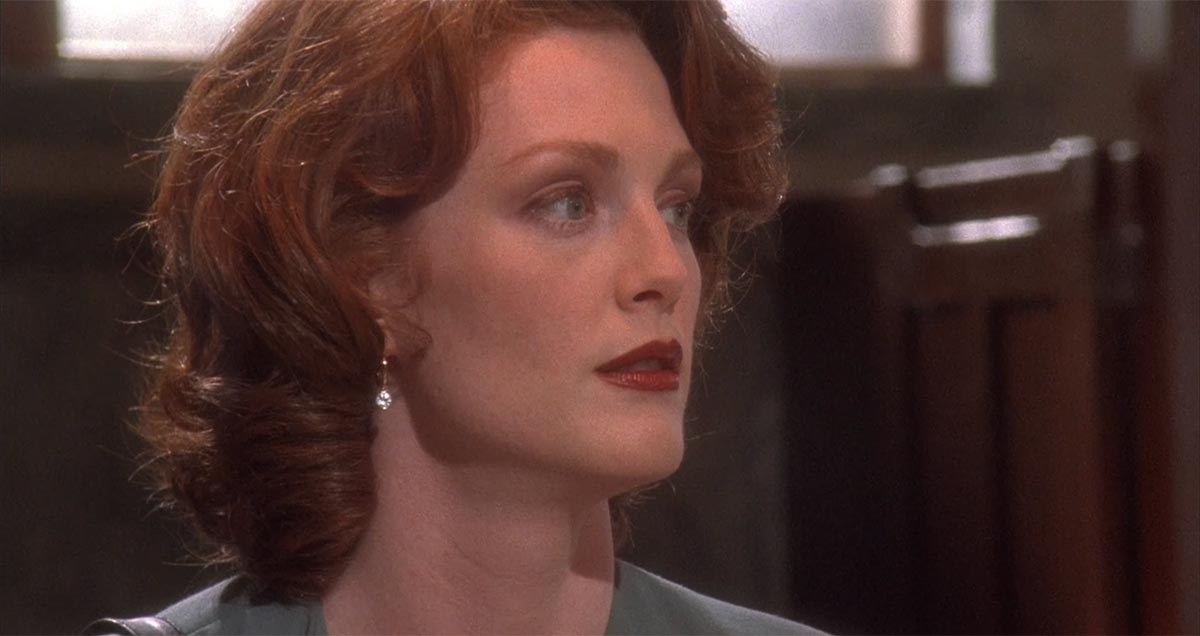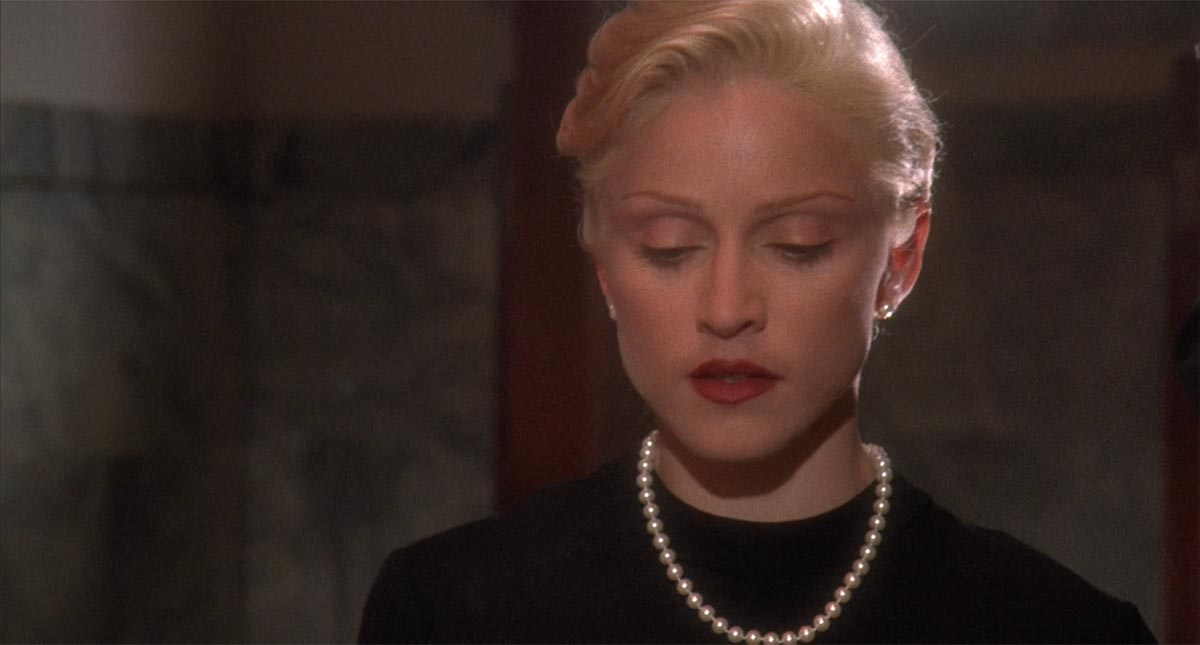 Let me know if you watch this movie and enjoy it's corniness and (horniness!) as much as I do. It's all in good fun.