This brutal summer has made me very enthusiastic about preparing for the colder months ahead, and I cannot wait to be wearing some of the cozy sweaters and wool trousers that have been languishing in my closet for months. Part of my preparation for the new season was to par down my wardrobe and part with some pieces that are no longer serving me. I thought this would be a great opportunity to talk about how to build up a mini-wardrobe to get you excited for fall…but do it by shopping all second hand! It has come to my attention that it is Secondhand September and as you know, that is the primary way I do my shopping. Lets break down a step by step process of shopping smart.
I call this a capsule wardrobe because it's just going to be a mini-boost to to the wardrobe you already have and love. Most of us tend to invest more heavily in coats and bags and shoes because those are the items to go on to serve us for years to come. Supplementing these well-loved investment pieces with a small addition of high quality second-hand sweaters, pants, and skirts can make your wardrobe feel brand new and exciting. Let's talk about getting a plan together for sprucing up our winter wardrobe, sustainably. It's a great opportunity to engage with your closet and think about what is working for you and what is not.
Get inspired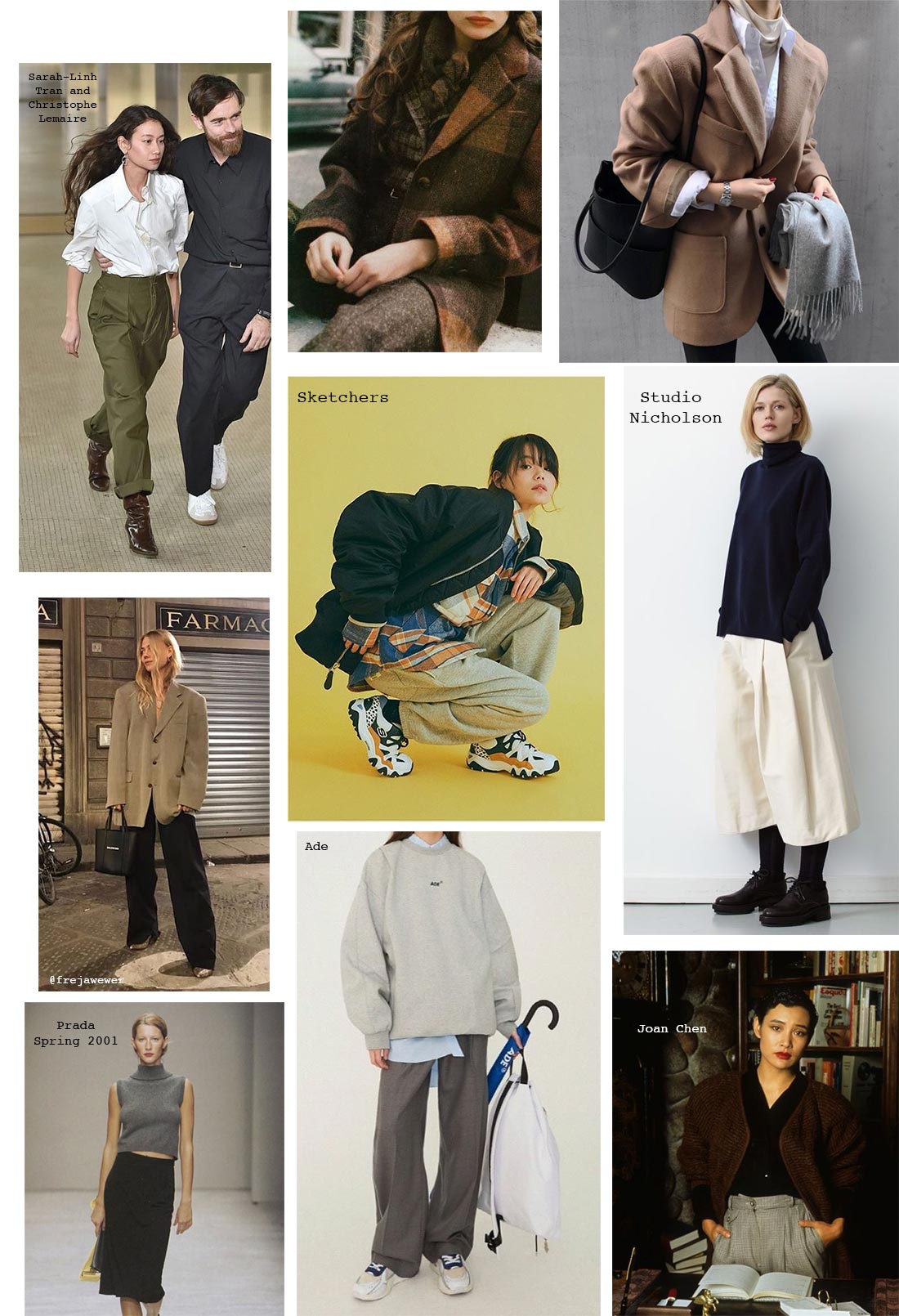 The best way to get yourself excited for this project is to make a moodboard for your wardrobe. Go on pinterest and start a inspiration board, make an Instagram saved images folder, or get some magazines and cut out photos you like. I have been craving a simple wardrobe full of natural textures, with lots of navy and brown and grey. I saved loads of images from Margaret Howell runway shows. I love her sense of design and I know that this look is going to be highly thriftable!
2. Make a shopping guide for yourself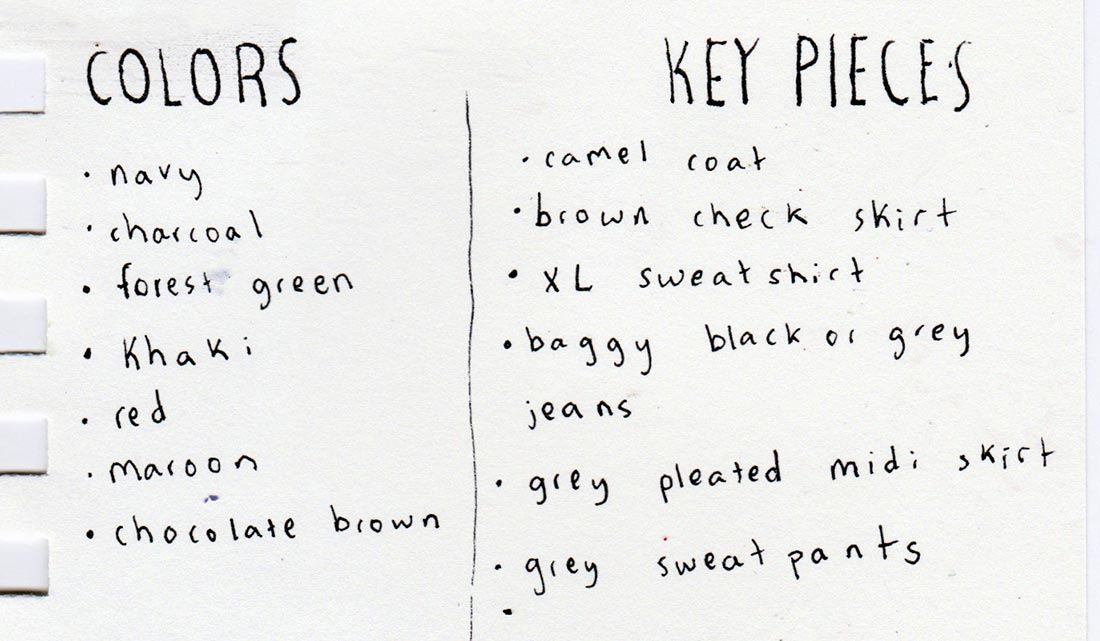 Now that you have an inspiration board of what you love, take a good look at it. Write down the colors that reappear most frequently. Did you see an item that you would really like to have? For me, it was a brown plaid midi skirt, and the perfect grey sweatshirt. Make a shopping guide for yourself, identifying a color scheme and key pieces to be on the lookout for. This makes shopping a less overwhelming process. I always find the color guides super helpful.
3. Pull out what you already have and love.
Now, with the same shopping guide and moodboard you made for yourself, take a look at your closet. The moodboard exercise may make you look at what you already have with a totally fresh set of eyes. Pick out some key pieces that fit the theme of the capsule wardrobe you are designing. You may find it helpful to clear off a clothing rack for this. I use rolling clothing racks from The Container Store and they are perfect for putting together rotating capsule wardrobes. I chose a cashmere coat by Lauren Monoogian, a few pair of vintage mannish trousers, an 80s Perry Ellis coat, a vintage Bill Blass coat, and a few favorite men's sweaters I have thrifted over the years.
4. Closet Cleanout & Clothing Exchange
Now that you've clarified your goals for yourself and what you want, your eye will be especially attuned to what is not working in your closet. Go through and look at your closet and take out the things you are ready to part with. I pulled out some jackets that felt outdated, some jeans that I didn't wear very much, and some clothes I bought at the thrift store that just never fit me right. I had a sizeable bag of clothes I didn't love anymore that I took to Buffalo Exchange, to exchange for a store credit. This is a great way to shop sustainably. I ended up with a store credit of $120, and I didn't even spend it all. With my store credit and my shopping guide in hand, I went through Buffalo Exchange to find some exciting new pieces to add to my wardrobe. I did the same thing at Crossroads Trading and found even more fantastic stuff. Shopping at second hand stores that allow you to exchange your clothes for store credit is a great way to dress sustainably.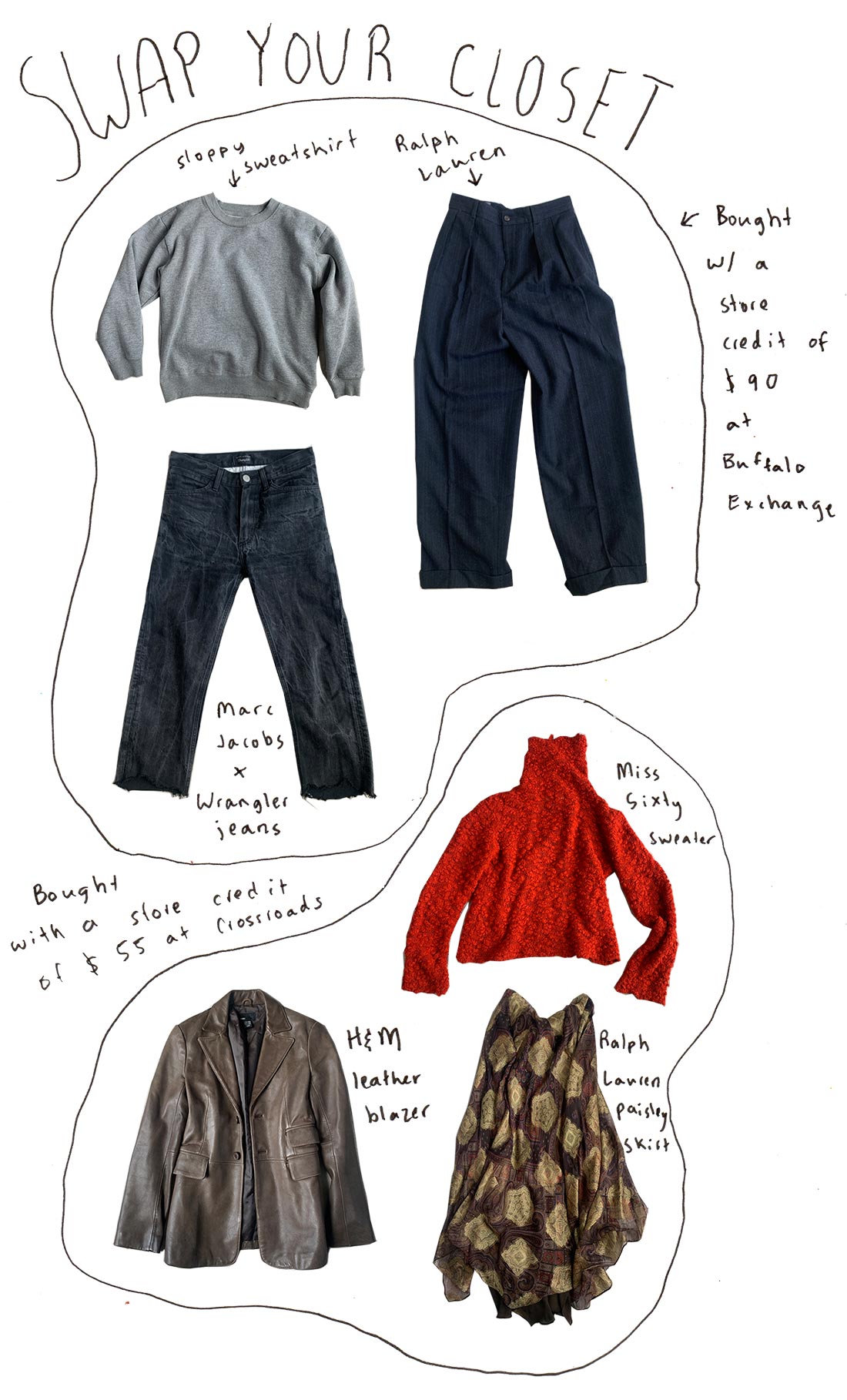 5. Shopping second hand online, and in thrift stores
To add in new pieces sustainably, use the shopping guide you made for yourself to peruse thrift stores and online at places like eBay, Etsy, and Depop. I made some really cheap finds on eBay, including a beautiful vintage Anne Klein jacket I won for only 99 cents! The DKNY pants look great on and cost me under 15 dollars with shipping included. I found another fantastic oversized men's sweatshirt and a satin beige skirt when I went thrifting. The shopping guide you make is especially helpful for thrifting, because looking at just the colors you selected will help focus your hunt.
Some tips for shopping on eBay: search for brands you already love and make saved searches. I save searches for all of my favorite vintage designers and I check them every day. That is how I make such affordable finds. Also, don't limit yourself to just the vintage category on eBay. I often find vintage being sold in the main clothing category on eBay. It takes patience, and eBay can be a bit of a learning curve, but with time you'll find a rythym and searches you like.
For instance: I did not find the brown check skirt I wanted at any of the consignment stores I went to or the thrift stores, so I started digging on eBay. I was overwhelmed by the options when I searched for "check skirt" on eBay. I tried a couple of different variations to narrow the results, like "tan plaid skirt", "check skirt xs", and "brown pencil skirt" and through some variation of these searches I found the one I was looking for. I can't wait to wear it with knee high boots and navy sweaters this winter!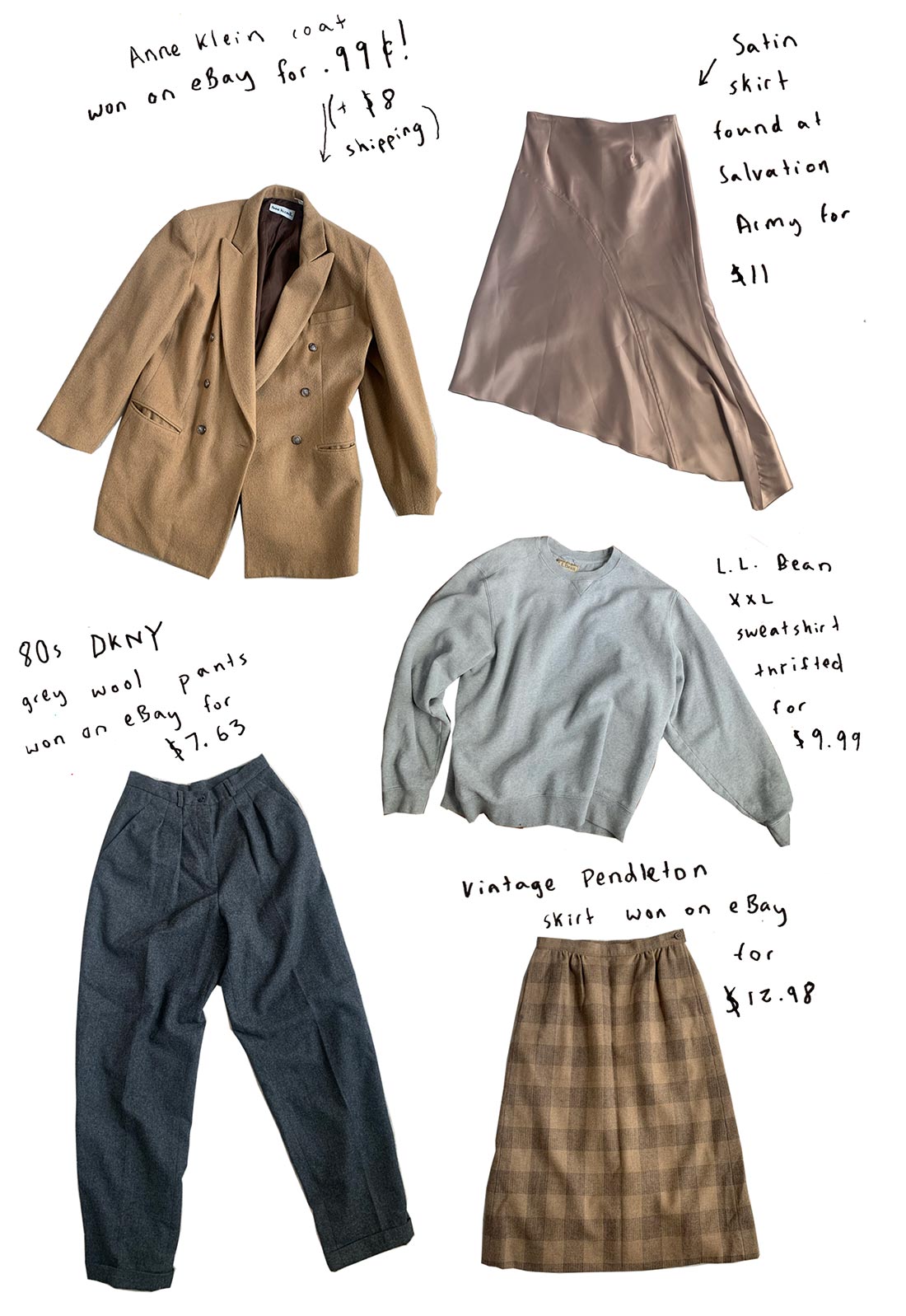 I hope this guide is of some help and inspiration to you! Let me know what you find this month. I love to delight in good finds with other thrifters and vintage shoppers.