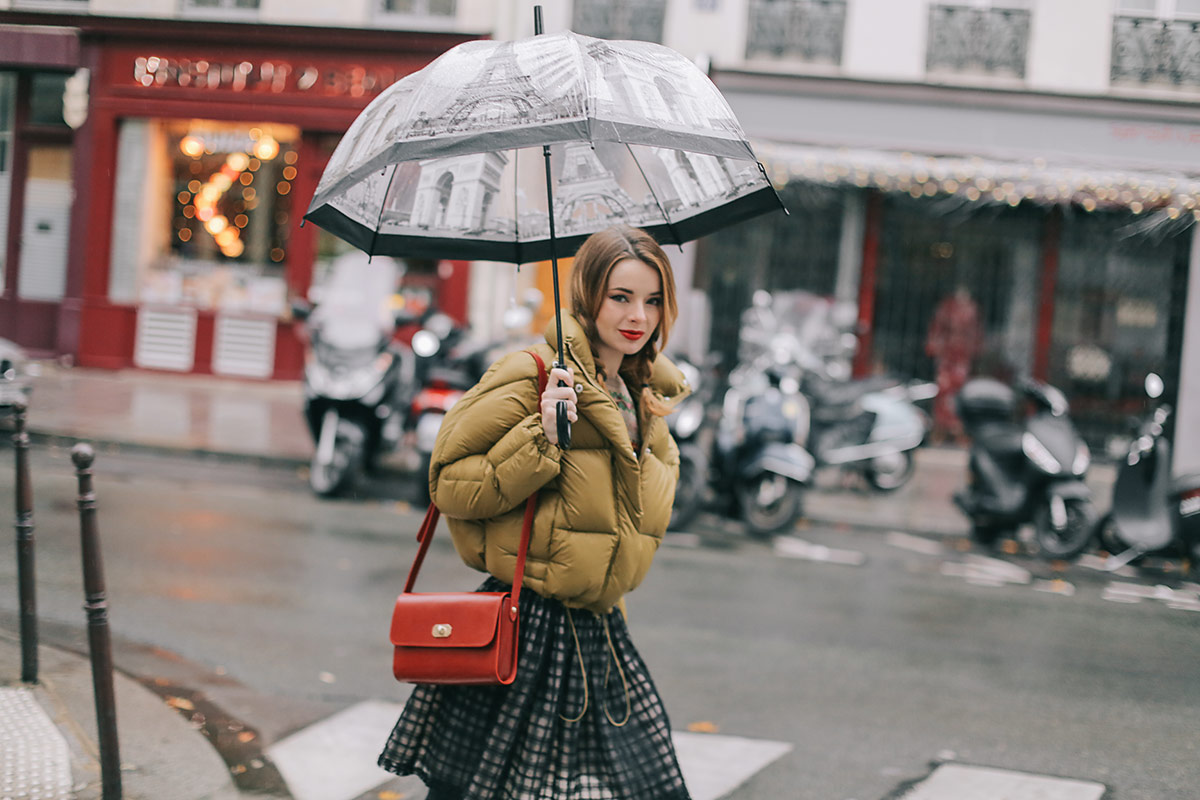 I have just gotten back from a trip to Paris, which you might have seen if you follow me on Instagram. It was a really wonderful trip and I am extra lucky because I got to spend it with my whole family this time! It was wonderful spending some quality time with them while we explored Paris together. We even got to see snow while we were there! I wanted to share some of our pictures and my outfits from the trip as well as share some of my recommendations.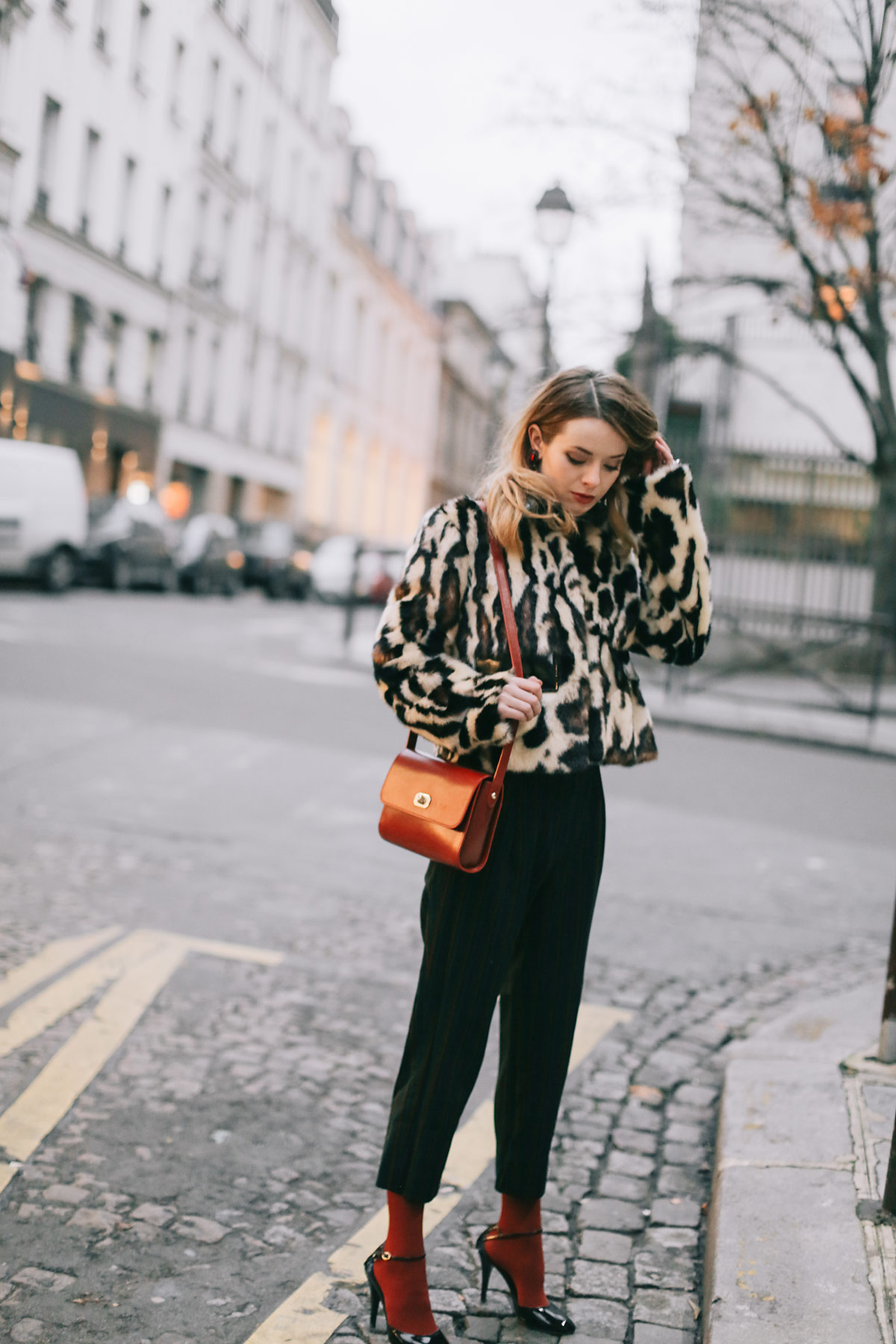 I am certainly not qualified to write a comprehensive guide to Paris. I feel like I would to live there for at least a year to do that. But I wanted to share a few of our favorite stops while we were there. I'm not even going to try to touch museums and art exhibits, as again, I am not qualified. These are some nice places to stop by in between sightseeing!
For food:
Ellsworth:
We have gone to Ellsworth three times this year and each time I love it more. It's small, unassuming, and intimate. They are famous for their fried chicken and for good reason! Everything is served tapas style, so you can really try the whole menu while you are there. Apparently they have an excellent brunch as well, but I have not tried it. I recommend making a reservation in advance!
Carbon:
This was new to me and one of my favorites on this trip. The menu is Argentinian and I moved to order some books on Argentinian cuisine after our meal. This was my favorite meal in Paris. Jeff and I shared a hanger steak with sweet potatoes that was absolutely ethereal. The interior is stunning and makes the small restaurant feel airy and bright. They have a new secret bar underground that I sadly did not get a chance to try. If you get to go, let me know how it is! Note for vegetarians…the menu can be quite meat-centric so you might have to order a bunch of appetizers instead of a main.
Bonhomie:
We had an excellent meal here earlier in the year and were eager to return on this trip. The menu is Mediterranean inspired and served shared style, I believe we ordered almost the entire menu between five people. This is a dining experience that goes at a very relaxed pace, which is a wonderful break from running around the bustling city. I recommend arriving early before dinner and enjoying a cocktail at their bar, which features its' own separate menu.
Tavline:
I was really inspired by our meal at Tavline, a new Israeli restaurant in the Marais. They describe the menu as Israeli comfort food. We had a delicious appetizer sampler with hummus, spiced sweet potatoes, beets, and roasted cauliflower. This simple preparation of vegetables was done with such elegance and care. Tonight Jeff and I are trying to replicate this meal! We shared the shakshouka and it was the perfect dish to warm our bones after a day out in the cold.
Little Red Door: Jeff and I loved this place for cocktails. They have a changing "inspirations" menu but they also do classic cocktails exceptionally well. The bartenders are very fun to talk to. I would arrive as early as possible as it tends to fill up quickly, a good one to try on a weeknight rather than a weekend!
Experimental Cocktail Club: We were bigs fans of the Experimental Cocktail Club in London so we were eager to try the Paris E.C.C.. It does not disappoint, and the best part about it is it can be very quiet and tranquil when you go during the week. Perfect atmosphere to enjoy a stiff cocktail in beautiful Montmartre.
For Shopping:
The Frankie Shop:
The real life version of the Frankie Shop is a charming boutique in the Marais. This was a treasure trove, I bought some wonderful dresses here I am going to wear a lot. I must preface this recommendation by saying the sizing offered is quite limited and errs small.
KILO Vintage:
This was fun for vintage lovers! It is nothing fancy, no designer vintage here. Just very well organized vintage basics and lots of them. If you are planning to come here, make sure there is extra room in your suitcase.
Leclaireur:
There are several locations in Paris, and they all have their own vibe but each one is a completely unique shopping experience. The buying is extremely selective and they stock some really incredible designers you don't get to see anywhere else. Walking into the Leclaireur in Montmartre where you have to be buzzed in through a door, I thought it would be the kind of place where the sales staff would treat you rather rudely if you were just looking around. I was wrong, the sales staff could not have been nicer. The boutique in Montmartre was like a museum, I would love to go back soon.
Fifi Chachnil:
For lingerie lovers! I wanted to buy some lingerie in Paris that I would not be able to find anywhere else. I found just the thing at the Fifi Chachnil store in Montmartre. It isn't just lingerie, the clothes they offer were to die for as well. It is spendy for sure, but you can see and hear them sewing the clothes in the backroom atelier as you shop, so you are getting truly handmade Parisian lingerie.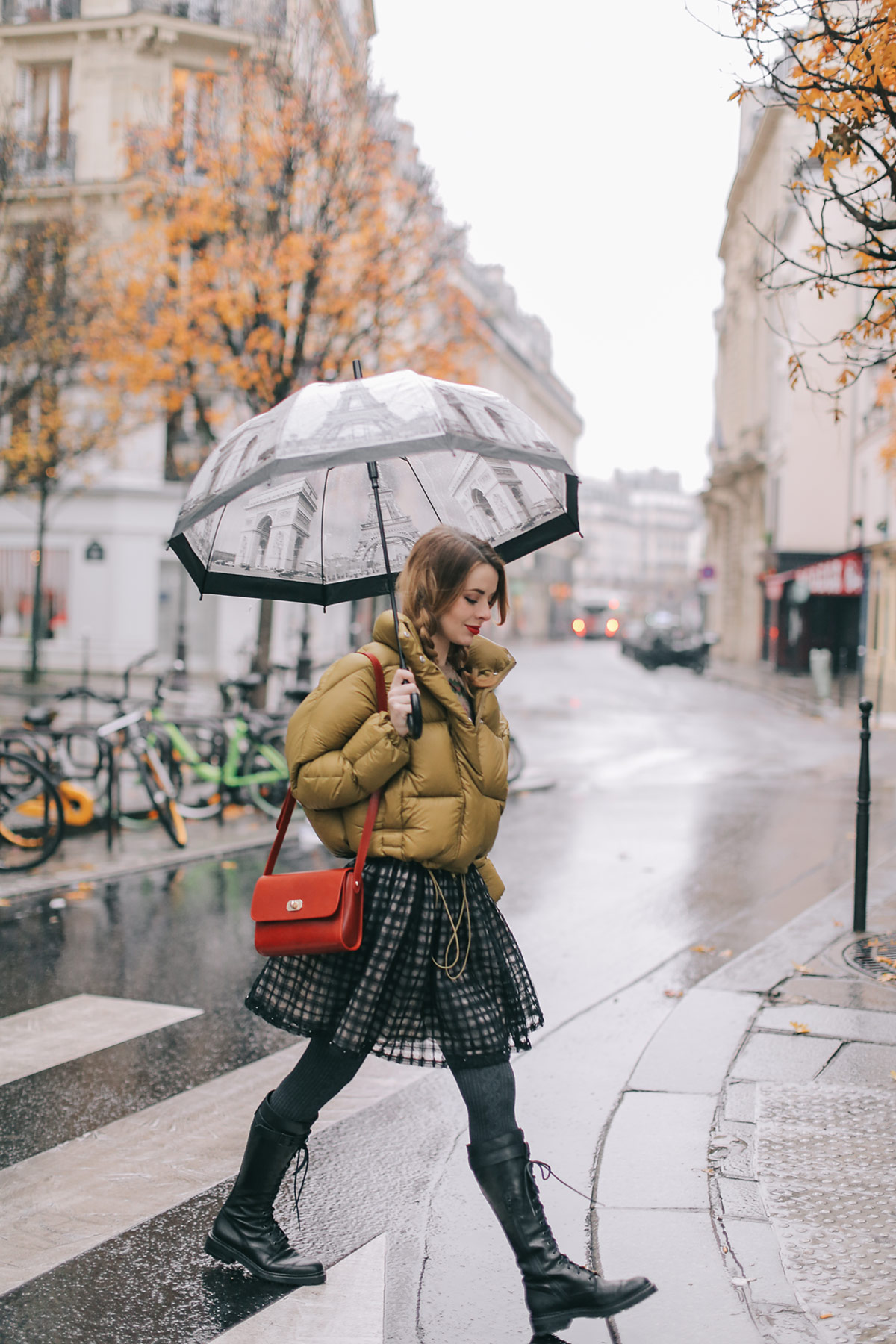 Above I am wearing a Red Valentino skirt, an A.P.C. bag, a puffer from the Frankie Shop, and boots by Frye.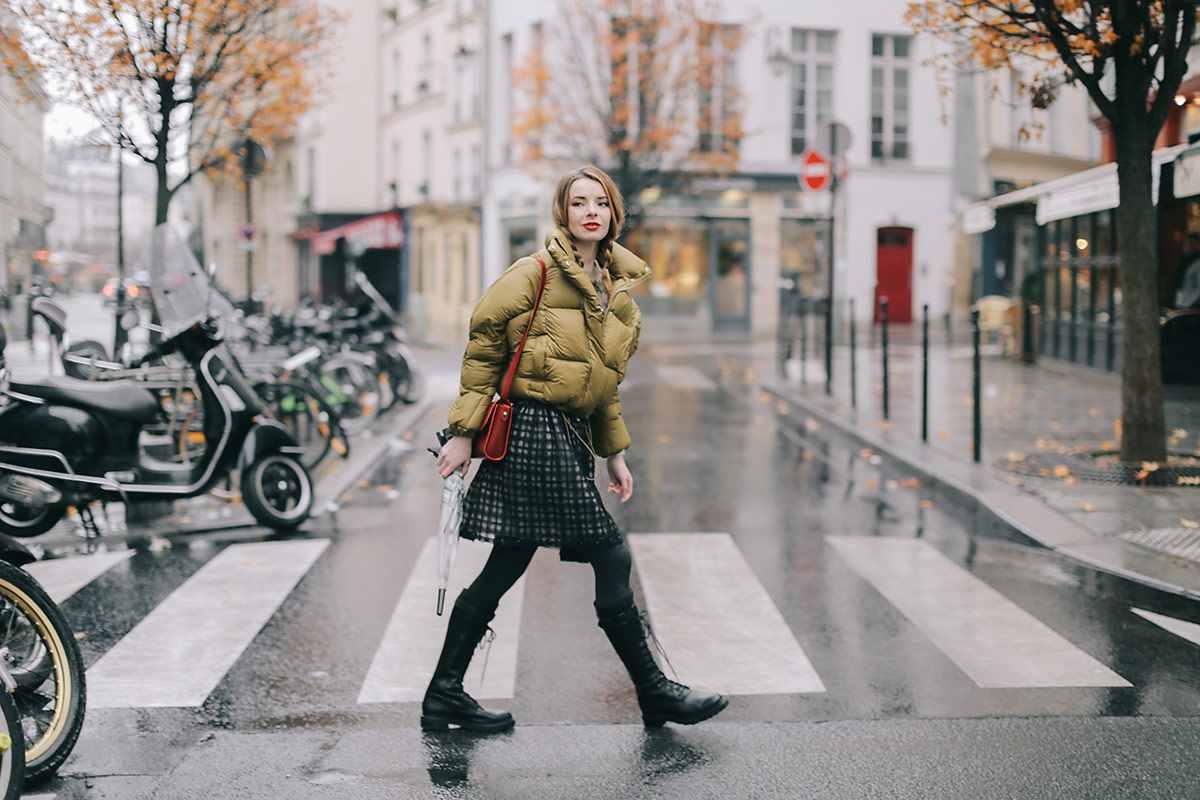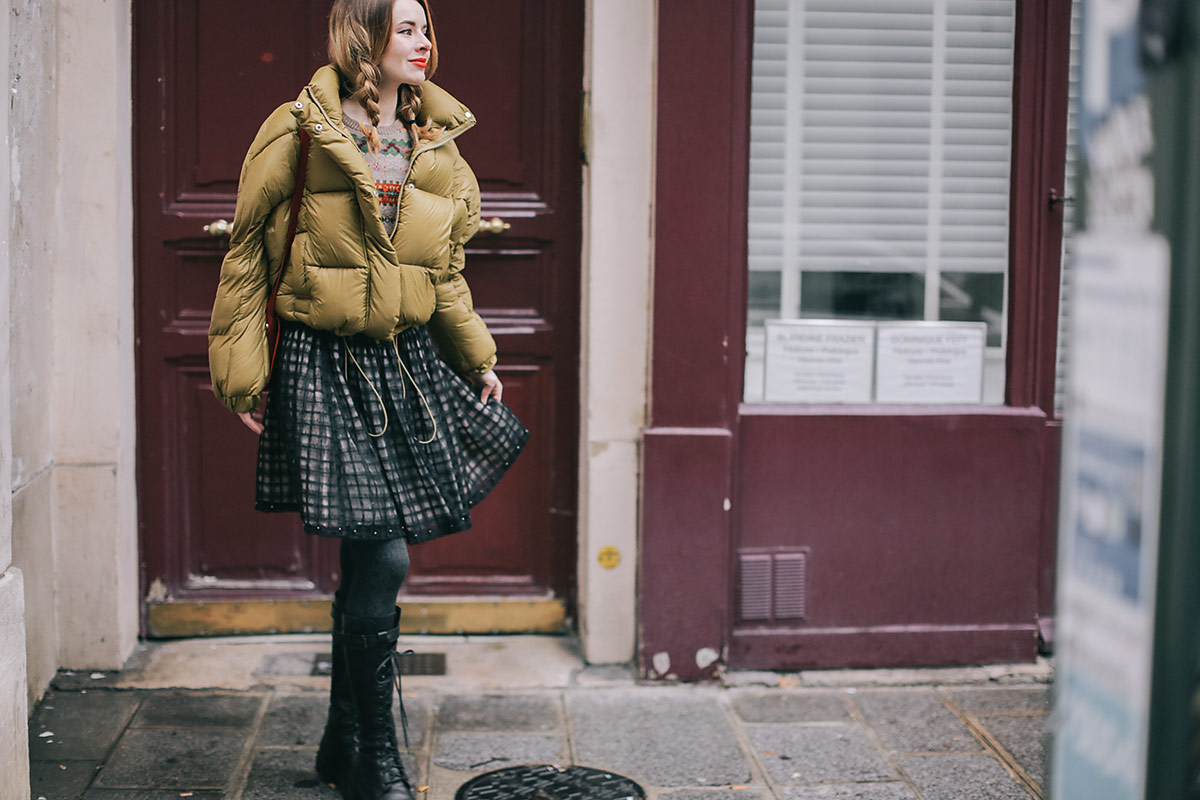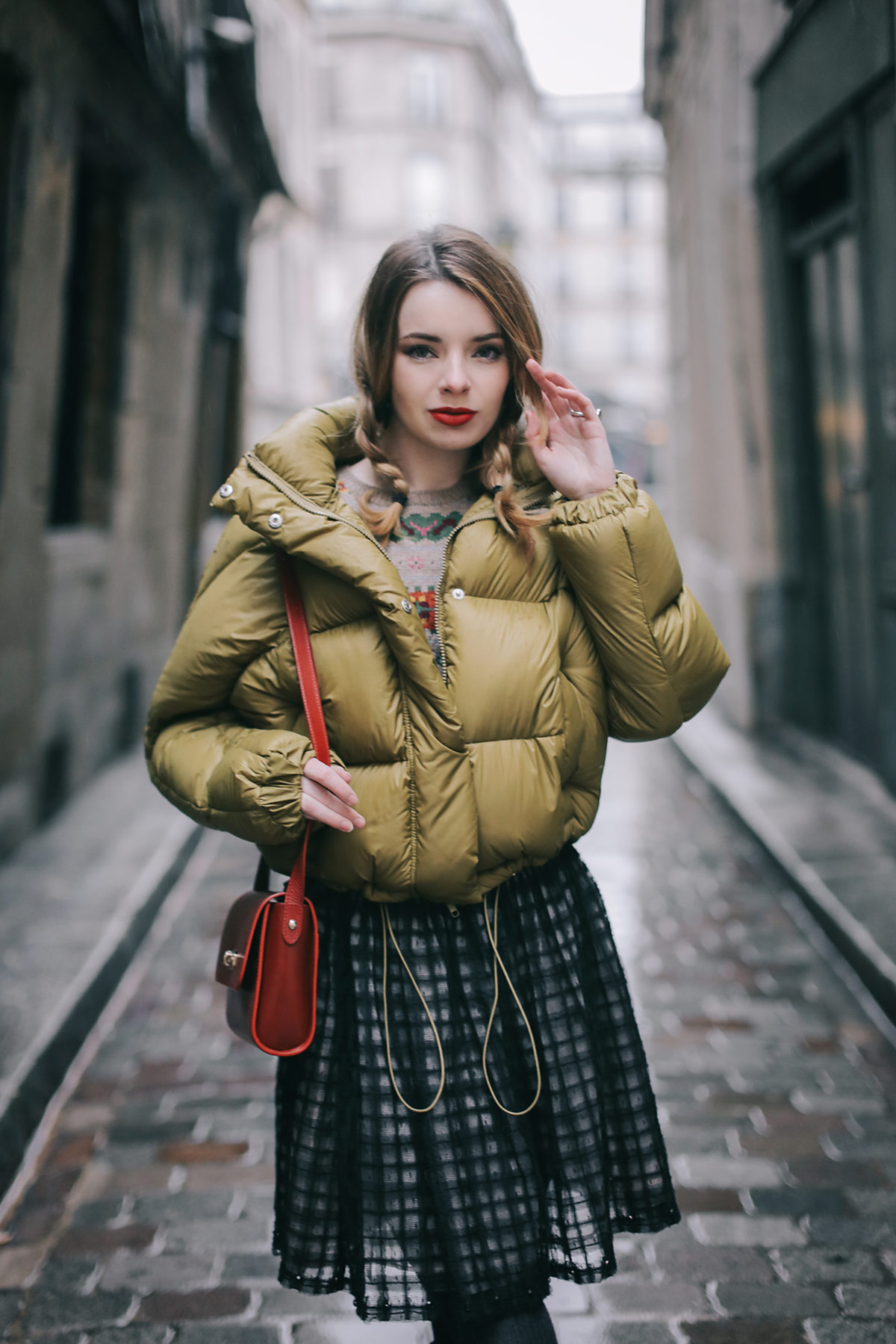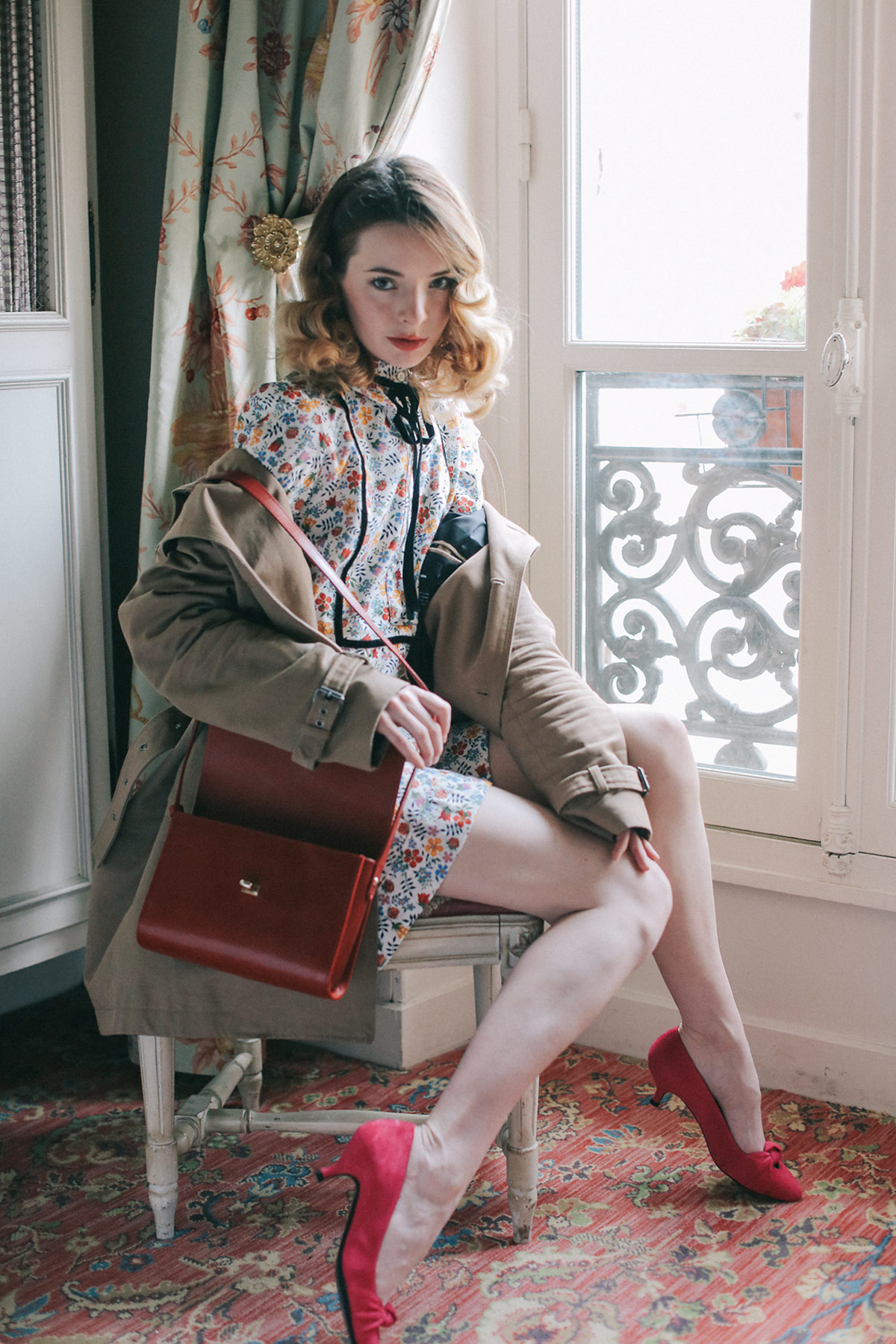 Above I am wearing an A.P.C. dress I got while in Paris, an A.P.C. bag, my husband's trench coat from the Kooples, and Manoush suede pink pumps.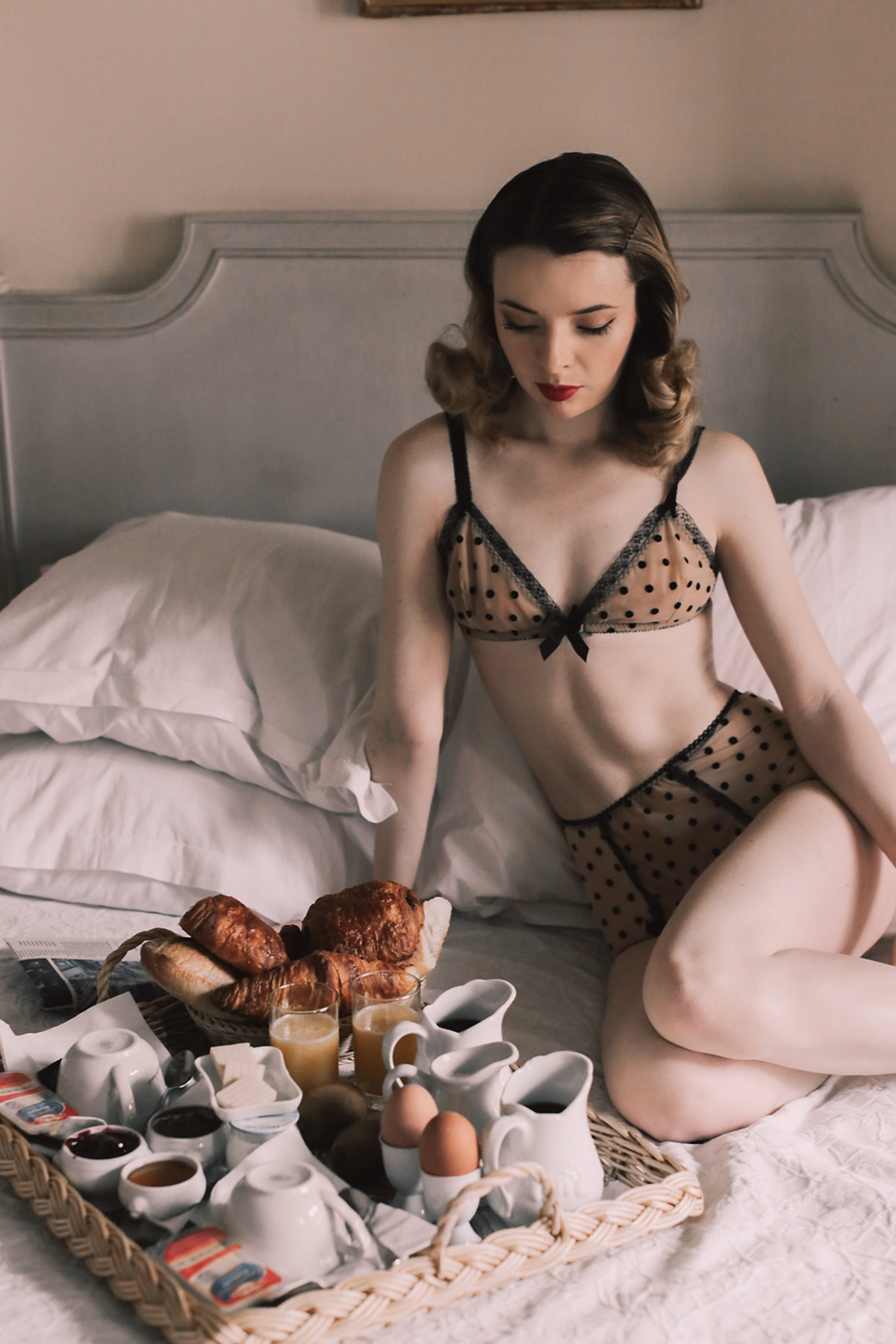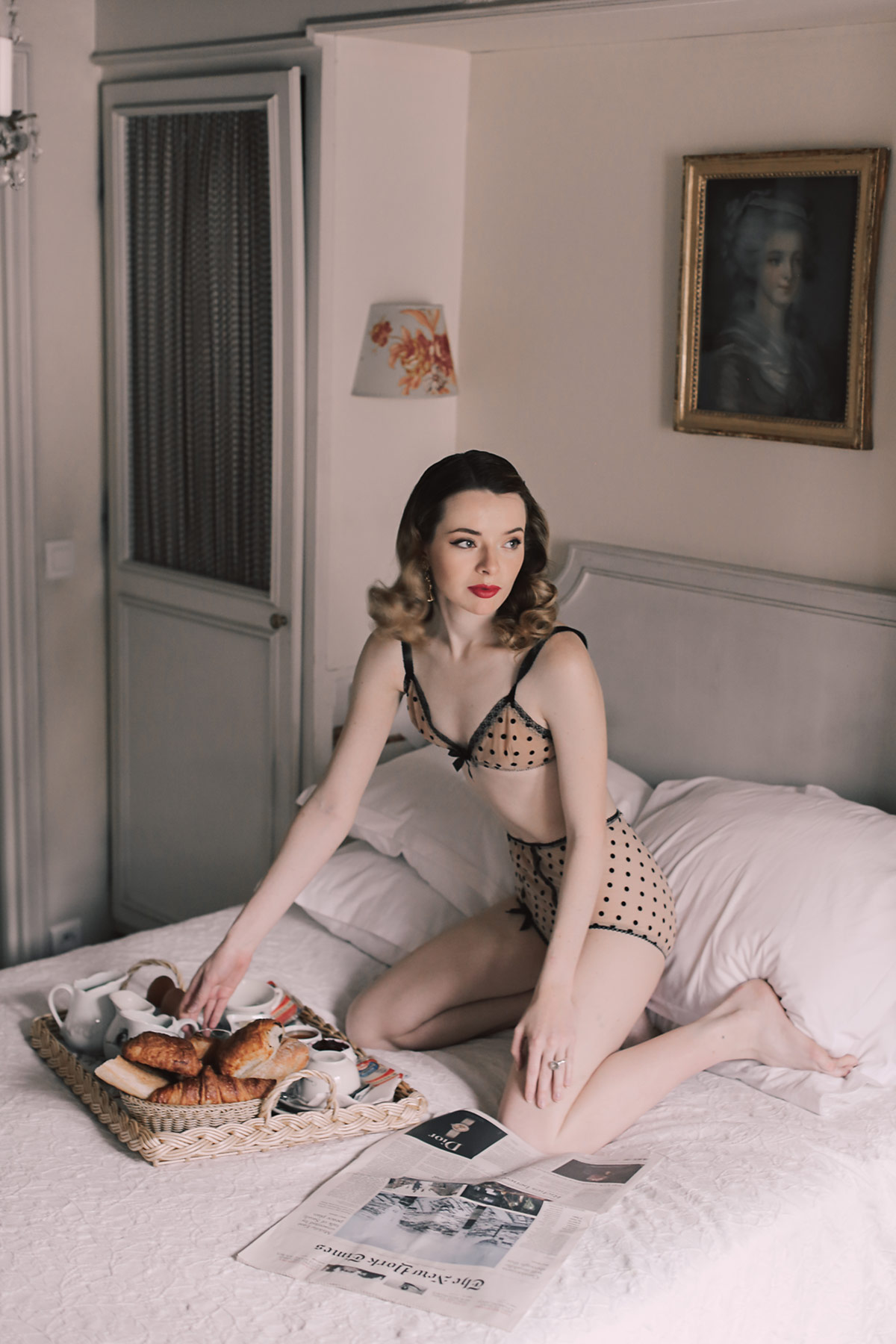 Above I am wearing Fifi Chachnil lingerie in the Hotel Caron de Beaumarchais where we stayed.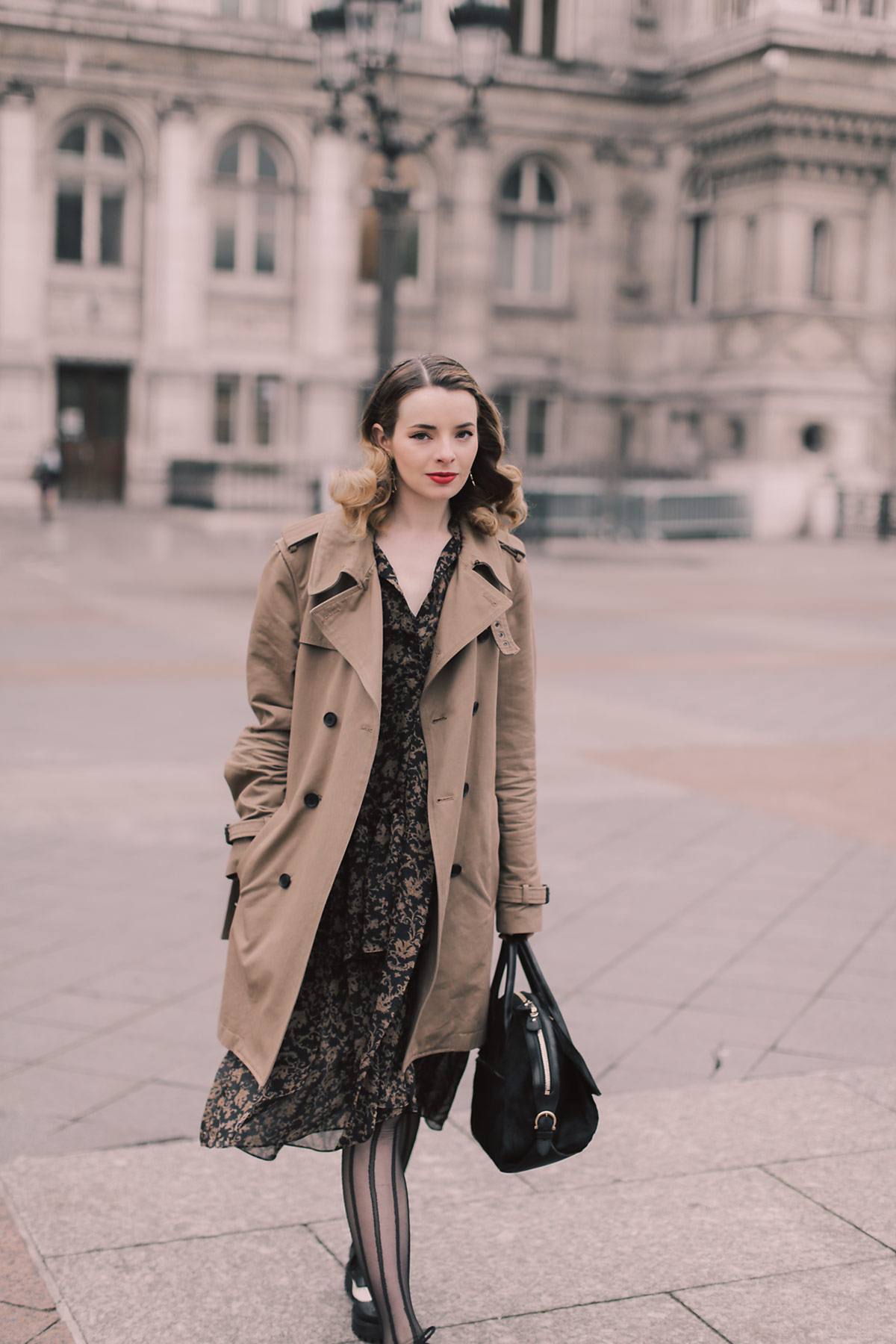 Above I am wearing a dress from the Frankie Shop, my husband's trench coat from the Kooples, tights from Urban Outfitters, and shoes by Sonia Pinto.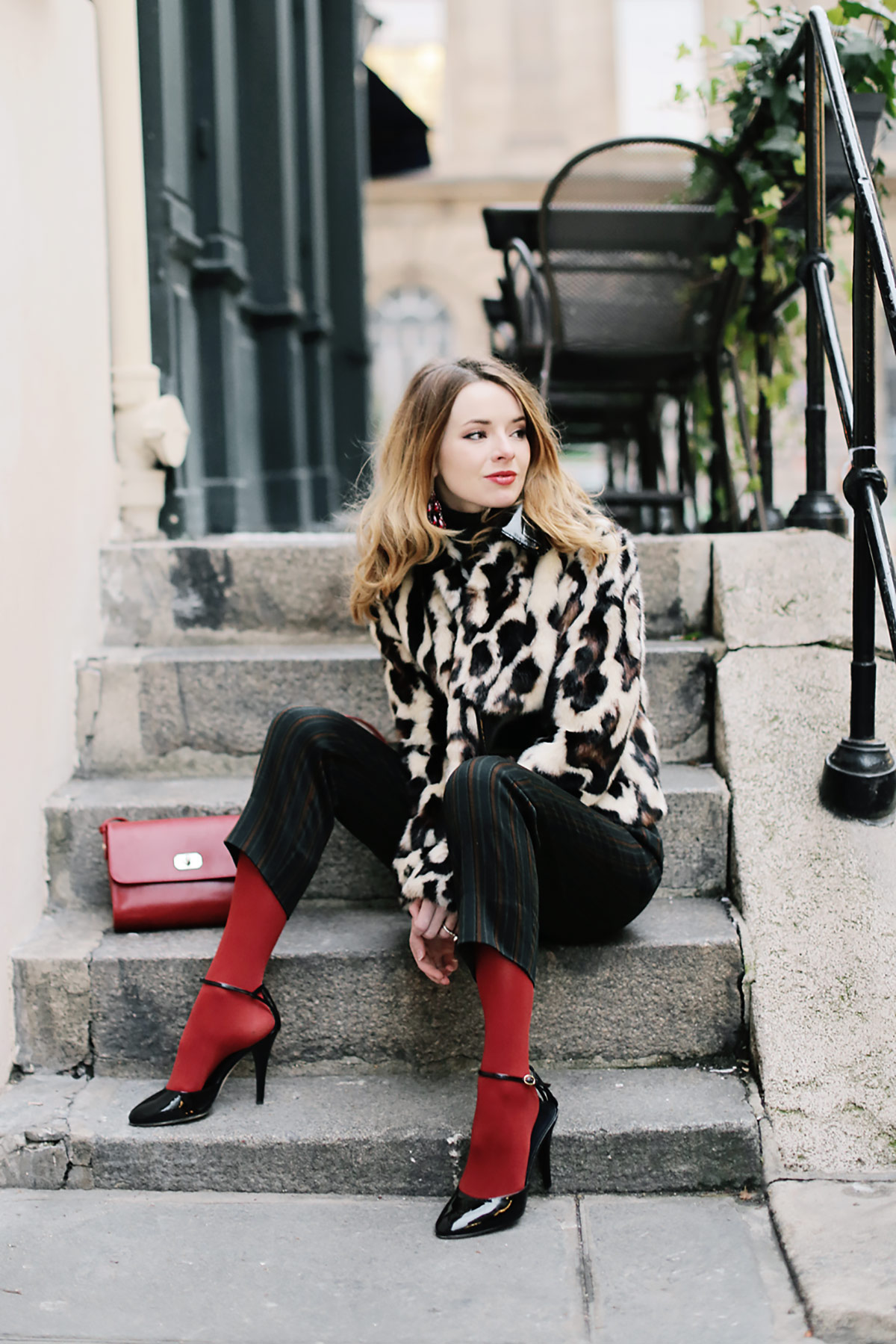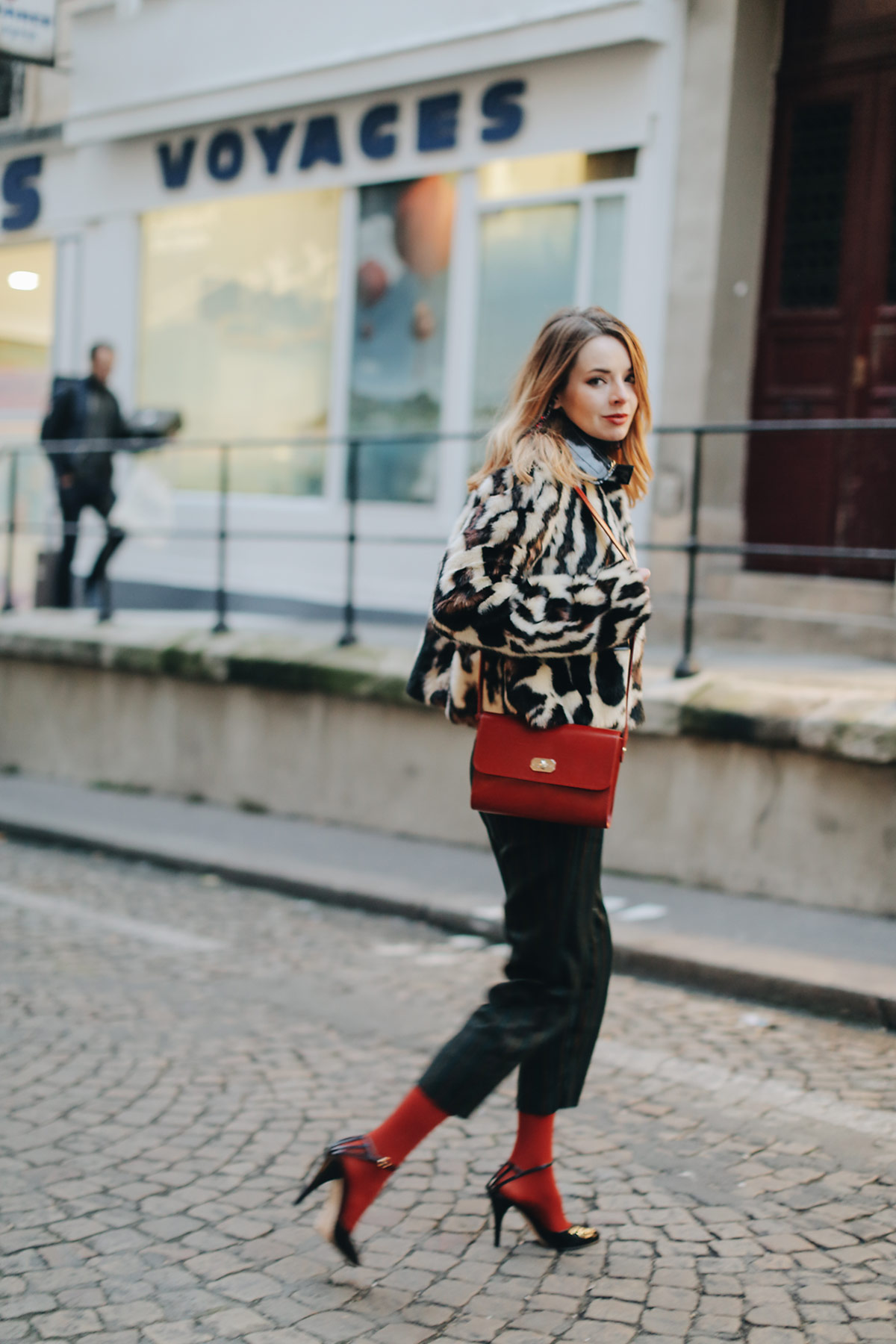 Above I am wearing a Carven leopard faux fur coat I bought last year with vintage Moschino pants, red tights from Target, my A.P.C. bag, and Vanessa Seward shoes.