The Olsens have held our collective fascination for decades, and it seems for Olsen die-hards, enough is never enough when it comes to their candid style snaps. I am totally in this category. In contrast to the starlets that have their stylists put together off-the-rack designer "coffee run" looks, the Olsens bedraggled glamour and true fashion savvy is a siren song to those who yearn for the days of true style. They will wear bags till they're falling apart, Birkenstocks in ways that give new meaning to nonchalance, and eschew makeup and green juice in favor of wet hair, cigarettes and XXL coffees. They are fashion unicorns. As the kids say, they have given us no choice but to stan.
I want to start a recurring series of posts on Sea of Shoes to bask in the glory that is Olsen style. In a world so full of manufactured glamour, the Olsen magic is real and worth talking about. I'm going to break down some powerful Olsen fits, at random.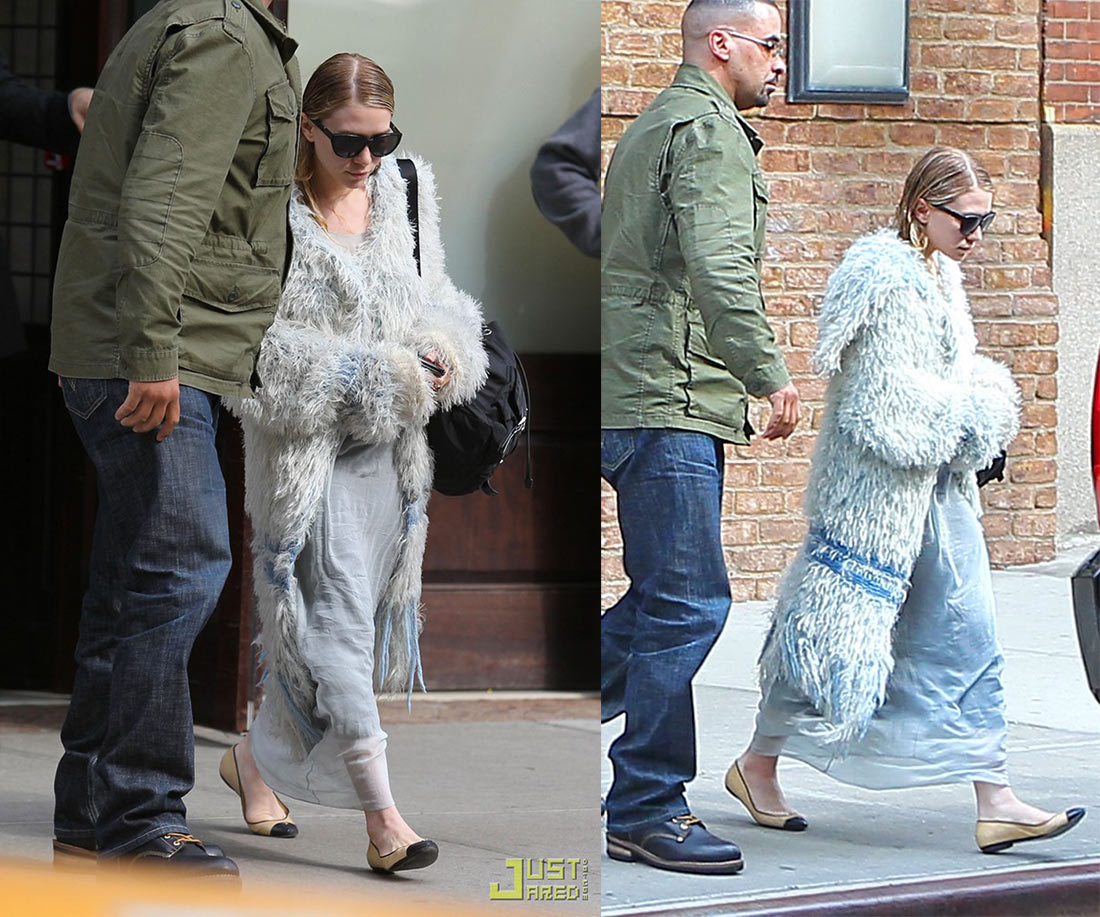 Let's take it all the way back to 2011. Everybody was playing the soundtrack to the hit Ryan Gosling movie Drive, people were still talking about the Royal Wedding, and Ashley Olsen was casually looking like a sea nymph who had somehow found her way to Rodeo Drive. Bodyguard in tow, she wears a shaggy feathered periwinkle powderpuff coat over a gauzy blue slip dress, Prada nylon backpack, Chanel flats, with deeply parted wet hair. I get so excited when I see an Olsen wearing color, and catching Ashley in a tonal periwinkle look feels like a rare treat . This look brings back strong memories of a particular look from Olivier Theyksen's 2008 spring collection for Nina Ricci, which, sort of an archival flex! The kids may not remember but Theyskens for Nina Ricci was a big deal back then. Even her hair reminds me of the hair from this collection! This is a perfect fairy-like outfit especially for fairy-sized people like Ashley. But the very best part of his outfit is how the Chanel flats and Prada backpack say "I'm very much in Los Angeles, and not the Lost City of Atlantis.".
Key takeaway: Mix the mythical with the material. And if you can find a periwinkle feather coat, don't let the opportunity pass you by.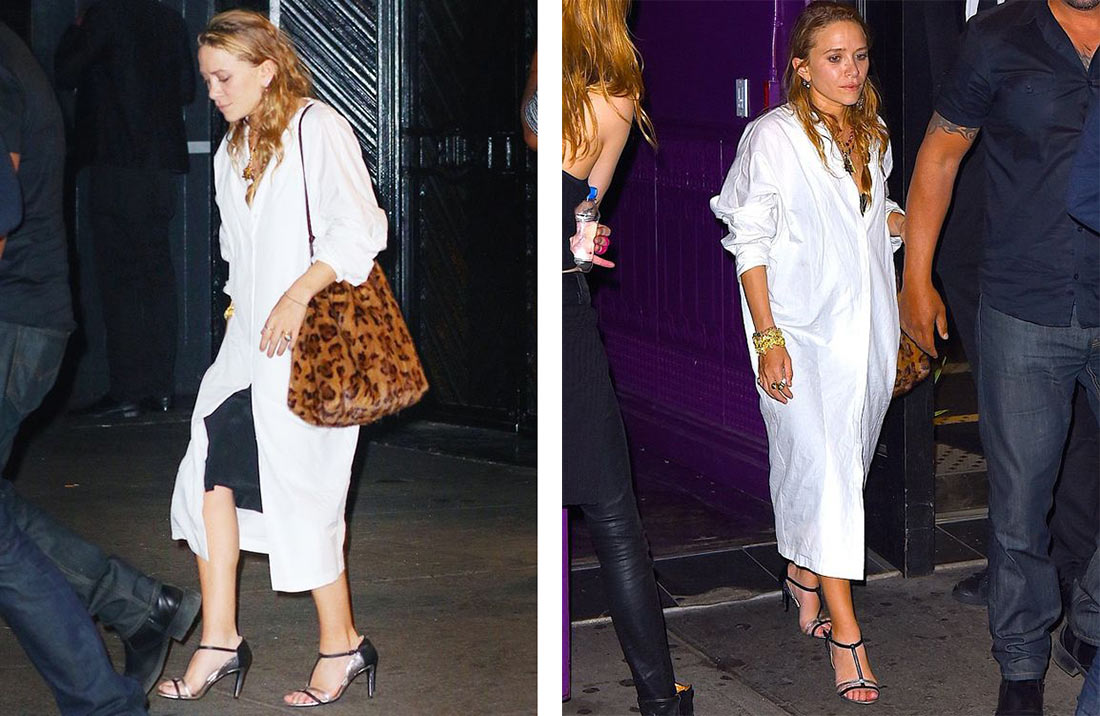 This 2016 MK look ticks my boxes for a several reasons. The way the lengths are being played with in this look is totally genius. The oversized shirtdress and beachy hair say I just got back from a private beach and haven't even unpacked, so I'm throwing on my coverup with a Rick Owens Lilies skirt and a mink leopard bag and calling it a look. There is something very chic about eschewing any hint of a waist and just letting your outfit take up more space in the world.  I couldn't tell from the first photo but in the one on the right, we can see she is absolutely dripping in gold jewelry. Not taking your time to comb your hair or put on makeup, but actually taking the time to put on all of your biggest rings and necklaces is the kind of rumpled glamour Olsen fans can't get enough of. I also love the bag, and I love the way the Olsens often choose normal designer bags and in favor of no-name bags in exotic furs and skins. It's much more chic.
Key takeaway: Play with lengths and space by finding oversized or extra-long basics. And cultivate a collection of one or two absurdly impractical bags.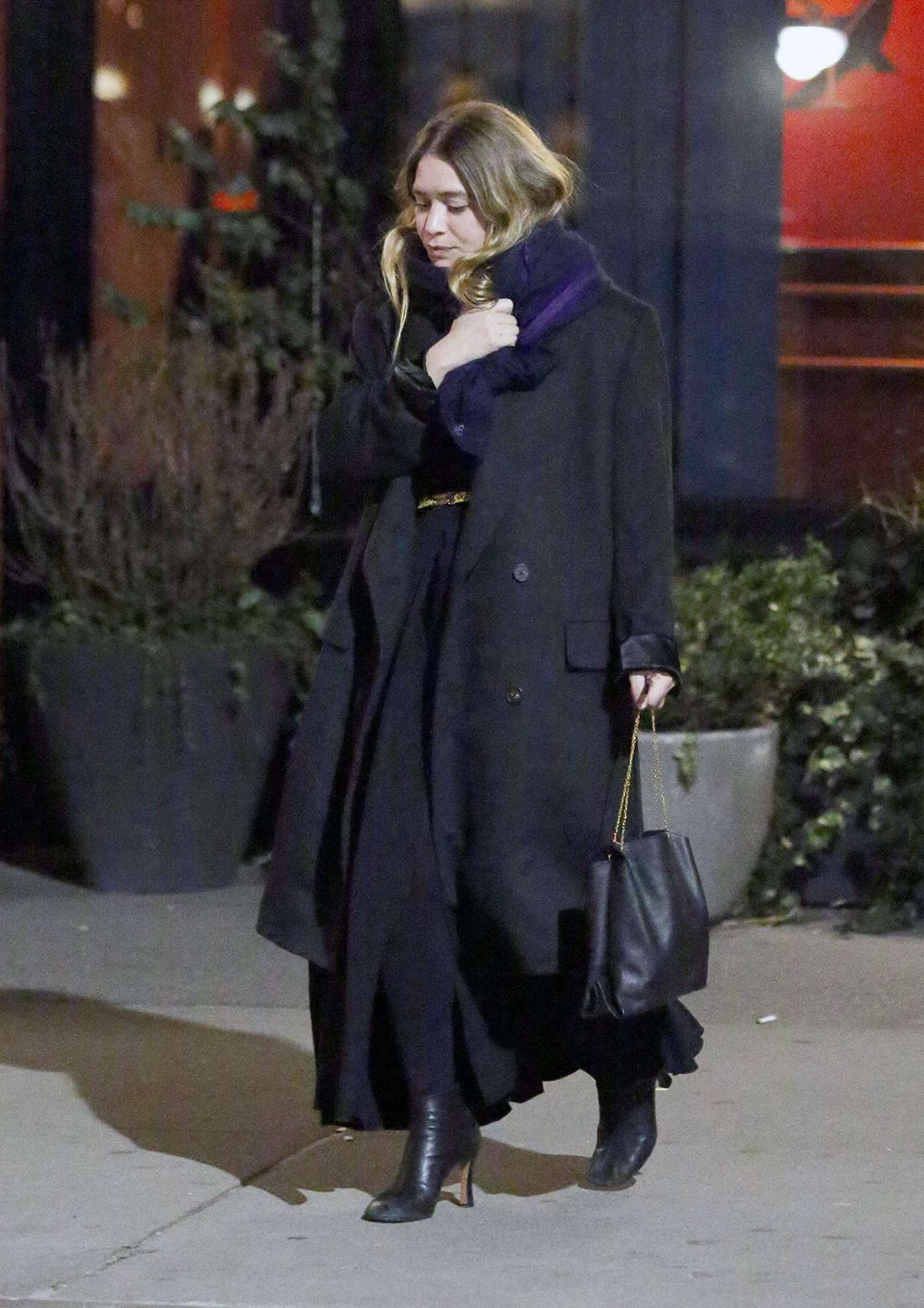 Olsen outfit #3: This is the move: wear an abundance of expensive looking black layers, and then take everyone's breath away by accessorizing with a purple scarf. Fashion people seem so allergic to color these days, which makes the pop of purple here a refreshment for my eyeballs! Also, speaking again to outfits that take up a lot of space, this is a great outfit that exemplifies the power of "more is more". Long coat, long skirt, and big scarf. We have all seen these Celine glove boots before on so many influencers, but have you ever seen them scuffed up and worn to hell like this? I haven't. She must have gotten them before everybody else did and worn them a lot. But doesn't she have a driver to take her everywhere? How did they get so scuffed up when I can hardly find any more outfit photos of her wearing these boots? I am going to be thinking about this a lot.
Key Takeaways: Purple is a power move, and so is piling on the black clothes.