Hey guys! This is a really weird and bad time. There is no sense of normalcy or safety right now and the news is relentlessly heartbreaking and stressful, not to mention inescapable. I don't think people were built to sustain this kind of prolonged stress. I am particularly sad today because Texas officials have decided it's fine to start reopening businesses, even though yesterday was the highest day on record for COVID-19 deaths. It's hard to not just a have full-blown mental breakdown over this, to be perfectly honest. I have been trying to ground myself with calming activities so I don't lose my mind.
Easier said than done, right? We've got to find the small things that keep us sane right now. One thing that quiets my mind when I feel panic creeping in is to scroll through eBay mindlessly. I don't have to buy anything, and I am not buying anything right now so as not to overwhelm our already strained postal service (though I suppose many retailers are offering a "ship later" option but who knows when that will be?). The endless scrolling and mindless appraisal of fashion listings is enough for me. Online window shopping expands my imagination, and since I am not shopping for myself, I find myself pretending to shop for other people. It's like fashion fantasy football for me, and it's been a nice distraction.
I often wonder why celebrity style in general is so dull when they have access to all the best clothes in the world. Jennifer Aniston is a perfect imaginary person for me to shop for because she kind of encapsulates the sartorial blandness that celebrities fall victim to when stylists get involved. This is unjust! I think Jennifer is very stylish all on her own. You can't log on to Instagram without seeing 90s nostalgia accounts sharing photos of Rachel's outfits on Friends, or sharing Jennifer's iconic 00's candid outfits with Brad. It's time she reclaim her rightful throne to style. Jennifer has a great Lauren Hutton kind of thing going on, what with her tomboy-ish off-duty style and healthy California girl looks. She has a natural coolness that really shines with the right style choices. She is an insanely gorgeous and wealthy woman who is 51 years old with gorgeous hair, legs, arms, and a perfect jaw-line. She of all people should be having more fun with her clothes.
Am I nuts for playing this game? Maybe, but look, it's fun to pretend I can shop with Jennifer Aniston's budget, and frankly I'm a Jen stan and would love nothing more than to see her in some cute looks. Pour yourself a glass of wine, turn off the news, log on to Net-a-Porter and Moda Operandi, and announce to no one in particular that "You are here to shop for Jennifer!!"
Candid outfits
Now more than ever, celebrities' coffee run outfits are just as important to their image as their red carpet looks. Luckily, I think casual style is where Jennifer Aniston actually shines. She is at her MOST stunning and stylish when she is in jeans and a t-shirt. That is a style superpower! However, it's also a dangerous trap, because the wrong denim can ruin your whole vibe. Overly distressed, super stretchy skinny jeans always look very 2009. I spent some time looking at Jen's recent candid outfits and I think we have to got to start by upgrading her denim.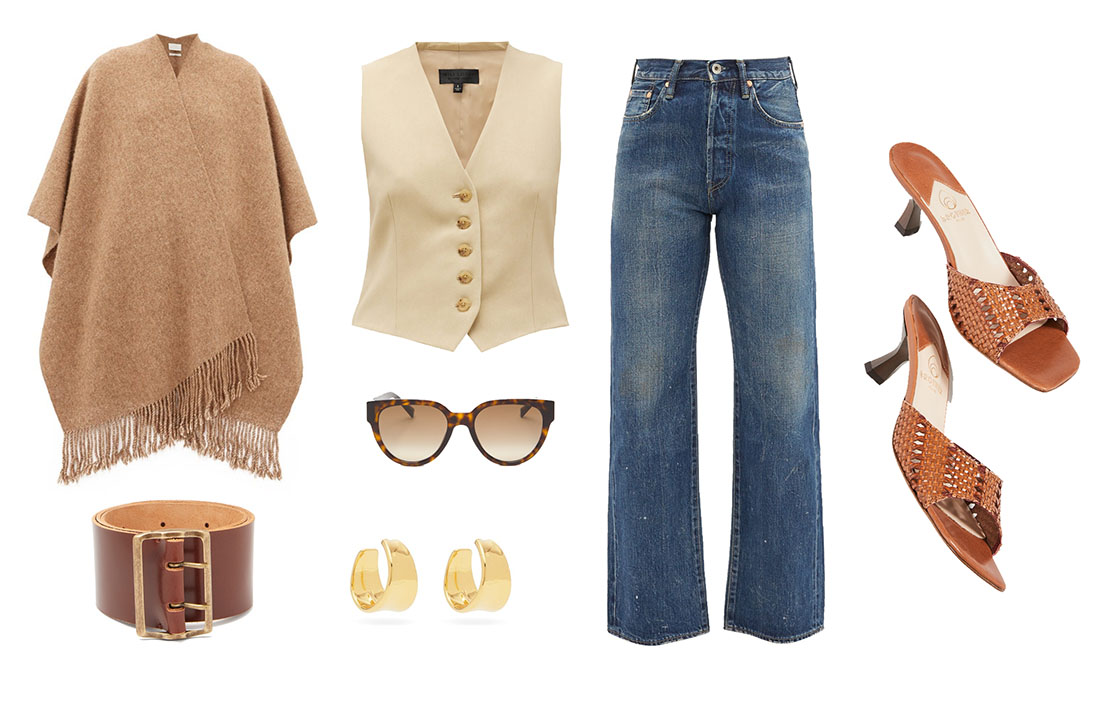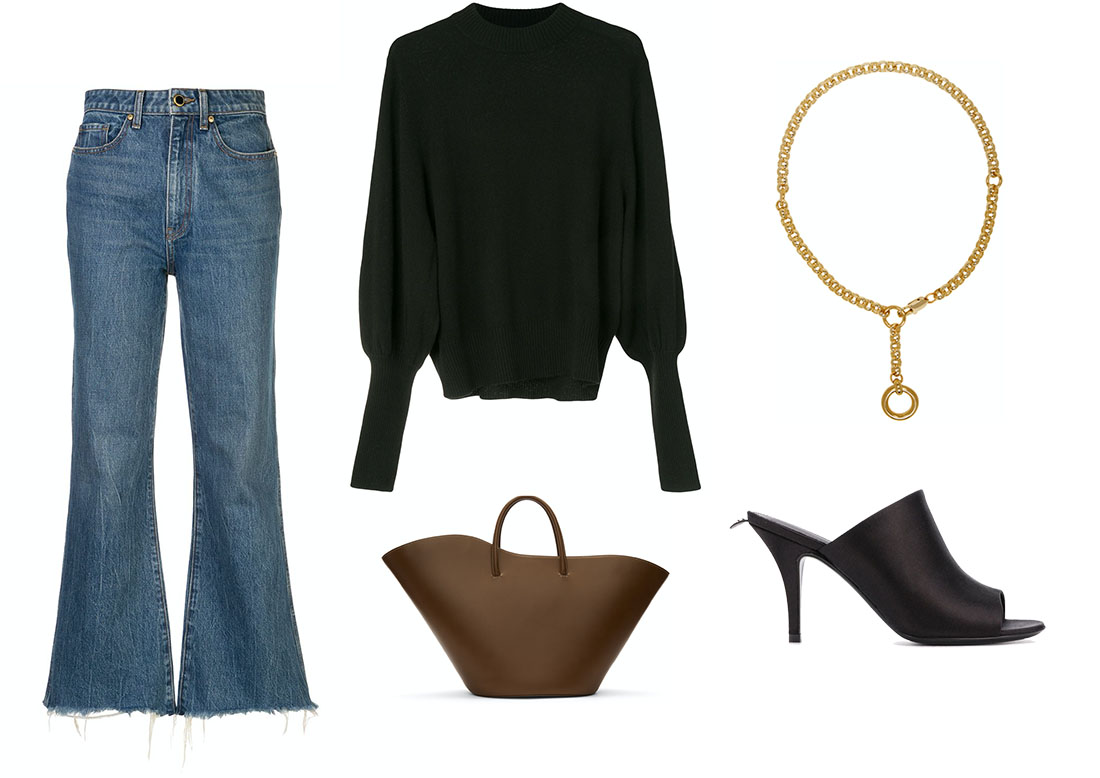 A lot of the jeans Jennifer wears in recent candids are low rise and look very mass-produced. I would start by buying a lot of looser and more authentic looking vintage styles like those by Khaite. I also noticed Japanese-made denim brand Chimala has a run of beautiful jeans on Matches.com. They blow other denim brands out of the water when it comes to quality and fit, and Chimala jeans aren't often available due to limited production so get them whenever you can. Chimala jeans cost a pretty penny, though they used to not be so expensive.  A personal opinion of mine is that before you invest in handbags or shoes, you should invest in amazing jeans first. Bad jeans can be ruinously dorky. You can style cheap flip flops and sneakers in stylish ways, some women can wear a straw tote bag like it's a Birkin. But there is NO hiding from bad jeans. If I loaded Jen's wardrobe with amazing covetable denim and great t-shirts, she's already halfway there.
I would also buy a lot of shrunken vintage blazers and vests for her to wear with the jeans, like a Californian Annie Hall. I noticed in her candid outfits, Jen likes to wear a lot of loose cashmere cardigans, so I thought a stylish riff on that would be this really cool Lauren Manoogian shawl scarf. You could throw it on over anything.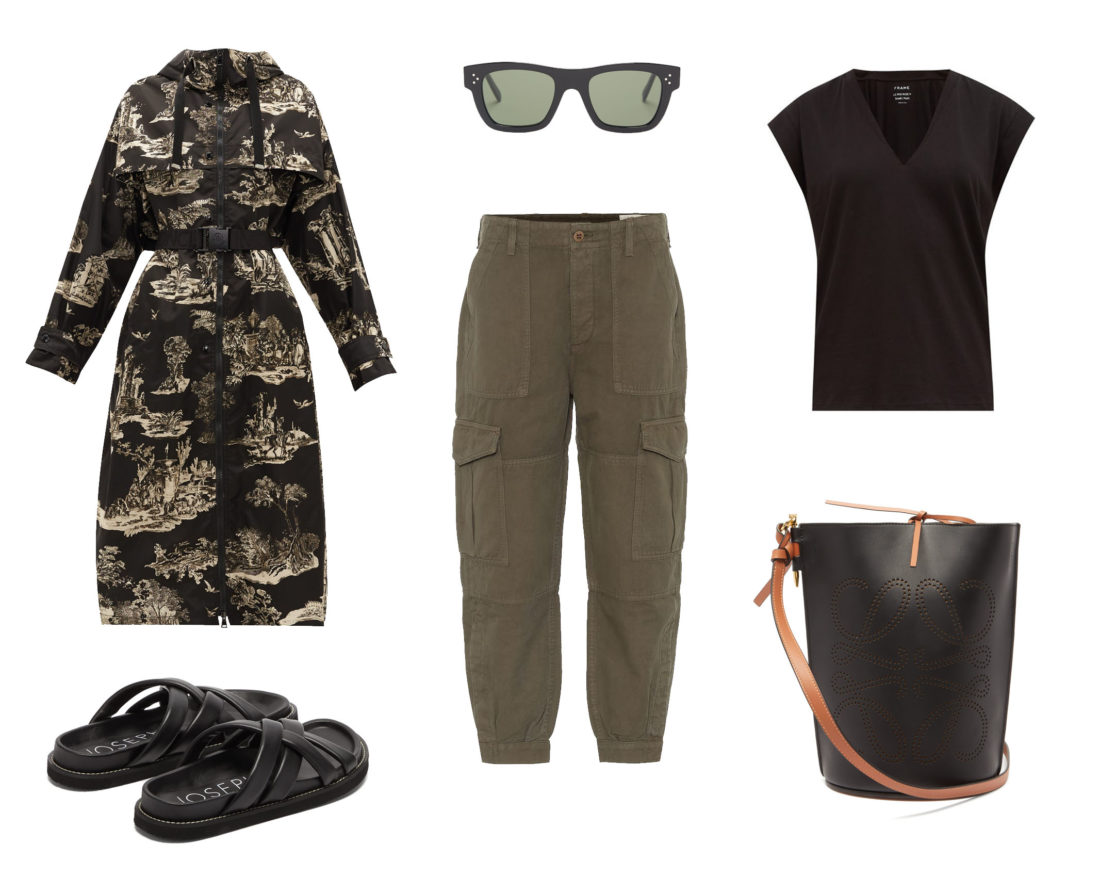 What do you think of when you think of Jennifer Aniston's style? Obviously, cargo pants. She famously loves cargo pants and I could never change that quintessential thing about her. I think we can update this look by choosing cargo pants with a more loose military silouhette rather than cropped cargo jeans (cropped skinny cargos can look a little Old Navy circa 2005). Cargo pants with crunchy platform sandals and a fashion parka from Moncler would be such an amazing airport look!!
2. Evening looks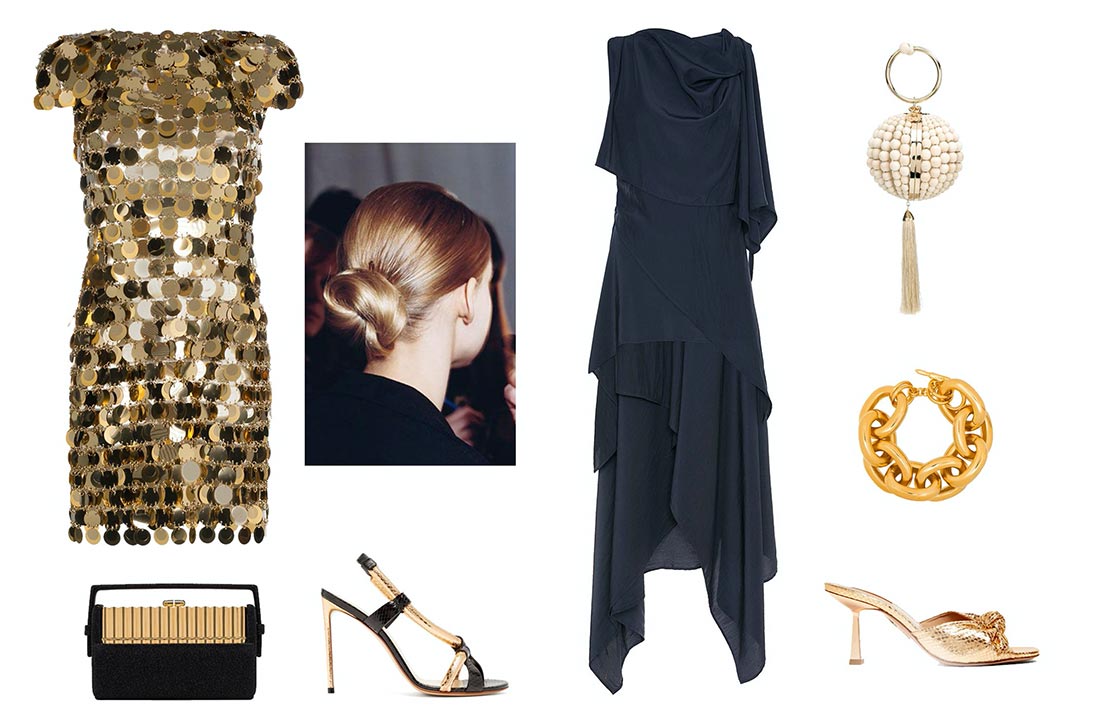 Jennifer Aniston as always been about a sexy above-the-knee skirt and strappy sandals. She is a woman who wears leather shorts in the evening very successfully, if we are giving credit where it is due! I guess that is the beauty of having Jennifer Aniston's legs. She could pull off an iconic Paco Rabanne chainmail pailette dress like few other people could. It would be such a great unexpected high fashion moment for her and all that glittery gold would offset her tan/blondeness stunningly.
I would also push her to wear the best designers working today, like J.W. Anderson. It's weird to me that celebrities don't wear all this awesome fashion that is out there right now! This navy draped dress is perfection. It is so modern, so beautiful, and so flattering. This is a future classic that fashion people and non-fashion people can all agree is stunning. Plus, I think this dress is versatile. It could go day-time dressy with flat sandals and wooden bangles. I would die to see Jen in this look and it would be so cool to see a big celebrity wearing J.W. Anderson.
From what I understand, Jen is single at the moment. She may or may not be interested in dating, but it is her god-given right to look hot regardless. I think we heat up Jen's look by looking towards a woman who has been fiercely sexy through her fifties and sixties…Carine Roitfeld. Her style never misses. Carine Roitfeld cut her hair on Instagram today with kitchen scissors, and it looked amazing, so my faith in her is stronger than ever before. Women of all ages look their spiciest in Carine's signature uniform: sexy pencil skirts, sleek blouses, great heels, and a no-fucks-given attitude. I chose a Tom Ford biker pencil skirt, a Lemaire scoop neck shirt, and Rick Owens blazer.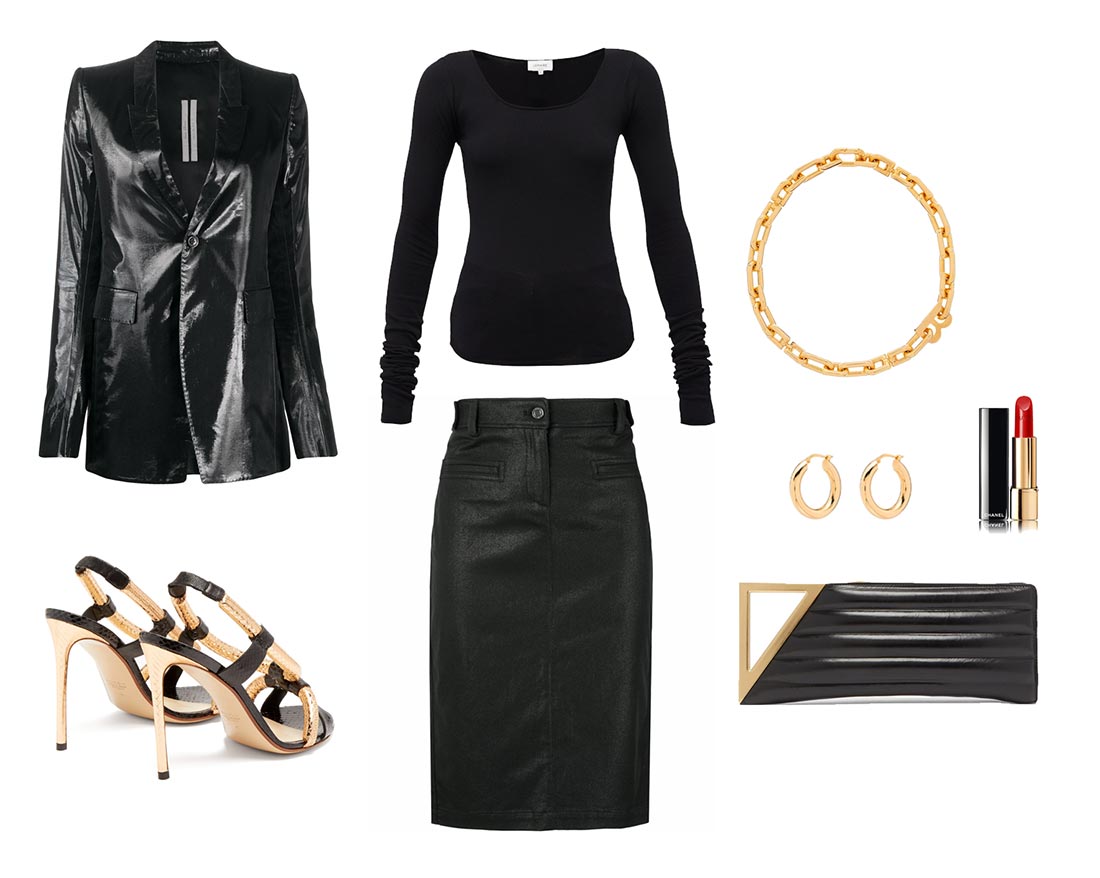 I just want to make an important point about Jennifer's evening style really quick. I wish she would wear her hair back instead of wearing it down all the time. She has gorgeous hair but it's hiding her face! A center parted low-pony would be a huge change for her look.
On to the big one….
3. Red Carpet
I struggled to find something current that I loved loved for Jennifer. Alexis Mabille does stunning couture and I think look 12 from this season would be beautiful on Jen and totally suit her style. I also loved Schiaparelli's clever strapless dress with gold art buttons from FW 2020. What Daniel Roseberry is doing at Schiaparelli is extremely innovative and this dress would give her some major fashion credit, as well as show off her great arms!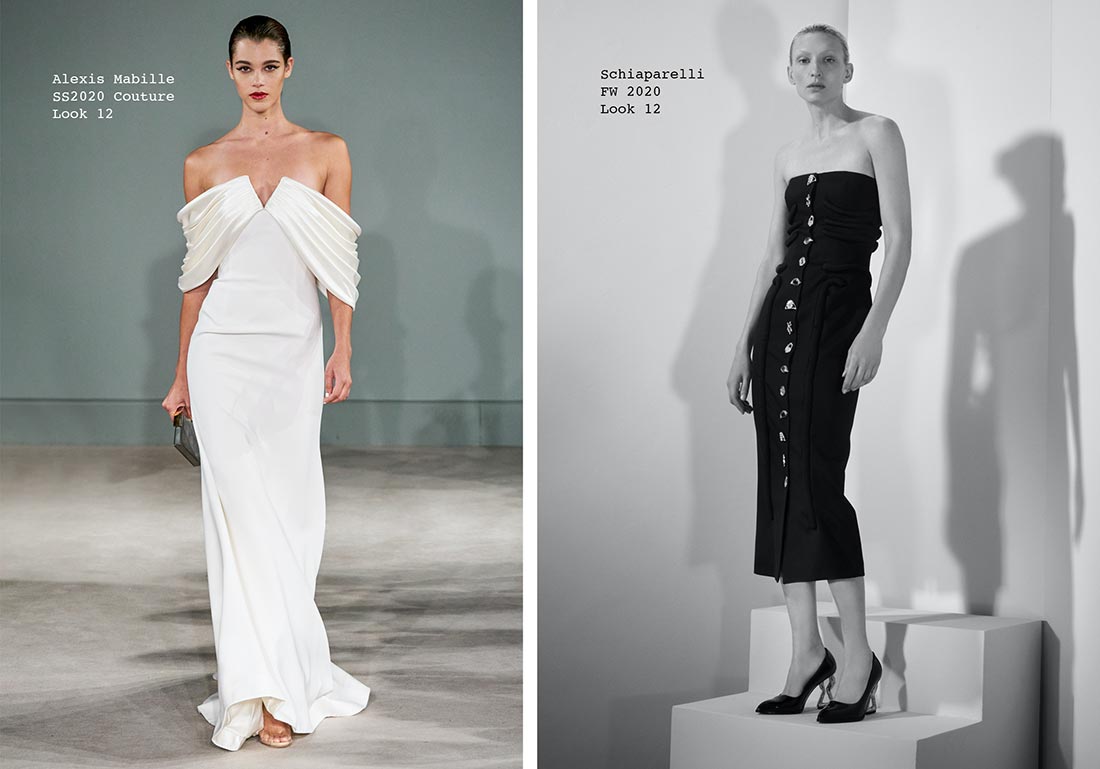 But when I started looking at vintage, I started finding a LOT of exciting gowns that Jen would totally kill in. Wearing vintage on the red carpet is the best move!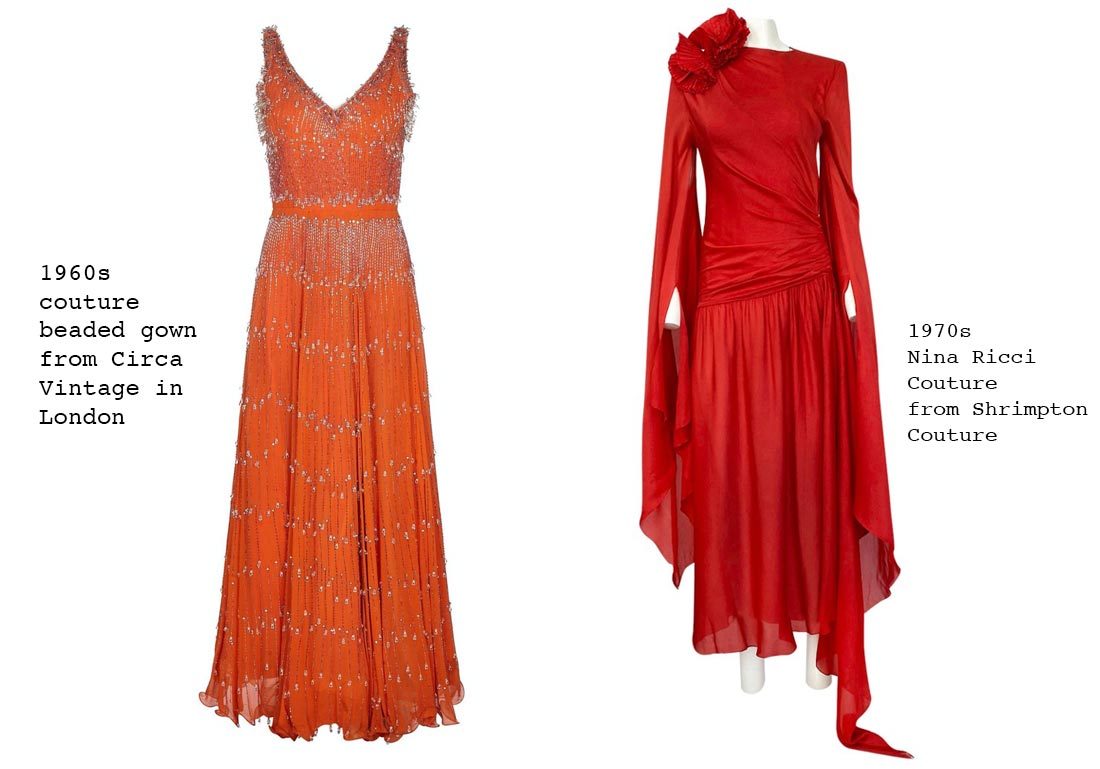 The 1960s crystal beaded orange gown from Circa Vintage on the left is an easy win for Jen. It's dramatic and fun, and would bring some welcome old-school elegance to the red carpet. You never see dresses like this anymore, it reminds me of young Barbara Streisand at her most glamourous. This is a dress that is beautiful on its own but would be 10x better on the right person, and I think Jen would pull it off fantastically. Some great crystal bracelets and kitty-cat eyeliner would make this a million dollar look.
The red Nina Ricci from Shrimpton Couture might take some convincing for Jennifer, because it is definitely not similar to anything I've seen her wear on the red carpet before. However, this gown is a huge opportunity to engage with fashion history. It's museum quality piece of couture.  The movement this dress would have because of the angel wing cape and flowing sleeves would make for incredible photographs on the red carpet. Jennifer has earned her right to wear something daring on the red carpet, and this would definitely have people talking. This is a dress that could set the world on fire! It would take the right hair (not too done) and tasteful makeup, and a pair of barely-there silver python sandals. It's super glamorous and super 70s, and I think Jennifer is that girl!
What do you think? What are your favorite Jennifer Aniston style moments? What weird things are you doing to keep your sanity in tact right now? This was so much fun for me to do, and a welcome distraction from our very stressful reality. If anyone knows Jen, tell her she has an eager shopping advisor in me, her big big fan. Stay safe everybody!