Earlier this year I did a post about buying lingerie, and I have really been looking forward to sharing a follow up addressing one of the questions I got asked the most: where to buy lingerie for the flat chested person who does not fit into an A cup? It is a difficult conundrum that I've struggled to solve.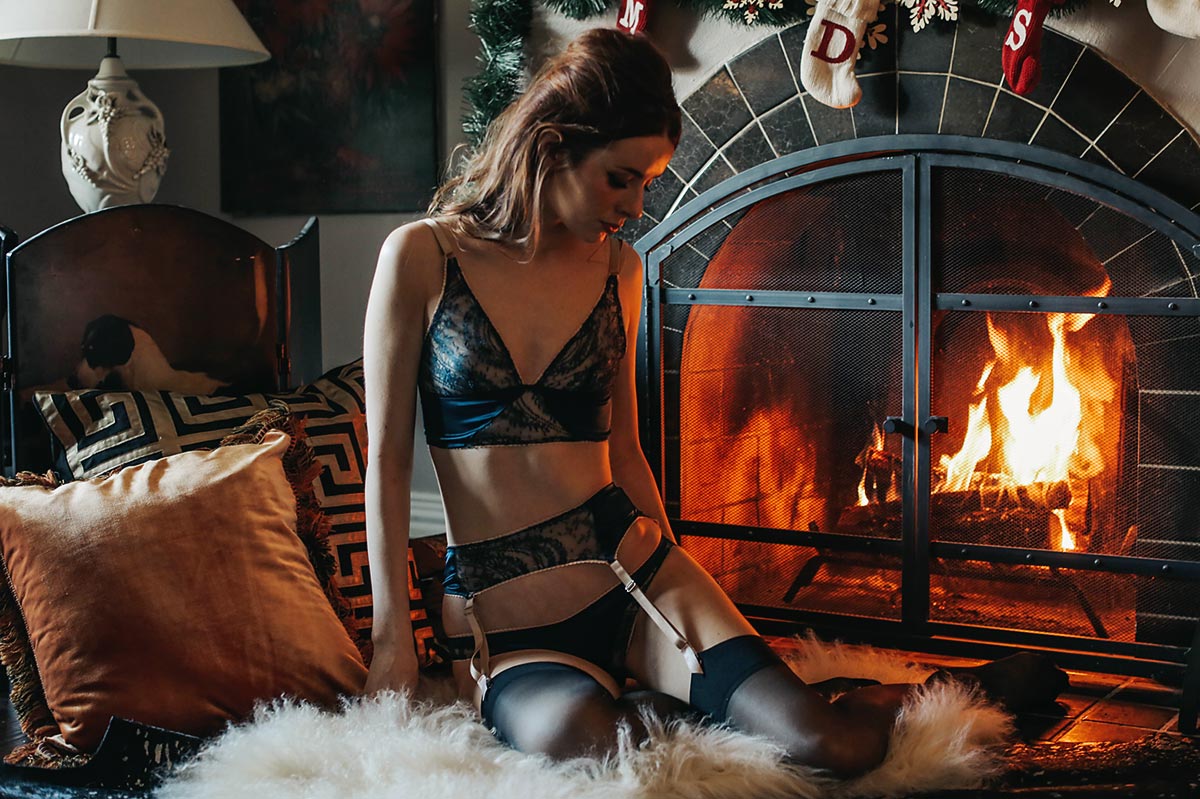 I have had a lifelong fascination with lingerie and when I started collecting it, I quickly realized I had a major obstacle in my mission to acquire it: I did not fit into most standard A-cups. I'm about a 32AA. I don't mind my flat chest at all (breasts in all shapes and sizes are wonderful things) but it does bother me that my small chest size is such an obstacle when it comes to buying pretty underpinnings. I bemoaned this in my earlier lingerie post and I was really happy to have so many readers who echoed my sentiment. Luckily I think that in the last few years the needs of small busted women in the lingerie market are starting to be adressed a bit more. For years I felt like the only bras I could find were super padded, and those still left me with gapping. Slingshot bras like those sold by Free People are fantastic for everyday wear, but what is a small chested lingerie lover supposed to do when they really want to dress to the hilt?
I myself love wearing a full lingerie set with garters and stockings for the maximum glamourous lingerie experience. A full lingerie set for a not-quite-an-A-cup girl is seriously hard to find though. Over the years I've bought sets from Dita von Teese and Agent Provocateur but I'd be lying if I said I filled out the bra cups comfortably (still the sets are gorgeous and I wear them often). This winter I set out to find a lingerie set that would truly fit me. Not knowing where to start, I asked the expert. You may know Cora Harrington, she has been writing the very smart blog The Lingerie Addict since 2008. and I was lucky enough to recieve her beautiful book a while back. Cora pointed me in the direction of Elma Lingerie, a small designer brand who makes made to order lingerie specifically for small busted women.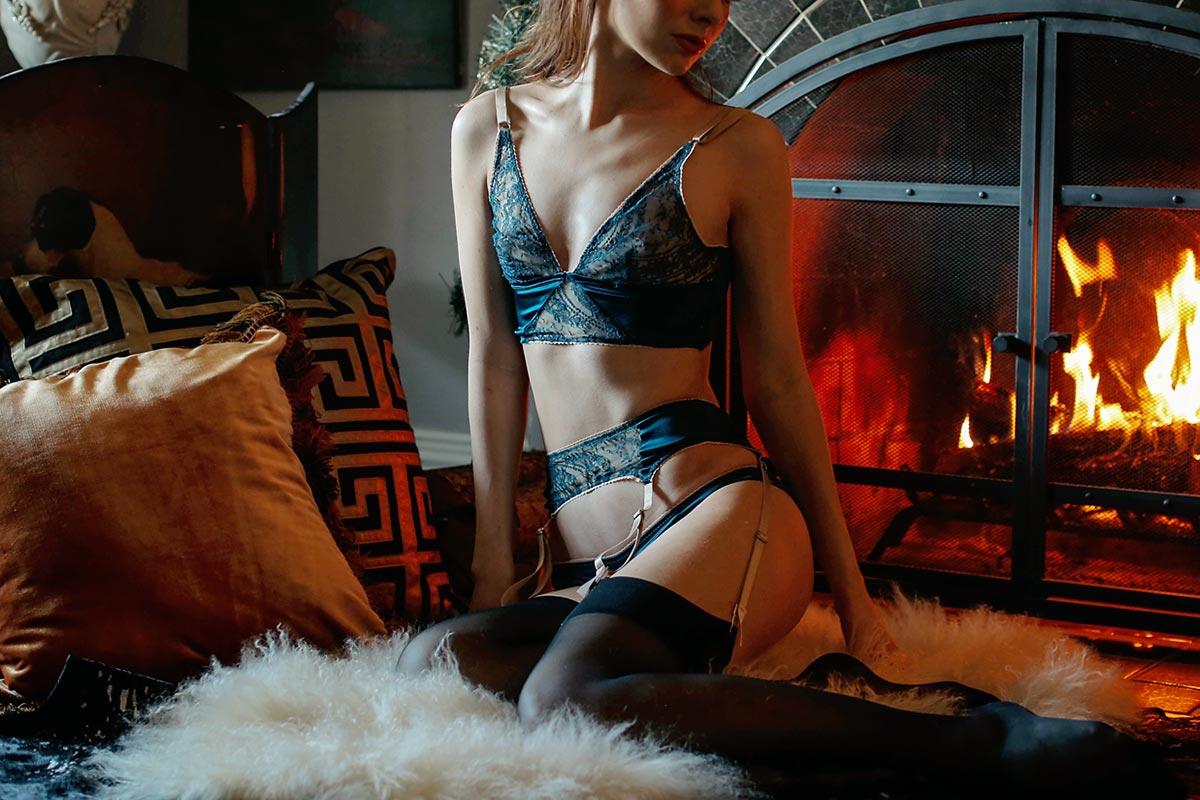 I ordered the Odile lingerie set in a beautiful deep blue with nude accents on the trim, straps, and suspenders. I have never had a lingerie set with contrasting strap colors, it makes this set so unique and beautiful. I think I'll be ready for another set from Elma soon! I'm a 32AA and here I am wearing the XS. Thank you so much to Cora for pointing me in the direction of Elma Lingerie!
One of my daily internet shop stops is Journelle to see what new lovely lingerie and loungewear they have in. They carry many of my favorite petite-friendly brands (like Only Hearts!!) and are always buying new designers and pick up many that cater to petite busts. It is through Journelle I discovered Le Petit Trou, another one of my top choices for comfortable chic lingerie. They also have their own line of lingerie and I've been curious to try it for some time. To my delight, the 32A from the Isabel set was a great fit for me, and such a gorgeous classic set. They also carry a band size 30. Very Sophia Loren, but fits for somebody who doesn't have the Sophia Loren body type at all!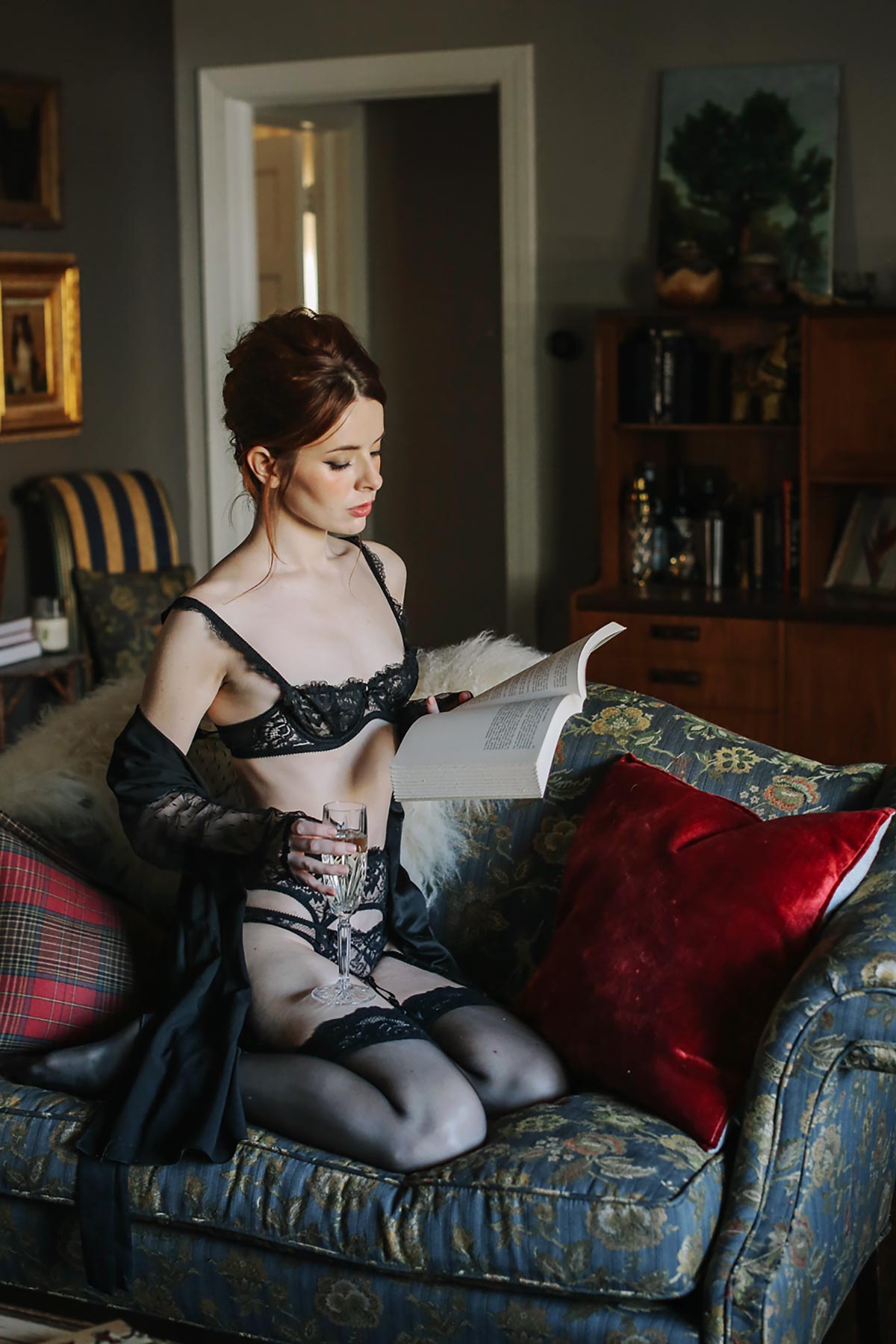 Here I am wearing the Isabel lingerie set by Journelle. So classic!!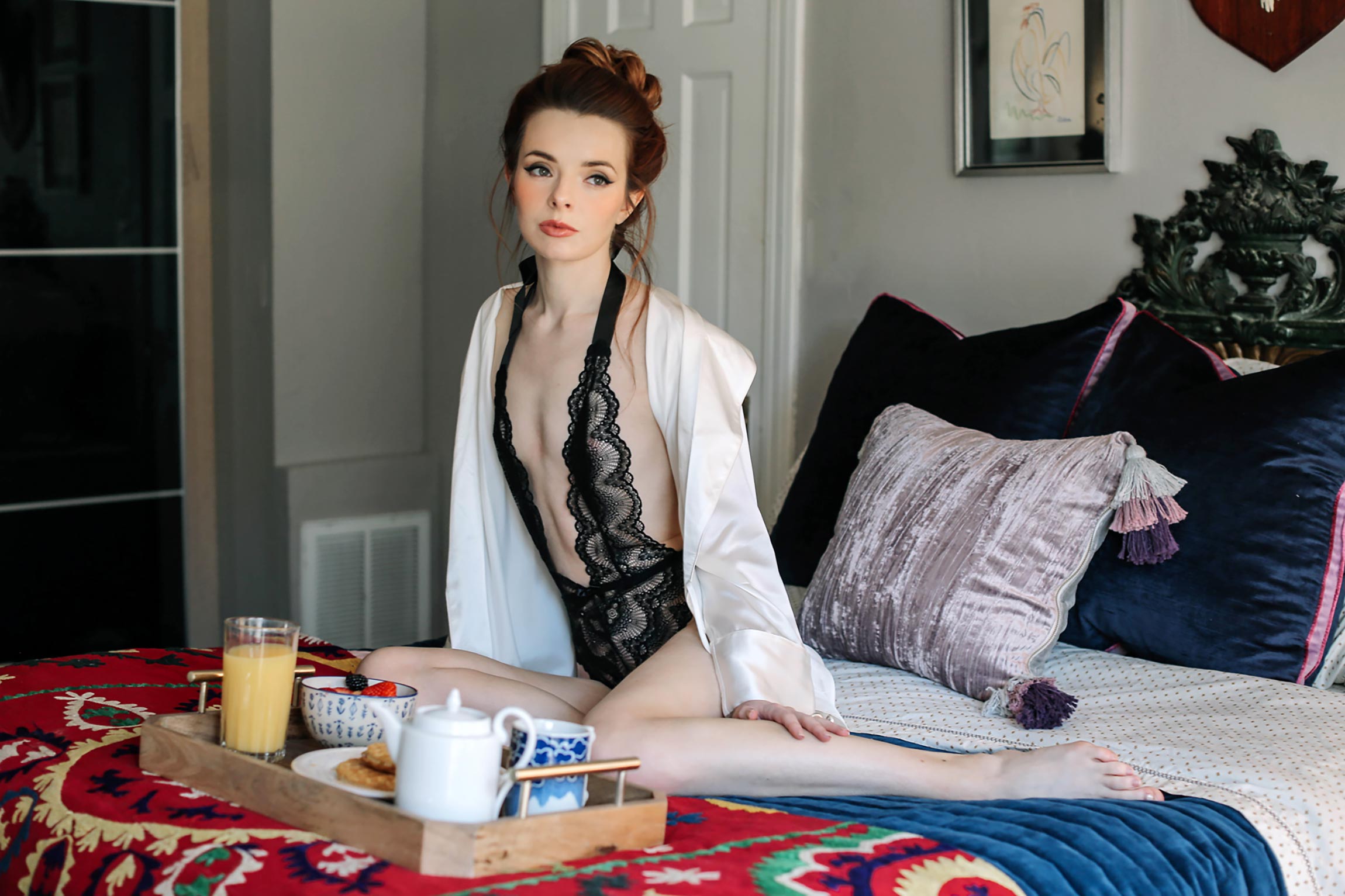 One of the obvious lingerie choices for small busted women who struggle to fit into bras…is to opt for non-bra style  instead! I love having silk slips and robes (like this beautiful robe) for lounging and setting a mood. Something I've been loving are the halter teddies that have become popular in the last few years. Here I am wearing the Natalia teddy by Journelle. Because of the adjustable tie back, you won't have to worry about not filling anything out! I first got one of these from L'Agent by Agent Provocateur about three years and was really pleased with how much use I got out of it. It's the perfect lingerie option for traveling, or days you feel like lounging in high style. Perfect breakfast in bed look, in my opinion!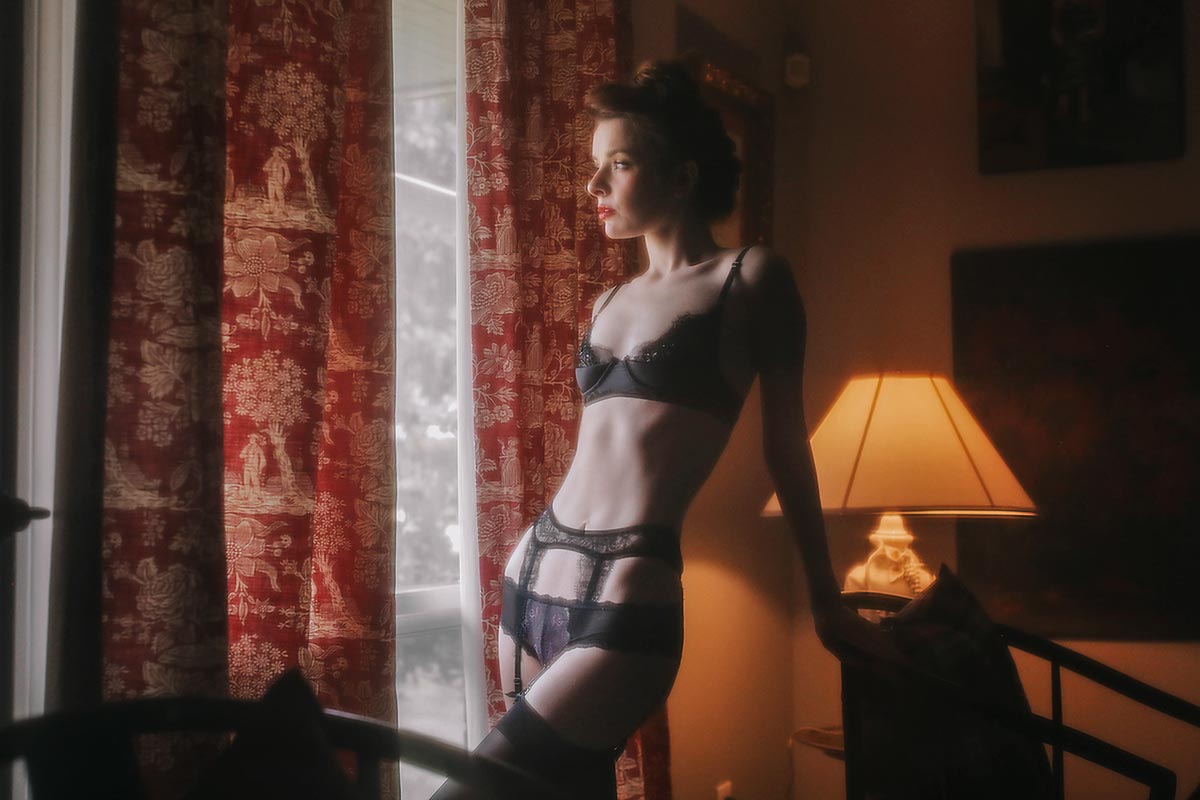 I have been anticipating the launch of my friend Kristin Prim's lingerie line Lenoir since she announced it and I am so very proud to now own some Lenoir myself! Above I am wearing the beautiful Juliete bra and Blair garter belt from Lenoir. Kristin is such an accomplished artist and she has this incredible vision of feminine beauty and sexuality that translates to beautifully to the world of lingerie. This is now definitely the sexiest set I own. The beading on the Juliete bra is really something to behold in person! (Bonus: absolutely no gapping for me in the 32A.) This would be a great gift set for a true fashion lover. Check out Lenoir's entire line of offerings here!