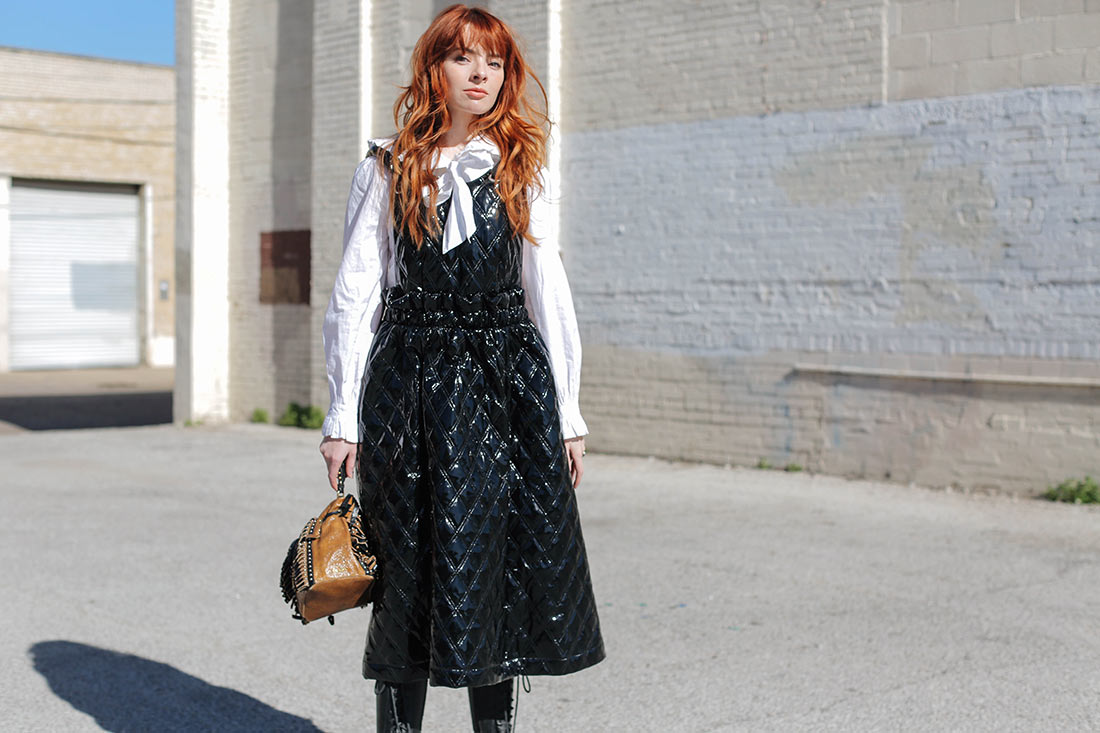 I had the privilege of attending a Noir Kei Ninomiya show in Paris a little over a year ago. Noir Kei Ninomiya is the newest branch on the Comme des Garcons tree and is the brainchild of Rei Kawakubo's protegee Kei Ninomiya. The show that I saw (spring 2019) moved me deeply. I feel the way about everything Comme des Garcons the way that some teenagers seem to feel about K-Pop stars these days. I was left totally in awe and I knew I had a new favorite designer. I just had to get my hands on a piece of Noir Kei for myself.
Luckily for me, a lot of good Noir Kei Ninomiya went on sale this season. This plastic-y faux leather apron dress was one, and I am totally confident that this is a piece of clothing I will be wearing and enjoying immensely for many years to come. You really can't believe how comfortable this dress is. It is genius design. The quilted pleather gives this apron so much structure and body, a deeply satisfying thing to feel against your body. It is a resilient piece of armor that somehow manages to be comfortable and easy. I can pop this apron dress over a Laura Ashley blouse like I did here, or I could wear it with fuzzy slippers and a punk rock tee to go get groceries.
I would link to this dress but I am afraid it has sold out and you can only blame my family. My mom and my sister have purchased this dress too! Should we take a weird family photo in all of our Noir Kei? Haha! I have another piece of Noir Kei I will be posting next week. It really was a great sale season!
Wearing Noir Kei Ninomiya faux leather apron dress with a vintage Laura Ashley blouse, Prada bag, and Ann Demeulemeester boots.