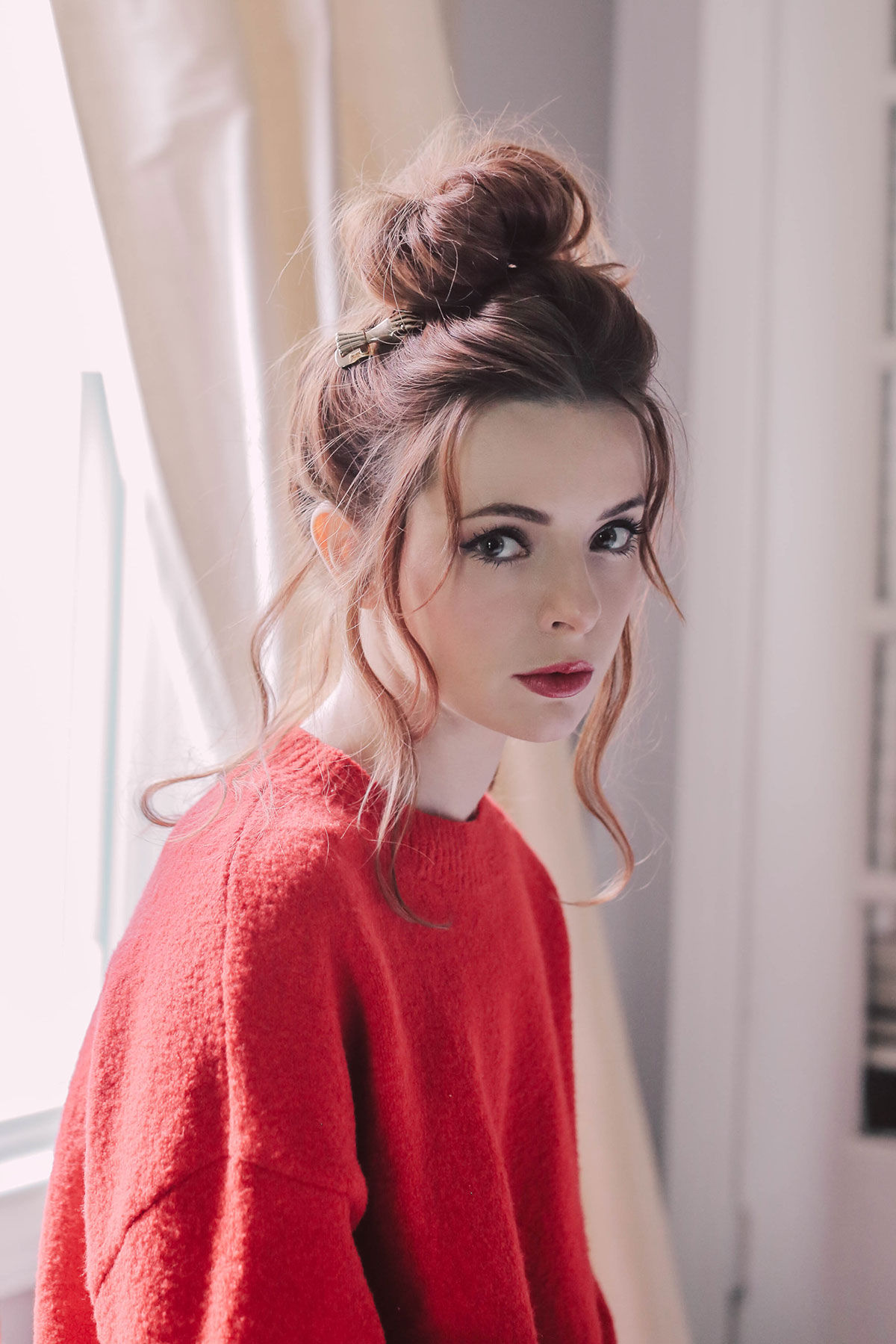 Happy Monday guys! I've been wanting to do more hair tutorials lately, as I often get requests for them. Doing my own hair for all of our photoshoots for Sea of Shoes over the last twelve years, I've learned a lot of styling tricks along the way. One of the things I always wanted to master was the perfect messy bun. As simple as it may seem, I think anyone who has attempted one for the first time knows it isn't as easy as it looks. The messy bun I do when I wash my face in the evening, for instance, is not at all similar to the perfectly disheveled buns you see on Pinterest or street style stars. It takes some finessing to achieve the artfully undone messy bun.
Let me start off my saying that this hairstyle is best on dirty hair. Great news, right? Slightly dirty hair will give you much better texture, hold, and volume for this style. I started with hair that was washed two days prior. I used Bumble and Bumble's Pret a Powder Dry Shampoo to refresh my hair and absorb oil before starting this hairstyle.
You will need:
A hairbrush (I use a Tangle Teezer), a hairclip, bobby pins, an elastic, and a texturizing spray (I use IGK's texturizing spray but I also love Shu Uemura's texture wave)
So, to begin: section off the top half of your, as shown. It doesn't have to be neat. Lightly backcomb the roots of the bottom half of your hair. This will give your hair some grip, and help create that messy volume at the nape of your neck.
Next, flip your hair upside down and pull it into a ponytail at your crown, but don't secure it yet! With your free hand, pull out some baby hairs around your face, some loose strands by your ears, and a few loose pieces at the nape of your neck. We will style these later and these loose strands will really give your style that cute "messy" look.
Now that you've pulled the baby hairs, pull the ponytail halfway through an elastic (I use these). As you can see, I've left the ends of the ponytail hanging loose. Next, you'll want to loosen the bun by gently pulling the roots of the ponytail. You can see how I'm loosening the bottom of my bun by pulling my hair while I hold the bun in place.
Using bobby pins, secure the bun to your liking, pulling and adjusting the bun for shape and volume. It doesn't have to be neat! Next, we need to style the baby hairs. I use a flatiron and use a gentle wave motion as I move down the strand to create bend (not curl!). Do this on all of the baby strands you pulled out.
Next, grab your texturizing spray, and gently spritz the baby hairs. This is going to make them fluffy and lived-in. Rub the strands between your fingers after spritzing them. Play with the baby hairs until they are to your liking.
Spritz your bun and roots with the texture spray, and gentle massage your scalp to loosen the style and create flyaways. This style is ALL about looseness, texture, and the flyaways, so don't be afraid to really mess it up!
To finish my style, I added a cute hairclip. This is optional obviously! I like a little accessory to make an otherwise undone look a little bit more polished.
I hope this guide helps! Let me know if you try it, I'd love to see your looks.