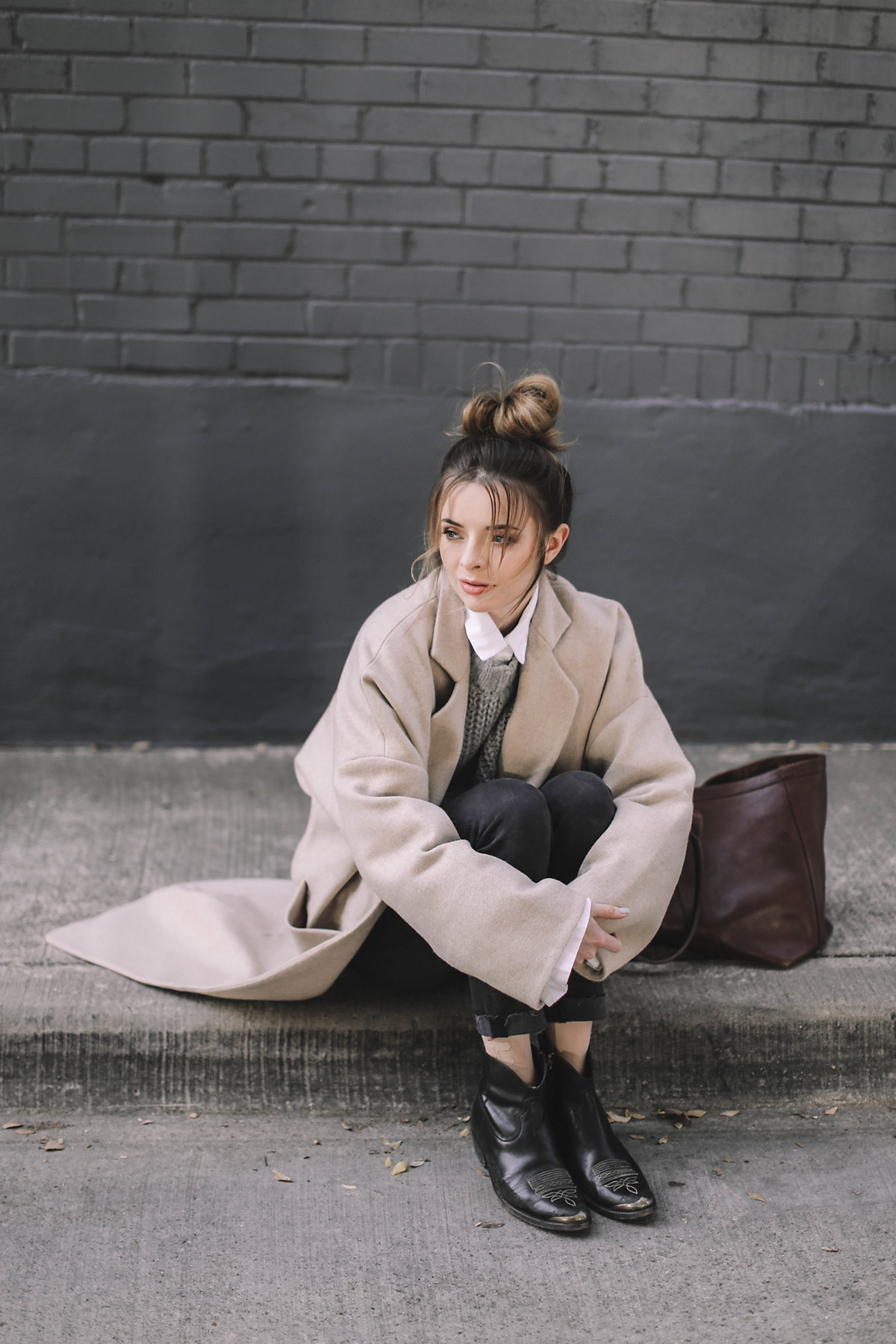 I am in complete autumn wardrobe mode already. It was 60 degrees this morning, which feels like the arctic tundra compared to our summer. I have been dreaming about cold weather outfits for weeks, so much so that I have already purchased my winter coat for the year. When I saw this Mara Hoffman coat on Shopbop I knew it would be selling out quickly so I made my move. I am very happy to make a purchase from a brand that advocates and practices ethical production and environmental sustainability in their clothes. You can listen to this great podcast talking with Mara about the evolution of her production practices. These past few weeks of natural disasters have me terrified about climate change and thinking about the changes I can make to be a more conscious consumer. Mara Hoffman is setting an amazing example for other brands right now, I hope we see more brands take a cue from her to integrate more sustainable practices in the near future.
I am so in love with my coat, it is definitely a piece I will wear for many years to come. It reminds me of a sweater coat my mom has. Its a cable knit grey cocoon cardigan by MaxMara and she's had it for probably 12 years. My mom is always lending this sweater to my sister, or me, or our friends. We never know where it is but it always returns home. I remember being out at a bar one night and seeing the familiar grey sweater draped over someones shoulders from behind. I tapped their shoulder and it was one of my sister's best friends and I laughed. It's like the Sisterhood of the Traveling Sweater! You've seen this sweater on Sea of Shoes a dozen times if you are a longtime reader, it is endlessly versatile. I can think of a few outfits I've posted with it off the top of my head. When I think about investing in a coat, I want to have the same kind of relationship with it that I have with the Traveling MaxMara sweater. That to me is what an investment piece should do for your wardrobe.
The ideal winter coat will elevate all of your outfits. Even when you're just throwing on some baggy jeans and a tee and sneakers to run to the store. It should keep you warm on airplanes and look good with everything you've packed in your suitcase when you travel. I feel like my Mara Hoffman coat ticks all of these boxes for me. The pale sand color of it feels extremely luxurious. The dropped shoulders and longline notched shawl collar make it incredibly modern, which is something my largely vintage wardrobe needs! I am so pleased with my coat, I think it has exceeded my expectations. We are traveling a lot next year and I know it will be my wardrobe hero for our many trips. It is definitely coming with me on our honeymoon in Tokyo!

First outfit shown I am wearing my Mara Hoffman coat with Cinq a Sept sweater, men's button down, AG jeans stilt roll-up jeans, and Golden Goose boots.
Second outfit I am wearing the Mara coat with vintage Perry Ellis culottes, vintage Gucci bag, and Golden Goose sneakers.