The first ready to wear collections of the new decade are here, but this fashion week could have started off feeling like doomsday. Tom Ford fled NY in favor of Los Angeles, Barneys and Opening Ceremony officially shuttered their doors, and everyone went into fashion week with more awareness than ever that the industry they love is killing the planet. Some declared it the death of fashion week before it even began this year. The financially treacherous state of fashion has not helped the artistic stagnation of many NYFW designers.  The industry was under a microscope this week, and everyone was looking for hopeful signs of life.
With some of NYFW's heavy hitters (Tom Ford, Ralph Lauren) out of this week's running, some of the less-established designers took on more of the spotlight. This boded well for talented smaller designers of the season, like Christopher John Rogers and Area. The creativity of these young designers made the dead weight of established brands who've gone stale feel all the more burdensome. Ill-conceived but no doubt well-funded, Rag & Bone showed a jarring 50 look collection that seemed about ten years behind the times. Proenza Schouler's fall 2020 collection seemed to pander a little too desperately to the kind of women who are just going to buy Bottega instead.
There were some collections that felt woefully out of touch with the times. A word on ladylike dressing: some designers need to read the room. When I try to imagine the life of the woman who would wear FW 2020 Adam Lippes collection, I feel claustrophobic. The limp ruffles and suffocating blouses wouldn't look modern in a retirement home. Brock Collection also showed a collection with some strangely punishing ideas about female sexuality. Distressingly thin models with their faces choked under knotted black veils walked the runway in Victorian style shirts; their waists all bound in belts or sashes. It was quite a choice to make during a week where you can't go two hours without hearing about the Weinstein trial.
We are allegedly striving to create a world less encumbered by traditional gender roles. This should be a time where some fresh ideas about dressing ourselves emerge. I find myself looking at menswear a lot more often now. Once you void the need for a closet full of fashion-y fashion, then you can actually start having some really interesting conversations about clothes. I was most interested in the shows that seemed less about fashion and more about getting dressed.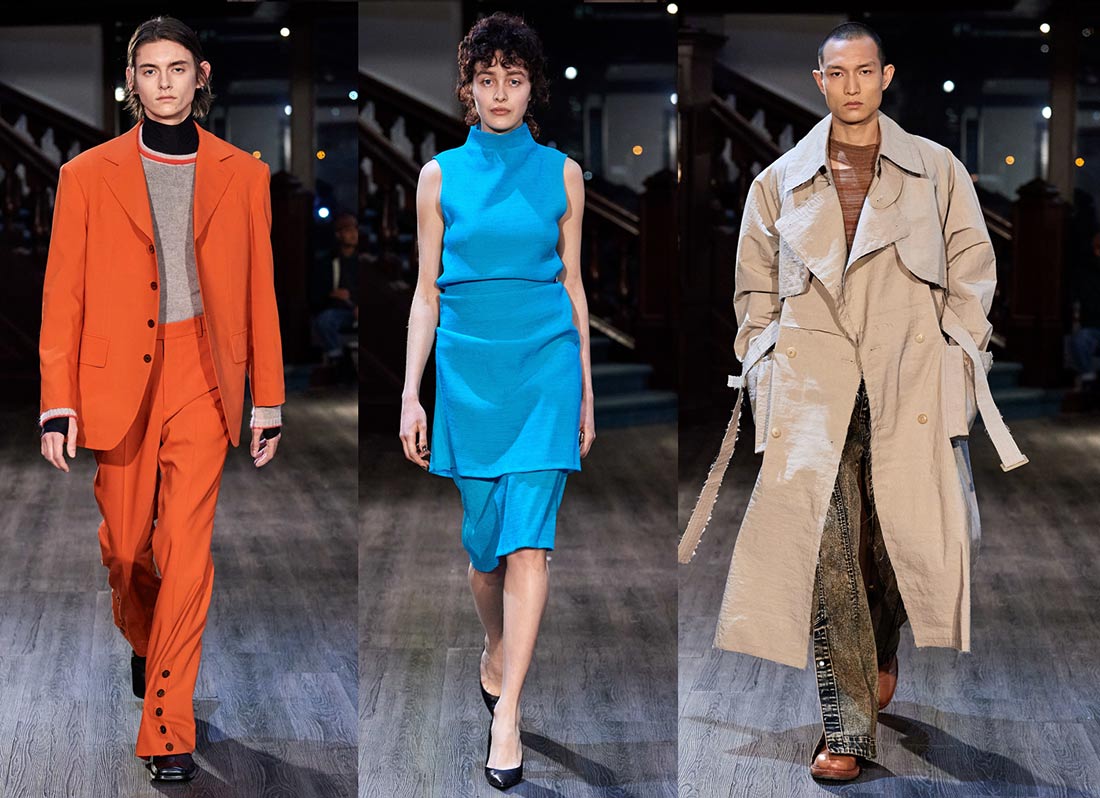 I became particularly interested in Eckhaus Latta this week, especially the menswear they showed. I have heard some fashion people talk about Eckhaus Latta with sneerish know-it-allism towards its ubiquity among creative types. Whatever. I am from Dallas so I don't see people in Eckhaus Latta.  I don't think that these are special clothes meant to be worn by special people. I have found Eckhaus Latta to be a very democratic label in that it drops a lot of preconceived notions about what fashion is. The clothes piece by piece are all very wearable and they tend to invite you in with a question. A question like, what's so dangerous about a man in acid wash button flap jeans? Eckhaus Latta has a knack for making acid wash flap jeans seem so natural that after bearing witness to them, they are already practically coded into your reality. Suddenly you find no resistance to the jeans. This is a unique strength for a brand.
At the intersection of ugly and beautiful, comfort and discomfort, is often where the most interesting creative growth happens. I don't think it always has to be a bang-bang type of clash for a good idea to emerge. You can start small, like with bootcut acid wash jeans. Rei Kawakubo turns reality inside out or forgoes reality all together. The most exciting ideas are usually the ones that make us a little uncomfortable at first brush. A fashion spectator hopes for a few collections every season that will provoke them to examine their own tightly held ideas about art and life. We like fashion to make us a little uncomfortable, and I think we could do with a few more of these provocations at New York fashion week.
Not all creative growth is born out of conflict though. Sometimes it looks more like a practice made perfect. The Row showed one of the best collections of 2020 with stunning suiting and handsome coats. No frills, no gimmicks, with laid back styling. There was a tranquility and certitude of craftsmanship that called to mind Margiela's years at Hermes. It was masterful. The clothes seemed to come from out of time. It's the kind of collection that people will be still referencing from 20 years from now. Big congratulations to the Olsens on this fine collection.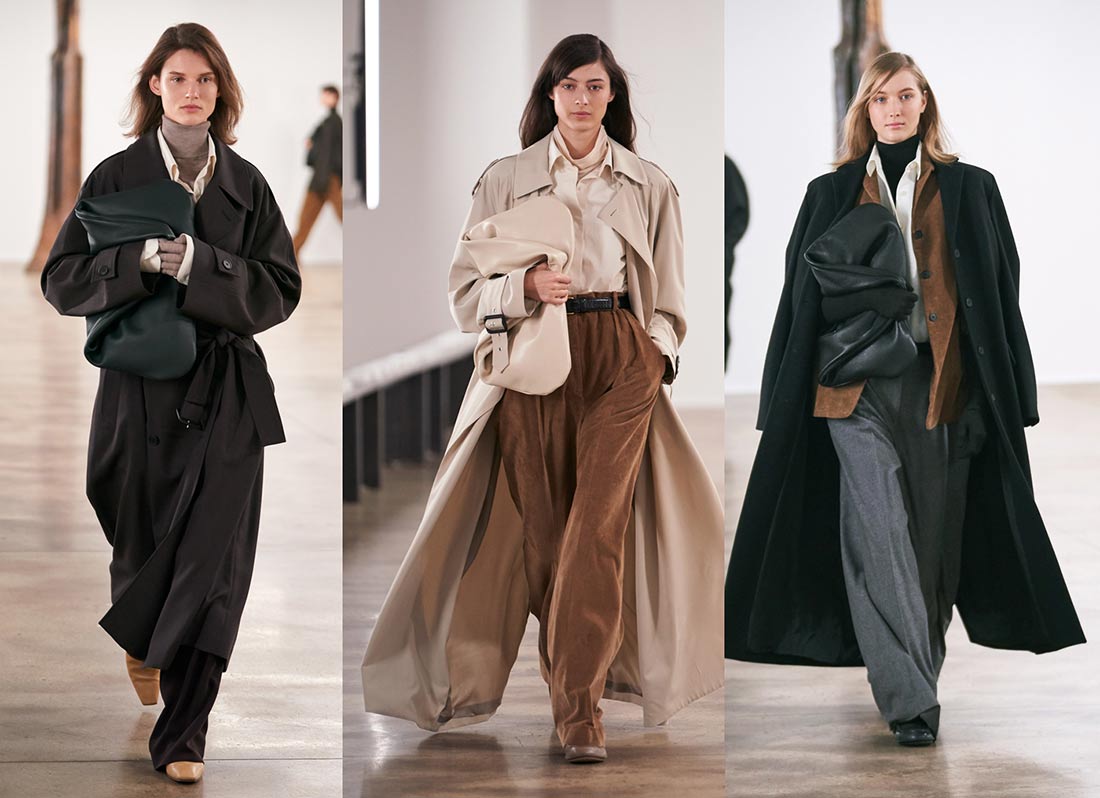 Gabriela Hearst also showed a focused collection, concerned more with customers and craftsmanship than with capital-F fashion. Tan corduroy suits flowed into breathtaking suede fringe into hand-painted leather, with many iterations of her delightful knits. Her talent lies in her obsession and resourcefulness for sustainable practices. Her fabulous scarves and shawls are made with recycled cashmere yarn by an artisan collective Hearst developed in her native Uruguay, where she lives part time on a ranch. "When it comes to energy, we need to look into the future, and when it comes to garments, into the past." she said backstage. I love that.
Marc Jacobs seemed to echo this sentiment at his outstanding FW 2020 show. Marc Jacobs' work continues to carry on the legacy of great American fashion design. Marc's recent work pays subtle homage to the heritage of Bonnie Cashin, Geoffrey Beene, Halston, and Bill Blass. He pulls steadily and inventively from the DNA of fashion. This collection had the flavor of the best of 90s Prada as well as Marc's own 90's archive. He is smart to play on what young women today are wishing they could have experienced before they were born. Show Belle du Jour to a fashion-conscious teenage girl today and she'll be scrambling to find her own perfect mod shift dress (and probably to little avail, mod collectors have really cleaned out the best ones). For that girl's sake, I hope this collection has a trickle down effect. Marc's instincts are dead on. This was a collection with just the right kind and right amount of design when we've all become exhausted by the fashion machine.