As I had mentioned, my mom and I drove out to Dallas (about a 45 minute haul from where we live…) to scope out some of our favorite vintage stores. I had planned on checking out Pandemonium, a veryyy eclectic and junky vintage store but it was closed today…doesn't matter, another one of our favorites was open! Dolly Python is a great vintage store that has a dizzying ammount of knick knacks and useless paraphernalia…you could spend hours contemplating the origins of these items…and come up with some pretty interesting background stories.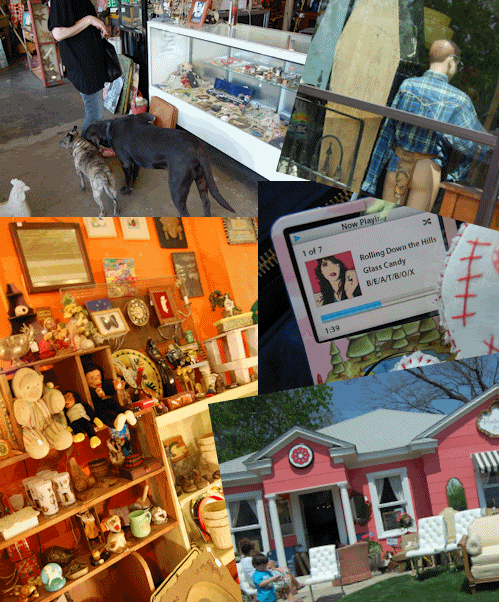 All of these were picturs taken around town today…pink house in the bottom left is a consignment store mom dropped off a sofa at. The rest of the pictures are taken at Dolly Python's…you can see the two dogs who hang out around the store, they're very cute. Makes me feel at home! (I have five dogs!)
I found this leather bound linked belt with a Texas shaped plate on it, with some stone in the middle…it was really dirty and I cleaned it up with polish, it could use another going over but I can see this with a loose pair of old jeans and a shrunken up vintage tee….
By the time mom and I had scoured the store we had picked up a few little creatures and various addendums that needed homes….aren't the animals sweet and demented? I hope that these guys bring me good luck, I find that things like these usually do. There's a fish and some stuff in that jar, how random.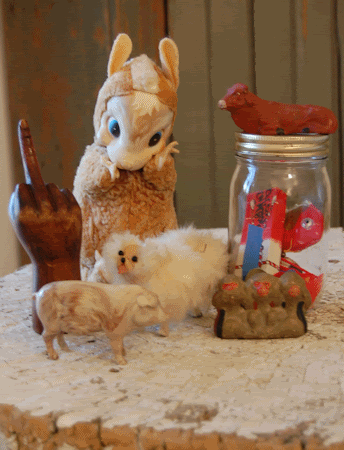 HOWEVER our most epic and amazing purchase we made today (possibly ever??) was this painting of a forlorn and rejected leopard wearing a babushka scarf.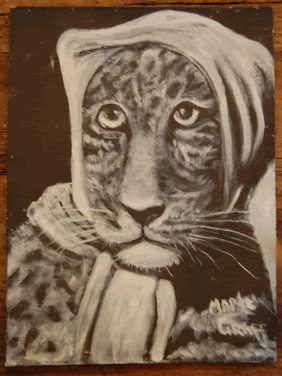 WHAT THE HELL
Is this supposed to capture the torment and anguish of being rejected by Barnum & Bailey's? A poached lover? The world may never know the story behind the painting. Doesn't matter, mom and I are still have sore abdomens from laughing at it's sheer and utter absurdity…best 4 dollars ever spent on a piece of folk art. It's going to be framed soon and made the center piece of our inspiration wall.
Those weren't our only stops though, we also dropped by our Barney's for a bit to check out the new shoe shipments….not too much new, nothing we were crazy about. However I am crazy about some of the Junya Watanabe dresses this season…the metallic trims and delicate floral prints are to die for. also, there were some new pieces of Dries that were very very very lovely with the intricate beading he did on the collars. So that was great to see.
Nothing special about my outfit today….earlier I was wearing my Marni wedges with black wax coated skinnies but I changed out…tonight I wore this though…even though it's boring outfit I aways love wearing this Ralph Lauren jacket of my mom's, it's from the early eighties and is extremely well made, with vents like men's coats and nice lining. It's always been one of my favorite things to throw on. Today I wore it with Miss Sixty jeans, random hoodie, random grey shirt, socks and Marni heels.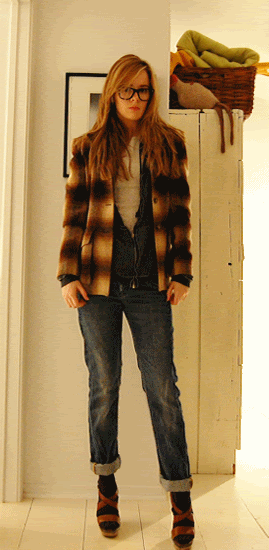 today was fun, I love the new little collection of trinkets I've accumulated. It's nice to provide a resting place for the unwanted and delapidated…they will be right at home with the other good luck talismans and small creatures I have!
Till next time,
Jane