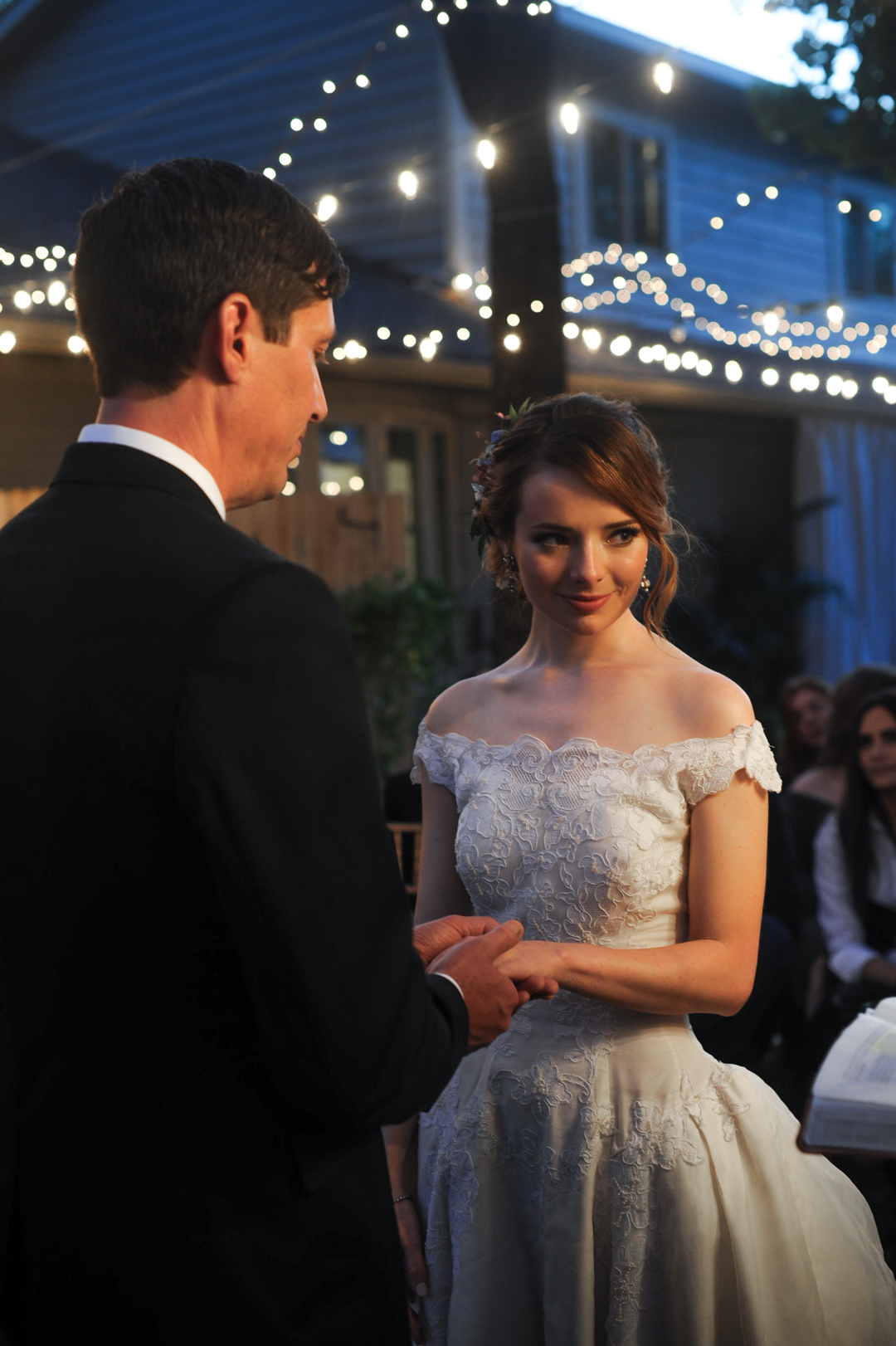 I am so excited to share some of our wedding images with you guys. I posted a few pictures on Instagram but I have some of the images shot by our talented wedding photographers Scott and Kristi Redman now. I wanted to let you in on the wedding prep process. I was really lucky to work with the talented hairstylists from Matrix on the day of our wedding. As you might remember, I went to Hilton Head, South Carolina a few months back to test wedding styles with Matrix stylist Danielle Keasling. That day was such a blast, it was the first moment that I really felt like a bride and got me so excited for wedding. We talked about my dress, our wedding colors, the setting, the weather, and started planning the hair accordingly.

We tried a number of styles from Matrix's Style Link Little Black Book of Styling: Weddings Edition, which has a great selection of ideas you can choose and adapt from. After playing with a few styles we decided on a romantic undone up-do for the big day. It was so cool getting to be a hair model that day, I really got to feel pampered! It also resolved a lot of the butterflies that I had about getting ready for the wedding. I really can't tell you how much better I felt after our
consultation. On a day as emotional as your wedding day, it is such a relief to be in the capable hands of an expert. I had a much better handle on my wedding day look after our consult, I could see it all coming together.

On the day of, the stylists arrived three hours before the wedding and I did my makeup myself while Danielle styled my hair. I chose to do my makeup myself because I actually find doing my makeup relaxing. I was keyed up in the hours before we walked down the aisle! It is pretty chaotic finding time to get ready in the midst of handling wedding details and making last minute decisions. Being tucked away with Matrix's team in my mom's bedroom with my sister, my best friends, and my mom helped calm my nerves considerably. It was a really special moment. My husband, my dad, and our officiant also got their hair done by Matrix's team and the guys all loved getting their hair too.

Here is a basic rundown of the steps for my hairstyle. I learned a lot of great tips and products from working with Danielle. We started off by setting my hair in loose barrel curls as a foundation. Danielle used the Matrix Style Link Heat Buffer and a 1" iron, wrapping my hair in a wand style fashion away from my face. She then pinned each curl with a clip until my hair cooled. Then, she used the Style Link Texture Builder at the base of the curls for density and grip, released the curls and used a comb to separate the texture. Next, she sectioned my hair in a side part and started twisting and braiding multiple sections from the sides of my face, and separating the lower half of the back of my hair into a braided low bun. She spent a LOT of time playing with the twist and braids with her fingers, pulling them looser and giving them texture for a more undone look. She used the Style Link Style Fixer for a strong hold and shine to make sure the look would last all day. We finished with a comb adorned with flowers that matched the floral arrangement in our ceremony. Then my sister helped me into my dress (!!!) and I was ready to walk down the aisle.

I loved the result and it held up all night long, even after I switched into zombie makeup and jumped in the swimming pool later that night at our Halloween reception! I was really inspired by my experience working with Matrix. I am always fascinated by what goes into creating beauty looks and I love quizzing hair and makeup artists on their techniques. I learned a lot from Danielle and I have been switching up how I wear my hair since the wedding. We went to Tokyo for our honeymoon right after the wedding and I came up with a braided up-do inspired by wedding hair that I wore almost every day. As someone who went into wedding planning with a totally DIY mindset, I am so glad that my hair was not a DIY situation, especially seeing how great it looks in the photos now! Thank you Matrix and your amazing team for being there on my big day.

I'll definitely be doing a post about my dress soon, and eventually about the makeup I decided on and probably some pictures of our Halloween party too! It was the most fun I have ever had in my life, Jeff and I are having wedding planning withdrawal right now. We are really touched by the kind well wishes from our friends and readers of Sea of Shoes and Thyme and Temp. You guys make us feel so lucky.

This post was made in partnership with the amazing team at Matrix, thank you for being part of our big day.