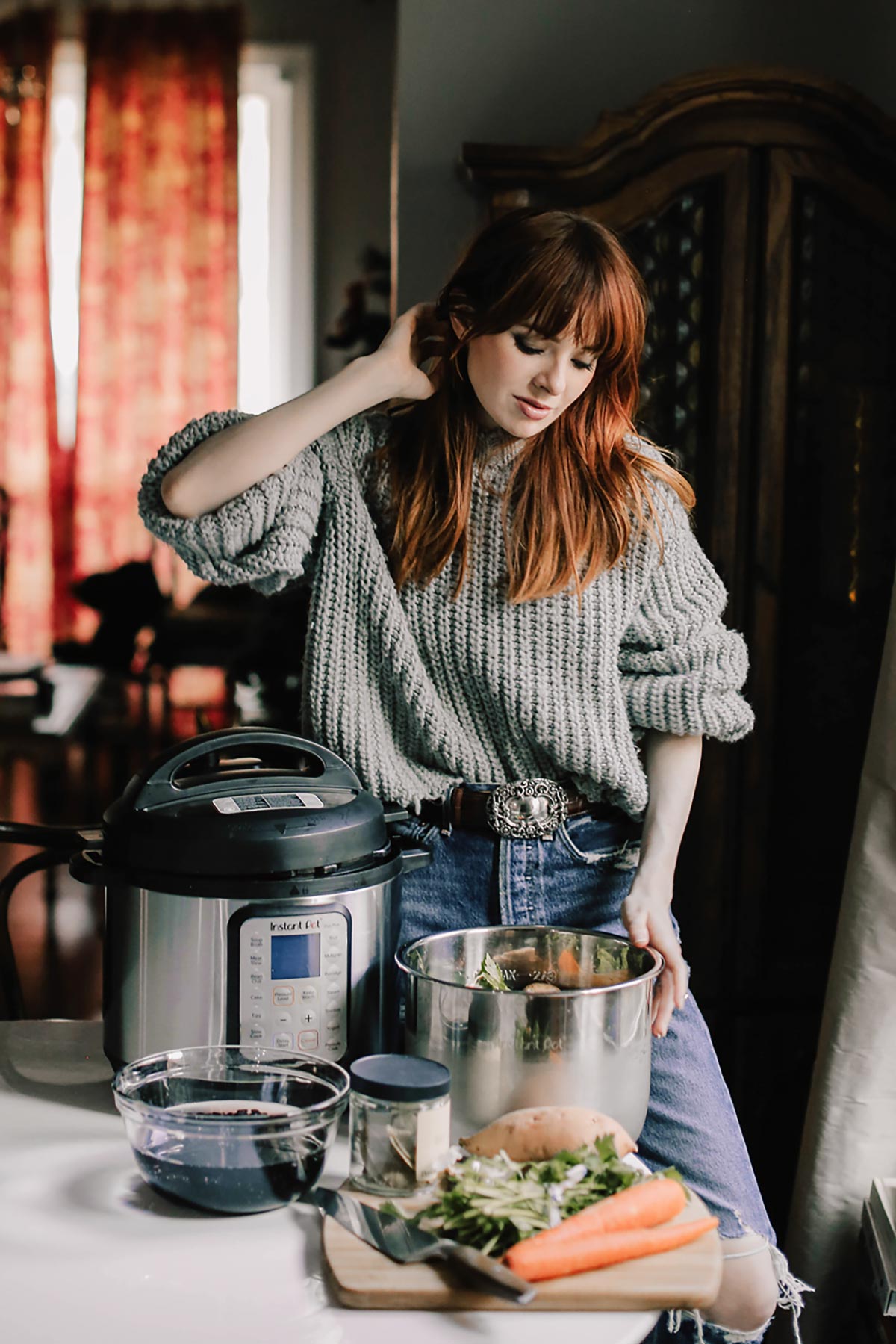 If you follow me on Instastories, you may know that in the last year I purchased an instant pot and have become fairly fanatical about it's life enhancing powers. When I embarked on my endo diet earlier this year, I purchased an 8 quart instant pot as a motivational leaping point to get me psyched up for this big diet change. It turned out to be everything I hoped and more, and I consider it a very empowering tool in the kitchen both as someone who loves to cook and as someone who has had to transition to a more restricted diet to manage my health problems.
Instant Pots aren't really any kind of new technology. My grandma has been a champion of the stovetop pressure cooker for years. Instant Pot has cleverly repackaged the pressure cooker with a lot of really cool multifunctions for cooking, like steaming and making yogurt. How fancy! There are even built in functions just to make cake, soup, and hard or soft cooked eggs.
Is an Instant Pot for you? Let's examine…here are some reasons you might want an Instant Pot.
1. You follow a speciality diet.
When I turned to a healthier diet to manage my endometriosis, I quickly realized I was spending a LOT more time cooking. Sadly endo-friendly meals aren't going to make themselves, though I often wish they would. I knew I needed something to help me get nourishing meals on the table without spending hours in the kitchen.
Enter the Instant Pot. I rely so much on my Instant Pot to help me get healthy meals accomplished with minimal effort, no matter what type of dish I'm cooking. While the Instant Pot excels at braising meats to tender perfection in record time, it's just as great for preparing plant-based foods. I made eating more plant-based meals a goal of mine last year and my Instant Pot was a huge help in helping me get there. The IP makes perfect rice, beans, quinoa, steel cut oats…any plant based staple you can think of. I love using my Instant Pot to make chana masala, lentil soup, buckwheat porridge, vegan chili, (chickpea) miso risotto, rice pudding, and loads of steamed potatoes and beets.
If you are paleo, keto, vegan, or whatever…there is guaranteed to be an Instant Pot community online just for you. Check Facebook for groups that share recipes and tips.
(If you are looking for plant based instant pot recipes, you must get Jill Nussinow's cookbook Vegan Under Pressure. Also be sure to check out Vegan Richa's blog and Heidi Swanson's blog 101 Cookbooks.)
2. You like to meal prep/meal plan.
I use my instant pot constantly to cook basic grains and beans which I can use in endless ways throughout the week (soups, salads, dips, tacos, grain bowls). My pantry is always stocked with plenty of dried chickpeas, beans, lentils, rice, oats, and other grains that mean I'm usually just a few ingredients away from dinner. Meal prepping always saves me time, money, and effort. My Instant Pot quickly proved it's value when I enlisted it's help in my weekly meal preps.
The Instant Pot is amazing for cooking one-pot meals like chilis, soups, and stews. These cozy meals are my favorite thing to prepare on a Sunday to keep our household well fed all week long. I cook many large batch recipes so I can freeze whatever leftovers we won't eat within a few days. In the last few weeks I have developed an obsession for savory rice or oat porridges, which I enjoy on cold mornings with sautéed greens and chopped scallions.  I love Heidi Swanson's Life Changing Rice Porridge and since then I've taken to storing batches of it in my freezer.
3. You often cook for a crowd or have a large family.
Even though Jeff and I are just a household of two, my Instant Pot gets a serious workout when we have parties or cook for the holidays. For Jeff's birthday I used the instant pot to make a huge batch of creamy hummus and a an awe-inspiringly huge portion of risotto gratin (it was a big hit). For Thanksgiving I used it to make enormous quantities of  fresh cooked lima beans for cassoulet. You can make hot apple cider the Instant Pot, even. How great would that be for a party? If you are serious about entertaining or have a large family, I would recommend the 8 quart.
4. You love Indian food.
One of the best things I discovered about Instant Pot cooking is that it is particularly suited to cooking Indian dishes. There are huge online communities dedicated just to Indian pressure cooking and there are several Indian Instant Pot cookbooks (Madhur Jaffrey has an Indian Instant Pot cookbook coming out in May!!!). I highly recommend checking out Vegan Richa's recipes for easy weeknight vegan Indian recipes you can make in your Instant Pot.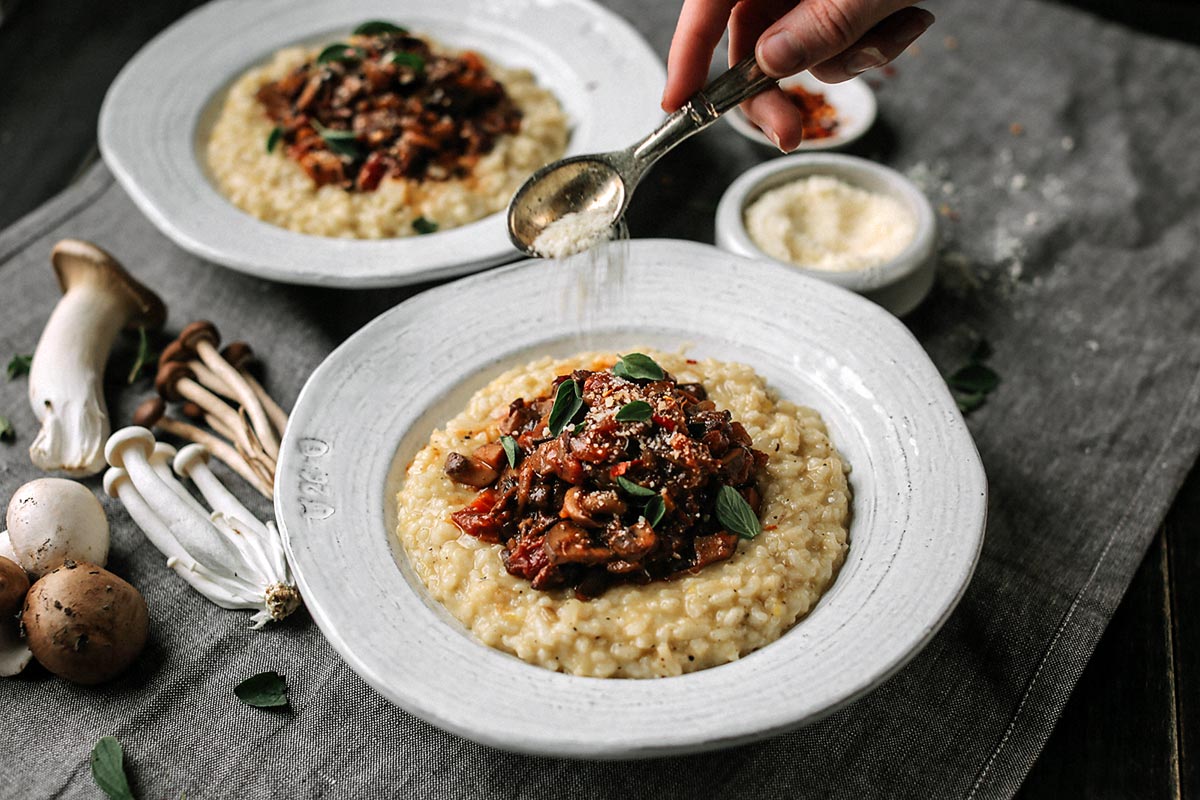 5. You love risotto.
Seriously, if you love risotto the way that I love risotto, it's reason enough to get an Instant Pot. It takes me under 10 minutes start to finish to make perfect risotto in my IP. I serve mine with roasted chicken, mushroom bolognese, or roasted shallots and mushrooms. You've got to try Serious Eat's miso risotto for a healthy plant based risotto with a totally unique flavor. I even make a steel cut oat risotto that has become one of my favorite breakfasts (I'll post the recipe very soon on Thyme and Temp!).
6. You've got stuff to do.
And who among us doesn't? The beauty of the instant pot isn't that it will save you time, it's that you get to walk away from the kitchen. I love that I can prepare a one pot meal, turn on my instant pot, and then leave my kitchen to do other stuff. While dinner is cooking I can do a workout, answer emails, clean house, or just pour myself a glass of wine and turn on a movie. Last weekend I tried the red wine bolognese recipe from Comfort In An Instant, which took just a few minutes to prep. The bolognese tasted like I'd spent hours hovering over the stove, but I got to relax and do some journaling while the bolognese cooked (all told, about 50 minutes start to finish). It was a truly luxurious experience. As someone who suffers from chronic pelvic pain that can make kitchen work very painful at times, there are days where I am hugely grateful to my instant pot for easy meals I can quickly prepare and walk away from.
7. Your favorite recipe developers have Instant Pots.
I'm not going to lie, when I saw Heidi Swanson of 101 Cookbooks was writing Instant Pot recipes, I knew I had to buy one. I absolutely love her style of cooking, so I knew if she loved her Instant Pot, I probably would too. I've been using her cookbooks and blog recipes for years and learned so much from her. Heidi's extensive writing on Instant Pot cooking helped me through the first few months of learning my way around my Instant Pot.  Now I adore making her Fiasco Beans and Life Changing Rice Porridge!
Another boon to Instant Pot fans everywhere: Melissa Clark of NY Times fame has written not one, but TWO instant pot cookbooks that are absolutely fabulous: Dinner In An Instant and Comfort In An Instant. I own both, and also purchased copies of both cookbooks when I gifted my mom an Instant Pot for Christmas. Do yourself a favor and get Comfort In An Instant just for the fabulous bolognese recipe.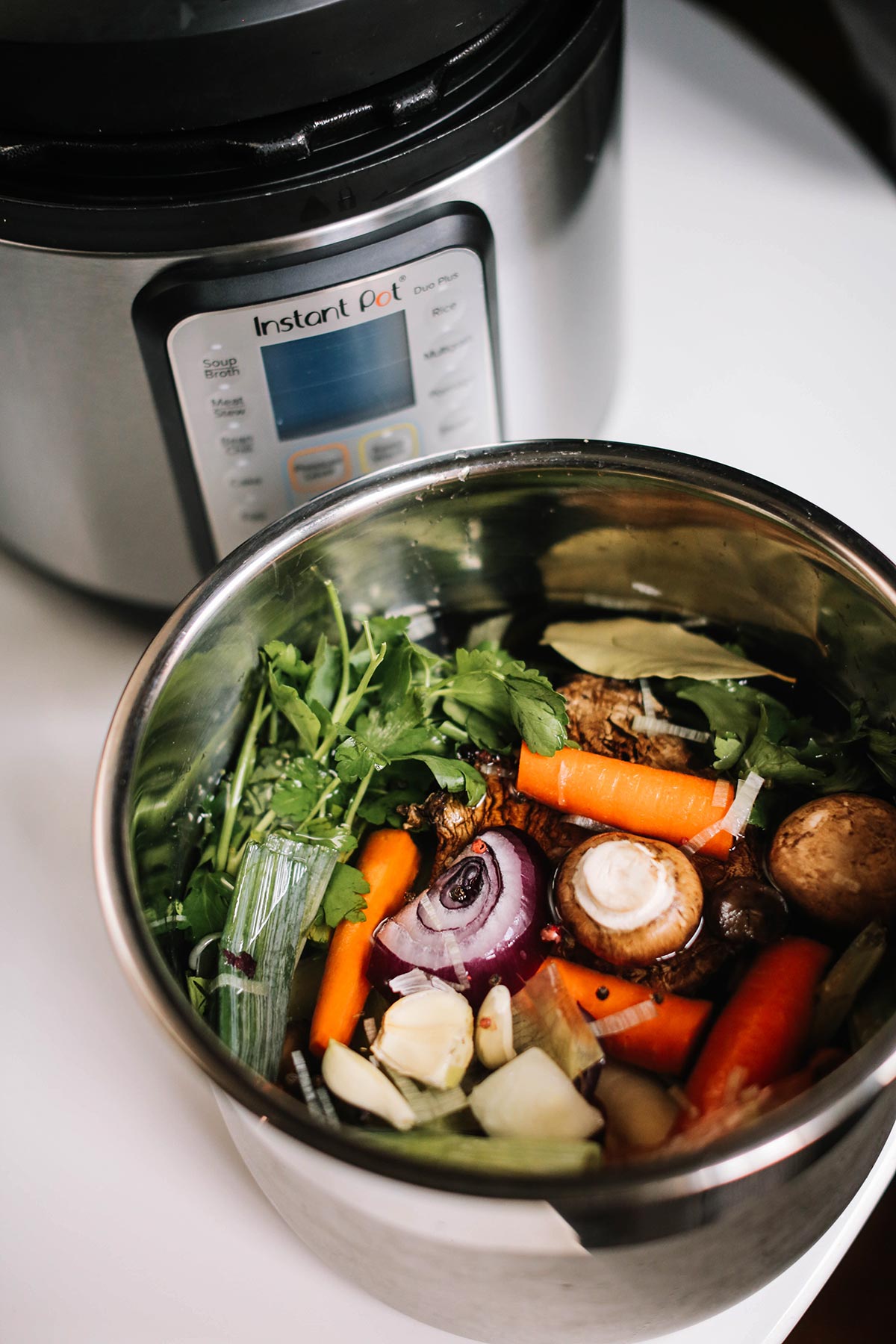 8. You like or would like to cook from scratch more.
One thing I love about my instant pot is that now I rarely buy canned beans or stock. I've taken to saving kitchen scraps in a freezer bag and using them to make my own veggie stock. Onions and onion skins, leek tops, shallots, carrots, celery, mushroom stems, and all my leftover herbs get saved up and turned into veggie stock that is five times as flavorful as the stuff you buy at the store. You can also easily make your own chicken stock or bone broth in the IP too.
What truly made me fall in love with my Instant Pot was it's ability to cook beans from dry.  Cooking beans from dry used to seem like a extravagant use of my time, but now it's something I do at least once a week. They come out so flavorful and tender, and I get to re-use the tasty mineral rich bean broth to cook rice or quinoa in (try it!). Since discovering how sumptuous and tasty home cooked beans can be, bean cooking has become an obsession of mine. An herb flecked bowl of butter beans in their own cooking broth is as appealing and craveable to me as a plate of blue cheese hamburger sliders. Now that is truly saying something.
Recommended Reading To Get Started:
A lot of people have told me they have an Instant Pot but are afraid to use it or don't know how. I totally get it, it is intimidating at first. But don't stress out. We live in an Instant Pot world these days, you have nothing to fear.  There are a million videos on Youtube that demonstrate how to get started. Watch a few of these to get started.
Using Your Instant Pot For The First Time: This is a great guide.
A Brief Guide to Instant Pot Function and Safety: Here
A Quick Start Guide to the Instant Pot: Watch here.
How to Clean Your Instant Pot Liner: Watch it here.
Cookbooks for the Instant Pot:
You don't need an Instant Pot cookbook to get started but it does make having one a bit more fun. Definitely get the Comfort In An Instant cookbook (full of recipes like Pimiento Mac and Cheese, Risotto Alla Carbonara, Cuban Rice and Beans, and Red Wine Bolognese). I also highly recommend Vegan Under Pressure if you are into plant-based cooking. I love her recipe for Ethiopian carrots and cabbage.
What Size To Get:
I have an 8 quart Instant Pot Duo and I feel I definitely could have gone with the 6 quart for our household of two. That being said, there are times I am really grateful for my 8 quart like during the holidays or when I am making stock. Check out this blog post and see if it helps if you are wondering what size to get.
Some Recipes To Try Out:
What about you? What is your favorite thing to make in the Instant Pot?