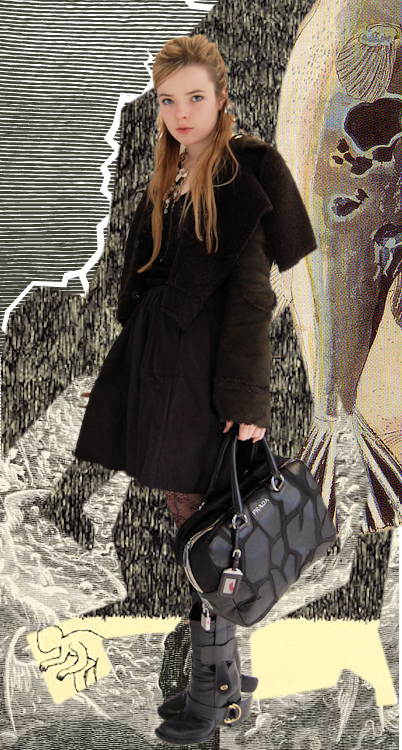 **I am bursting with Christmas cheer as you can tell from this photograph!**
This is what I wore to our Christmas gatherings yesterday.
I am really excited about the new Prada bag my mom got me for my birthday!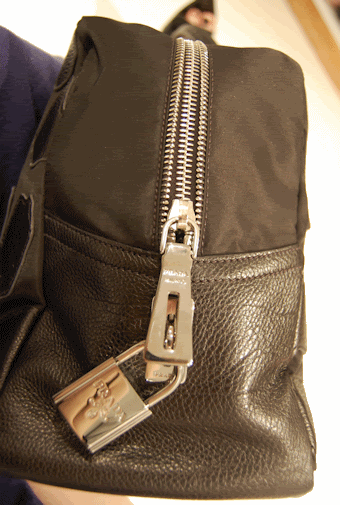 To be honest, at first I didn't know if I liked it.
But I thought about it some more and decided it was actually really, really cool. It's leather patches made it look like a dinosaur and the double zipper even sort of resemble the teeth of a T. Rex. It's actually a really wierd bag-definitely not the typical purse you'd expect from Prada.
The prehistoric Prada bag??
It's just the sort of bag for a non-bag girl like me. Thanks, Mom. 
I am also wearing a shearling and suede jacket by Richard Chai. It is a very inky black that is a little bit green. You can actually do a lot of different things with the collar and various zips and snaps but I like it best this way. Definitely one of the best birthday buys ever! 
(* Some very exciting things just arrived in the mail from eBay this weekend and I can't wait to blog them-hopefully I can do all that this weekend!*)
Hope you had wonderful Christmases yesterday :)
xox Jane