You always want to wear your boots on the plane so you don't have to pack them-I'm bringing my new Chloe boots that I've been wearing non-stop!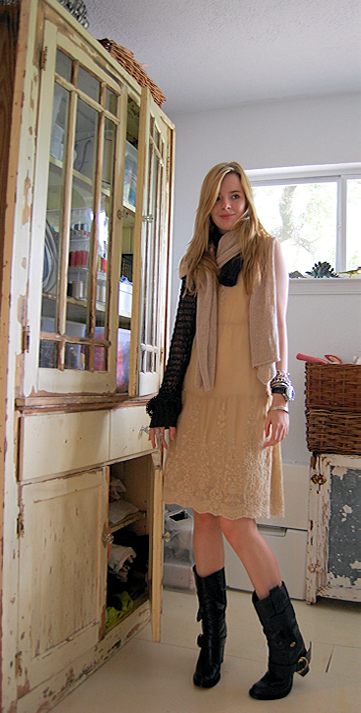 I wear an old lace slip dress I got at Anthropologie a few years ago-still one of my favorite things to wear! The two scarves both have arm holes-I got them in Tokyo but I've never worn them together. I kind of like it. One is mesh and covers one of my arms…I can also wear it as a shrug! The watch and silver jewelry I stole from my mom for this picture! and the boots are Chloe.
Today I am also wearing an extremely special gift my mom got for me as a graduation present/celebration-of-many-good-things-that have-been-going-on present….it's an Antonio Palladino silver octopus ring. When we were in San Francisco we discovered his jewlery for the first time and were absolutely floored by his designs (look him up to see his alligator bracelet and the crab cuff-they are absolutely stunning) I am not normally the kind of girl who gets excited about jewelry-glitzy gems bore me. But this makes a statement-octopi have always been a lifelong obsession of mine and are sort of my signature  'thing' I guess. (I adore marine biology-seriousley!) I'm going to wear this ring forever-it's just the perfect thing for me! I'm so happy about it!