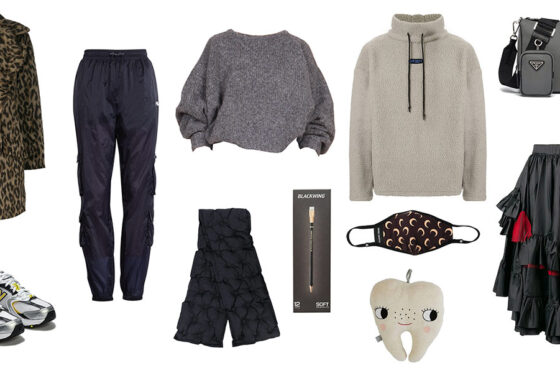 What happens to fashion now? I am asking myself this as sale promotions, PR blasts, and even trunk show invites (really?) roll into my inbox. Fashion's problems long pre-date the pandemic. The faster-than-ever retail cycles and department stores bursting at the seems with deep discount merchandise have given off the smell of rot for sometime. Covid-19 is forcing fashion to shed much of its dead weight.  With the shuttering of multi-brand retailers like Barneys and an industry-wide push for scaling back seasonal collections, we have hope that designers will have the negotiating power to adopt slow-fashion practices. The next few years will be a painful growing period, but I'm hoping for light at the end of the tunnel.
While I've spent this year contemplating fashion industry upheaval and what the future holds, I've also been going through a fashion crisis of my own. With my social calendar cleared and lockdown in place, I just haven't really been wearing my clothes. Over the last few months my wardrobe has narrowed to a small rotation of sweatshirts, elastic waist skirts, paint-splattered sweatpants and tent-like house dresses. I wouldn't call it loungewear, "house clothes" would be more accurate. I still wear a special piece about once a week, for instance, a red silk ankle-skimming Kenzo skirt with one of  my sweatshirts when my husband and I sit in the living room for a cocktail (our new ritual to banish nostalgia for happy hours). When quarantine does eventually end, I will be happy to give up the house clothes I've barely changed out of for a year, but I will be loathe to give up the comfort they afforded me.
I want clothes that are comfy and easy to live in, but feel special. For a long time we've been seeing fashion become more casual and I think it's for the best that fashion tunes itself in with how people live their actual lives. I have been thinking a lot about what I want to wear in the foreseeable future and I have some ideas of what works best for me. Having a lot of sweatshirts and skirts with elastic waists is important to me. I've become increasingly interested in sneakers this year. It's also important that the clothes are fun. Life has been boring in quarantine, so clothes have to pick up the slack. More than ever, we are dressing for ourselves and ourselves only. Gotta make it count!
Breaking down some examples of outfits that would make me very happy. Click on the items for details.