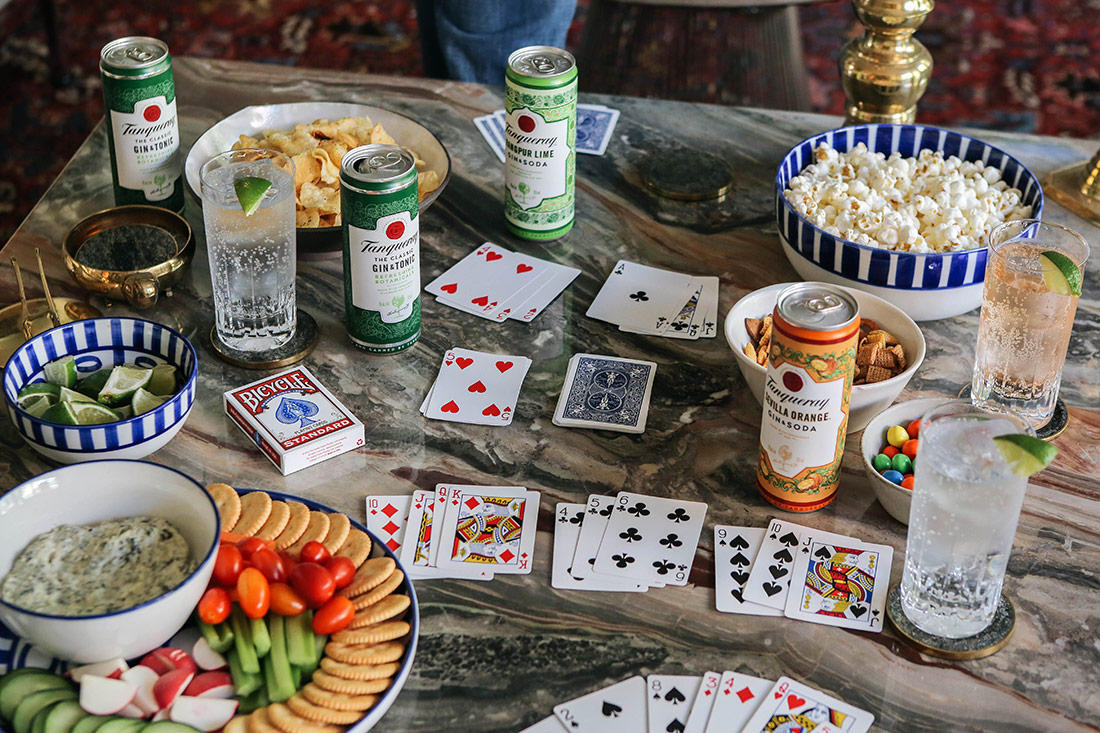 This post has been made as part of a partnership with Tanqueray gin, all opinions are my own.
I don't know about you guys but I have found myself with a lot of plan-free weekends and Friday nights lately. Gone are the days of bar-hopping or sneaking out for happy hour, and we have been trying to find ways to make entertaining ourselves home as fun and laid-back as possible. Jeff and I tend to be over-achievers when it comes to cooking and hosting, and as much as I love those days where we spend hours in the kitchen, sometimes a low-key hangout with snacks, games, and an icy cold gin and tonic are so much more fun.
Gin is always my spirit of choice and Tanqueray is a mainstay in our home bar. So, you can imagine how excited I was when Tanqueray asked us to try out their new canned gin cocktails! The new Tanqueray canned cocktails were crafted and tested by the best mixologists, so they really tastes like a cocktail you'd be served in your favorite bar. The canned cocktails come in a number of tasty varietals, from Sevilla orange gin and soda to a classic gin and tonic. Gin and tonics hold a special place in my heart. I always order them when I'm in Tokyo, because for some reason, they just taste so much better there. I've never been able to figure out why! These canned Tanqueray gin & tonics really remind me of those I had in Tokyo. I am so impressed by these canned cocktails that I  break out my fanciest clear ice cubes when I pour them. They're worthy of the best ice! I served them to our quarantine-pod for a fun game night, and the approval was resounding. The canned gin cocktails have become my go-to for Zoom dates with my friends or when I want a refreshing cocktail after a long day in the studio.
The Tanqueray canned cocktails are brand new, just released in the last few weeks. You can find them at your local liquor store or you can order on Drizzly to have them delivered. Let me know how you like them! I'm kind of obsessed.