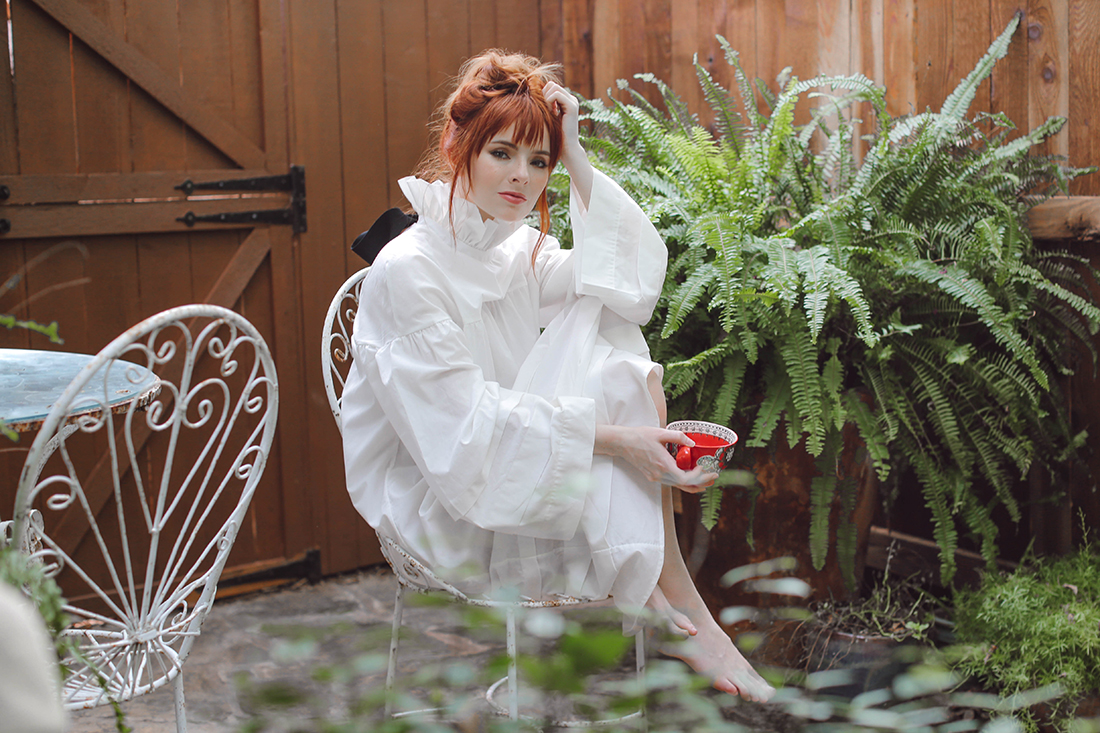 I'm sure I am not alone when I say that during the past few months, my sleepwear has taken an unprecedented priority in my wardrobe. Moving as I do these days, from my bed to my home studio to the kitchen and back again, I rarely find the need to change out of my nightgowns (which now all show the wear of their route in the form of cooking splatters and paint smudges). I wanted sleepwear that didn't feel like it had become part of quarantine drudgery, and perhaps offered a momentary fantasy of life far away from the pandemic and my bedroom.
Enter Campo Collection.Designed by Sao Paulo-born Cinthia Boni Cordioli, this new ethically sourced and produced sleepwear collection seems to have struck at the right time and with the right note. The designs give nod to the Victorian but also manage to also conjure notes of Georgia O'Keefe and 70's Yves Saint Laurent muse Loulou de la Falaise. It's sleepwear with fashion girl bait written all over it, and if the Vogue shoutouts are anything to go by, it seems to be working.
This is sleepwear that goes beyond the bedroom, and with it's generous shapes and romantic detailing, you can see that Campo Collection would easily fit into wardrobe of women who are fans of designers like Cecile Bahnsen and the Row.  Given Cinthia's time working for fashion houses like Marc Jacobs and Giorgio Armani, her style instincts should come as no surprise. But How did Cinthia intuit this fashion sleepwear moment?  I had the pleasure of chatting with Cinthia to discuss the vision she created for Campo Collection, what goes into an slow-fashion brand, and the challenges and prescience of starting a sleepwear line in a pandemic.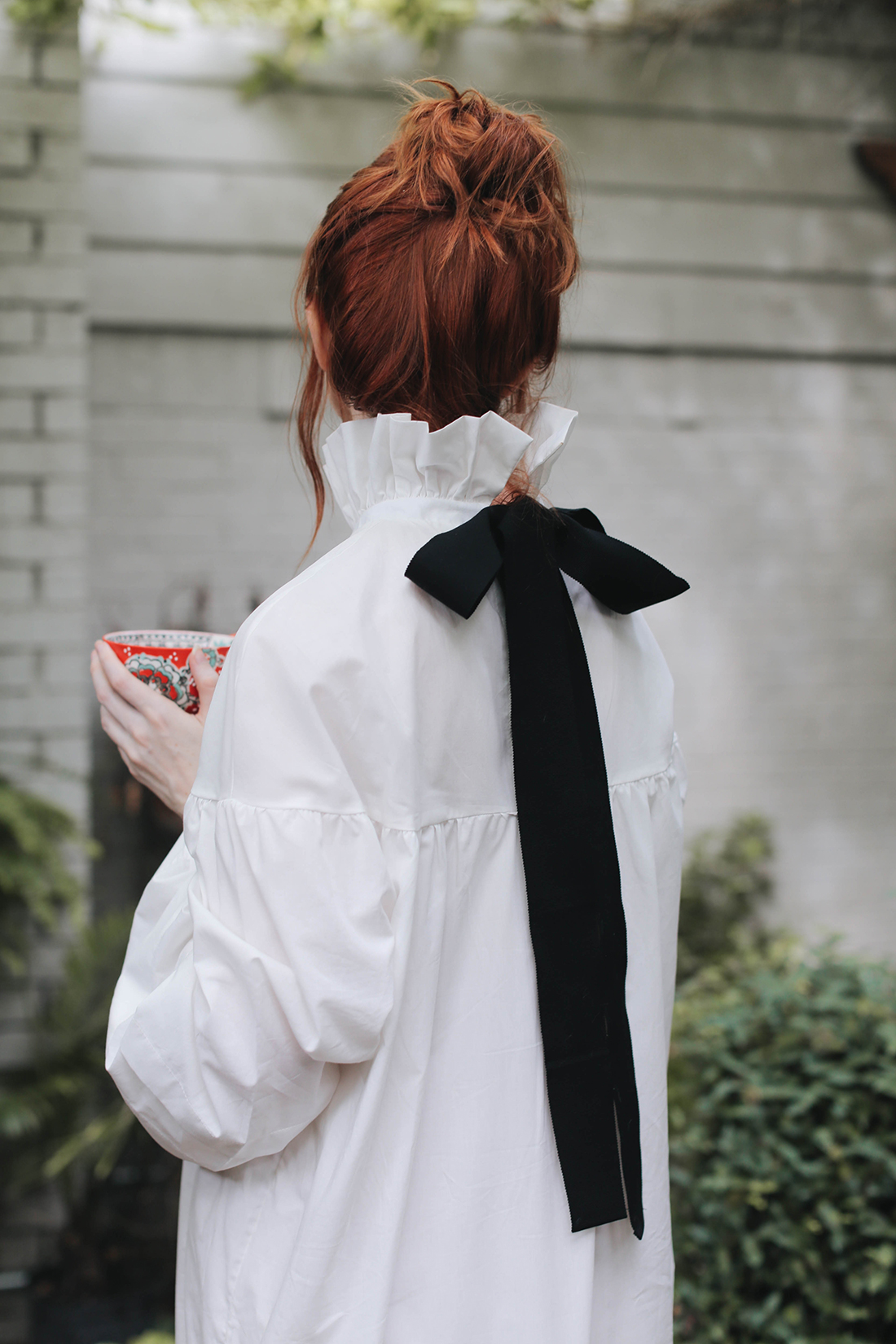 Above wearing the Lydia nightgown by Campo Collection.
On the inspiration behind Campo Collection….
Cinthia Boni Cordioli: I have always worn a nightgown. The first thing I like to do when I get home is to change into one; I spend the night at home in it and then wear it to bed. While I like for my sleepwear to be comfortable first and foremost, I also believe it needs to be beautiful. I want to feel beautiful to spend my quality time at home with my family. That is the message I wanted to convey when creating my sleepwear collection, whether you are someone used to wearing beautiful sleepwear or whether you didn't know that it was even a possibility to wear something other than an old t-shirt and sweats around the house.
The aesthetic behind the collection is to take the old world nightgown and modernize it. The pieces are simple, modern, and timeless. I didn't want to focus only on the Victorian era or the past but instead use this old world way of dressing as inspiration to create something for the modern woman. At the same time, I make sure to design comfortable pieces, and while most can be worn outside of the house as well, they ultimately are all slightly oversized to be worn comfortably to sleep.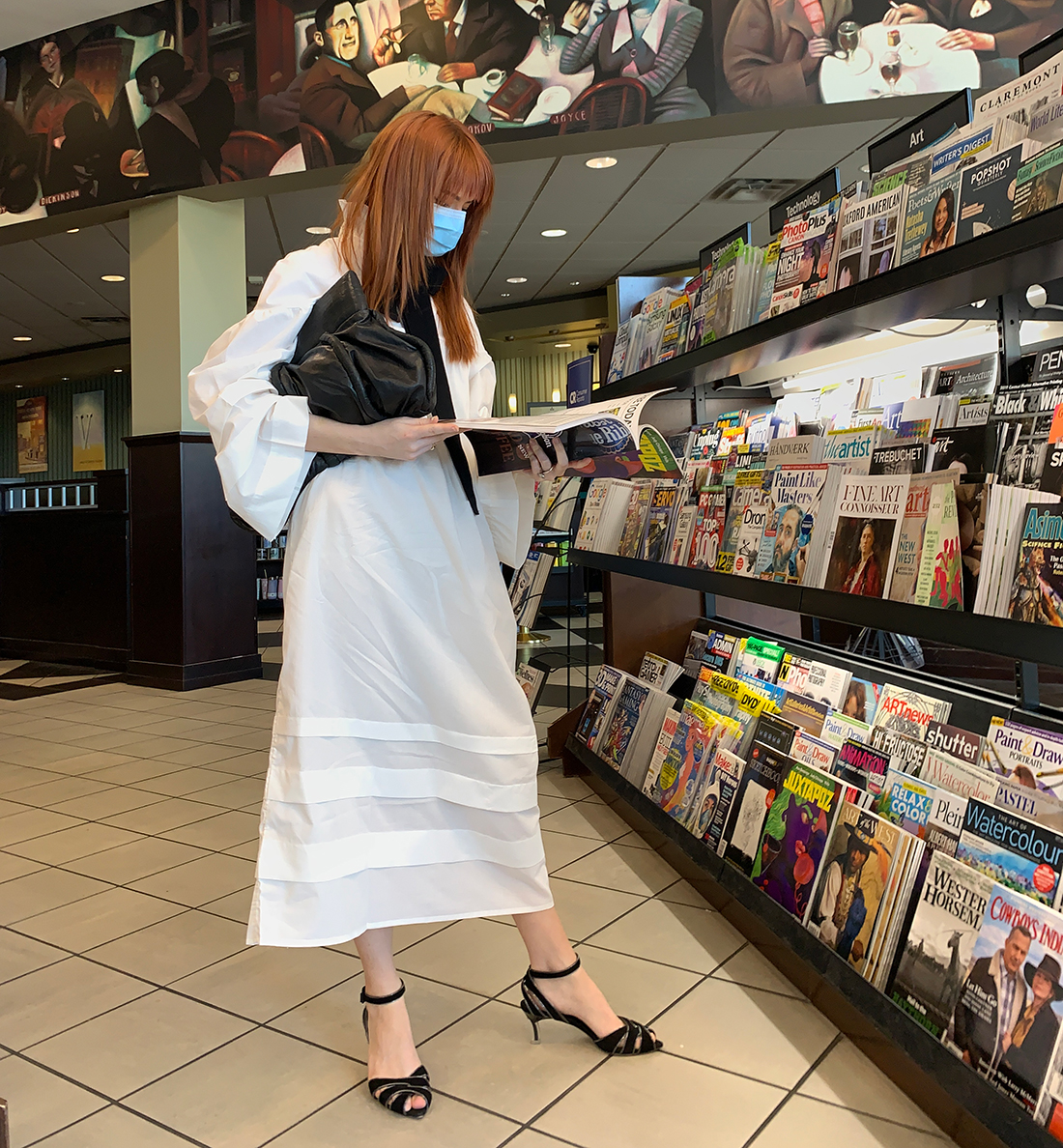 On the sustainability practices of Campo Collection…
CBC: The focus behind the brand is to be sustainable. Sustainability is a practice, and that is exactly what we are doing, practicing. We have been practicing from the inception of the brand and will continue to practice as we move along. I began the brand focusing on one category, sleepwear, and in that category, a limited number of pieces that all worked together, made with fabric and craftsmanship meant to last.
All of the fabric is sourced ethically from mills only working with sustainable materials in small production. For our first collection, all the fabric used is GOTS certified organic cotton, the highest standard for organic cotton. And our commitment is to always work with organic and/or sustainable materials and to use dyes that are made from natural sources or are chemical-free.
I would like to one day only work with existing fabric, but at the moment we still have to produce most of our fabric. The factories we use are also sustainable, so they don't create a surplus to have on hand. They only produce what they sell, which has also translated in our production. We produce in small quantities and limit distribution to an exclusive market.
I also made the conscious decision to work with a local all-female team of artisans in Miami. It is important for me to produce in the USA and to support the many talented women in my community. In keeping things local, I have complete hands-on access to the entire process and have limited our carbon footprint by not having to fly back and forth between design and production meetings, and avoid shipping product back and forth. Our entire production process is slow by industry standards; slow fashion. Sourcing sustainable fabric, using natural dyes, weaving fabric, etc. all takes time.
We have also eliminated "seasons" – the pieces are timeless and meant to be worn year-round. We will continue to bring in new styles and update our existing styles with new colors and fabrics, but we will build the collection organically and on our own timeline. Our garments may take long to make, but they will last for years to come.
Campo Collection launched in the beginning of the pandemic. It seems a strange twist of fate for a fashion sleepwear brand! How has the pandemic affected the response to your launch?
I was very hesitant to launch when I did. I had been creating the collection for the better part of 2019 and had a launch strategy in place that I quickly needed to reconsider and pivot. Gone was the traditional model of in-person trunk shows, shopping events, lunches, and retail, but the brand was already set up with a beautiful e-commerce site which I hoped would be the "store front" for the brand. The idea was always to focus on direct-to-consumer and a small, exclusive wholesale business.
Ultimately, I had invested so much time and put a lot of thought and care into the brand, so I didn't want to wait for the end of the pandemic and come out as a brand that had developed due to the circumstances. The idea of sustainability and slow fashion is not something I began, but I do hope to be at the forefront. As for choosing to focus on sleepwear, well I think that's kismet. I am thankful that I am creating a product that is extremely useful when we are barely leaving home, and I hope Campo can bring a little luxury and beauty into our lives during these uncertain times. I know that when life resumes to a more normal state, these pieces will not only continue to be applicable for our daily lives but absolute heaven to take on a vacation.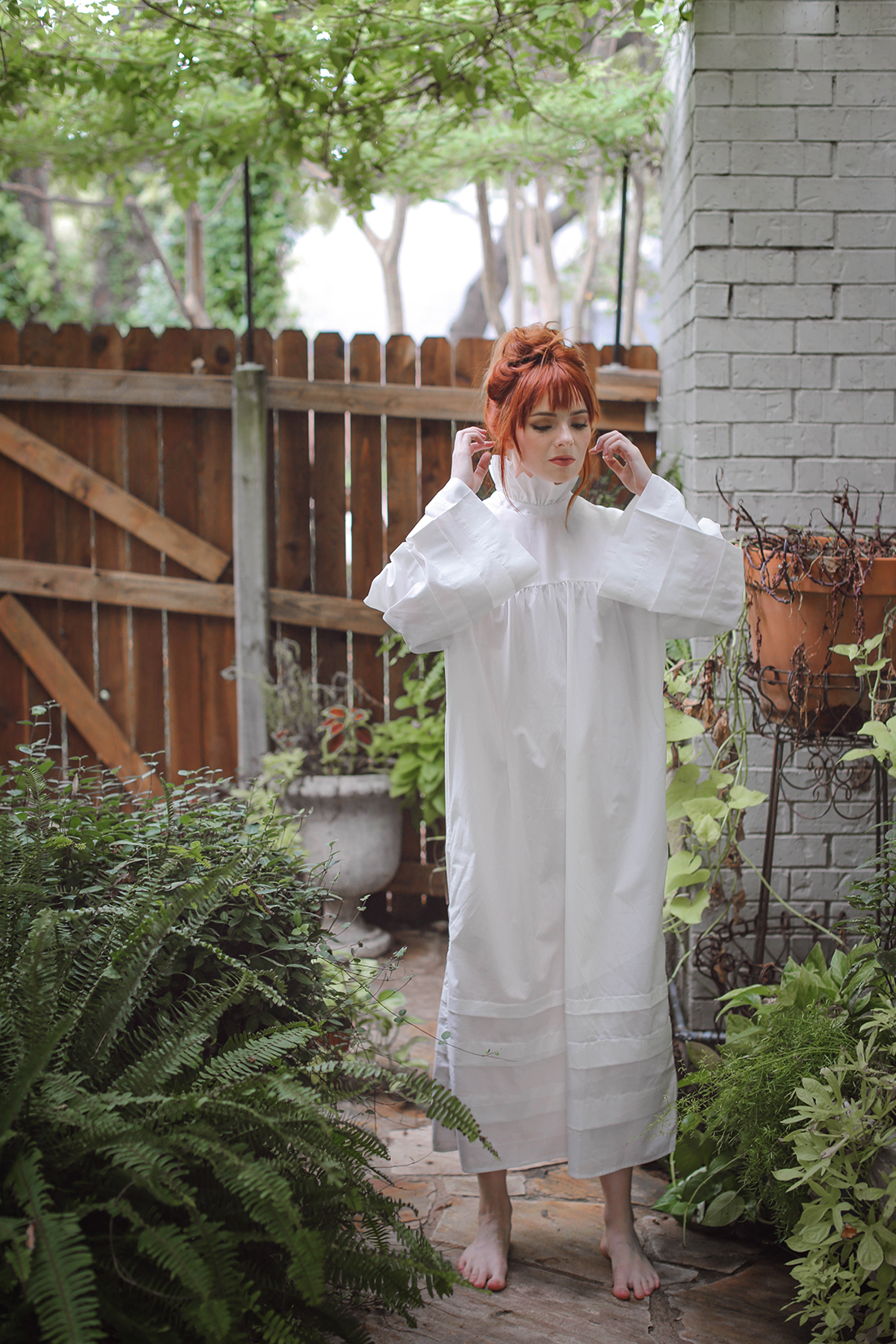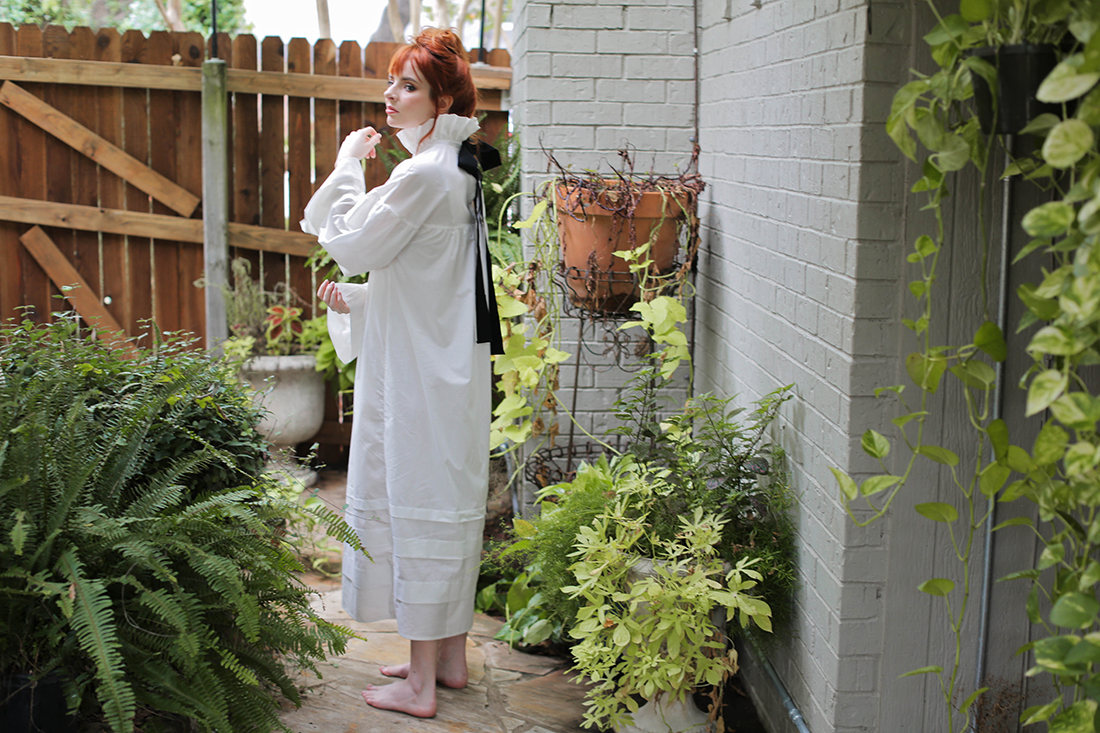 Thank you so much to Cinthia for chatting with me about Campo Collection. You can find Campo online at their website, and Campo will soon be carried here locally in Dallas at Studio Sebastian in Dallas at Snyder Plaza. Campo Collection also offers children's sleepwear as well, by the way.