What happens to fashion now? I am asking myself this as sale promotions, PR blasts, and even trunk show invites (really?) roll into my inbox. Fashion's problems long pre-date the pandemic. The faster-than-ever retail cycles and department stores bursting at the seems with deep discount merchandise have given off the smell of rot for sometime. Covid-19 is forcing fashion to shed much of its dead weight.  With the shuttering of multi-brand retailers like Barneys and an industry-wide push for scaling back seasonal collections, we have hope that designers will have the negotiating power to adopt slow-fashion practices. The next few years will be a painful growing period, but I'm hoping for light at the end of the tunnel.
While I've spent this year contemplating fashion industry upheaval and what the future holds, I've also been going through a fashion crisis of my own. With my social calendar cleared and lockdown in place, I just haven't really been wearing my clothes. Over the last few months my wardrobe has narrowed to a small rotation of sweatshirts, elastic waist skirts, paint-splattered sweatpants and tent-like house dresses. I wouldn't call it loungewear, "house clothes" would be more accurate. I still wear a special piece about once a week, for instance, a red silk ankle-skimming Kenzo skirt with one of  my sweatshirts when my husband and I sit in the living room for a cocktail (our new ritual to banish nostalgia for happy hours). When quarantine does eventually end, I will be happy to give up the house clothes I've barely changed out of for a year, but I will be loathe to give up the comfort they afforded me.
I want clothes that are comfy and easy to live in, but feel special. For a long time we've been seeing fashion become more casual and I think it's for the best that fashion tunes itself in with how people live their actual lives. I have been thinking a lot about what I want to wear in the foreseeable future and I have some ideas of what works best for me. Having a lot of sweatshirts and skirts with elastic waists is important to me. I've become increasingly interested in sneakers this year. It's also important that the clothes are fun. Life has been boring in quarantine, so clothes have to pick up the slack. More than ever, we are dressing for ourselves and ourselves only. Gotta make it count!
Breaking down some examples of outfits that would make me very happy. Click on the items for details.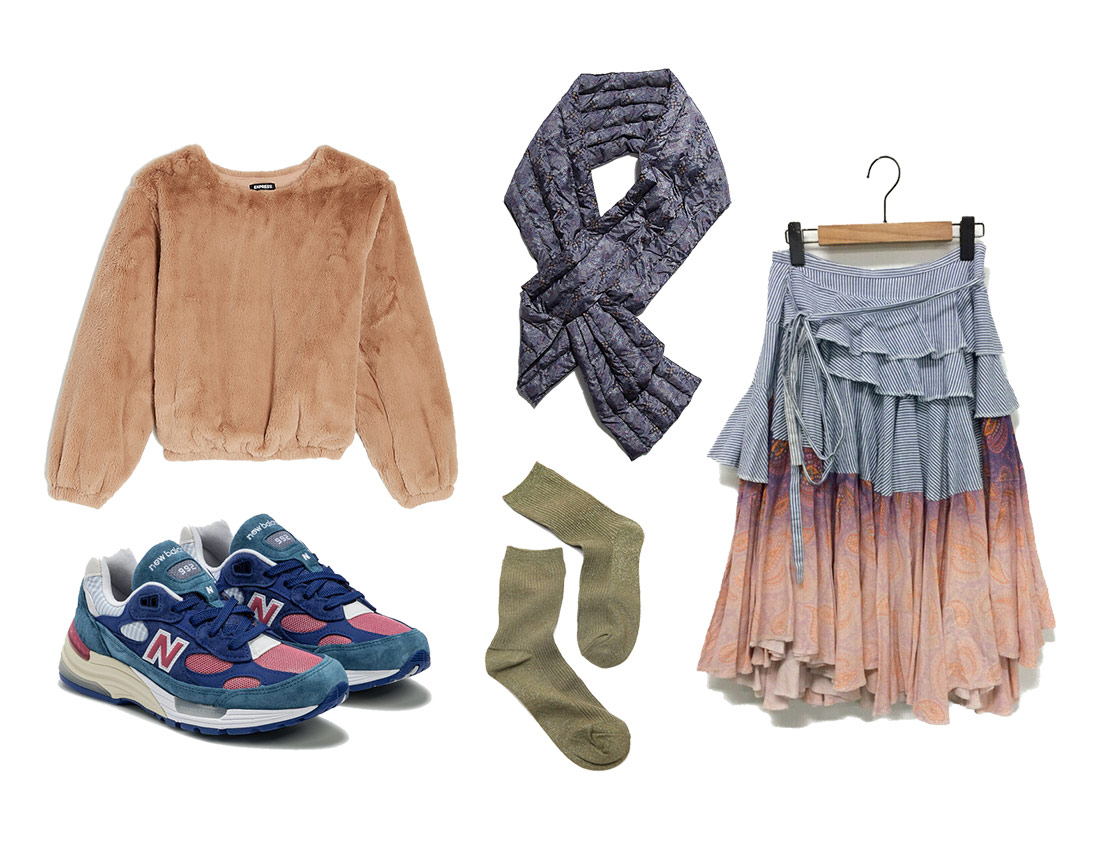 I have always thought of the sweatshirt as the perfect top. I went hunting for a faux fur sweatshirt and came up with this. The skirt is tricot Comme des Garcons from eBay, a good deal at $130. The scarf is from Free People. This is a riff on my real-life uniform as of late: chubby sweatshirts with a tiered silk red polka dot Comme des Garcons skirt.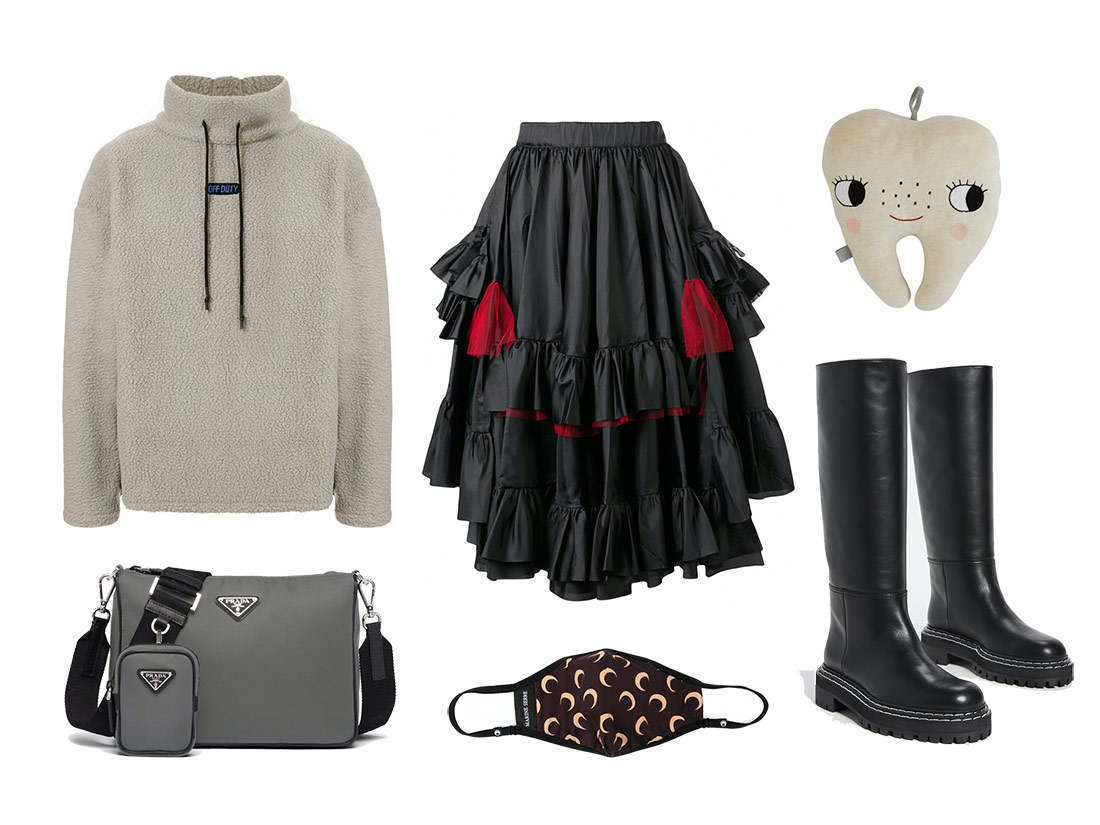 Nothing better than a fancy skirt with an elastic waistband. This Comme des Garcons skirt is a steal at 50% off, plus more for Cyber Monday. A men's teddy fleece and Prada bag tone down the gothic-lolita of the skirt. I can't think of a more perfect boot than these Proenza boots. My most-worn boots have been this pair of Tamara Melon boots that have no laces or zippers. Just pull them on and go, and they look great with everything. I picked the plush tooth toy also because I've gotten really into stuffed toys during quarantine. I keep toys in my tote bags.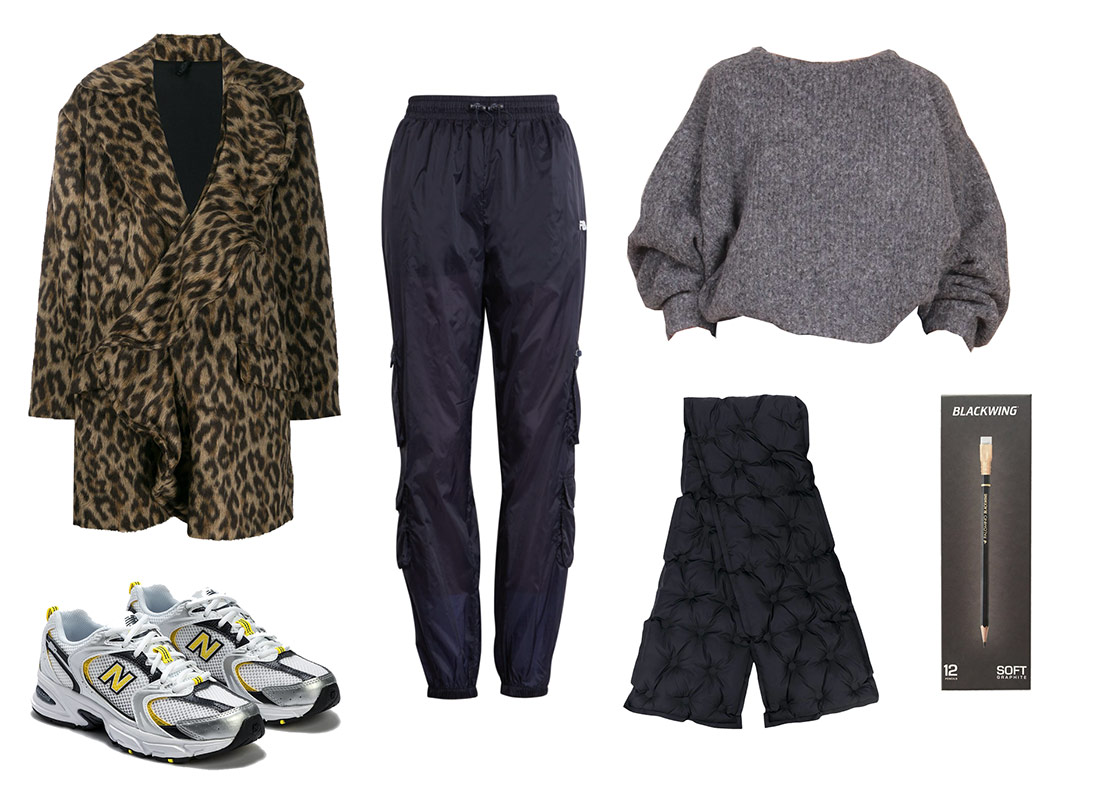 It took me a long time to warm up to the idea of sweatpants, because I look kind of silly in them. But if I wear them with a chunky sweater and handsome coat, it's good. Navy is the chicest color, in my opinion, so you're already off to a good start with these Fila sweatpants. I really enjoy tech-fabric scarves like this quilted Marigela scarf is a dream piece.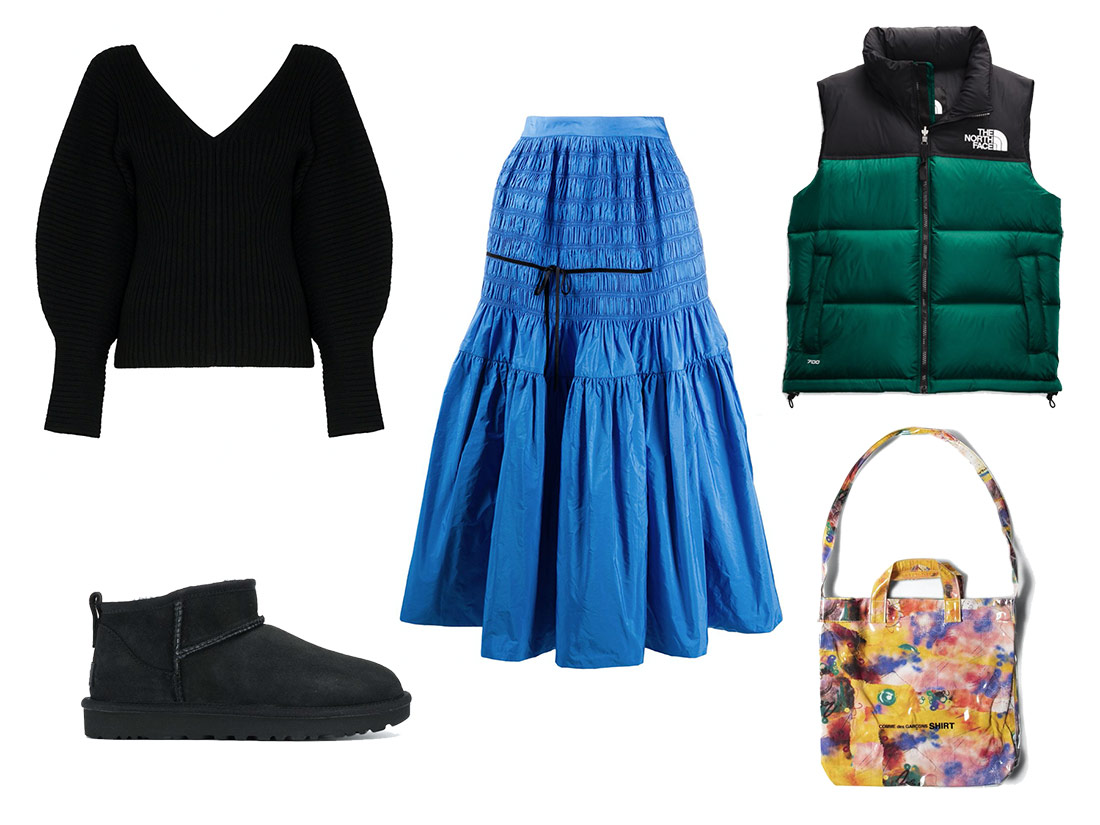 Molly Goddard is a designer that sparks joy for me, and I'd be deliriously happy to wear this taffeta skirt. I get a lot of satisfaction out of wearing pretty clothes with ugly shoes and theses Ugg ultra minis would be perfect for all of my CVS runs. One thing I don't really care about in quarantine are fancy leather handbags, so this Comme Des Garcons Shirt fantastic-plastic tote strikes the right note for me.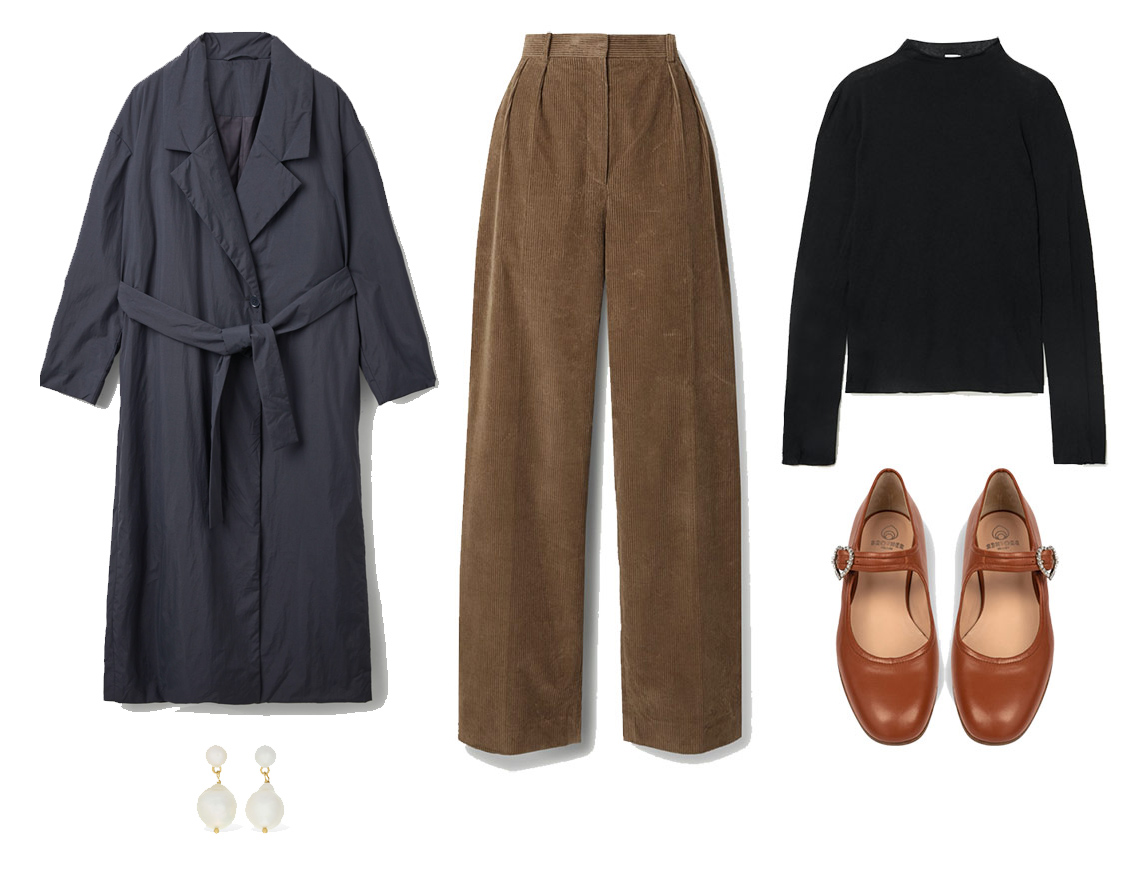 The Row's corduroy pants for F/W 2020 were a revelation and I would die to own them. I think a lot more about flat shoes these days, and these flat Mary-janes with rhinestone heart buckles by Brothers Vellies are probably at the top of my list. This coat is recycled polyamide and looks like the kind of thing that could see me through the next decade of dog-walking.
Has quarantine changed your style? Are you embracing Ugg boots and sweats? Tell me about it! Happy December everybody.