I am so curious what the next year will bring for fashion. It's been a big shift this year to see fashion enthusiasts (fans, editors, and stylists) get more excited about the Telfar and Ugg collaboration, or the Supreme x Northface puffer coats than they do about fashion week. I totally get it and I feel the same way. Most high fashion isn't cool anymore; an epiphany I had watching Real Housewives over the pandemic. RHOBH's Dorit Kemsley wears head-to-toe runway looks in a way that's so embarrassing I literally have to cover my eyes sometimes. Even with access to the best stylists and clothes on the planet, celebrity style is rarely interesting. Designers too are embarrassing, as evidenced by fashion Twitter's endless dunking on Matt Williams at Givenchy since his appointment. And sadly, many of the newest and and most talented designers will be forced to sit the next fashion season out. Fashion is going through an awkward stage right now.
I remain hopeful for new change and growth in fashion, but all of this did drive me into a period of fashion fatigue at the beginning of the pandemic. My interest in clothes has returned with a vengeance, because this year has made me look at my clothes in a different way. We are dressing for ourselves now and it's different to enjoy clothes minus the fashion, the basic and less-exciting clothes that just wear well. I had to add some of these to my impractical collector's wardrobe and the shift has been invigorating. I've been focusing on making sure that I really love my own clothes and that they serve me well. It's been fun for me.
Like I said, I realized I had a few gaps in my closet, owing to my collector's shopping habits. As a fashion lover, I buy vintage not so much as to wear it, but to have it in my own personal archive. I try to wear my vintage as much as possible, so each piece gets to live it's own little vintage life. But this year didn't afford me much occasion (or any at all) to put on my screaming pink 80s Carolina Herrera chiffon cocktail dress, for instance. Addressing the shortcomings in my own closet, I just needed a few practical basics to help me shift my wardrobe into pandemic mode.
I like the interaction of these staples with some of the crazier pieces I have in my closet. Introducing more basics into my closet makes me want to mix them with my collectibles more. With my eyes ahead on 2021, here are my votes for my most loved and useful items for the new year. For now I'm covering the basics…the kinds of clothes that feel amazing and look good day in and day out. Stay tuned for a future post where I cover more insane clothes that will begin to make sense in 2021. :)
1. Comfy slippers
2020 has broken down a lot of my beliefs about shoes, most notably about slippers. I've always felt weird about house shoes outside, but this year has shown me that slippers have a lot more to offer than I ever considered, and now I'm all in. So long as your toes are covered (non-negotiable) and the slippers have a firm tread grip, they don't have to look like house shoes. The slipper-boot hybrids are all extremely chic. I especially like the puffy slippers like SUBU's indoor/outdoor slipper, the ones that look like little puffer coats for your feet. These types of shoes make sense in these post-fashion times.
My favorite slipper for 2021 is undoubtedly the Ugg Tasman slipper. The embroidery detail at the ankle makes the perfect visual break to pair these Ugg slippers with cute socks. Would go well with the corduroy pants I talk about below. I'm also a big fan of German slipper brand Haflinger.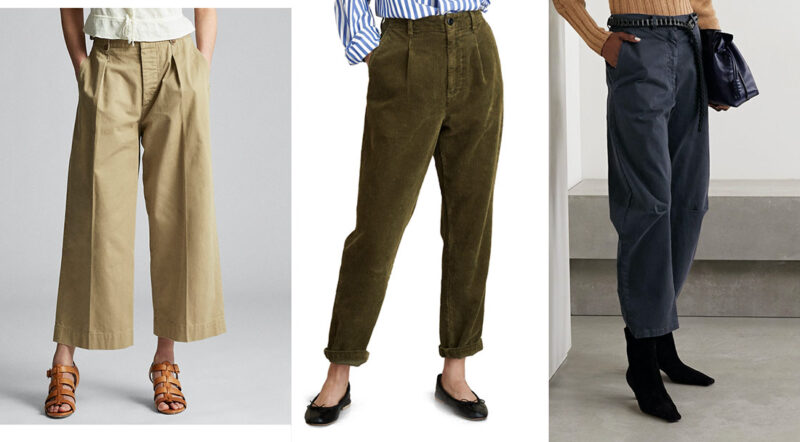 2. A relaxed  everyday pant
This year, it's been all about a slouchy chino for me. I have a few 80s and 90s Ralph Lauren chinos I have collected over the years and they wear fantastically well. They all have pleat fronts, making them a little nerdy in a good way. The current Ralph Lauren shopping options now are just as good and this pair of Double RL cropped wide leg pleat pants are a perfect pant for 2021.  Corduroys pants are also a good bet, and I mentioned before that the Row's Chandler corduroy pants have been high on my wishlist. More affordable and more wearable for everyday, Alex Mill has made the perfect little corduroy pant for all seasons, and you'd be wise to buy them while they're in stock (I'v had my eye on these and they keep selling out).
Another one of my most worn pair of pants this year have been a pair of RRL fisherman pants I got ten years ago (see a theme?). They sit low on my hips, are khaki in color, with flat pocket front and are somewhere in between wide-leg and straight.. I looked for something with the same vibe and came up with ASOS's slouch chinos, available for just $48. The Karlee Stretch Cotton Cargo Twill pants at Universal Standard have a great, hugging the midsection and floating through the leg. They are not too cropped. The cargo details are very well done. They come in size 00-40.
Copenhagen-based Rain has these reasonably priced shell pleat-front khaki's on Net-a-Porter right now. Smart looking pants with a little elastic through the waist, seems perfect for 2021 to me. Love the fact that they're shell too. One of the best buys from the N-A-P sale would be these fantastic Nili Lotan carpenter pants, that happen to come in my favorite color.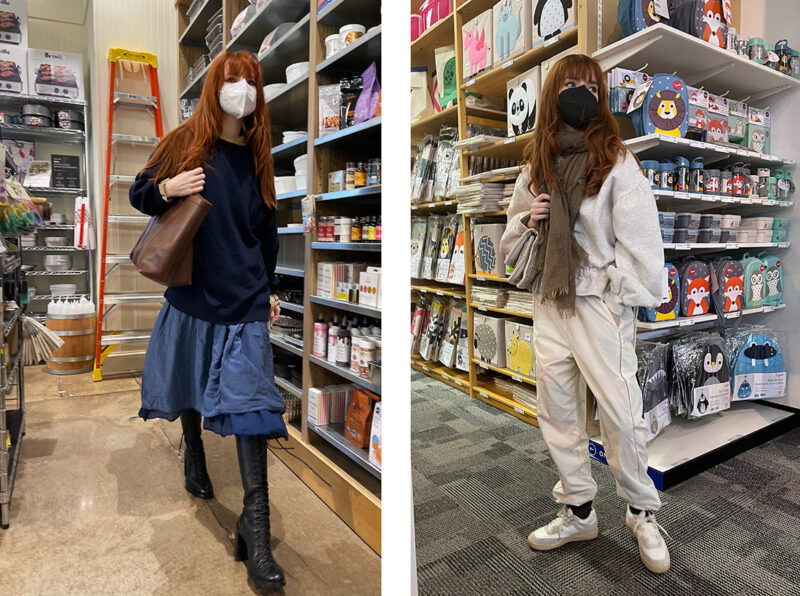 3. As many sweatshirts as possible
I have always had an obsession with sweatshirts, but before this year I have never committed myself to them so completely. In my mind there is nothing as chic as a sweatshirt worn well. I wear a sweatshirt every day now, and I've bought a few more to bring into my rotation. The Giant sweatshirt from Entireworld has been a useful and cozy addition to my sweatshirt collection. They seem to sell out quickly but they're worth waiting for. See me wear the Giant sweatshirt on the above left image.
Someone asked me where they could find sweatshirts without dropped shoulders: Uniqlo's classic mens sweatshirt does NOT have dropped shoulders. I know because I just bought some for my husband, and they're very nice.
Stylenanda always has a good collection of sweatshirts and I bought a taupe sweatshirt this year that seems to go with everything.
Obviously you can hit up your favorite thrift store and go into the men's section for sweatshirts, or check out pre-owned men's Ralph Lauren sweatshirts on eBay. That's where most of mine come from. My favorite sweatshirt I own is a Comme des Garcons sweatshirt, cut off into strange appendage-like shapes that are stuffed like sausages with plush filling. It's grey and printed with John Deere logo. There is one of these appendage sweatshirts on eBay but it costs more than twice what I paid for mine.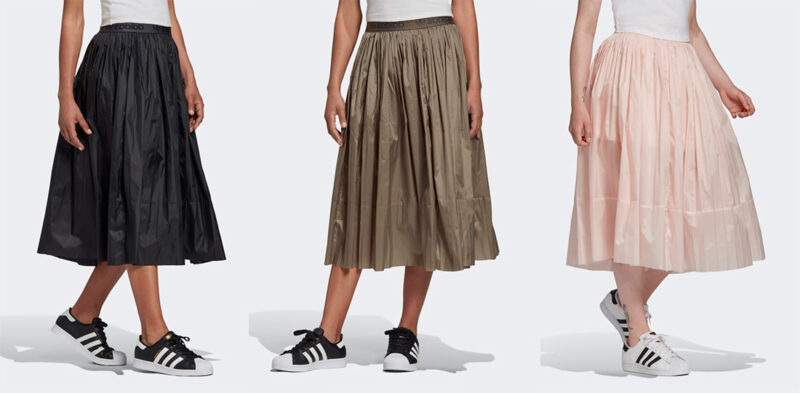 4.  Pull-on skirts
A few posts ago I mentioned my desire for more chic elastic-waist skirts. I had quite a few people message me to say that they also wanted more soft-band skirts in their life. I went looking all over this month, and found a skirt that was better than I could have ever hoped for.
This find is major, because it ticks two boxes on my list. I have been looking for ripstop nylon skirts for years now. You know, like a noisy track pant, but a skirt! Prada makes nylon skirts, and always has. I have a turquoise plaid nylon Prada skirt I got over ten years ago and it's still one of my favorite skirts I own. But I wanted more!
I was ecstatic to find that Adidas has a nylon rip-stop skirt, with a pull-on style elastic waist. It comes in not one, but five colors. And just when I thought it couldn't possibly get any better, I realized these skirts were on sale for 40 dollars. Huzzah! I ordered one in taupe, and I ordered another in ballet pink (the pink version isn't quite as marked down as the others). I am over the moon to have found exactly what I was looking for. These skirts look like they'd benefit from a crinoline underneath, and I love a chance to wear a crinoline. This Adidas skirt will make me happy for many years to come. Nylon resists stains, decay, and snags after all. I'm going to wear mine with a skeleton Comme des Garcons jacket and a Junya Watanabe cape. One of my most stylish guy friends is even thinking of getting one, I think he should.
Sidebar: On my endless quest for tech fabric skirts, I came across this plus-size REI hiking dress that looks like freaking Prada!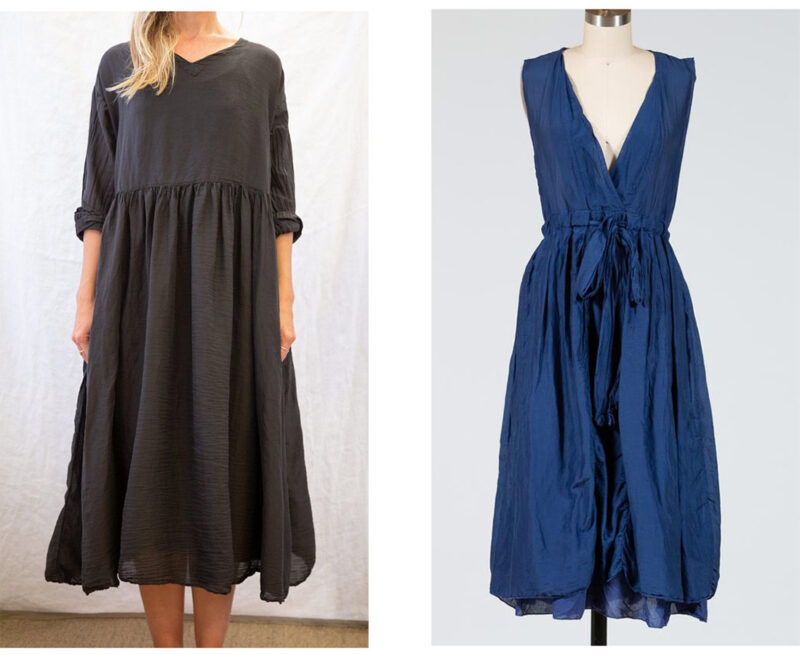 5. Cotton silk dresses by CP Shades
You probably know CP Shades, a brand that's been around forever and is stocked in boutiques and CP Shades' own stores nationwide. They make simple basics that are manufactured in their renewable-energy powered factory in Northern California. It's a kind of "cool mom" brand, which I don't mean as a knock in any kind of way. A few months into the pandemic, still in a fashion slump, I had to acknowledge that I'd barely changed out of the same tie-dye skirt and novelty golf sweatshirt for many weeks.  I went looking for a pretty dress for everyday wear around the house. I thought of CP Shades and ran an eBay search, and came up with the Julia dress. I got mine for $30, lucky for me because they are normally $220. This dress is machine washable, something I value more than ever now.
I've worn it constantly since I got it, and despite it's summery looks, I get winter wear out of it by layering petticoats underneath (which are surprisingly warming) and sweaters on top. CP Shades makes several styles of dresses that would be just as wearable. I mentioned how much I was loving this dress on Instagram stories the other day and so many people wrote me back about how much they loved their own CP Shades pieces. I have since bought another Julia dress.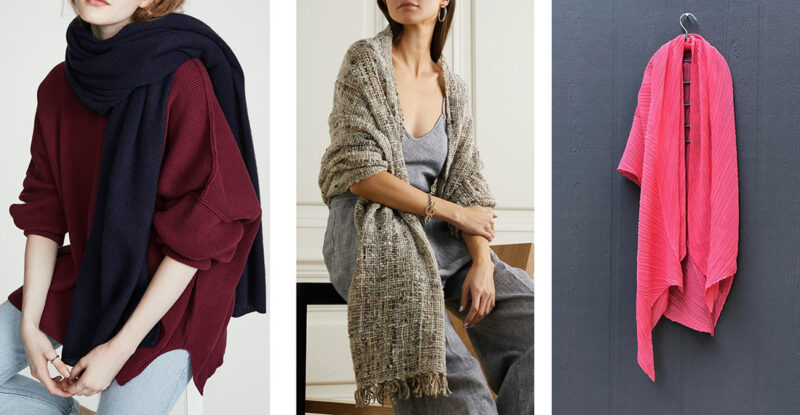 6. Giant cozy wraps, scarves, and sweaters
Swathing yourself in layers of cashmere looks great and feels great. Life is greatly improved when you have two to three gigantic scarves and wraps you can rely on, but really you can never have enough. Let me return to the litmus test of chicness: imagine wearing a classic heather grey sweatshirt. Now imagine adding a giant soft navy cashmere wrap around your shoulders. Have you ever thought of anything so chic?? The majority of winter outfits are only improved by adding a luxurious wrap. Beige, grey, and brown are obvious color choices, but consider too a paisley. It's very YSL and Etro!
Something a little more adventurous: a knit capelet, like the one Rachel Comey made this season. They make very cute toppers for drop waist dresses. Zara has some capelets that look pretty great too. A poncho is a power move, and this Johnston's of Elgin navy cashmere poncho makes the poncho feel very approachable.
You can also get yourself an Issey Miyake Pleats Please scarf, and you should, because they come in the most incredible colors!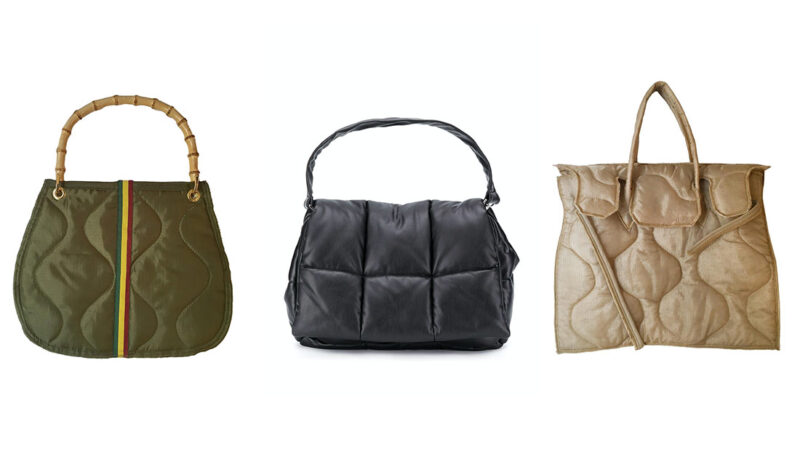 7. A great bag that isn't precious
For grocery store runs, outdoor hangs with friends, and quick errands, you don't need to bust out a fancy leather bag. I'm very into non-leather bags for their sustainability factor and also for the fact that you don't have to treat them like precious jewels. There's a lot to be said for a bag that looks amazing but won't induce a mental breakdown if you get a stain on it. A more casual bag is necessary to compliment a downshift to a more casual wardrobe.
For the last two years I've been carrying Slow And Steady Wins the Race's quilted nylon "Birkin" bag. It's a jokey take on an iconic luxury item, and I have been using it more than any other bag this year. It's $290 and you can get it on their website. See also their "Gucci" quilted bamboo bag. The satin quilted lunch bag by Nothing To See Here is another adorable option. Stand's quilted fold-over bag is one of the cutest bags I've seen in ages, full-stop!