While I was at school today my mom went thrifting and picked up this amazing little jacket for me-it has pleats and bows and a super nipped in waist. I wore it to Driver's Ed (A.K.A. where I've been spending every night after school the past two weeks…it makes keeping up with Sea of Shoes a little more difficult)
Worn with a thrifted bag, Nudie jeans, Prada spat heels, and a J. Crew headband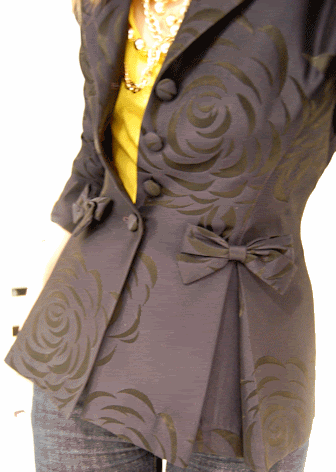 I'm totally into it, I've been craving a little more 80's in my wardrobe. It strikes me as exactly the kind of jacket Fallon or Alexis would wear on Dynasty, with a smart pencil skirt or jodphurs and riding boots. Have I ever mentioned how much I love Dynasty? I don't have a TV so I have to order the DVD sets to watch on a computer. I like watching Dynasty on the computer because it's easy to pause a scene and analyze the crazy get-ups designed by Nolan Miller.
(if you are really bored: here is a video about the costume design on Dynasty with commentary by Nolan Miller, sort of interesting)
I wish my life was more Dynasty-all of the girls on Dynasty wore sequins and feathers mostly every day, even when they were just chilling at the country club or hiring assasins or faking pregnancies. Most of the dresses didn't even look that good but something about their gaudy flamboyance made them absolutely compelling. I'm thinking its time the 'bad' stuff from the eighties had it's moment again.
I've been planning in the near to have an 80's week where I wear my favorite 80's thrifted/eBayed things every day. My closet is stuffed with glamourous 80's relics, they need to be getting some play!