The other day my mom and I were talking about how sometimes, you don't get the value of your shoes simply because you don't wear them enough. So my mom came up with a challenge: we each go into eachothers shoe closets, pick two pairs we haven't been getting enough wear out of-and we can only wear those shoes for three days.
*I'm using 'challenge' lightly here because wearing two pairs of shoes over the course of three days is not much of a challenge at all…it's more wearing shoes that we normally find difficult to wear!
Here are the shoes we chose for each other:
From left to right: My challenge shoes: the flowered Biba sandals, and chunky peeptoe Marigelas.
My moms challenge shoes: the patent grey Chloe sandal boots, and the lucite heel t-bar Margielas.
We are only two days into our challenge, but we're already coming up with some exciting ways to wear our 'challenge' shoes. I've been wearing the Bibas for two days, I'm very excited about them right now too! They're such a summer shoe-mom and I actuall have a couple of pairs of shoes back from when Bella Freud was designing for Biba. Some excellent shoes were happening during her time at Biba and we're really happy to have some. I've yet to wear my Margiela shoes though!
My mom says she loves her Chloes even though she hasn't gotten much wear out them: they are much harder to work with than she anticipated. She was happy with my decision for her lucite Margielas, "they are lovely but I always pass them by. Having to wear them has made me realize how special and timeless they are."
Day 1; me:
For my first outfit I wore my Bibas, but I got out of my shoe comfort zone with a little foot bling-I thought it was fun with the floral designs of this shoe. I wear it with a rayon Dries van Noten cardigan, an Anthropologie slip dress, and a scarf I got at a thrift store.
Day 2; me:
I got this butterfly dress from eBay last year and I never wore it (why?!!) but it's so beautiful and I feel so girly in it! The light shoes with the black dress seemed cool to me and kept this dress from being too Morticia Adams meets Madame Butterfly.
Day 1; mom:
Yesterday mom wore her lucite Margielas with Hysteric Glamour jeans, a Banana Republic belt, and a crinkled silk shirt purchased at Boulevards boutique in Tulsa, OK.
Day 2; mom: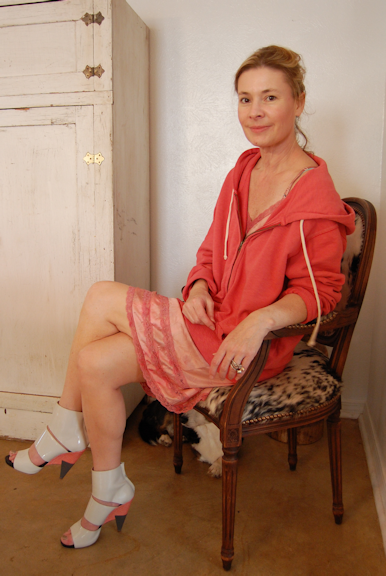 Mom wears her Chloe boots with a tie-dyed slip dress (Urban Outfitters) and cotton sweatshirt (J. Crew). She later reflected that she thought this outfit would be more age appropriate for me! I have to disagree, I think she looks great. Our dog Sash makes a guest appearance in this picture too-she's camera shy though!
We'll keep you updated on how the challenge goes and plan to do more in the future-now I've gotta run and meet my best friend for mexican food!