A reader recently asked me who my fashion icons were…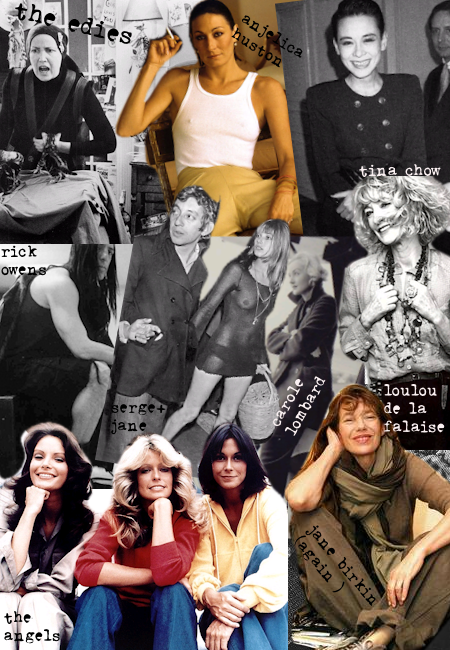 From the top left;
Little Edie and Big Edie Bouvier-if you've seen Grey Gardens (a documentary that follows these two women's lives on their delapidated estate in East Hampton) you'll immediately understand why they've had an impact on my sense of style-little Edie wears sweaters as as skirts and scarves, and often wears a short one piece to perform her 'terrific dances'. I remember her wearing a completely sheer one piece and a neckpiece made of black flowers too…her commentary on her outfit choices is hilarious too. "This is the best costume for today" has become my fashion mantra. It scares me a little to watch it though…the utterly absurd dialogue between the two Edies resembles the kind of absurd surrealism in my own everyday conversation with my mom….yes, I think we are destined to be the next Edies.
Anjelica Huston-who never ever fails to look incredible. Her outfit choices are always timeless-I remember seeing a picture of her doing a sort of western look, with a white shirt, blue jeans and boots. Rather than accessorizing with the predictable silver and turqoise jewelry she chose gold and it looked incredible. Also, watch the Life Aquatic with Steve Zissou to check out her cool bohemian (hate to use that word but it fits the look) outfits and blue, green, and purple streaked hair. Anjelica looks amazing!
Tina Chow-Regular Sea of Shoes readers will know that I am obsessed by this woman's sense of style. The first picture I ever saw of her really took me aback…she had her hair in a sloppy short cut, and had thick thick eyebrows and red lipstick…she was wearing a fuzzy grandpa cardigan and jaw-droppingly gorgeous lucite necklace (of her own design, of course…I know Chauss of ckparis shares my enthusiasm for her amazing jewelry designs and is lucky enough to own a piece herself!) I would consider Tina my #1 icon.
Rick Owens-I love Rick Owens for his extremely narrow aesthetic that he projects into every aspect of his life-his work, his home, and his personal style. I admire that someone could adhere to such a rigid appreciation of beauty, it's something I could never do. I think it takes an extremely strong personality! He has totally immersed himself in his own world of visual perfection…that is my dream too. Not to mention, he looks pretty cool in high heels.
Loulou de la Falaise-it is no wonder that she played muse to Yves Saint Laurent throughout the seventies-her style may be eclectic but it's also elegant. I like to look at her style nowadays though more than I do pictures of her in the sixties-it's whimsical without being ridiculous, somethinlg very few can do. There is a feature of her home in a style magazine I have somewhere, and Loulou has the funkiest outfit on-with little green satin shoes and ribbons and she's dripping with (tasteful) jewelry. She owns a boutique (Maison de Loulou) that I would love to pay a visit to some day!
Jane Birkin (and Serge Gainsbourg)-a little cliched, I know, but no one can mix trash and class like Jane Birkin. I have an obsession for vintage blue jeans and Jane Birkin is my blue jean icon-she had so many beautiful pairs. I love her outfit with Serge in the see-through dress-the socialite princess who ran away with the bad boy…of course her sense of style never fades-the outfit in the lower right corner is a huge inspiration to me…a great mix of textures and colors and totally age-appropriate. Serge had excellent style too…I'm a fan of his music as well. :P
Charlie's Angels-I obsessively watch old episodes of the orignal Charlie's Angels to check out the incredible wardrobes-as provided by the talented stylist and designer Nolan Miller (also responsible for the fantastically cheesy outfits on Dynasty!!) They look so carefree and glamorous but always dressed-down. Classic American girl's next door…I love how during the day time when they do spy work they'll wear hoodies and super high waisted bell-bottoms, but when they go undercover at night they'll have a bombshell dress on (polyester, of course) or a nude, flowing JUMPSUIT…this is the stuff I aspire to!!
……………………..didn't mean to write so much. Will shut up now. That's probably more than you ever wanted to know about my style icons but there are many many more and I obsessively collect images of people that I find inspiring! I plan to do this feature but hopefully next time without gushing like a geek :X
jane