Check out my vintage Adolfo jacket with my Sid and Nancy shirt…I only later noticed the irony of wearing a relic of the Reagan era (Nancy Reagan said Adolfo Sardina's clothes were so well made that they could be worn inside out) with a shirt plastered with news clippings about a punk princess's tragic demise…I was delighted to juxtapose two iconic Nancy's of the eighties. One was class, one was trash…the only thing these two had in common was their names.
(Love her or hate her, Nancy Reagan has an elegant and timeless style…was just flipping through the book 'Entertaining at the White House with Nancy Reagan'…she is so glamorous!)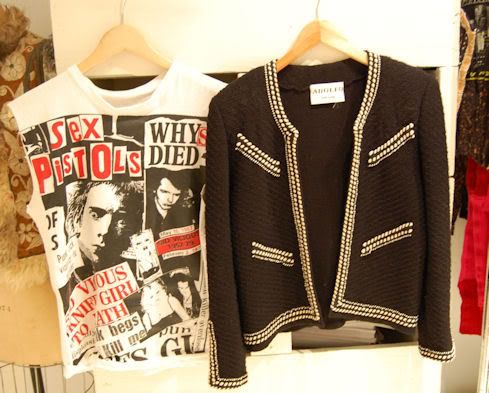 Close-up of both pieces…I got both of them on eBay, the jacket is part of a skirt suit. In the photo though I'm not wearing the skirt it goes with!
This post makes me want to watch Sid and Nancy….think I might do that!