Fashion week is always an embarrasing month and a half for me…I awake in flannel pajamas, scooping up Lucky Charms in my dimly lit room to check the Fashion Spot to see what has graced the catwalk during my dormant hours. I curse Miuccia Prada and her sexy, slinky knitted pajamas and hiss at the leather clad equestrianettes at Haider Ackerman as I pull on my nubby school uniform sweater and skirt…damn them!
It's hard to believe that these beautiful clothes exist beyond the realm of my glowing monitor, and it's always surprisingly refreshing to see them being worn by real people. (I know,I know…Carine hardly qualifies as 'real')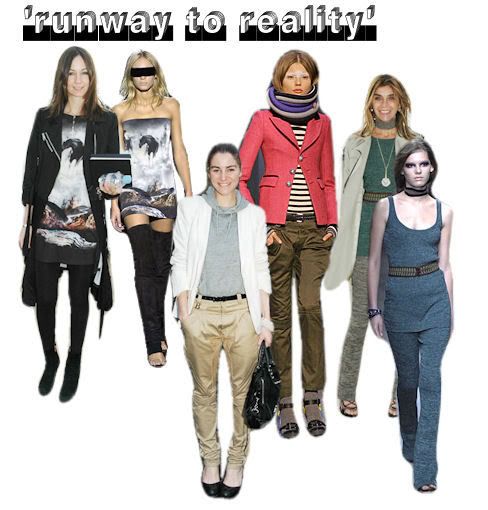 (pictures from the Fashion Spot, style.com)
I love seeing the Margiela 'Ladyhawke' dress I've been lusting over worn without showing so much skin. It's no less exciting and looks pretty tough with a zipper'd trench coat. The girl who has dressed down her Balenciaga jodphurs with a grey hoodie and white blazer is genius! Sporty and savvy-and not doing the 'head to toe' Balenc look. Carine however pulls off the 'head to toe' look with grace-not an easy feat and certainly not one that should go unrecognized. Prada is not wearing Carine, Carine is wearing Prada. Cool medallion, BTW, Carine.
Perhaps even more interesting is seeing how the runway can be translated to real life minus the designer price tag. (not in any way implicating that the wearers of these outfits were emulating the designers-they simply reminded me of some of these looks-)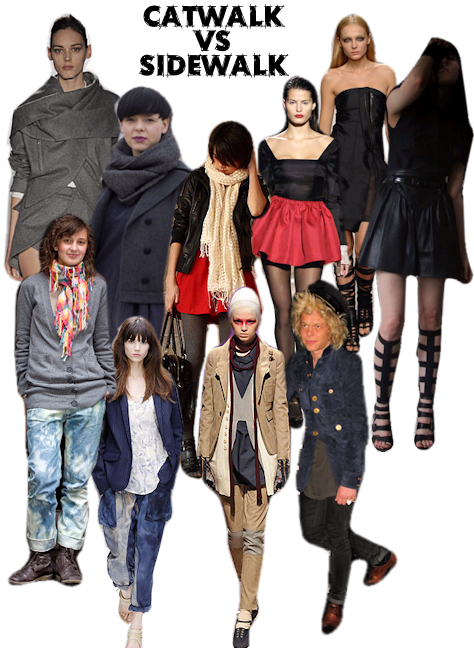 Piled-high collars-The girl with the grey scarf wound tightly around her neck has created the look of a very dramatic color thanks to the way her jacket and shirt blend with the scarf. Definitely a trick to try at home.
Short and fluffy-Camille had the smart idea of DIY'ing the must have Miu Miu skirt-she toughens hers up with gladiator sandals and leather bomber. What a cool spin on the look!
Leather clad warrior-Michelle looks fierce in her gothic gladiator get-up…leather pleated mini and strappy knee high heels? Magnificent!!
Tie dye bohemian-this girl from Hel Looks wears her baggy tie dyed jeans with a cozy sweater and colorful scarf for an artsy hippie vibe…very cool.
Oliver Twist-Awww a forlorn london rocker with a worn out military jacket and a pilot (?) hat…he looks adorably unwanted.
pictures from the Fashion Spot, style.com, elle.com, the Sartorialist, the Face Hunter, and fellow bloggers (and verrrry stylish ladies) Camille (Childhood Flames) and Michelle (Kingdom of Style)
lights out, jane