This post is going to be a bit random, so bear with me…
Hawaii is lovely but we're bored stupid, in the best possible way. We kind of goofed off and tried on clothes today. An excellent oppurtunity to share some more Los Angeles treasures:
Mom got these boots at American Rag, they are by italian shoe designer Franco Martini. Check out his website, he has a cool showroom and some pretty sandals. Definitely someone to keep your eye on: http://www.francomartini.it/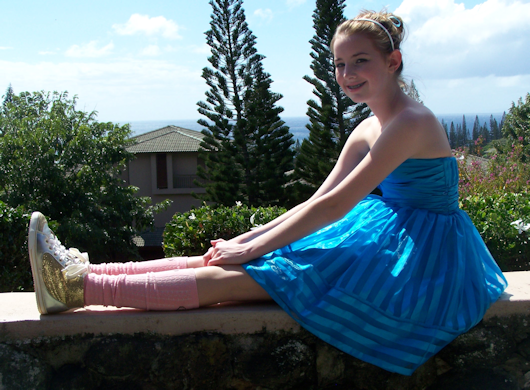 Carol makes another guest appearance to debut her adorable new Betsey Johnson cocktail dress. She's been looking for a dress to wear to an upcoming dance. Doesn't Betsey Johnson suit her perfectly? Here she cleverly pairs it with pink Juicy tube socks and a sparkly pair of '80%20' sneakers she got at American Rag. She was wearing them with some Miss Sixty skinnies when she bought them and looked adorable!
I'm always on the lookout for the perfect belt…I often find them in the men's section.
The metal-plated brown belt was bought at the men's section in Fred Segal (the Santa Monica one) last summer. The belts were vintage, and customised by the store. Mom and I share this one, we wear it a lot.
The buttery orange one with stitching detail is a women's belt actually, and it's from Banana Republic. It's really hard to find belts (or any leather for that matter) in this color, which is really a shame because it goes with just everything. See my Margielas I have on at the bottom of this post? They are one of my throw-them-on-with-anything pairs, the orange just picks up any other color and looks great. This belt is just the same, it's been worn so much that it's stretched a LOT and needs to have another hole put in it.
The other belt is RR (Ralph Lauren), purchased this weekend at American Rag. This is a guy's belt too, and the loops make the length completely adjustable. That ring hardware looks great, and I like the worn out color of this one too. Mom was wearing it with her grey Hysteric Glamours, the washed out shades complimented each other perfectly! I'm definitely going to steal this one a lot.
Another L.A. piece; this super cool vintage shirt I got in the same little (emphasis on the little) vintage place I got the sweatshirts in. It has the strangest headless horseman on it, I guess it was for a racetrack.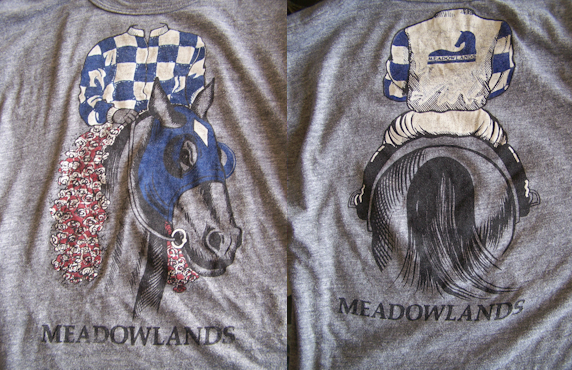 Today I wore it, it's nice and soft. I wear it with vintage Levi's, Martin Margiela peep toe heels, the afforementioned metal-plated belt, and a couple of old bangles.
It's a bit too breezy to swim here in Maui today but the smoothies they serve at the hotel are excellent. I think Carol and I are going to share a chocolate-banana smoothie there right now! :)
It's our last day in Maui today, tomorrow we're off to San Francisco, which I am SUPER excited for. I've been wanting to visit Selfedge for a long time, I really look forward to going there and learning about loads of new denim. Though I love denim, I am no where near as knowledgable about it as those who regularly patronize Selfedge. Carol has been to San Francisco before and she's been telling me about the Levi's outlet there, which I am SO excited to visit. They really are my favorite jeans and they're cheap!
If I don't update tomorrow, I apologize, it's hard to keep up with the blog on the move!
jane