Living in Texas, we can't help being influenced by the southwestern culture. Turquoise and silver go in and out of favor, but for us they're as basic as the perfect pair of jeans. Over the past few decades we (mostly Mom, given that I'm not two decades old yet) have ammassed quite a collection of great jewelry and belts.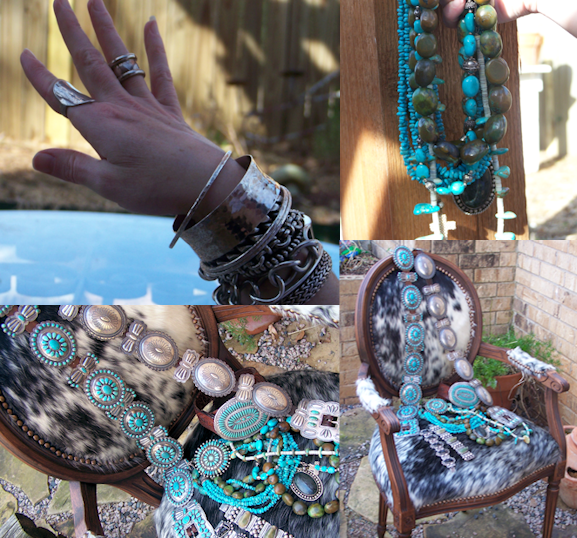 Jimi Hendrix, Angelica Huston and Ralph Lauren are all fans of this classic American look. Nothing compliments faded jeans, billowy tunics, or a plain tee like a chunky concha belt. It has a rock and roll feel to it. It is Americana at it's best.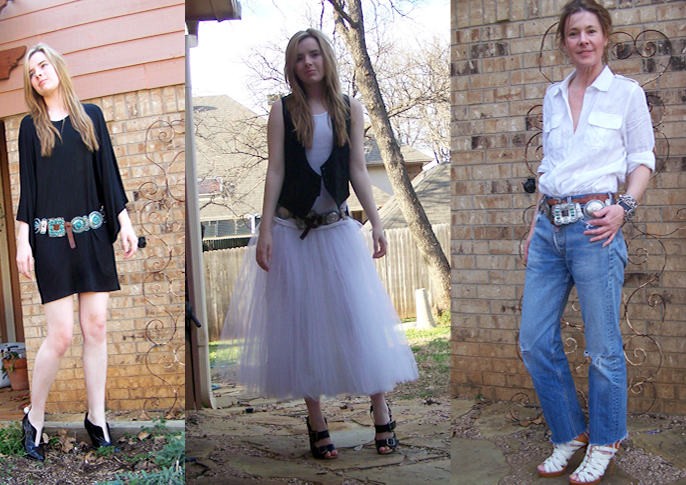 Viscose blend dress by the row, booties by Chloe, Don Lucas concha belt
Vintage crinoline, vintage vest, Hanes tank, Dries Van Noten buckle heels, Don Lucas concha belt
Banana Republic white linen shirt, Vintage 501's, Bruno Frisoni shoe boot, vintage western belt, Don Lucas concha belt
Mom is a big fan of Don Lucas, she's been collecting his pieces for years. When wearing a concha belt with higher waisted jeans, it's customary to put a western belt through the loops and sling a concha belt lower on your hips.
We like to see turquoise worn with some of these looks…looks greater with tough clothing.
Just had to share our piece one of our many obsessions…
Jane and Judy