Despite the snow flurry we had this Thursday, winter is quickly melting away and today we had some excellent weather…as Mom and I were thinking about preserving our fall wardrobe, we reflected on the dependable pieces we valued this season. The ones you pull out over and over again and always look good.
We decided to settle on three pieces each, lest this post be three pages long…these were mine (Jane's!) key pieces.
The faux fur coat is by Wayne, purchased at Co-Op for my birthday. Mom had picked it out for me as a surprise, thought I wouldn't like it, returned it, and then went back and re-purchased it when I mentioned that I was crazy about this new line by a girl named Wayne-and wouldn't it be a cute name for a girl? Despite the fact that Wayne spent many hours travelling back and forth between our home and Barney's Co-Op, I am happy that it resides in my own closet. It's since become such an integral part of my wardrobe that we now call it by it's name ("Mom, have you seen Wayne?" "She's in the downstairs closet!")
I got these Chloe's last winter when I was in Los Angeles…they're super easy to walk in and go with everything: jeans, dresses, skirts, I've tried them all with these Chloes.

The Yigal Azrouel zip-up vest dress was bought at Fourty Five Ten in Dallas…wear it with jeans, bare legs, or as many layers as you can. It's a blank canvas piece.
Mom's turn: here are Judy's top three picks, worn all at once.
A black wool sweater by Tulsa-based designer Terasa Fadem, Morrocan scarf, Miu Miu boots. Here's Mom to tell you about her key pieces…
This is an amazing sweater I purchased in Tulsa Oklahoma at Boulevards, a treasure of a boutique that Jane and I make a point of visiting whenever we can. I like it's asymetric japanese feel. I've practically worn it out. The scarf was purchased for seven dollars at the souk in Marrakesh last spring. Jane and I bought home several of these scarves and are wishing now that we hadn't given so many away to friends. We may need a second trip to Morroco just to replinish our scarf stash.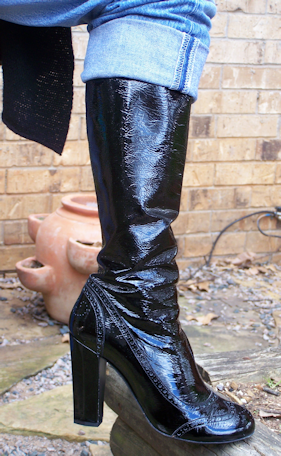 These Miu Miu boots are my pride and joy…..I can't imagine what I wore before I bought them, or what I will wear when summer comes. I just wish I had purchased the beautiful tan pair as well. I can't wait to see what boots Miuccia offers for next fall.
It's sad to pack away these treasured posessions but until we meet again next winter, we're busy compiling our spring get-ups. It's hard to look cool when you're sweating it out in 100 degree weather.