Hi readers, whomever you may be. I didn't realize that I had many of you until I noticed the inquiries and comments you lovely people made about this blog! I've really been meaning to start again, it's great to have a place to openly dissect the things you love about fashion. And of course, our passion for shoes increases exponentially by the season. We've had great luck in finding the pairs we've been eyeing this season thus far!
Has anyone else noticed a revival of the trashy rock and roll girl? She doesn't comb her hair, she likes her denim sun-beaten and shredded, and she doesn't care if you think Cavalli is tacky.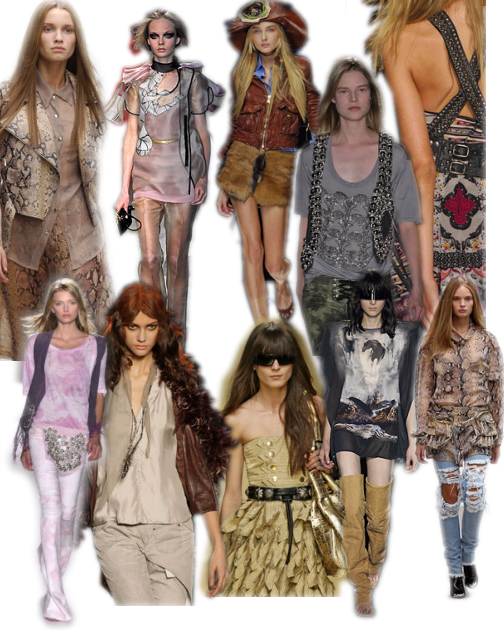 Undoubtedly the strongest embodiment of this lady is the one created by Chrisophe Decarnin at Balmain in recent seasons. She is consistently elegant but there is a healthy dose of trashiness to her style. Tie dye flares with lace up flies? The almost tongue-in-cheek buckskin navajo sheath? We love it.
This season Christopher Kane took the ethereal rock heroin look to a new level. His snakeskin chiffon shirts and steel toe boots can't help but evoke the image of Stevie Nicks herself belting out 'Edge of Seventeen'. The denim bustier is sublimely trailer-trash chic, a look that I am always a fan of.
Accessories this season compliment this look extremely well. Take for instance Stella McArtney's incredible carved wooden clogs. Not only are these some of our must have shoes of the seasonn (it's on pre-order right now), we love that Stella could take a traditionally dorky and Jessica Simpson-like shoe and make it a piece that you actually want in your wardrobe. How easy it would be to channel your inner Pattie Boyd if you just slipped these puppies on and threw on a breezy chiffon dress and braided your hair with feathers? Is that taking the look too far? I hope not!
We must also give a nod to the killer shoes at Etro this season. Veronica Etro's chunky suede wedges and strappy stacked heel sandals revisit the 70's in a gloriously hedonistic way. These are ball-busting, heart breaking, rock chick shoes. No idea on how to get our hands on a pair. Etro is a foreign language in Texas. During a pit stop in L.A. this spring break we hope to visit the Etro store and gaze upon these beauties in person.
In terms of shredded denim, no one topped our hero Margiela. The threadbare overdyed jeans were topped with architectural shoulders and mystical Lady Hawke esque shirts. They remind us of the hilariously tragic 'Santa Fe' touristy shirts you always find in thrift stores. And we mean that in the best possible way.
Overall this has been our favorite ongoing trend of spring. Let's hope to see it hit it's stride this fall…hint hint see Rick Owens fall 09. mind-blowing! In the meantime, we are figuring out the perfect method to slice and dice our denim. Any tips?
love always, jane and judy