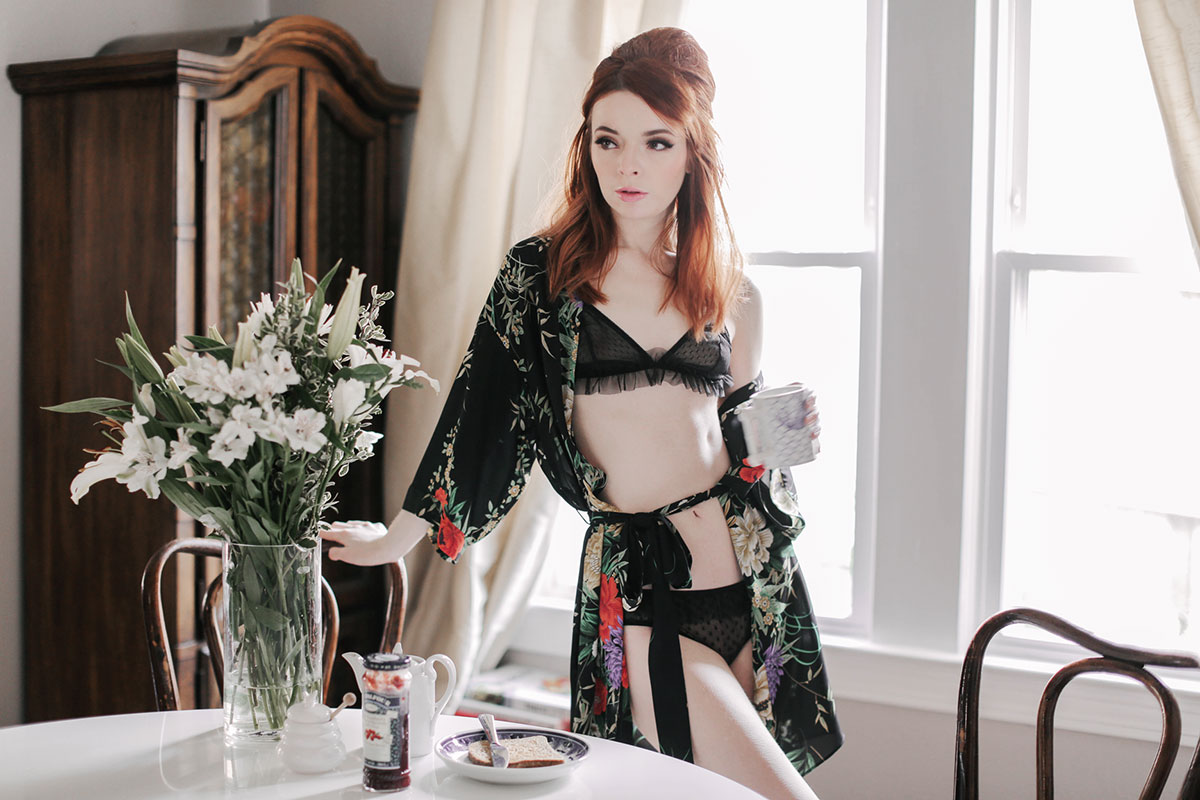 You might have noticed more lingerie on my Instagram lately. I have always been a fan of lingerie but only in recent years have I come to be an obsessive. I used to think lingerie was only for special occasions, and was happy to lounge and sleep in whatever slobby oversized tee shirts I got from men's section at the thrift store. It took actually receiving a pair of beautiful pajamas as a gift (green silk ones from Equipment) to realize that nice loungewear can make a lazy day feel really elegant and luxurious.
These days as I am settling into married life, I spend many more nights at home with my husband watching films. I'm a big classic movie fan and I love to see the elegant sleepwear of the 30s and 40s on film. I absolutely love the idea of "dressing for bed".  Who can forget adorable Carole Lombard's temper tantrum in her maribou trim nightgown in My Man Godfrey? Or Garbo reclining melancholically in a silk satin bed dress? These images were what drove my obsession with lingerie, even from the time I was in high school when I started collecting it. The idea of having beautiful clothes that you wear only for yourself, or perhaps also for the shared enjoyment with the special someone in your life, was irresistibly glamorous to me.
I enjoy my downtime much more when I have lovely jammies, teddies, and slips to wear. I have long since ditched my slubby sleep shirts and feel much more grown up for it. The end of the work day has become a favorite ritual of mine. I love to take my time with my evening skin routine and then slip into a chemise, robe, or even a favorite lingerie set. Depending on what you choose to wear, you can set the mood for romance or a feeling of wickedness.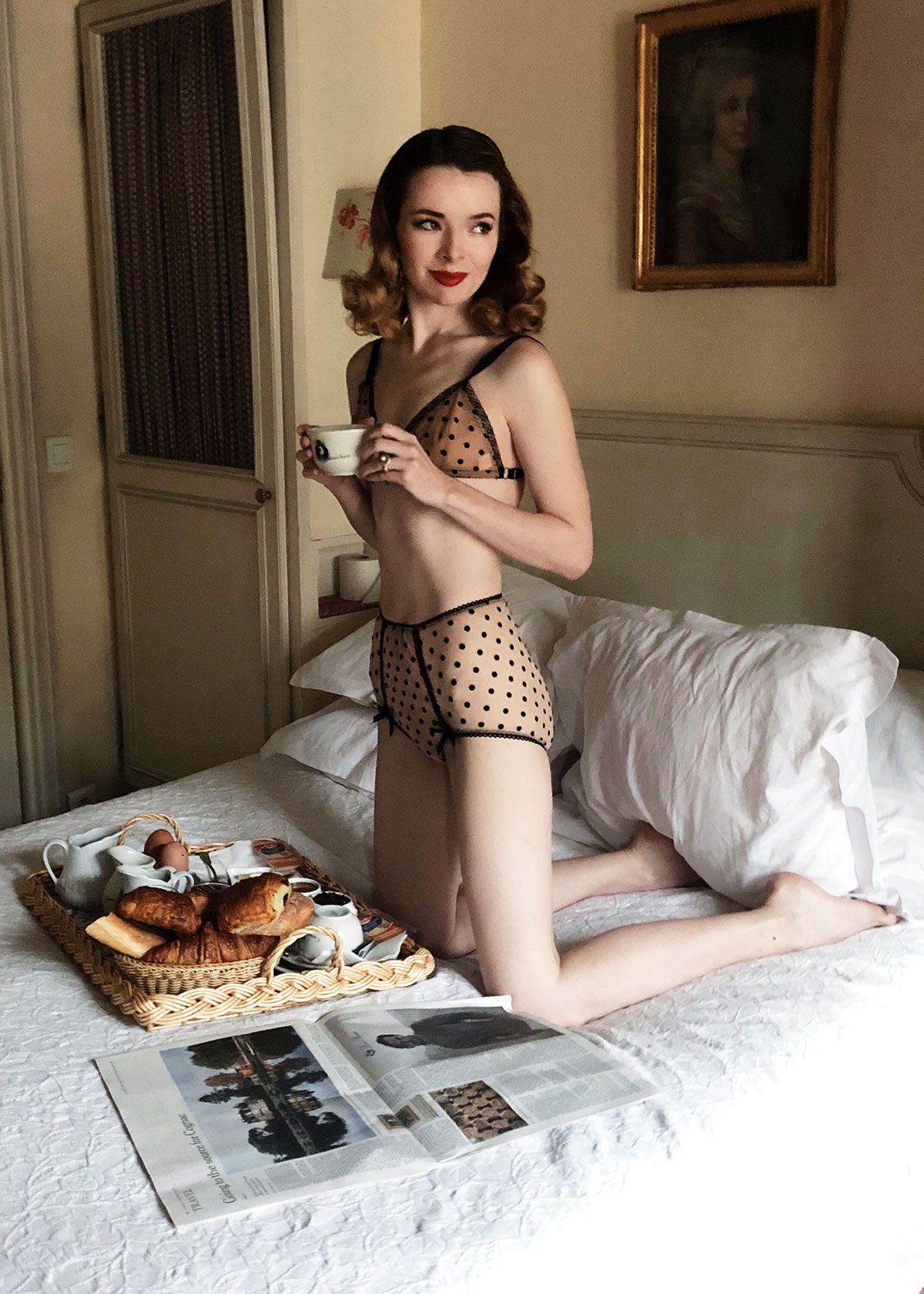 I started a tradition of buying myself lingerie for my birthday a few years ago. This year I was extra lucky to be in Paris just before my birthday and treated myself to a handmade set from Fifi Chachnil for my annual lingerie purchase. This was a truly unique shopping experience for me. You could hear the hum of sewing machines  from the in-store atelier. The set I bought was a high waisted sheer polka dot set, a cheeky retro take on a 1950s high waisted brief. This made for a very special memento from our trip to Paris and has turned me into a convert of the high waisted brief (so comfy and surprisingly flattering)!
My main problem with buying lingerie is that I have a very flat chest and small bust. I can't do many underwire bras. I am no expert on bra sizing because I constantly struggle to find bras that don't leave me with gapping. Luckily there are so many lingerie brands now making beautiful soft cup triangle bras that will flatter the flattest of chests.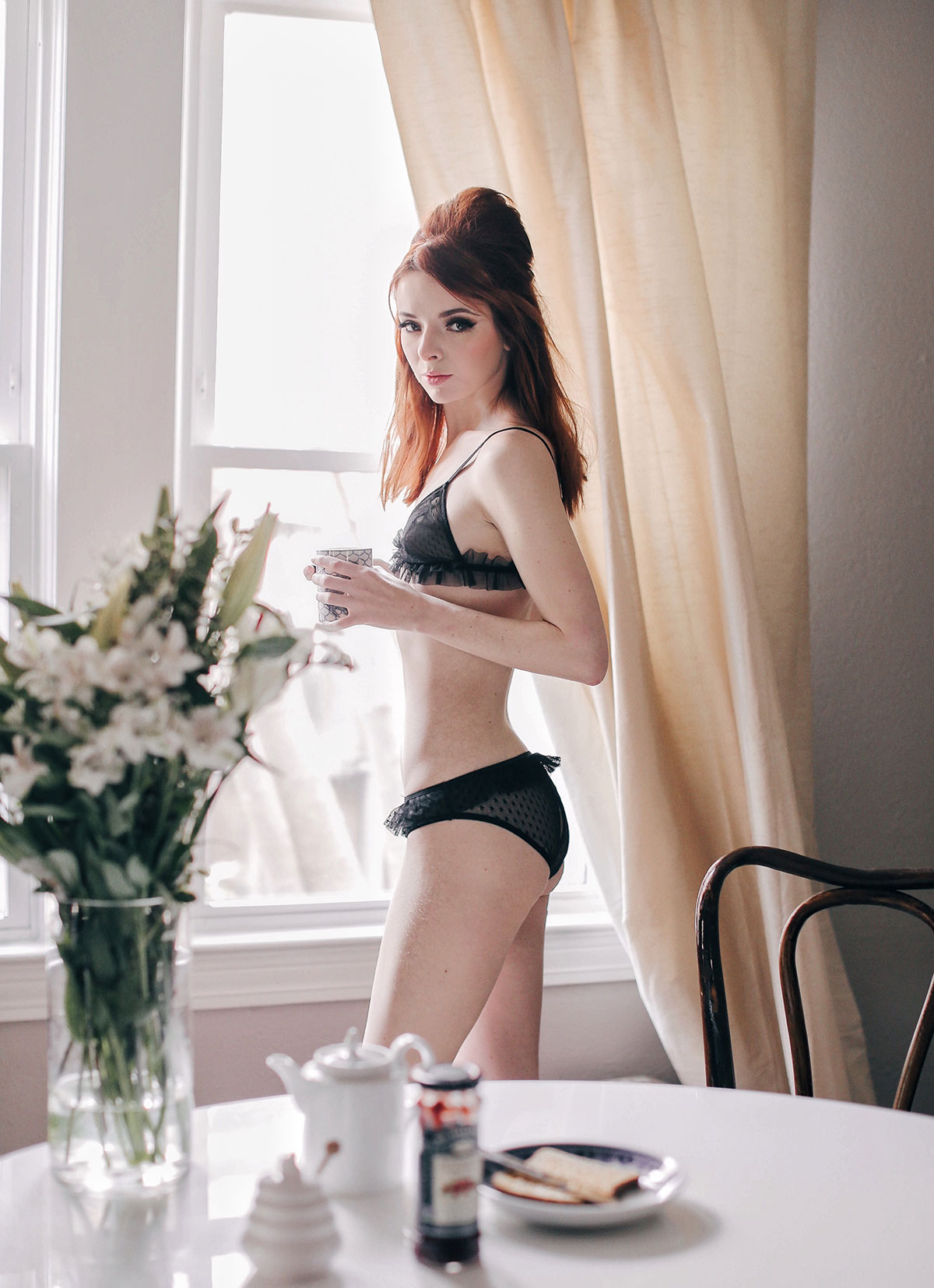 My new favorite brand right now for petite bralettes is Le Petit Trou. The bra and panty set I am wearing above are by Le Petit Trou and it is one of my favorite sets I own. Lonely Lingerie  makes gorgeous soft cup sets that feel really modern and are perfect for everyday wear and come in a wider range of sizes. Lately I've seen a lot more soft cup bra halters from brands like Bluebella that are extremely sexy. That is definitely next on my list of dream purchases.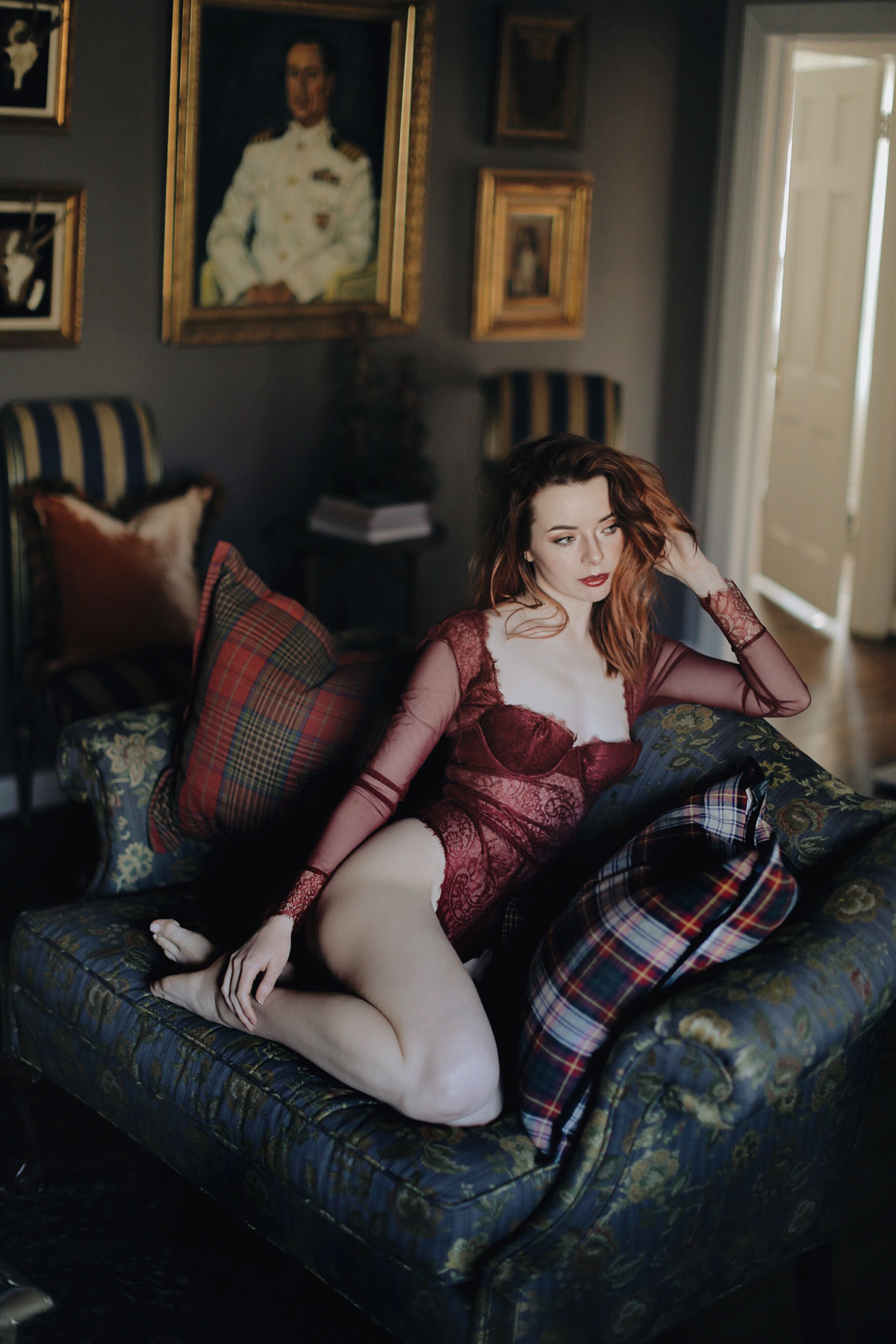 In the last few year the bodysuit has had a huge comeback which I am thrilled about! They make for very sexy loungewear, particularly with a kimono or robe. I worked with Victoria's Secret earlier in December and fell completely in love with this high cut bustier bodysuit. It gets bonus points for versatility, this suit looks really fabulous worn under a tailored men's suit.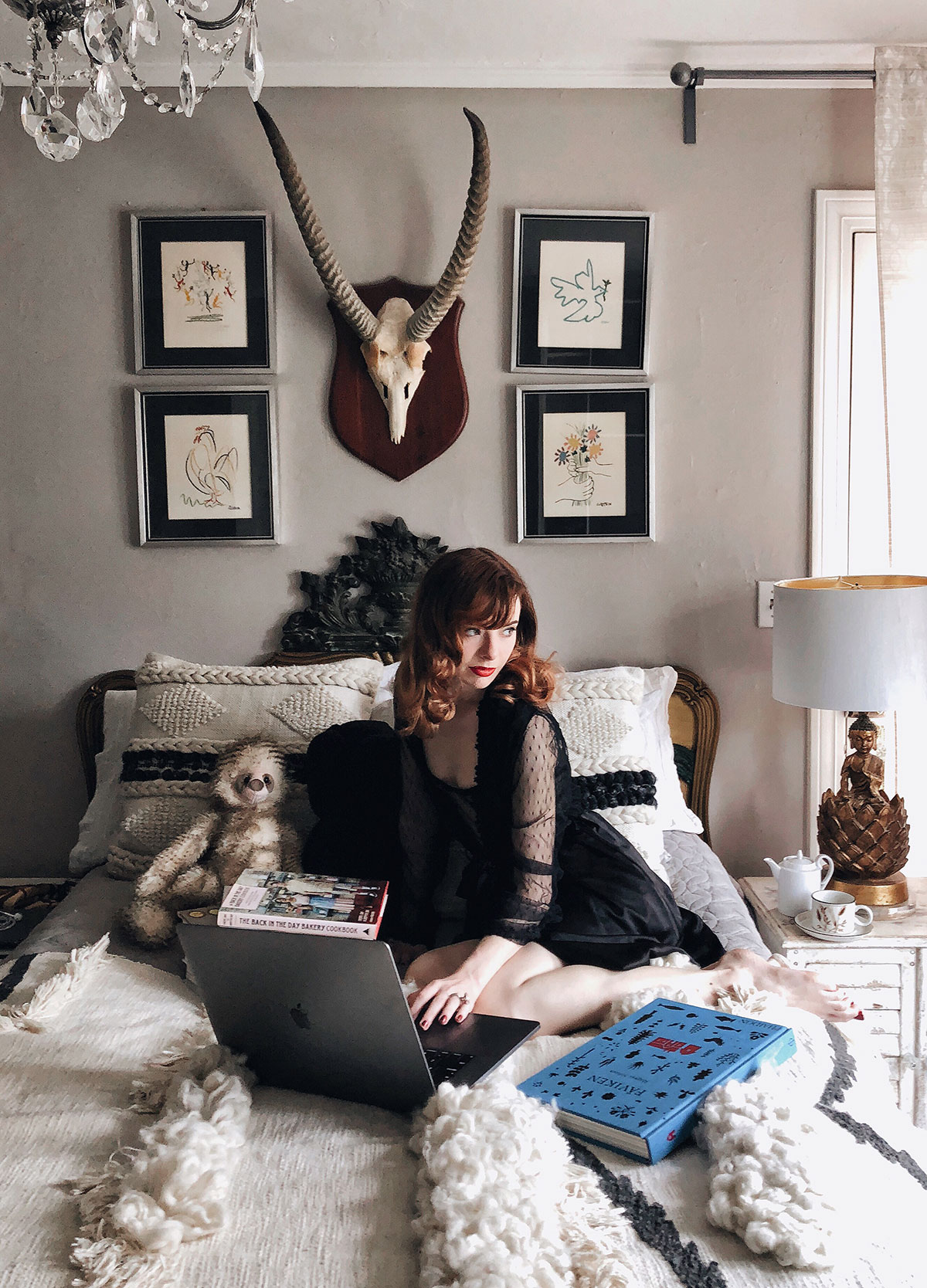 For my bridal lingerie, I bought a beautiful black chemise and robe from Flora Nikrooz (wearing the robe above). I chose black because white lingerie just isn't my thing and I wanted it to be something I could wear anytime afterward. The set I chose was the "Showstopper" chemise and matching robe. I found the lace v-back just so irresistable, it shows just enough to make it super sexy. I was very lucky to receive a gift from Flora Nikrooz and am thrilled to have more her lingerie in my reportoire. The floral robe I am wearing in the header image is one of my favorites!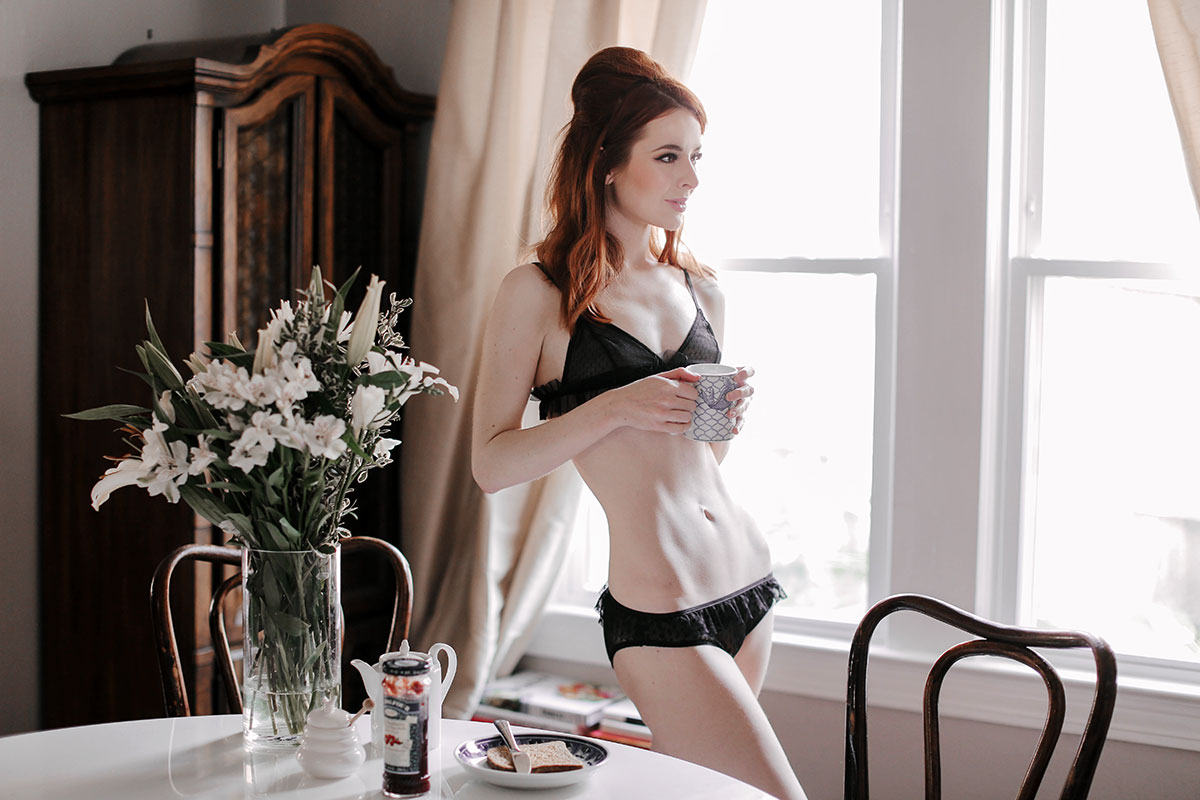 While we all love to ooh and ah over Agent Provocateur and La Perla, lingerie does not have to be expensive. I have a few sets from ASOS and I've been impressed with how they have held up over the years. You can get a whole set from ASOS for under 40 dollars sometimes and they have some extremely cute options for all sizes. I am a huge fan of wearing garter belts and stockings and the stocking clasps on ASOS garter belts are some of the sturdiest and most user-friendly clasps I have tried. Gilt and Yoox are my choice for shopping lingerie discounted/on sale. The stock can be more limited which is annoying when trying to buy a complete set, but there are great deals to be had. I also love eBay for vintage Natori lingerie. Bare Necessities has been a recent discovery for me and they offer a bit of everything in many price ranges and size options for everyone.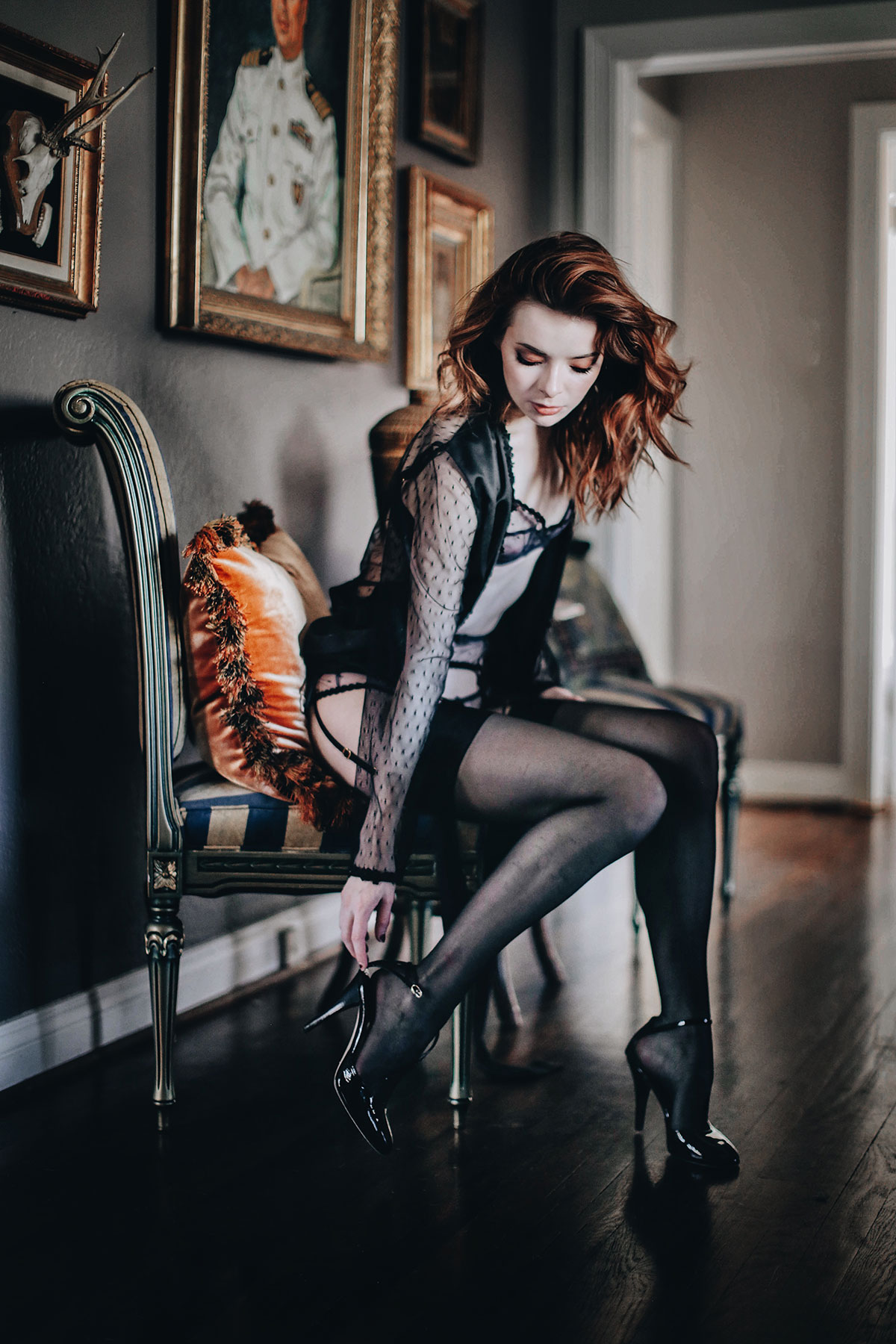 One more note on investing in lingerie…like I said, I am a big fan of stockings and garters. This year I got fed up with spending money on stockings that would get runs after two or three wears and started looking for an alternative. I found a company called Secrets in Lace that makes reproduction 1950s nylons and I ordered two pairs out of curiosity. Not only do they come in a tantalizing array of styles and colors, but they are 100 times more durable than any regular old poly stockings. I say it is worth the investment. Be aware that this these stockings do not really "stretch" to your legs and you have to buy a size that fits your thigh measurements. I bought the red sheer stockings to go with my Agent Provocateur Poppy lingerie set. A fun pair of stockings can take lingerie you already own to the next level!
I think a lot of what intimidates women about lingerie is the upkeep of washing and caring for your delicate pieces. Learning to hand wash your delicates properly can make your lingerie last for years to come. There are some really lovely detergents just for handwashing that are not only gentle on delicate fabric but smell wonderful. I use the Launderess delicate wash for hand washing not just lingerie but vintage clothes I own that I deem too delicate for dry cleaning. I would recommend investing in a bottle if you are an avid wearer of lingerie. I set aside time to hand wash my lingerie in a deep sink and then hang it dry in my bathroom.