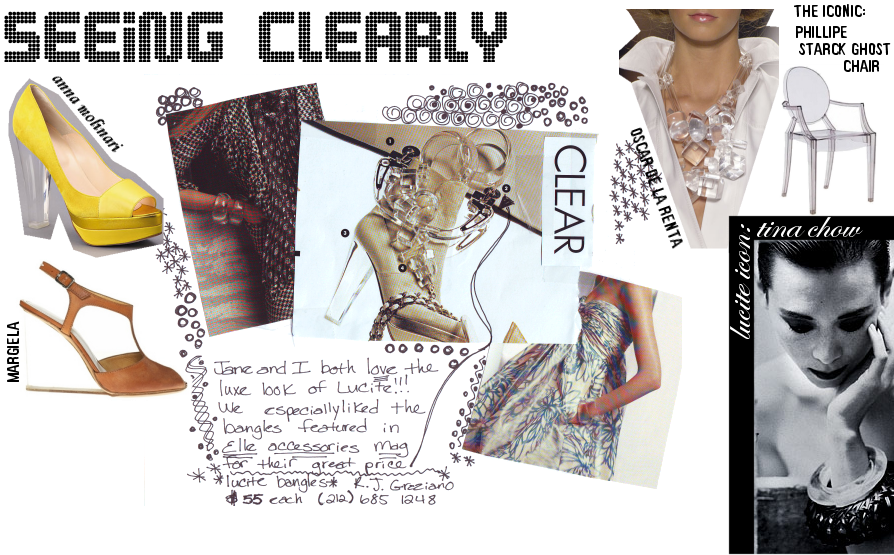 One look we've been crazy about for spring and summer has been the use of lucite in accessories. We love the luxurious look of CLEAR.
The Martin Margiela 'invisible shoes' really do look invisible in person. A big chunky lucite heel is a great juxtaposition to a fun-colored pump. The Anna Molinari's pictured are too cute!!
We love to pile on lucite bangles and mix them with other bold-statement jewelry. There is nothing dainty about these, they're strong pieces that make a strong statement. Very modern.
Of course, we can't mention lucite without mention mom's and mine fashion icon, Tina Chow. Her own jewelry was exquisite and timeless, and her personal style was incredible.
We've never been too hot on Oscar de la Renta, but his lucite necklaces and bangles this season blew us away. Also, an affordable option if you're looking to invest in lucite is the afore-mentioned R. J. Graziano bangles at $55 dollars each. Call (212) 685 1248.
Don't forget to scour your local flea market for great lucite finds! As this trend comes around every few decades, it's worth it to invest, and don't forget to store it! I'm always reminding mom to store each and every fashion trend, it will always re-emerge and can be passed on to future generations of fashionistas. (me, me, me!!)
photo credits: style.com, vogue, elle accessories, barneys.com, annamolinari.it, dwr.com