When Jeff and I were first dating, we quickly bonded over our passion for the wonderful world of fragrance. I remember fondly on one of our first trips together how we ended up in a Barney's for what seemed like an eternity sampling and comparing notes on almost every cologne or perfume in the store. It's something we find ourselves doing a lot while shopping or traveling. Whenever we travel to a new city, finding a few spots to discover new fragrances ranks almost as high as jotting down restaurants or vintage shops.
I've always felt that having a collection of signature scents can fit perfectly right alongside your personal style, and also provide a positive boost to your mood. Like fresh coffee in the morning or freshly cut grass, a fragrance has a way of waking up your senses and adding a little spark to your day. Chosen correctly, it can do that for others too. Who doesn't like receiving a compliment on what perfume or cologne you're wearing? It's how you know when you have a good one!
Over the years, we've both established a handful of core favorites we like for ourselves individually but also many scents we like to share we each other. Luckily for us we have very similar tastes. We typically like scents that are spicy and woodsy with hints of leather or tobacco that also incorporate amber or vetiver. I've always liked my perfume to either smell like a well distinguished man smoking a pipe in his personal library or Ava Gardner sitting on a beach at night in Spain during the summer.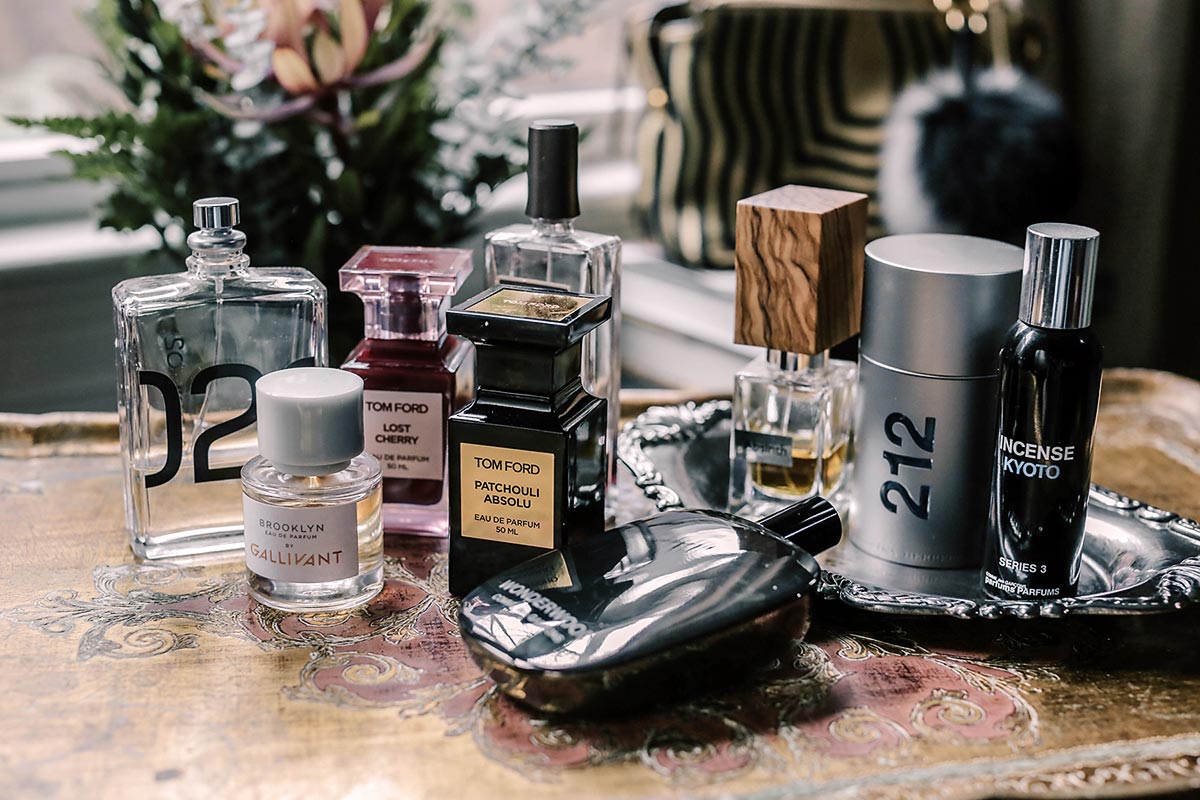 We wanted to share some of our all time favorite scents with you but we are going to break them down into three categories: Everyday, Going Out, and Special Occasion. Some are more affordable, lighter, and better to wear while at work or running errands. Others are a little more luxurious and extravagant so you save them for going out on the weekend or special occasions. We both organize our scents this way in our bathrooms!
As we approach the holidays, the potential for top gift-giving marks are extremely high when you surprise someone you love with a nice bottle of perfume or cologne. It's personal and thoughtful, and there are so many wonderful samplers available from both shops and fragrance houses, giving the recipient the chance to play around and find out which scents work best for them. In my experience, samplers are the one gifts I give each year that I hear most about throughout the following.

Everyday Fragrances
Right now, my two favorite everyday scents have been newer finds for me. I really love Fat Electrician by Etat Libre d'Orange. I originally picked it up a couple of years ago from our good friends at Set & Co in Dallas. Since then we've been to the shop in Paris and I never get tired of it.
The other is Brooklyn by Gallivant. I found this when we stumbled in the most amazing perfume shop just outside the Pantheon in Rome. It's lighter with mostly floral and citrus notes but rounded out with the right touch of spice and smokiness.
Jeff always has a bottle of Carolina Herrara's 212 for Men. He says it's tried and true, and also one of his most enduring favorites. It has a sexy freshness to it but rounded out perfectly with plenty of peppery notes. I always love this scent on him when he wears it.
He also loves the simplicity of Eccentrics Molecules' Molecule 02. It's just the compound ambroxan, one of the oldest ingredients used in fragrance. It's extremely subtle but when it hits it smells so comfortable and familiar. He recommends applying it on dry skin as opposed to just after showering. It will disappear otherwise.

Going Out
This is probably our favorite section and it's always fun to find out which one each of us will wear when we set out for dinner on the weekend or a night out with friends. Kyoto by Comme des Garçon is a scent I've worn for many years. It's woodsy and earthy, and it's the one Jeff can never remember but compliments me all night on.
Incendo by the niche fragrance house La Curie is a newer scent that I absolutely love so much. It's similar to Kyoto in some ways but smoky in the most pleasant of ways. It's sexy!
Lost Cherry by Tom Ford has been another I've been wearing a lot lately. It has some really nice floral notes but balanced with this amazing black cherry aroma that's very indulgent and playful. Jeff goes crazy for this one when I wear it.
Jeff has also included Comme des Garçon and Tom Ford scents. Wonderwood is an all time favorite for both of us and it's a battle to who gets to keep it amongst the others in their collection. It's spicy and woodsy with hints of cedar and oud.
He also loves the elevated classic scent of Tom Ford's Patchouli Absolu. It's that classic essential oil you know but refined and far more luxurious and seductive.
Jeff loves several of the fragrances from Maison Francis Kurkdjian but Oud Satin Mood is his absolute favorite. I always find him sneaking away at the shops that sell it to spray a little extra on. It's a rich, exotic scent that's both floral and woodsy.

Special Occasion
My number one favorite perfume to wear when attending a special event or party is Fille en Aiguilles by Serge Lutens. It's smoky, woody, and makes me feel like I'm about to walk outside my door and end up in La Dolce Vita.
Another favorite that offers notes which are more fresh and less smoky but balanced by leather and amber is Baudelaire by Byredo. This is another that if I can't find it in my collection, I know it's probably been stolen by Jeff.
Absinth by Nasomatto is probably Jeff's number one special occasion cologne but he says its classification as a special occasion fragrance is necessary because it only comes in 30ml bottles. He'd go through it way too fast otherwise because he loves it that much. It's pretty masculine with earthy notes of herbs and wood.
For truly special occasions, Jeff really enjoys Amber Sky by Ex Nihilo. It's truly a luxury scent with a higher price tag but it's warm and exotic scent lingers all day with only a few spritzes. Like the others, it's pretty spicy and woody but it really stands out when he wears it. He also recommends purchasing the travel set to avoid the higher price of the single bottle. Since you only need to use it sparingly, the travel tubes go a long way and pack nicely in your toiletries bag.