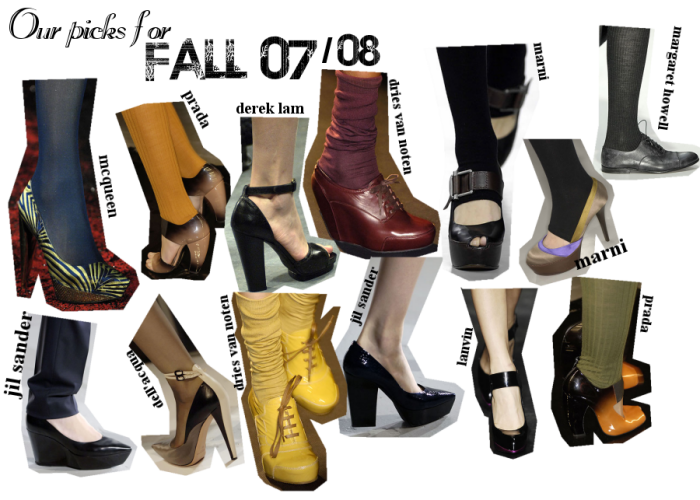 The shoes that impressed us most for next season were those at Jil Sander. While the black wedge pictured bottom left doesn't really offer up anything new, even if you already have a shoe similar to this, you'll want to have this particular pair in your wardrobe. The pump in the bottom center is a serious shoe for a modern woman. The right mixture of street-savvy and sexiness. Good move, Raf. We think both of these are must haves for your fall wardrobe.
Let's move on to Marni. Mom and I disagree here. While I like the shoes, the multi-colored one is borrowing too heavily from last season's Prada for my tastes. Mom though, she wants both of them. I'll have to agree with her on the clunky sandal. Too cute. We love the buckle. We are certainly not tired of peep toes yet!
Speaking of Prada, these ombre slip on sandals are just great. The ombre effects looks totally fresh, and the acid orange version is insane. I'm loving the slip of elastic. These beg to be featured on some backstage waif on the Sartorialist. (maybe me….) The footless knee socks were funky too.
Next, Dries. Dries Dries Dries. I cannot get enough of his chunky leather lace-up wedges for fall. The yellow pair is particularly adorable. If you needed one riot of color in your shoe line-up, consider this. We like it paired with the stacked up socks and warm fall colors. Definitely seeing this with a swingy wool skirt.
We won't lie. Alexander McQueen's half-assed 'paganism/witchcraft/whateverthehellhewastryingtoconvey' collection was a pretentious piece of crap. However, these printed pumps make us weak in the knees….
Mom and I differ on the little Alessandro Dell'Acqua number at the bottom left. Despit the fact that it bears a close resemblance to Balenciaga's women-hating masochist foot-strangling contraption of the season past, this more delicate sillouhette seems sweet but edgy to me. I'm loving the three colors thrown in there. Mom is going to pass on this all together.
Lanvin, we liked, though some were too plasticy and out of control. This particular pair though is really sharp. The wide strap looks modern and the peep of metallic purple at the bottom keeps it from being too serious.
The mens-wear shoes trend has been warming up for several seasons. This pair at Margaret Howell is both boyish and femenine at the same time, without being too AC/DC.
Derek Lam continues to be one of our favorites. We look forward to seeing more footwear from him.
Enough about our favorites, how about you, dear reader? What caught your eye for F/W 07/08?
(all photos credit: style.com)