Hi guys! I wanted to do an updated beauty routine post because I've changed so much of what I am using. Living in Texas, where it's blistering hot right now, you have to do a 180 on your skincare for the summer. My skin has been changing a lot lately and I've had to make adjustments. I've also parred down my makeup routine for these upcoming months of hot weather and wanted to share my favorites with you!
So, something fun I have been dealing with the last few months is terrible adult hormonal acne. I have never had it so badly in my life, to be quite honest. My hormones are totally out of whack and I have to do damage control when it comes to my skin. My diet is pretty strictly clean but that has helped only so much. I've tried a lot of skincare products over the past few months. Some products would work for a while and then stop,  and some were really expensive and didn't work at all. I was getting really frustrated and looking for a solution.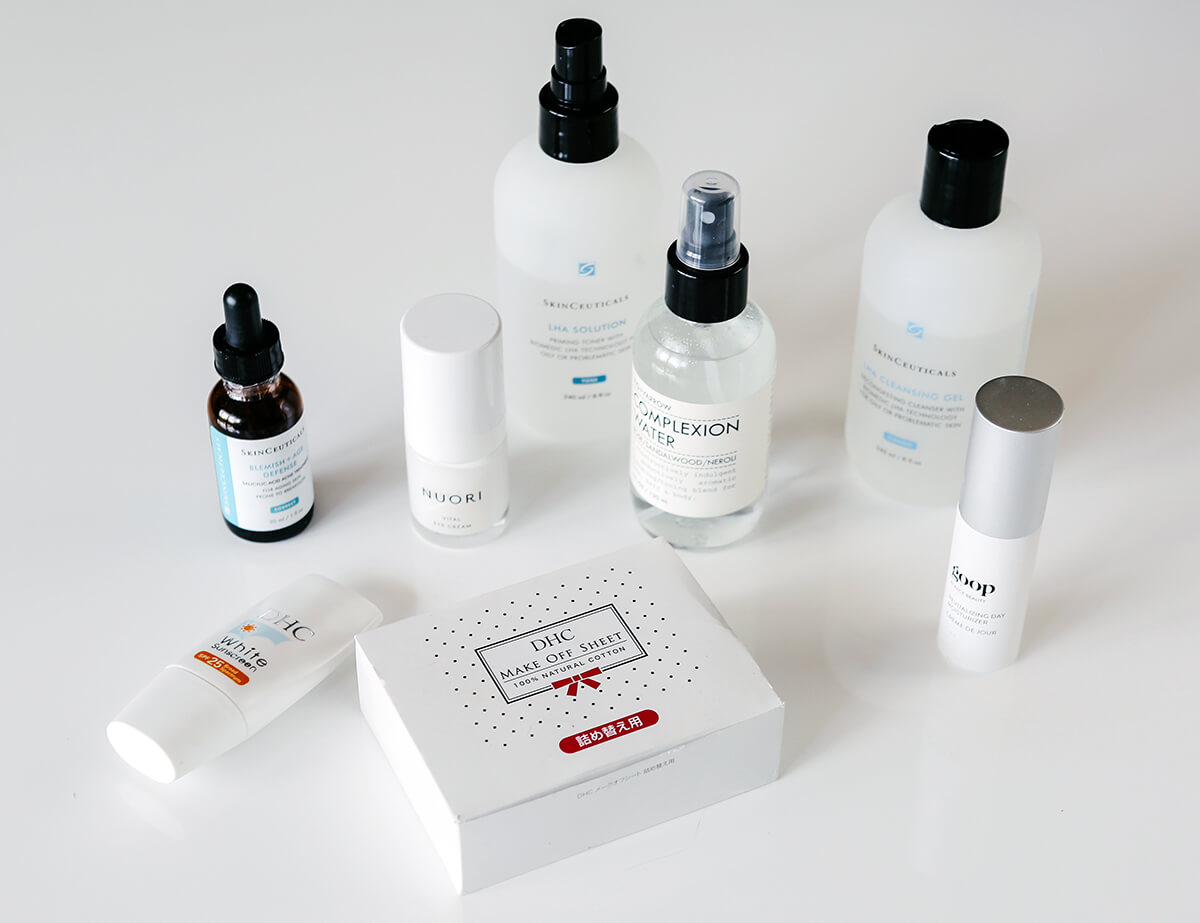 Do you all follow my friend Tina Craig's snapchat? (her handle is @bagsnob) Her beautiful skin and her intensive skincare routine is legendary. She has turned me on to a lot of amazing products. From her I've learned about SkinCeuticals, a brand that I had never used before. I decided if I was going to drop some $$$ on an acne system it better be a brand that is Tina approved. I ordered the SkinCeuticals Adult Anti-Acne System. It includes a toner, a cleanser, and an acne serum. After two days of using this, my acne was cleared up by about 50%. It was amazing, even my boyfriend noticed right away. With continued use, it has really cleared up most of my acne with the exception of one or two zits a month. I still use the full system most days, but I do take breaks from it sometimes because it can be a little abrasive and drying with constant use. For $130 dollars it was totally worth it (you get a lot of product). Not only did it help my acne, but my skin has really brightened up, and my pores are much smaller. I really can't say enough great things about this, and if you are dealing with hormonal acne too, it just might change your life.
When my acne started kicking up, I had to stop using most of my favorite face oils. I am a big fan of face oils and usually finish my night time regimen with a few drops of oil and a face massage. I am really, really excited because I found an acne-clearing face oil. Uma's Deeply Clarifying Facial Oil is anti-bacterial and helps regulate sebum production. It smells amazing and feels slightly astringent. Definitely a new holy grail product for me!
For moisturizer, I use several different brands depending on day. Goop sent me a sample of their Revitalizing Day Moisturizer and I have really been liking that for summer. It is very light on the skin so it is perfect to wear under makeup on a hot Texas day. I also use DHC's sunscreen as a finishing step in my skincare routine. I prefer Japanese sunscreens because they never get rubbery underneath my makeup or clog my pores. I always wear eye cream whether it is day or night. My favorite right now is NUORI Vital Eye Cream which contains Hyaluronic acid and aloe vera. The aloe vera makes it great for when you have a case of the puffies. NUORI's packaging is very chic too, I think.
I mist my face all day long, especially if I am traveling. I am obsessed with Fig & Yarrow's Complexion Water at the moment, it is so refreshing! My skin is often irritated from acne-treatment and this mist is very soothing for it. I mist my face with it before and after makeup and anytime I touch-up. It makes my makeup look more natural and sets it for the whole day. I always keep DHC Make Off Sheets with me to remove smears or clean my face before a workout. These wipes remove every trace of makeup without feeling soapy or irritating like most makeup wipes do. They're cheap too for the amount that you get!
My favorite makeup tip I ever learned was years ago from a beauty show in Korea. A makeup artist recommended patting a thin layer of lavender foundation to the "butterfly" zone of your face: over the bridge of your nose, under your eyes and the tops of your cheekbones. Here, I have a picture of how I do it. It gives your skin that kind of baby-like luminescence from within. This is my alternative to contouring! I've used a few different products for this over the years but my favorite is Koh Gen Do's lavender pink foundation base. I am so pale that I actually use this over my foundation, but if you aren't as pale as me it would probably be best to apply it underneath. If you have darker skin, the yellow shade of the base would work well for this I bet. The Koh Gen Do base blends really well and doesn't cake!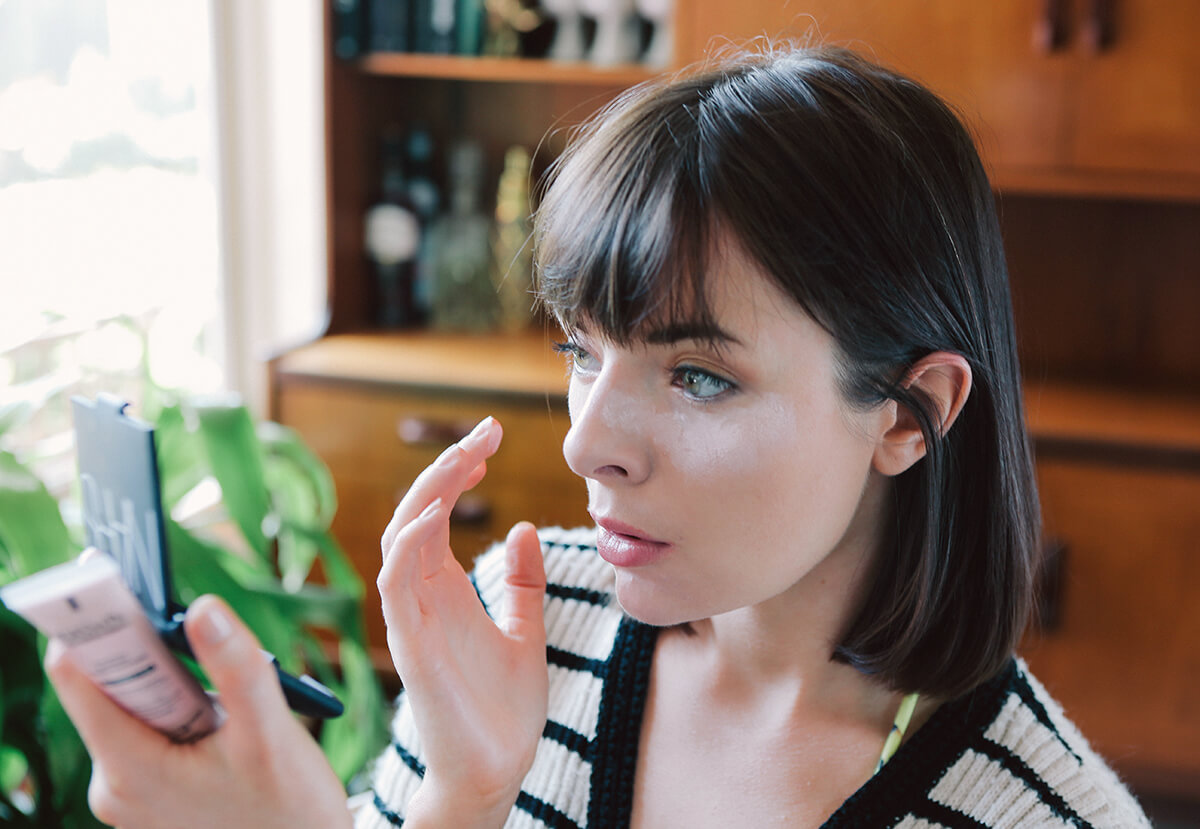 For foundation, these days I am using Juice Beauty Flawless Serum Foundation. The shade 05 buff is extremely pale as can see from the photo, I love that it plays up my natural paleness instead of trying to mask it. It wears really well for me in this heat. The serum foundation comes out very liquid-y and goes on sheer, so I would not recommend it to those looking for heavier coverage.  For under-eyes, using a salmon colored concealer wakes up your face so much more than using something lighter than your skin tone. I use Tarte Cosmetics Colored Clay CC Under Eye Corrector and I always keep it in my bag for touch ups.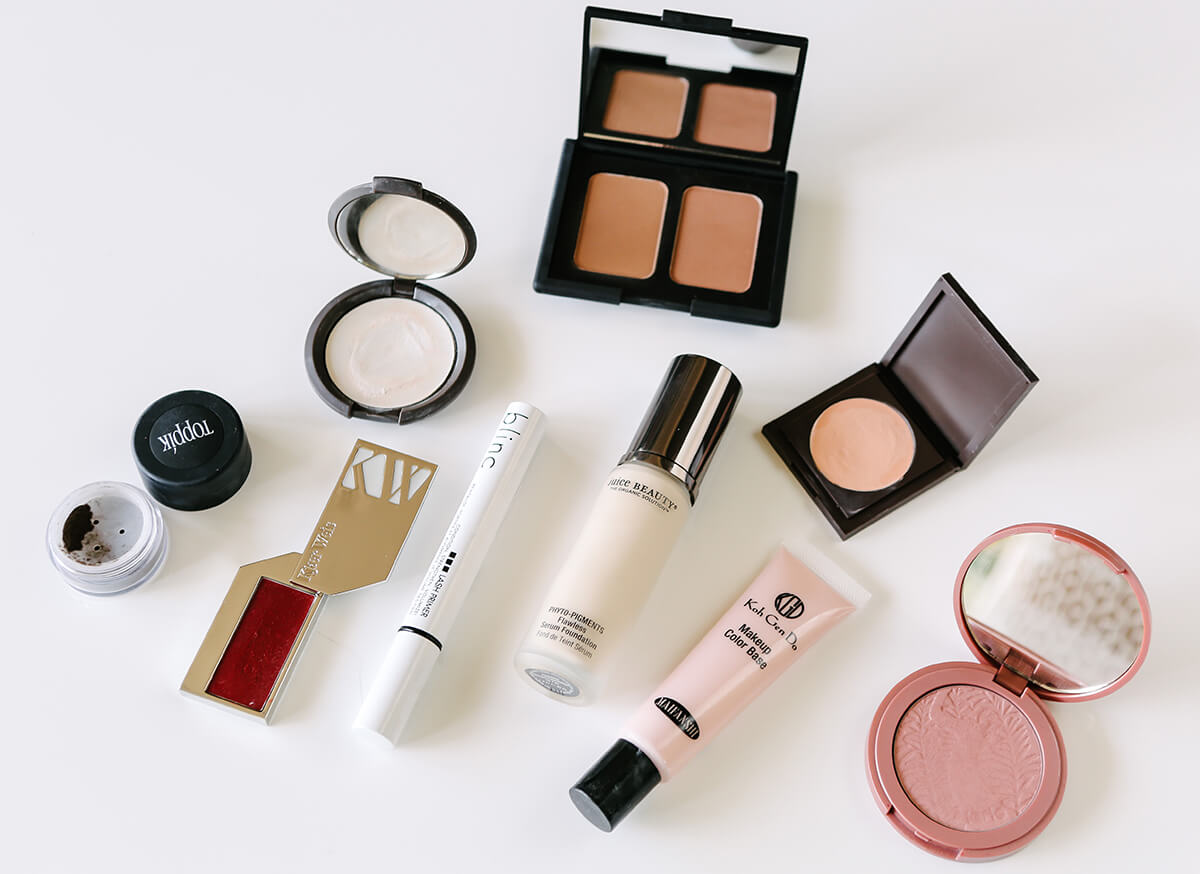 My favorite ever blush is Tarte's Amazonian Clay 12 hour blush in the shade "Expose". I am ruined for all other shades of blush…it's going to sound weird when I describe it this way, but it looks like a really cute sunburn. I apply it high on the apples of my cheeks and bridges of my nose for a youthful look. For bronzer I love NARS Bronzer in Laguna. It is sheer enough even for my fair skin. I also apply this to my cheekbones, bridge of my nose, and temples. For a highlighter, I wear Becca Shimmering Skin Perfector Poured in Opal. I apply it on my cheekbones, inner corners of my eyes, and bow of my lips after foundation but before blush and bronzer. For eye brows, I prefer a soft powdered brow look for summer. I use Toppik's Brow Building Fibers Set because it actually attached fibers to my brows to make them "bushier" a la Gigi Hadid! Then I fill in and define with a skinny brow pencil.
My new thing is I only want to wear brown mascara. I noticed it as a trend in Japanese beauty magazines, and it just gives your eye makeup a really sweet look. I love Gucci's Brown Mascara at the moment. One tip if you want to try this: always start with a white eyelash primer. It makes the colored mascara show up much better and it lengthens your eyelashes like crazy. I use Blinc Lash Primer and it makes my lashes falsie-length.
I wear a lot less makeup during summer. My simple summer makeup look is usually a bronze cream shadow, with brown mascara, and a sheer red lip stain. I've found my best lip color ever in Kjaer Weis Lip Tint in Lover's Choice. This stain is my obsession right now! Sometimes I pat the stain just in the center of my lips and other times I apply it all over with a lip brush. I've never loved a lip product this much before. I took a selfie (hah) of me wearing it to show you what it looks like on the lips!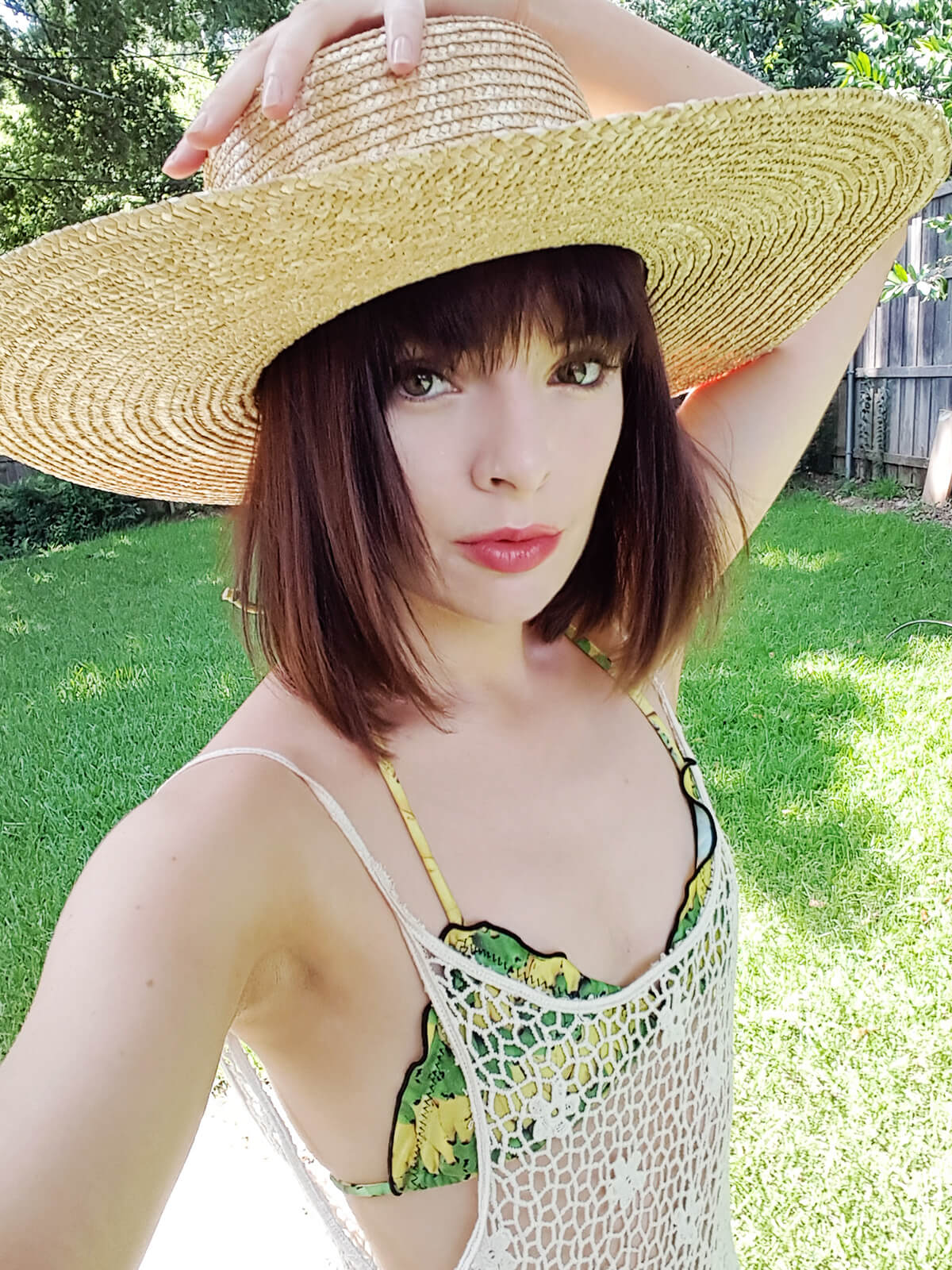 I hope this turned you on to new tricks or favorite products, I have really been excited to share this post! If you have any questions, you can always message me on Instagram or send me an email. Happy Monday!