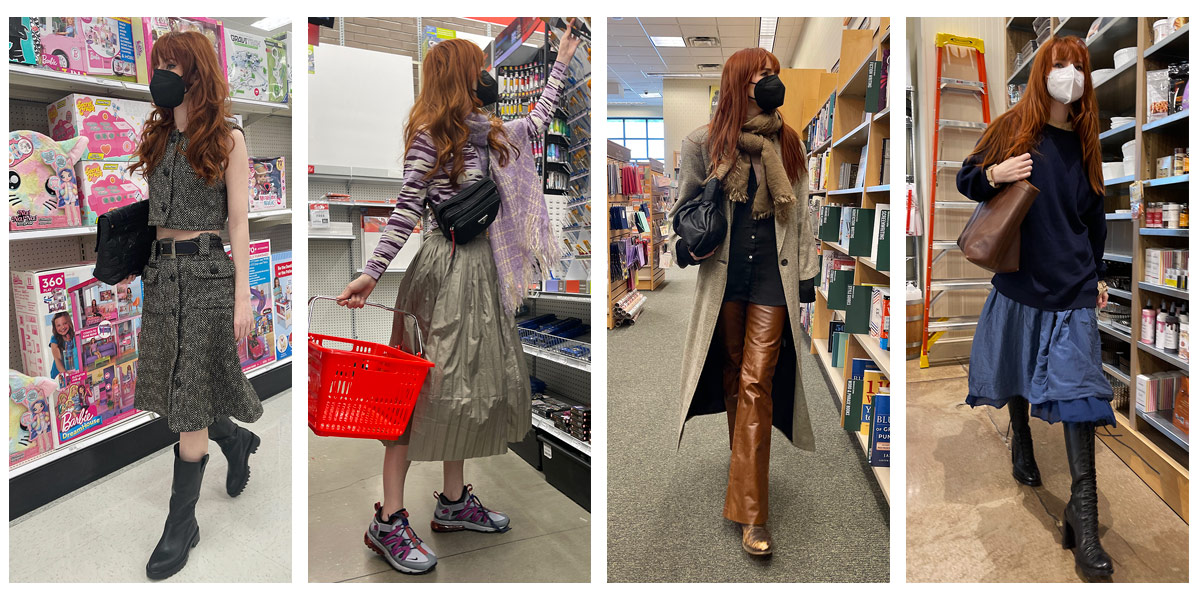 Good morning and happy Sunday! Today I am going to be describing in detail some of the outfits I've shared on Instagram over the last few weeks. Since I don't really do individual outfit posts on here anymore, I figure I'd put them all into one big post and hopefully address some of the questions I've gotten about where things I'm wearing are from, etc. To get started we'll look at…
Sixties Two-Piece Suit look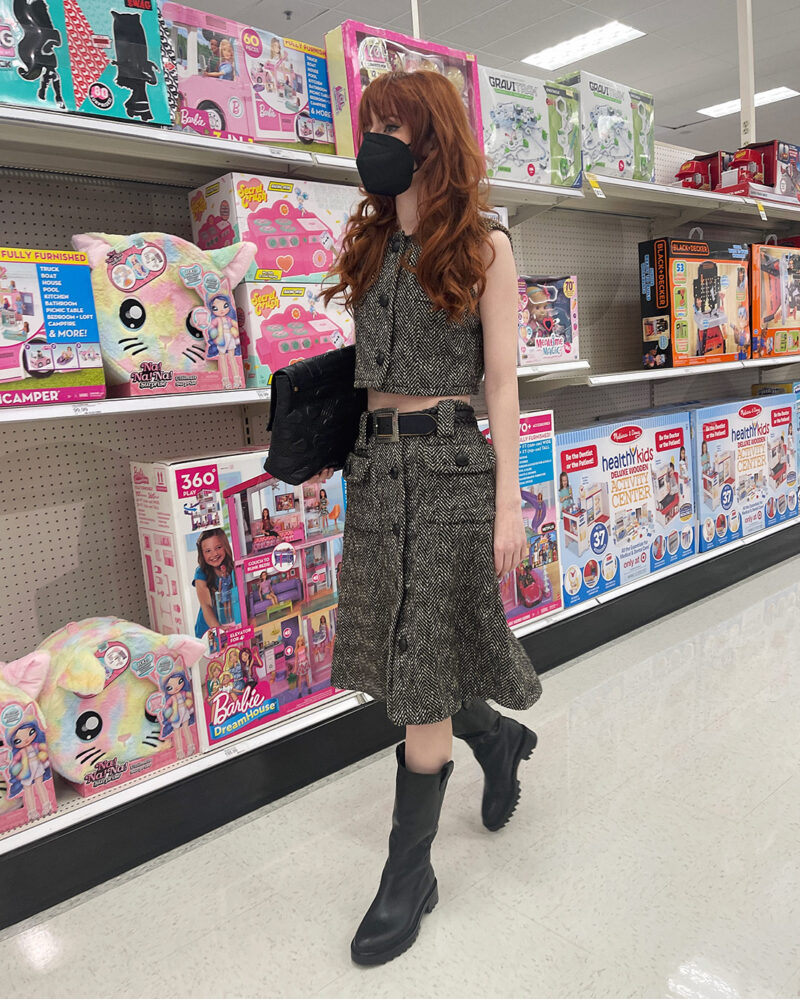 Above I am at Target (fun!) wearing a sixties two-piece suit I found on eBay a couple of months ago. I have been dying to wear it but had nowhere to go, so Target it was. No label on this suit but I constantly peruse 60s stuff on eBay and this was a lucky find that came up for 40 bucks. It happened to be just my size.
The belt I'm wearing with it is a western braided belt I found at a thriftstore. The clutch I am carrying is a Proenza Schouler PS1 stitch-embroidered clutch that my mom passed down to me a few years ago, but I believe she got it around 2008-2009. I love this clutch so much that I wanted to get another PS1, but it seems like Proenza doesn't really make cool PS1's anymore! They should get on that again, this bag stands the test of time.
While digging around for other great oversized clutches on the internet, I did find these two beauties. Really HUGE clutches are hard to find and these were the only ones that met my needs.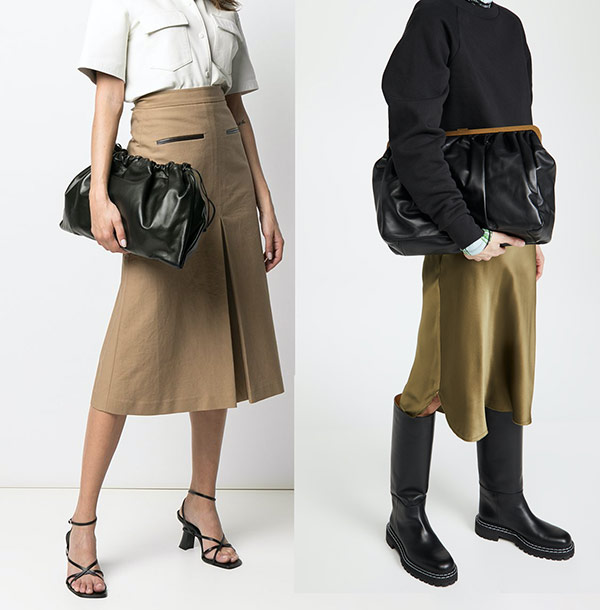 The clutch on the left is by Studio Amelia and is available at Farfetch for $417. The clutch on the right is by Mansur Gavriel and is available at Shopbop for $895.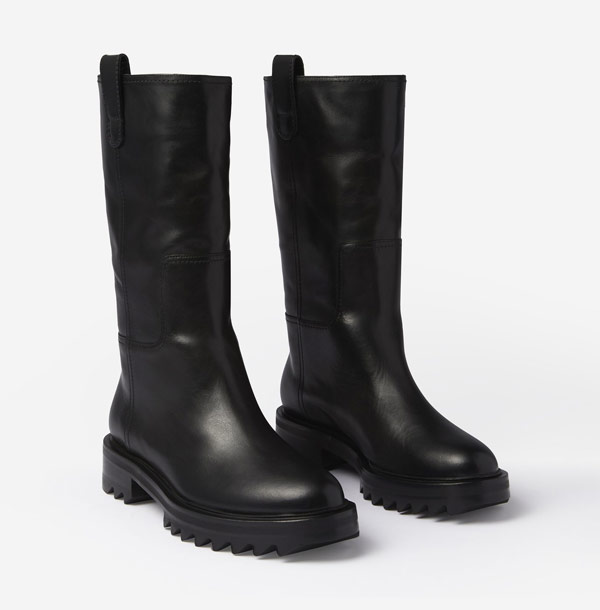 The boots I am wearing with the sixties suit are the Tamara Mellon Easy Rider boots. I've had them for two years and I love these boots to death and wear them all the time. They look great with everything and you can just pull them on super fast when you're running out the door. I must tell you though-These boots run large! I am normally a size 39 and I took a size 38 in these boots, but honestly, a 37.5 would have been a better fit.
2. Adidas Skirt + Purple Stuff Outfit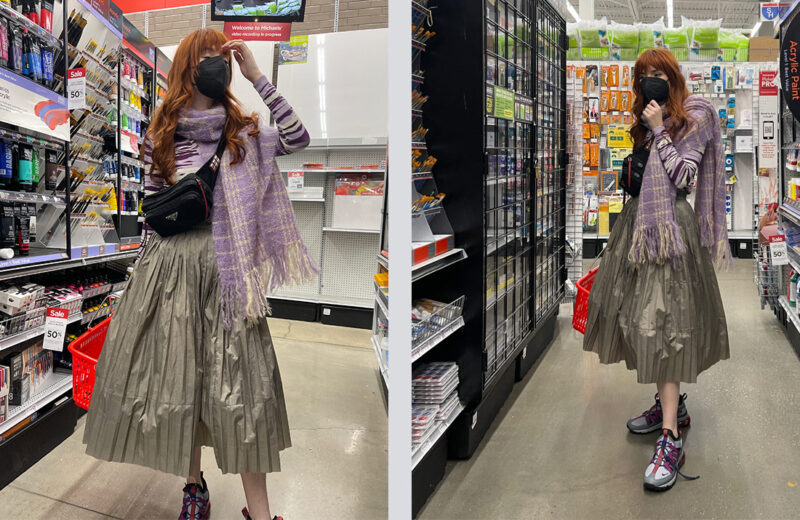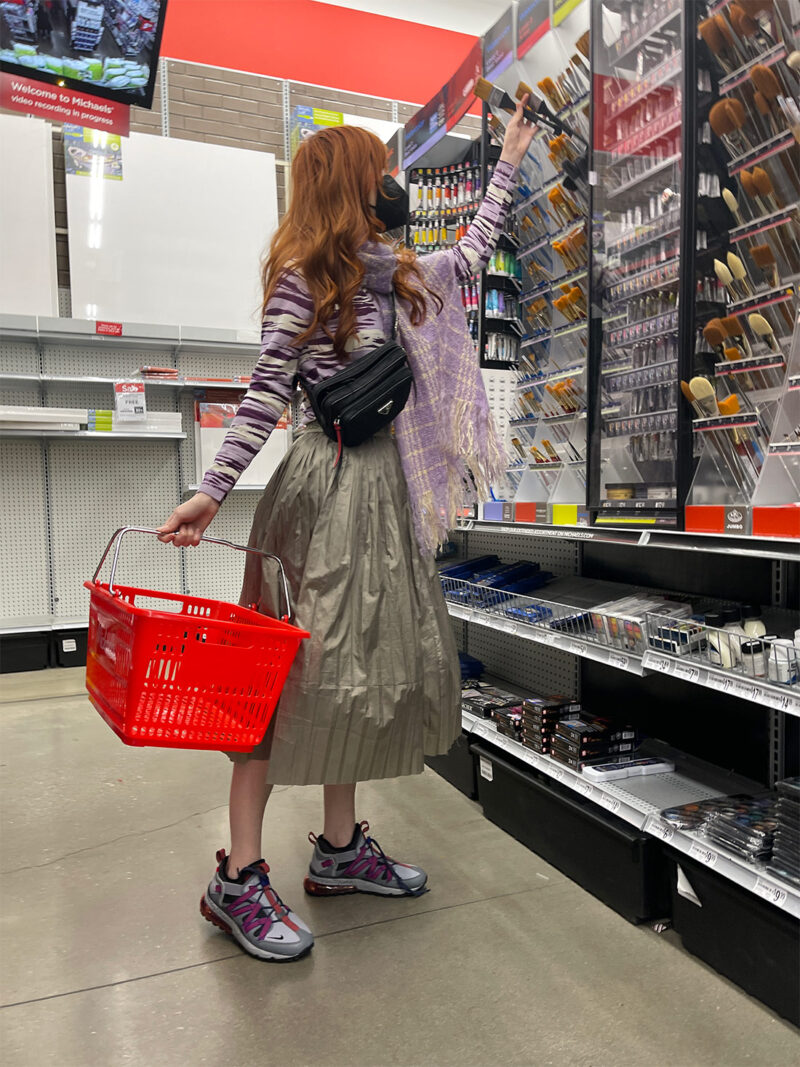 The much-talked about Adidas skirt strikes again! I wore the clay-colored Adidas skirt on this trip to Michael's with a purple zebra Givenchy Sport v-neck sweater, a 60's mohair lavender plaid stole, a Prada belt-bag, and Nike Air Max Bowfin sneakers. I got the Givenchy Sport sweater a few years ago from Feather's Vintage in Austin, Texas. The lavender mohair stole is part of a two-piece set with a matching skirt I got at Vintage Martini last year. I recommend searching "mohair stole" on Etsy and eBay, it pulls a ton of gorgeousness up. These chunky stoles look great with so many different things.
The Nike Airmax Bowfin sneakers I'm wearing here are men's, and they only have one color left online. I am a size 9 in women's Nikes, and I ordered a size 7.5 in these men's sneakers and they are a perfect fit. The general rule is to go a size and a half down in men's shoes.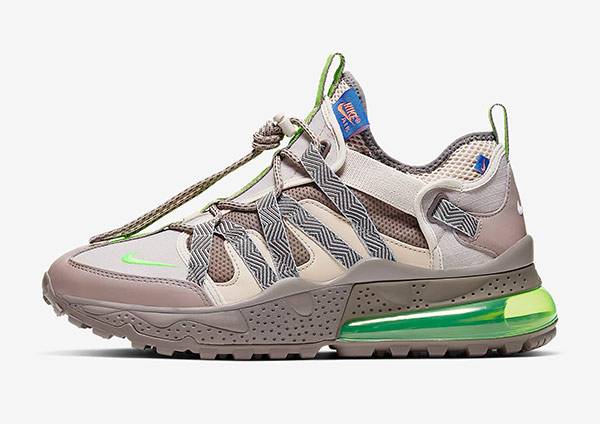 Above is the last color way in the Bowfin sneakers available on Nike.com. Get them while you can! They're super comfortable, I wear mine on long walks.
3. Leather Pants-ing at Barnes & Noble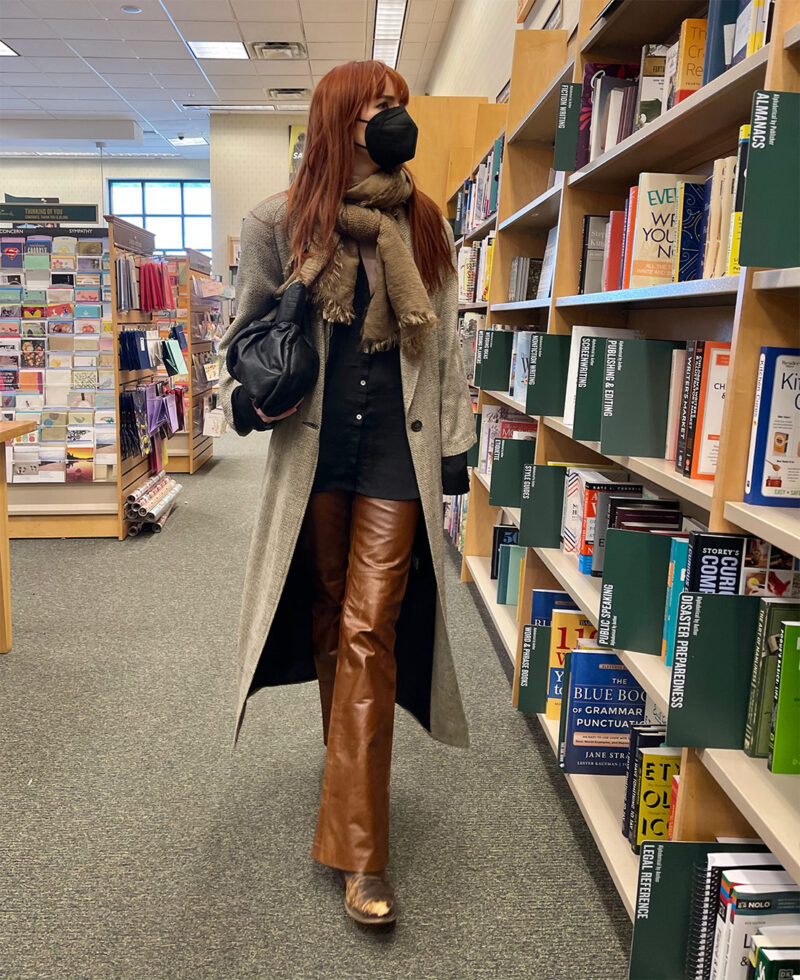 These 90s leather pants were bought from my Instagram friend Ashley's store @juicyfruitvtg. They are real leather and the label is "Anonymous by John Carlisle", which is a really funny name for a clothing brand. The shirt is a black viscose button down from Urban Outfitters I've had for like 10 years. The long coat I'm wearing here is a thrifted 100% woven silk coat from the 80s with a rounded shoulder pads. This coat had been languishing forgotten in some closet at my mom's house for god knows how many years, and until it was unearthed recently. It's so beautiful! I plan to wear this a lot. I have no idea where the scarf I am wearing is from, I do not remember.
The clutch I'm carrying is an 80s buttery pillow clutch I got from Vintage Martini. Again I recommend the Studio Amelia clutch for a similar look.
Now about the boots I'm wearing here…these vintage boots were something I found at a flea market over ten years ago. If you're a regular Sea of Shoes follower, you may recognize these boots as I have worn them constantly for MANY years.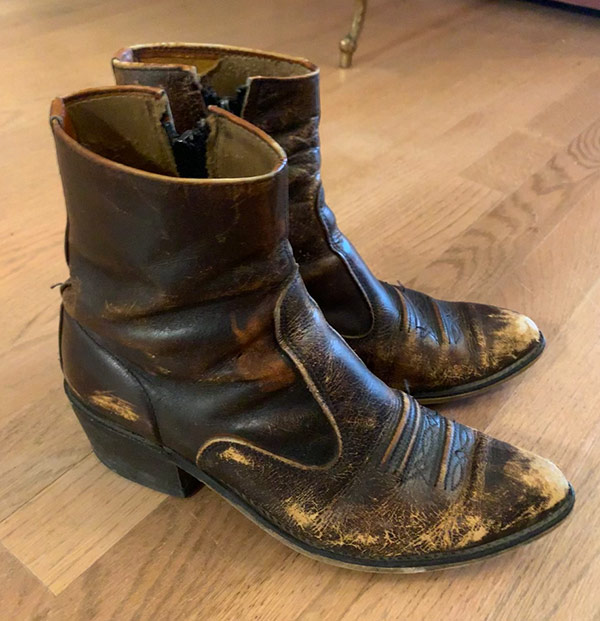 Here is a close-up of the battered boots as they are now. Pretty worn to death. They were beat up when I got them, and now they're on their last legs. I believe someone once told me they had the same pair of boots (less battered) and they were by Justin Boots. Any kind of label on these boots or their soles is totally illegible now. I am on the look-out for a replacement pair and here's what I am thinking.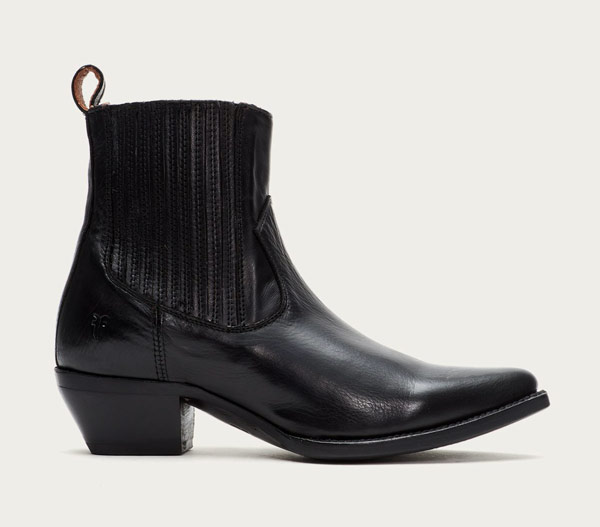 These Frye Sacha boots  pictured above have that same great shape and western pointed toe, and the glossy finish would chip away with age, like the vintage boots above. All it takes is wearing them to shreds for a few years. I myself have another pair of Frye boots, pictured below, that I have worn in over the last few years and they've aged nicely.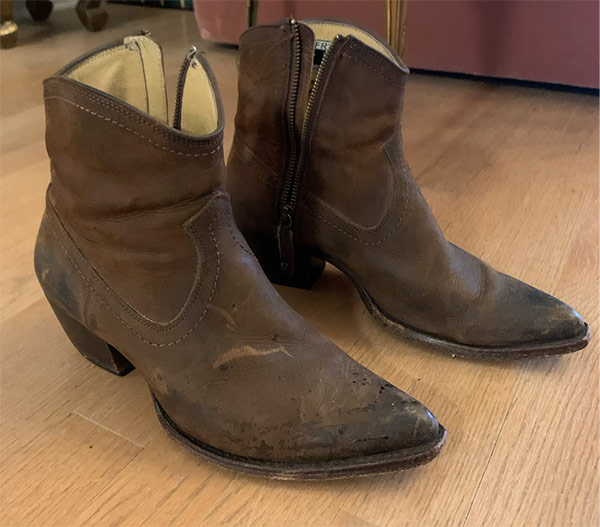 Here are those other Frye boots I've been wearing for the last few years. They are aging very differently than the vintage boots because these brown Frye boots weren't finished with a glossy leather varnish, they were already kind of matte, almost sueded, when I got them. So they haven't got the chipping that the other Frye boots will likely get, which would look really cool. I really like how these boots have worn in over the years, and I haven't even worn them that much. I'm a girl with many shoes after all!
4. Margiela x H&M in the wine section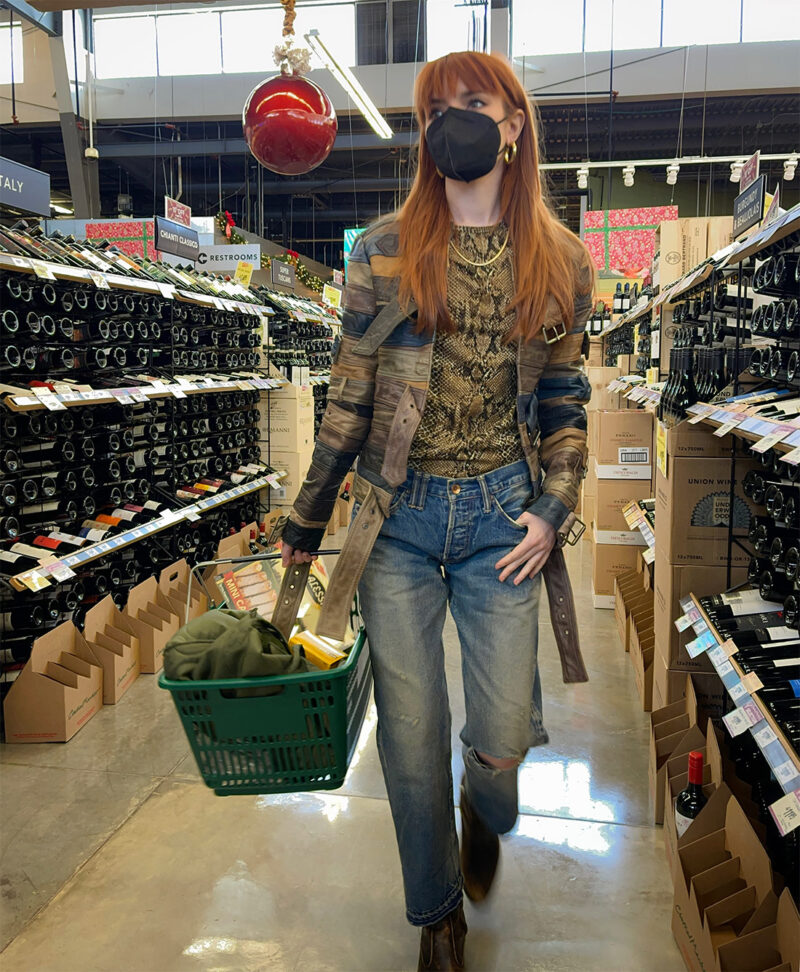 This leather belt jacket is part of the Margiela x H&M collection from years back, and this coat is a recreation of  Marigela's famous belt jacket from the A/W 2008 collection. I am so glad I bought this all these years afterward, it still looks as great as ever. You can find these jackets on eBay/Poshmark still but they are much pricier than when they were at H&M originally!
Underneath the Margiela x H&M jacket, I am wearing a 70s snakeskin print shirt from Saks Fifth Avenue I got on eBay, with a gold chain necklace from I don't even know where. I'm wearing the beat-up boots I mentioned above here as well. The jeans I'm wearing are Chimala jeans. I got these jeans nine years ago. Chimala jeans are Japanese-made and are some of the most beautiful jeans you can buy, and they've gone up in price over the years, but you can find them on eBay for more reasonable prices. I know because I have a saved search for Chimala and I'm always looking. Ten Over Six used to carry them here in Dallas, and they would go on sale sometimes. Matches Fashion carries a number of Chimala pieces right now.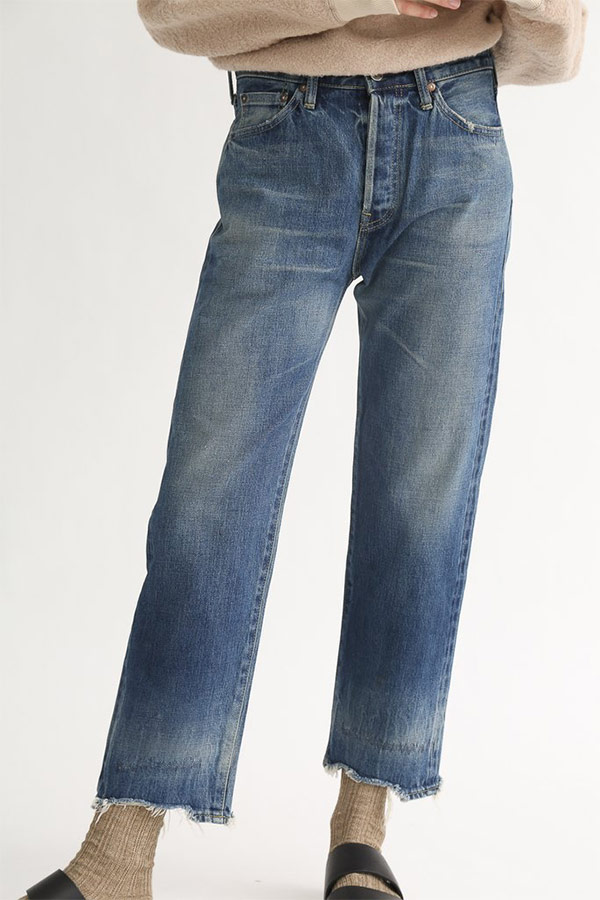 Oroboro Store has a very similar pair of Chimala jeans available here! They run small, and I think size 26 is the smallest size they carry. That's what I wear and it's a nice comfortable loose fit for me, I'm normally a 24.
5. Ivan Grundahl skirt in the wine section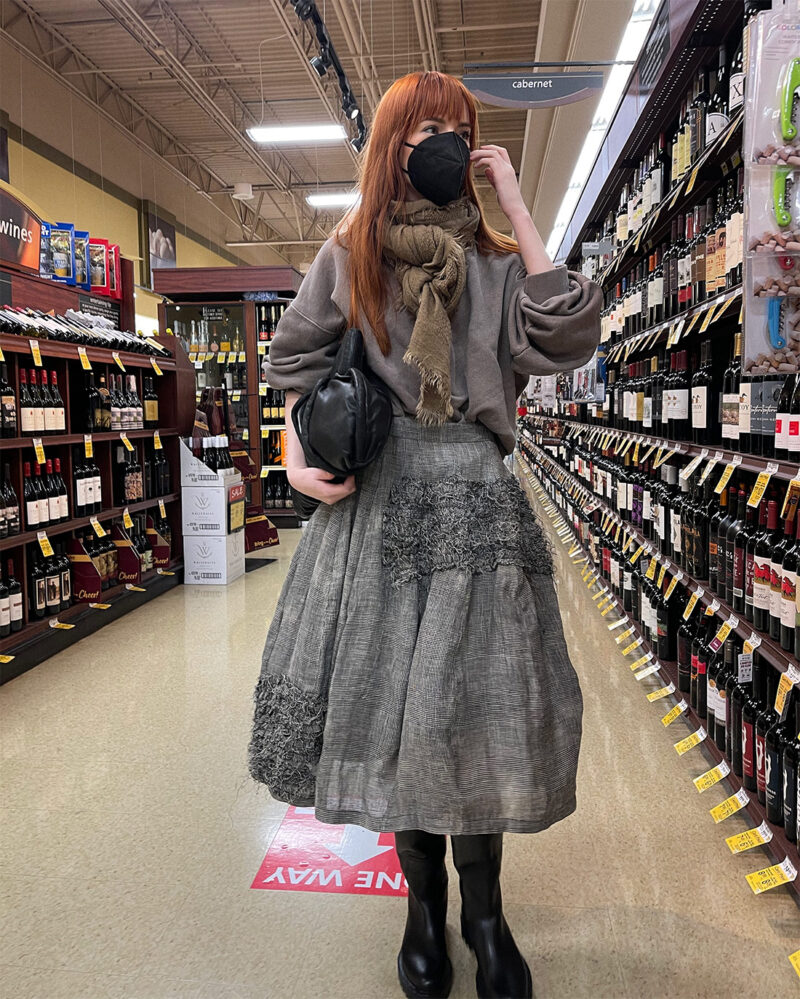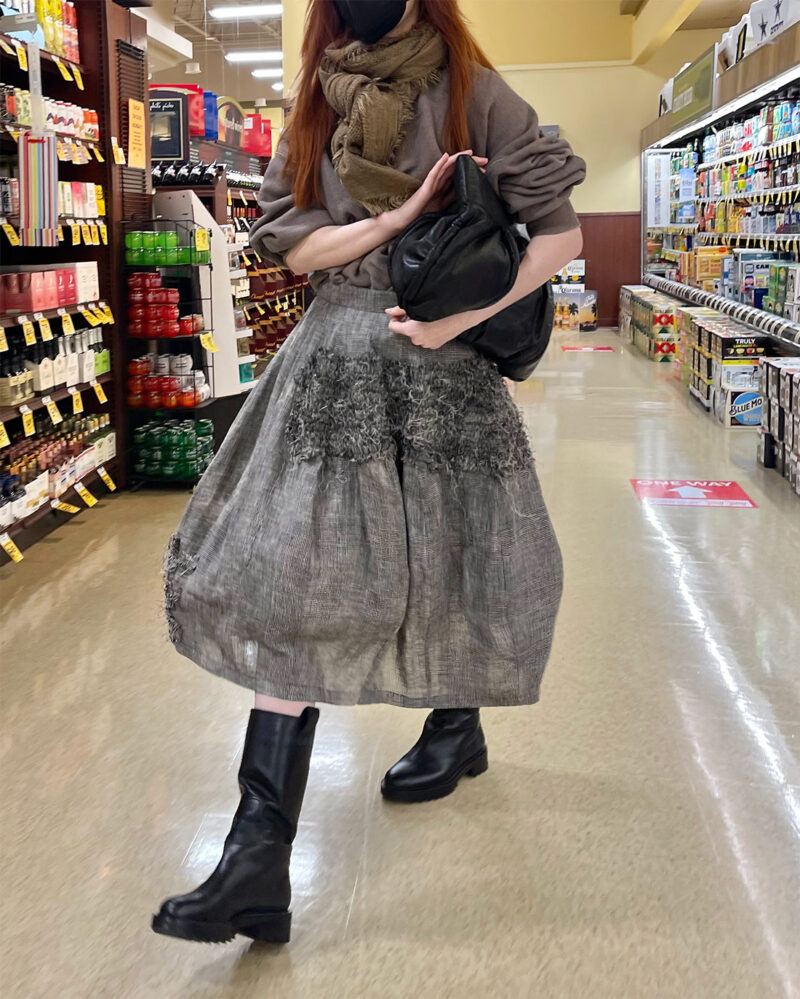 Anyone familiar with the legendary Soho boutique If will recognize the name Ivan Grundahl. If Boutique has carried the Danish designer for many years and if you cruise If's famous basement sale you will find TONS of seriously marked down Ivan Grundahl. If you ever get the chance in life, you must go look at the If Boutique basment sale. It happens twice a year and it's some of the best shopping and people-watching you'll experience in your life. The skirt I'm wearing above is by Ivan Grundahl and I have a matching wrap jacket that goes with it, but here I am wearing it with a Stylenanda sweatshirt instead. And yes, I am wearing a petticoat under the Ivan Grundahl skirt. They really do come in handy!
The boots I'm wearing are the aforementioned Tamara Mellon Easy Rider boots, and I will reiterate that if you are interested in these boots, order a size down from your regular shoe size! The clutch I'm carrying is again the 80's puffy pillow clutch from Vintage Martini.
6. Looking for a soufflé dish in my Ann Demeulemeester boots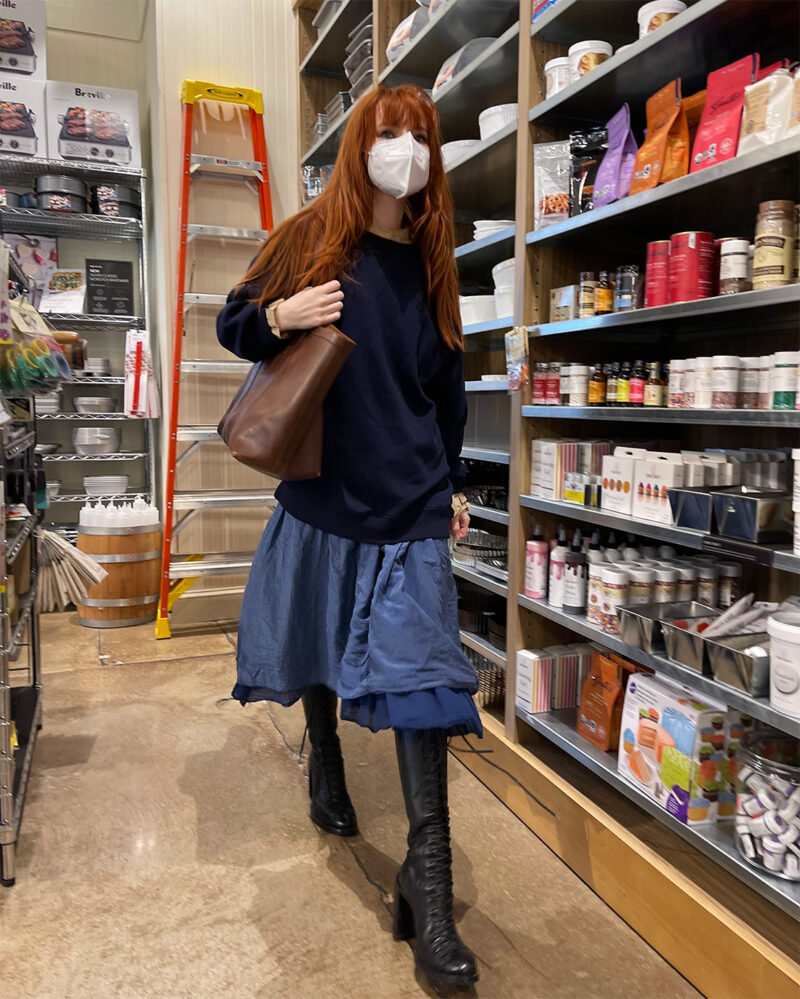 I talked at length about my love for the CP Shades Julia dress. Been wearing it like crazy and I even got another one in a different color. I'm wearing the Julia dress underneath the Entireworld Giant Sweatshirt in Navy. This sweatshirt is so unbelievably soft and snuggly. I definitely want to order another Giant sweatshirt but they sell out quickly!
These are my very beloved Ann Demeulemeester F/W 2008 boots. I've loved them dearly over the years and they still look better than any other boot that's out there today. You can get these boots on eBay, if you're a size 38.
This brown leather tote bag is the Working Tote by Lotuff Leather, I've had mine for 7 years and it's worn in beautifully and only looks better with age.
7. Buying cottage cheese in old Celine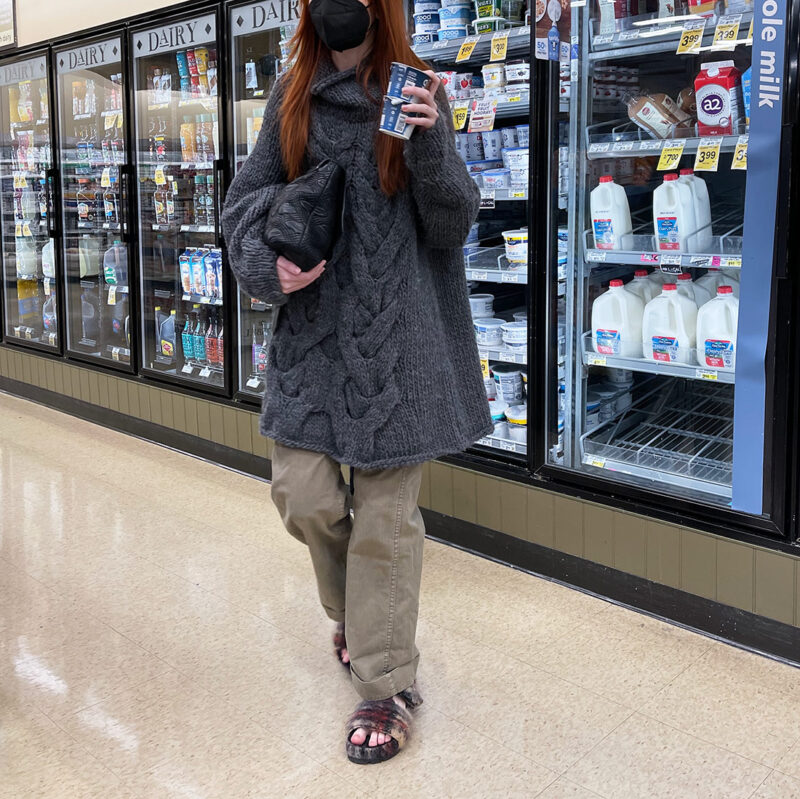 The riveting content I know you come here for. Sorry for all the grocery store pics, but this year I didn't want to force anything. I take outfit pictures where I actually go in my boring little life! I'm not going to pretend I'm doing anything exciting.
So these pants are RRL fisherman pants I bought at the Soho RRL boutique a very long time ago. I am obssesed with taupe and this baggy silhouette for pants, so I've worn them a lot lately. The sweater is Ivan Grundahl (again!) and I bought this two years ago at the If Soho Boutique basement sale. I love it! The mohair sandals I'm wearing are from the very last Phoebe Philo collection for Celine. They're very hairy and I'm so glad I bought them. Again, I am carrying the old Proenza Schouler stitch-embroidered clutch.
Well, that should cover every single thing I'm wearing from head to toe. If I forgot anything…I can tell you in the comments! Have a great week guys.