Something awful happened to my camera this week! My D80's light meter went haywire-I took it to the shop and it's going to have to be worked on there for a while. 
Kind of frustrating, because when I asked how long it was going to take they said something like, "Uhh…don't know, m'am…anywhere from 1 week to 2 months." Alrighty then…so we'll see when I get it back.
Oh yea-In addition to computer failure and camera failure, add "biology test" to my list of failures this week.  Oh man….
All of these crappy things could have made this a really bad week, but today is definitely making up for it.
Tonight I'm gonna see Ariel Pink's Haunted Graffiti at Hailey's tonight-I've been looking forward to this for a while. Cool shows also mean cool outfit opportunities. I haven't finalized my outfit yet but I'm thinking something with these things: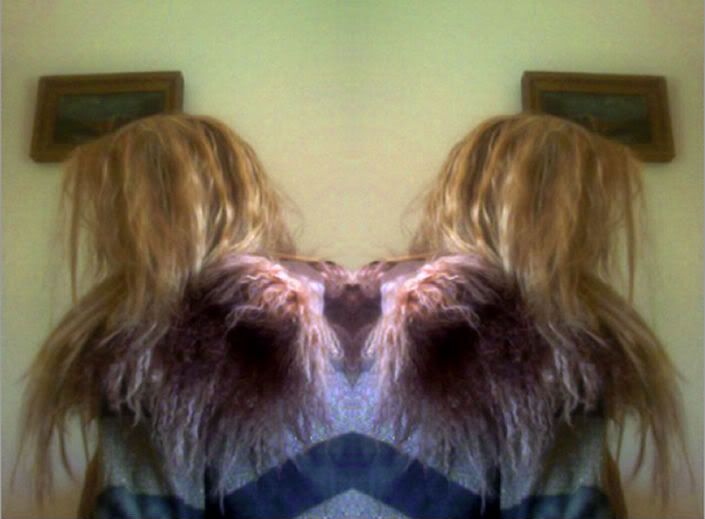 – Fur collar from Boulevards Boutique in Tulsa, Oklahoma
– Vintage pyramid necklace
– Junya Watanabe gold and green striped cardigan-the armholes, cuffs, and collar are attached with safety pins
– Crimped hair…just got a crimping iron and it's addictive. Hair straighteners, blow dries, curling irons are impossible for me to use. Crimping wands are totally fool proof and fabulous in a Kelly Wearstler/batty biddy sorta way.
Okay I promise no more webcam pictures, I was just lazy today and at loss without my D80.
Oh, and meet my new Margiela degrad
é cowboy boots.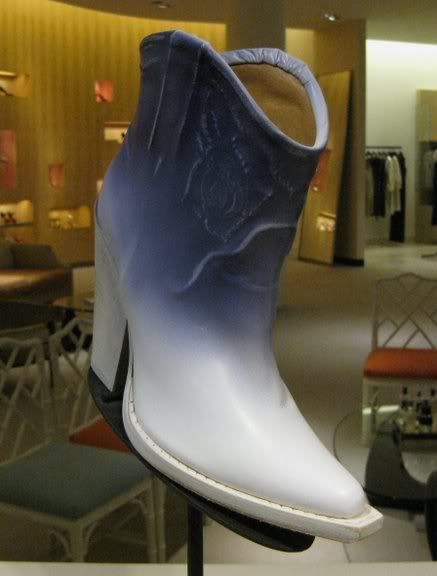 There is something about these boots that I find wierdly symbolic and compelling-I don't know, sort of like something from a David Lynch movie. I have to do a post about these boots and everything they embody tomorrow. So expect more detail soon. 
I had the most exciting email on Friday morning-from Danny Roberts of
Igor and Andre
.
I'm sure you're familiar with his work-he does beautiful portraits of models and has also immortalized the likes of
Karoline
and
Rumi
 in his blogger portrait series.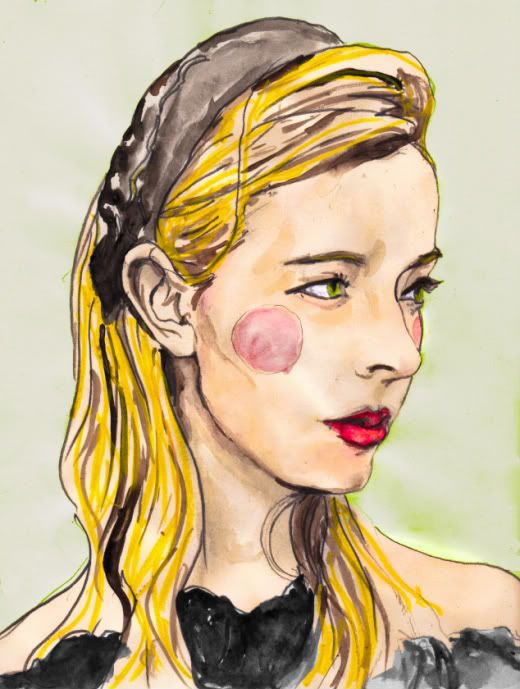 He did this beautiful picture of me-thank you so much Danny!
So all of that scratch that-I didn't have a bad week. Nope, not at all…I've had an awesome week!
And tonight it's gonna get even better. So excited!
Okay I'm going to go crimp my hair some more and maybe do a little studying for biology…then to go see Ariel Pink!
Jane