One of the stores on my hit-list here in Philadelphia was Joan Shepp…ever since I visited
their online store
 a couple of weeks ago I have been in love with this Ivan Grundahl wired taffeta skirt.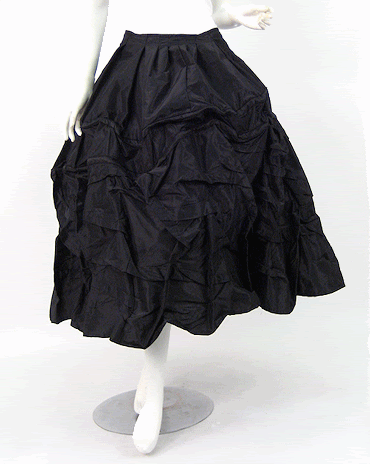 and today I got it!! It's kind of whacky and dramatic-I cant wait to wear it with my Comme des Garcons 'glove' shirt. The tails on that coat + the drama of this skirt are made for eachother, in my opinion.
(No pictures of it on for now…I was going to wear it to dinner tonight but I think I'm going to stay in and try to sleep off my cold)
My mom and I were lucky enough to meet Joan Shepp when we went-she was so cool and has incredible style! She took us down to her basement, where she kept her special pieces of Yohji Yamamoto and vintage. Awesome stuff!! Joan also had this fantastic Junya Watanabe jacket on display.
It's made out of paper, wow!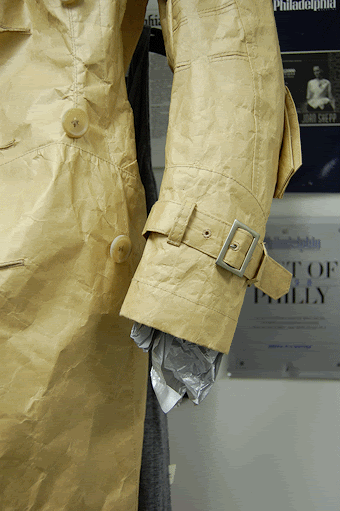 Joan wasn't the only one in the store with great personal style, I loved Tuesday's outfit: head to toe Junya Watanbe! Her top had a flowered hood too.
Isn't she so cool?!
Today my mom wore the Hussein Chalayan jacket I mentioned yesterday-the wool scarf is actually attached to the jacket. She also wears Ray Ban glasses, Levi's jeans, and her single lace Ann Demeulemeester boots.
I should also mention that my mom was able to find one of the Martin Margiela shoulder pad jackets at Joan Shepp. As I am writing this post in our hotel room, she is getting ready to go out for dinner and she's wearing it with vintage paint-splattered 501's and her Ann Demeulemeester boots and it looks amazing!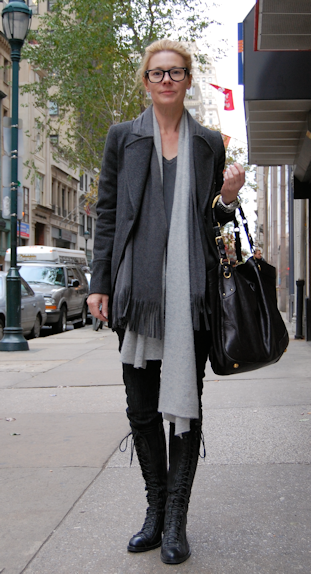 As for me, I am sooooo over the all-black wardrobe I packed for this trip. (Well I did bring my marbled Dries van Noten dress-wore that a couple of times over pants) But today I wore the Rick Owens coat and Ann Sofie Back sweater again, with a vintage Japanese kimono sash (worn as a scarf) and my  triple lace Ann Demeulemeester boots.
(Hah. We're wearing the same boots-slightly different versions, but hey they are awfully comfortable to walk around in)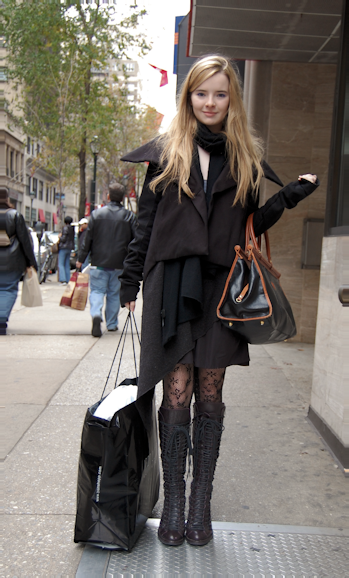 and before I sign off…..a very very exciting purchase from Joan Shepp..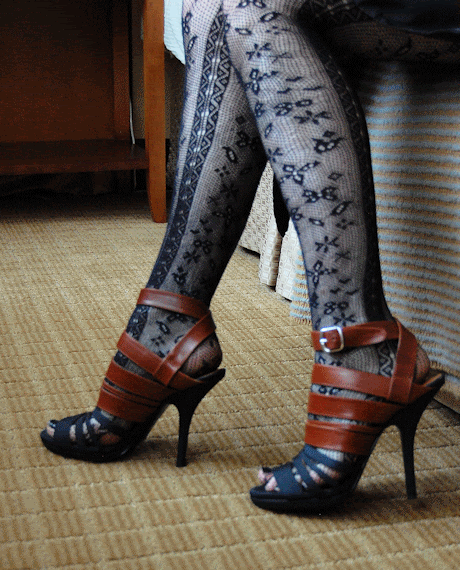 These Dries van Noten shoes are BEAUTIFUL!
I loved every piece of this collection-apparel, jewelry, and shoes but this pair was a special stand-out. The color of the leather straps is so rich and they are gorgeous mixed with the thinner black satin straps. Seriousely, these shoes are perfection-just look at the curve of the base of the heel, it is exactly the right curviture for this shoe because it matches the arch of the sole.
Not to mention that these shoes look good with everything!
This trip has yielded amazing finds. I wish I could have gone to the vintage stores everyone has been telling me about here (and thank you to readers who emailed me reccomentations!) but they wouldn't even have wanted me in the store, this cold is soo disgusting. It's been kind of a culture shock just walking down the streets here in Philadelphia and New York-you process as much information walking one block here as you would walking for a whole hour where I live! Pretty overwhelming.
I'm going to be happy once I get back to Dallas tomorrow afternoon-I miss my dogs like crazy.
xox Jane