These are my mom's Rene' Caovilla tulle and chiffon slingback heels. We've taken to calling these the 'fairy princess shoe'. I was so jealous when she found them at the end-of-summer sales-they are truly jaw-dropping in person. I'm on the lookout for a pair of Rene' Caovillas for myself now. I was really struck by them upon first because they are so unlike any shoe on the runway in recent years and certainly unlike any shoe in my closet.
For the past couple of years, sculpture and structured shoes have ruled the runways. Even though Rene' Caovilla isn't the most contemporary/edgy shoe designer, I'm ready to embrace the type of femenine, whimsical shoes he creates. In their own way, these shoes are kind of rock and roll: they are so over the top and out of this world-not to mention sort of impractical. To me they seem almost tongue-in-cheek. They bring to mind the wardrobe of glam rockstar Marc Bolan and Sofia Coppola's Marie Aintoinette. the phrase that comes to mind is "baroque rockstar". Paired with the right things, I think these shoes could really be what's next.
I mean I love my chunky acrylic wedge Marni's, the Burberry platforms for Spring 09, the Jil Sander shoes from Fall 07 and Fall 08, but I'm ready for something new!
These shoes are far too large for me but I borrowed them just for this picture-this picture is kind of ridiculous, I didn't realize the timer was going off. Nice jazz hands, right?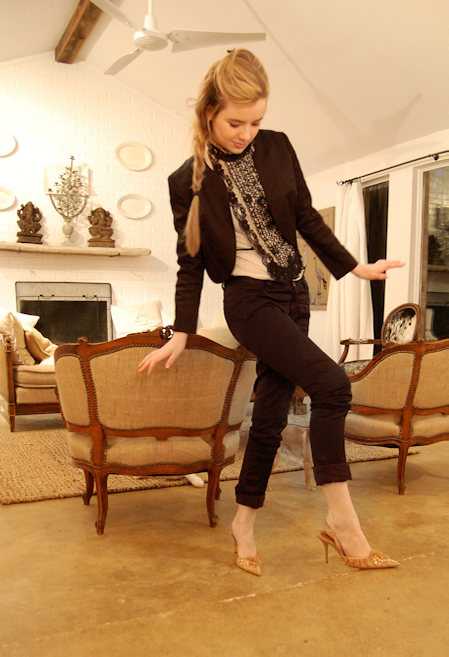 Rene' Caovilla slingback heels worn with skinny satin Joie pants, a J. Crew painter tee, a really cool tux-type bib piece from Urban Outffers, and a silk Nina Ricci jacket.