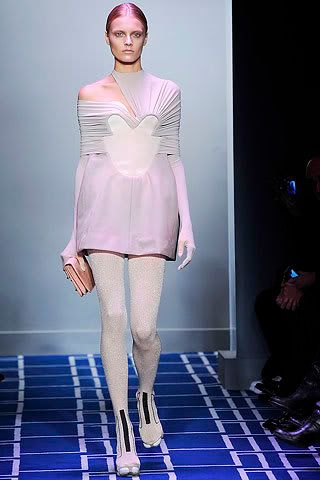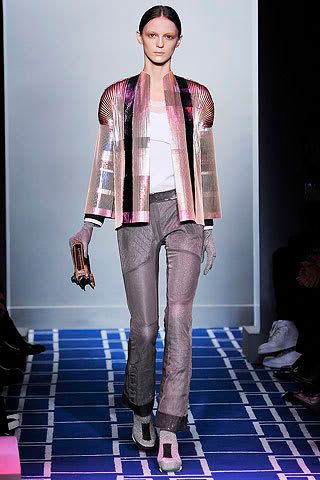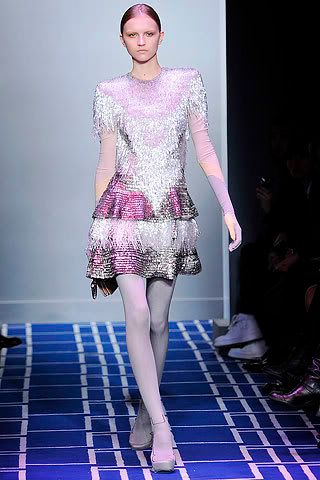 (I don't have the time, energy, or words to describe how I felt about the clothes at Balenciaga this season…this stuff is GOING PLACES, is all I have to say)
I'm always interested to see the shoes Pierre Hardy designs at Balenciaga because you can always count on having the Balenciaga 'it-shoe' each season: the one you'll see in seemingly every editorial, on every editor, and on the feet of Nicholas Ghesquiere's muses and friends.
Usually it's a shoe that not everyone can warm up to immediately: see Lego shoe of Fall 07, Gladiator sandals of Spring 08, the statuesque hidden platform leather and suede boots and booties of Fall 06, the stone-embellished space age sandals of Spring 06, the cork/machinery part platforms of Spring 07…you get the picture.
It-shoes of yore: leather and suede harnessed ankle boots from Fall 2006, the Lego shoe from Fall 2006 
All of these shoes were made for people who love shoes. Pierre Hardy has shoe lovers world wide wrapped around his pinky finger. He understands shoe whore psychology and he knows how to exploit our our obsession-not that we don't love it.
I think even the most die-hard shoe fanatic might have a hard time warming up to the shoes at Balenciaga this season though. The sight of toes in lurex makes me cringe a little but I like that the platforms look like they were made from stray parts of the USS Enterprise. They sort of look like they might double as miniature vaccuum cleaners as well. I'm down with that because I'm all about "fashion meets function" or at least fashion that looks like it meets function.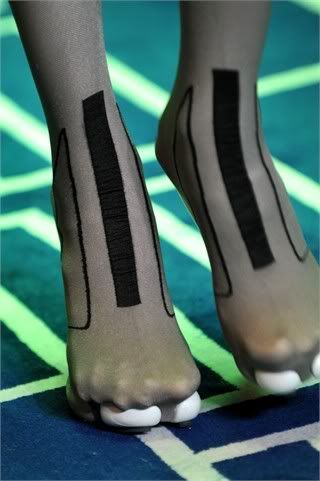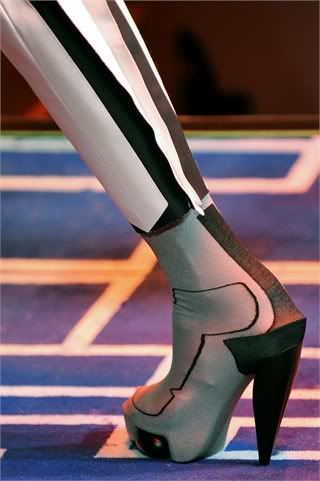 Upon seeing the detail shots from the Spring 09 show, I have to wonder exactly how these shoes are going to translate to retail: I highly doubt that these space-age platforms will be on the floor at Barney's with droopy tubes of lurex attached to them. Honestly if you ditched the sock-tube-thing and slapped on any given combination of sandal straps, I think you'd have a very covetable shoe on your hands.
Thoughts?