Regular Sea of Shoes readers may be getting tired of seeing these boots but they're about to get another dose of them. Sorry guys, I can't help myself. I'm obsessed.
So is my mom actually. As I have mentioned before, these boots topped both of our must-have lists for this season. We loved them so much we both got them in another variation: the plum triple lace up version from Browns Fashion.
We always end up having at least one pair of the same shoes every season but this season we got the same exact two pairs as each other! When it comes to these boots, the more the merrier, right?

My pairs, side by side
It's difficult to articulate what makes these boots so fantastic. They have steampunk vibe; romantic and archaic but slightly bad ass all at once. They're the  sort of boot a Tim Burton heroine would wear: the Corpse Bride could wear them with her decaying wedding dress, and Sally from the Nightmare Before Christmas would love them, too.
Here are some ways my mom and I have been styling our new favorite boots.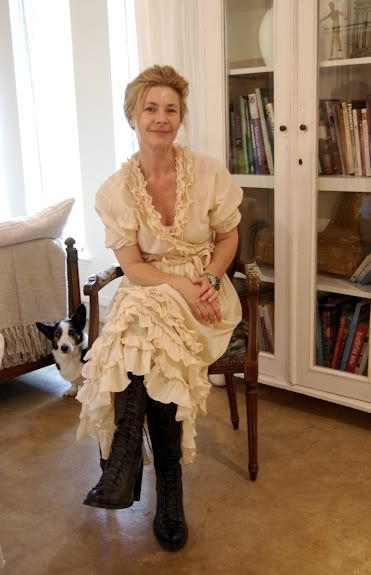 My mom wears her black lace up Ann D boots, all clothes from her line Atlantis Dry Goods.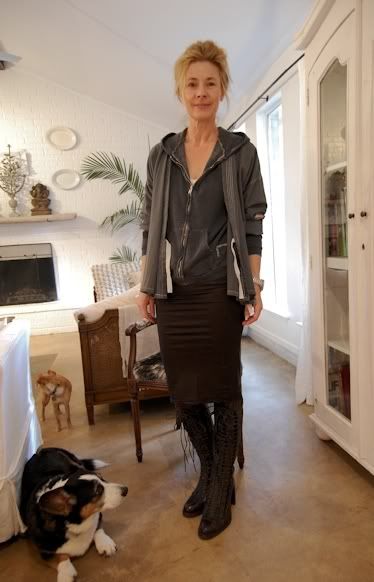 I can't get a picture downstairs without the dogs, haha.
Mom wears her triple lace up Ann D boots with an American Apparel skirt and two sweatshirts from the same label that I can't remember the name of…they were purchased at Fred Segal on Melrose, I'll ask her about them.
Quite a boring outfit, I apologize. It was too boring for me to wear even to drivers ed so I ended up changing. Triple lace up Ann Demeulemeester boots worn with silver coated Superfine jeans and a random charcoal tee.
Rabbit fur felt hat, silk shirt by Reset (a label I buy at Tulsa boutique Boulevards), Acne Tube jeans, thrift store belt, and my black lace-up Ann D boots.
I'll try to give these boots a rest for a while and try to wear some more of my fall purchases. :)
TTYS, jane