Picked these up yesterday and today I'm wearing them-I've been really excited about these Chanel boots that caught my eye on a sale rack-definitely not a shoe I would normally choose (never been excited about a Chanel shoe, ever) but they're actually kind of wild. Silver mesh lace up wedge peeptoe booties-what a concept!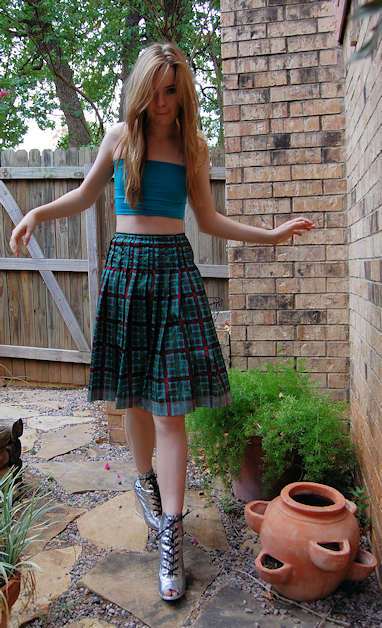 Come winter I'll be wearing these with wax coated skinny jeans but for now I'm trying to get my wear out of them in summer by pairing them with girly knee length skirts: for instance, this taffeta checked Prada skirt. Worn with a teal boob tube from Mango for optimum hot weather endurance. I'm getting pretty sick of summer.
I'm dissapointed that I haven't done more non-outfit posts but lately things have been a little crazy around here-I'll be getting back to school in three weeks, I can't believe it! Hopefully I'll have some time before it starts to spend working on the things I want to blog about!