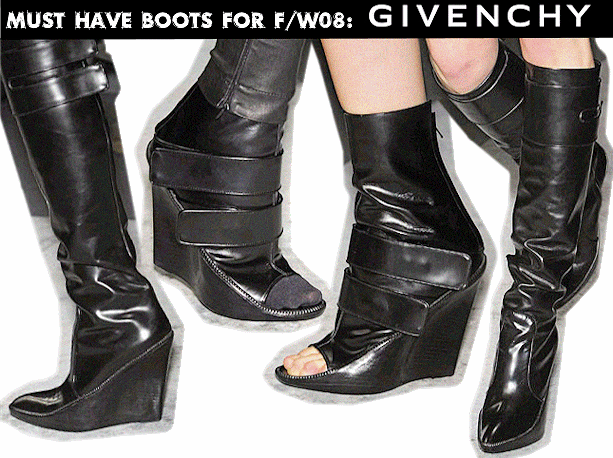 These shoes have stood out to me as the most directional of the footwear crop of winter '08, because frankly I'm confused right now what direction footwear is going. So many of the usual heavy-hitters that I count on (Prada & Miu Miu, Chloe, Lanvin) have gone in a direction that I can't even relate to. Some played it too safe (Lanvin, Proenza Schouler, Marni) and between this season and the last I can't help but wonder whether or not Miuccia Prada is dabbling in some serious drugs.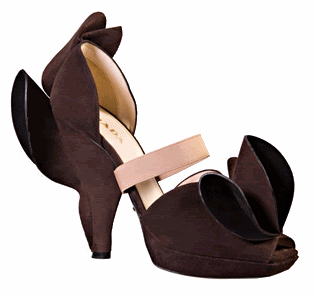 Left: the fairy floral shitstorm shoe; Spring 08, right: the 'bunny' shoe; Fall 09
From woodland fairies to furry forest animals-get out of the woods Miuccia, the shrooms are getting to you. These shoes suck on so many levels-the sillouhette is absolutely not flattering on the foot. Out of morbid curiosity, I have tried on the flaming fairy fiasco shoes and was dumbfounded how these shoes ever made it into production-in keeping with the woodland theme, my legs resembled tree stumps. Then I got angry-these shoes are mocking the Prada customer. Is this a case of the emperor's new shoes?
Last season Marni's superfuturistic acrylic wedges had shoe addicts everywhere speed dialing their sales associates to procure these shoes as quickly as possible. This season the shoes at Marni are a mashup of past seasons models, only with a big scoop of poop dumped on them and then thrown in the bland cycle on turbo-speed. Oh and did I mention the random chunks of tweed that make me want to barf?


Marni's attempt at playing it safe
What was with the batch of granny shoes, as evidenced below? Even though I bashed Miuccia's overly artsy foot binding contraptions in recent seasons, I can at least admire for putting herself out there. These shoes, however, are playing it uncomfortably safe. You have to ask yourself, how are these shoes relevant right now? These say nothing about how I feel about footwear or fashion. They're taking the fun out footwear.


From the left to right: Proenza Schouler's nod to 80's 'Nina's', Lanvin's WTF mary jane, and Nina Ricci's onesie-as-a-shoe
And as for Chloe, there really are no words. Let me just say that they could be the sole reason Paulo Melim Andersson was fired. Or at least they should have been.

Ingredients for Chloe footwear Fall 08: leaves, twigs, airplane glue, LSD.
This why I'm sticking to my guns with the Givenchy boots. Riccardo Tisci is a man whose shoes mean business.