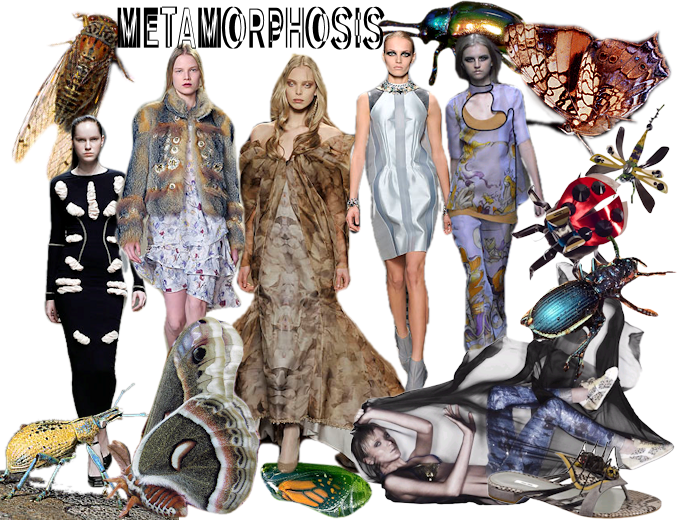 Perhaps it is my life-long obsession with bugs but when I can never help but notice the resemlance between a shiny satin Lanvin sheath and the phosphorescent shell of a dogbane beetle. The darted shifts at Balenciaga last week, shown on stick-like models with elfish booties, were no exception. In fact, many things the past two seasons have caught my eye as being reminiscent of the entomological.
The closing dress at Nina Ricci was ethereal and evoked many different emotional responses. It featured the print of a chrysalis . I love that Theyskens could take something from nature so bizarre (the shell of a cicada always makes me wonder if they're not the fetuses of alien spawn) and make it both wearable and beautiful. The model's bare shoulders and the volumuminous sleeves remind one of the actual process of metamorphosis-the pretty butterfly (aka Tanya) coming out of it's shell.
The frothy fur at Chloe made me think of nothing other than the downy wings of a luna moth, complete with it's spots and tufts of hair. I spotted similarly wing-like patterning at Prada-don't the marbled designs of the tunic and the transparency remind you of butterflies? Very dreamy. I also loved the strange cutouts on Marios Scwab's wobble dress this season. The gathered fabric peeping out of these perforations immiediatley brought to mind-and this may sound disgusting-insect larvae…but in a totally awesome sci-fi way. And of course you can't forget the whimsical shoes and pins at Miu Miu this spring…check out the sandal with the beetle on it! A little far out for me, but I would still love one of those dragonfly pins.
I don't know, maybe I should ditch my love of fashion to persue entomology…or I could get the Miu Miu brooch and have the best of both worlds.
jane