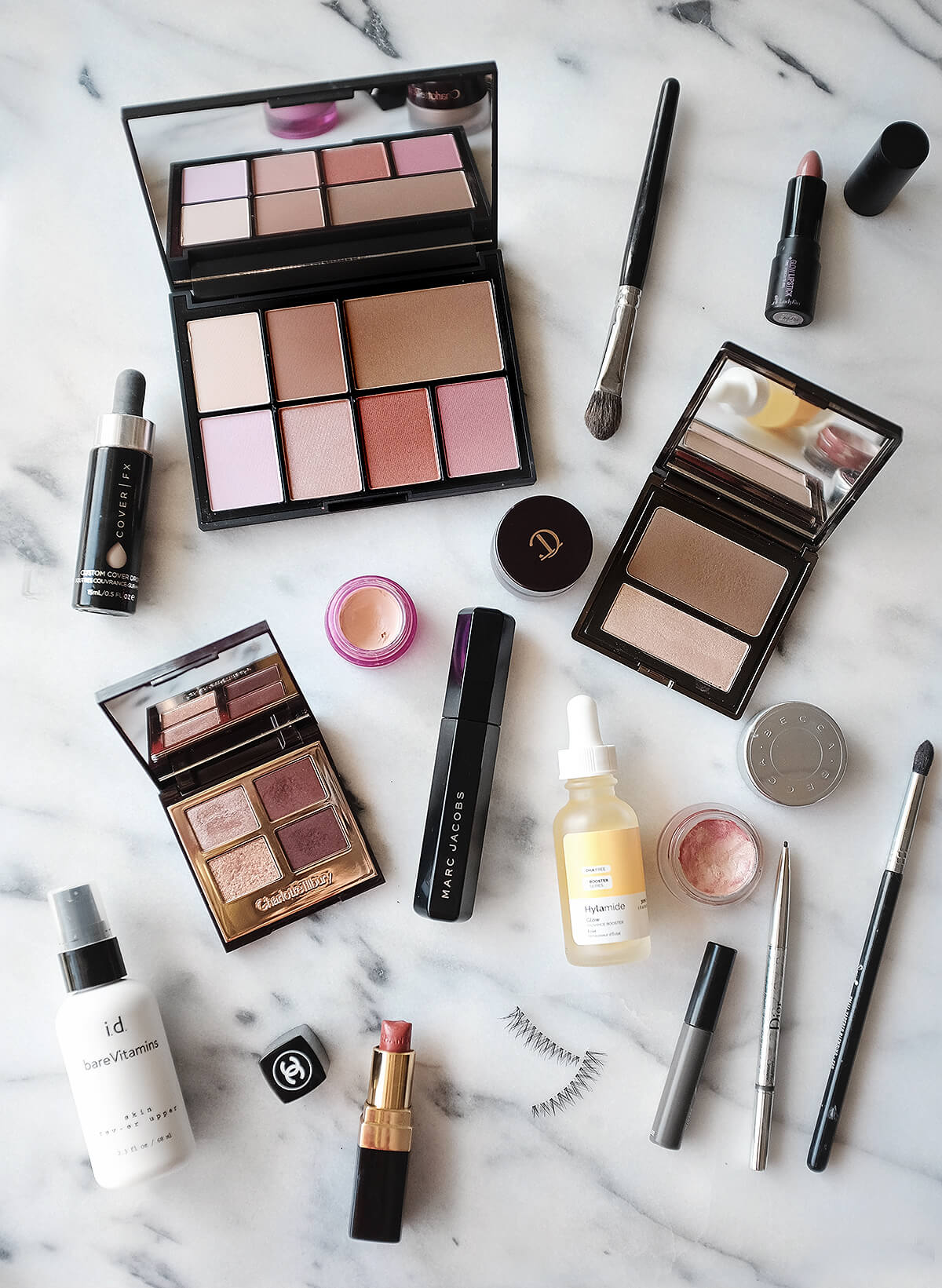 I've been promising to do an updated beauty routine post for a while…here it is! It's always so hard to condense a beauty post. I'm a beauty junkie, so I'm sorry in advance if this runs long! Not all of the products I'm going to mention are pictured (some of my more well-loved makeup is too far gone to photograph) but I will include links to all. I'll do a night time routine soon as well!
SKINCARE:
Every morning I wash my face using a gritty washcloth with Fresh Soy Cleanser. Then I apply Dear By Tone Up Booskin toner with a cotton pad, and follow up by massaging a few drops of Hylamide Glow Serum into my face. This serum builds up a very subtle natural glow in your skin. I get pasty in the winter,  so I love how this brings the life back to my complexion. If I have time in the morning, I like to do a Korean sheet mask before I get ready. Before I begin my makeup, I completely saturate my skinwith moisture by using a lot of face cream. Right now I love Dr. Jart's Cermadin cream. It makes a great base for makeup and protects my skin when we are out shooting on freezing cold mornings! For SPF, I've been using MISSHA's waterproof sun milk for years now. It is very light and non-greasy. If I am having a breakout, I apply this acne serum to help clear it up faster.
PRIMER:
I always start my makeup with Bare Minerals Skin Revver-Upper. It has glycolic and salicylic acid in it that plump up your skin instantly. I must warn you, it smells a little weird! If I have a long day of shooting ahead, I will also use Hourglass's Mineral Veil Primer. This makes your makeup waterproof, so it has major lasting power, even through rain or working out.
FOUNDATION:
I use a few foundations on a rotating basis, but here are my favorites. My current favorite is CoverFx's Custom Cover Drops. This is a concentrated foundation serum that is meant to be mixed with skin care. As a skin care freak, this is a dream come true! I mix mine with a drop of a honey skin oil and apply it with a stippling brush. Mixed with oil, this gives the dewiest skin ever. Huge fan of this!
I also use Bare Minerals broad spectrum foundation in Fair very regularly. I've been using Bare Minerals since I was 13, I'm still in love with it! It photographs beautifully up close and its never cakey. If I have any sort of breakout going on, this is the foundation I'm using.
CONCEALER, BRONZER, AND LUMINZER:
I've recently discovered Benefit's Erase Paste…best under eye concealer ever! It's a salmon tinted concealer to color-correct under eye circles. It is very emollient and goopy, so a little goes a long way.
I love the look of super glowy skin, and as I recently mentioned on Instagram, BECCA cosmetic's Shimmering Skin Perfector Poured is insane! I put this on underneath my foundation because the glow is pretty intense. I use the color Moonstone. I like to bronze up my temples and the hollows of my cheeks with Becca's Lowlight/Highlight pallette. Even on someone as pale as me, this looks very natural and subtle.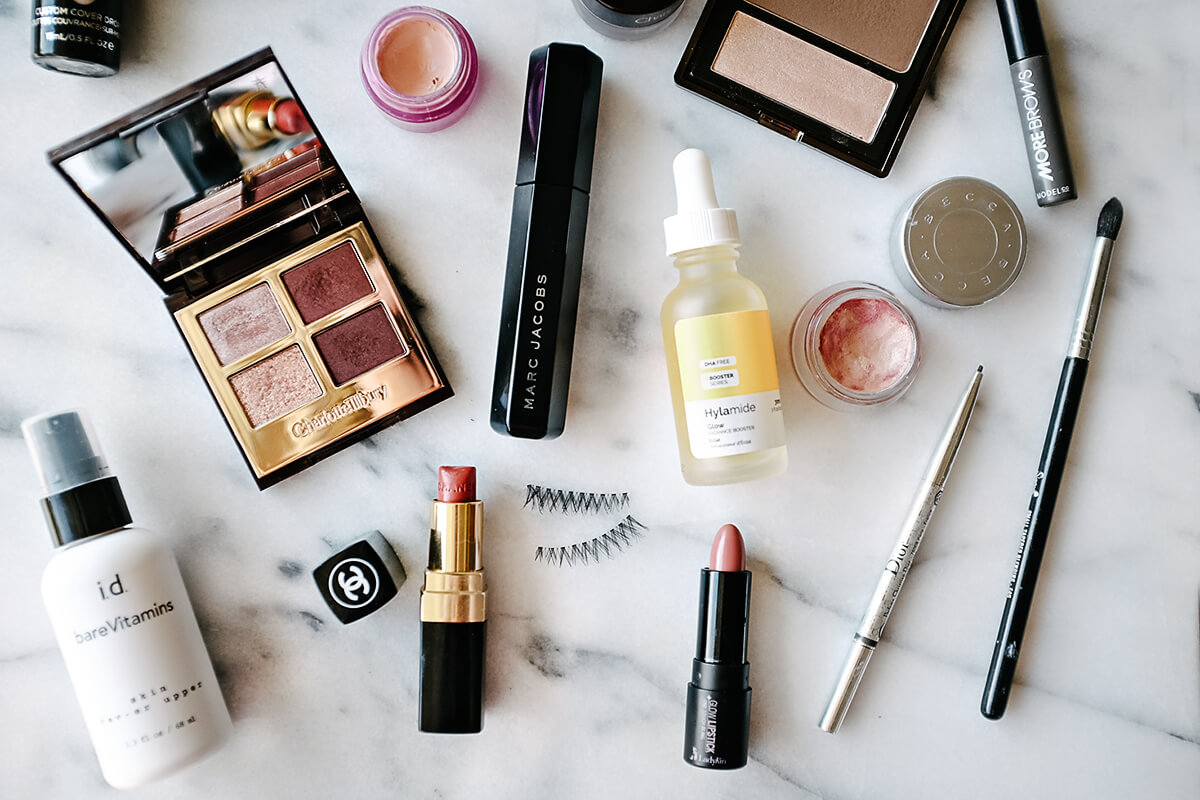 EYES AND BROWS:
I use mostly cream eyeshadows, and ever since I bought Charlotte Tilbury's Eyes to Mesmerize cream shadow I am hooked. I love the shades Jean and Marie Antoinette, I use them every day as a base for whatever eyeshadow I'm doing. The four-quad eyeshadow palette pictured above is Charlotte Tilbury's Vintage Vamp palette. I love a rose smokey eye.
I am obsessed with Marc Jacob's Velvet Noir mascara right now. One coat gets me where I want my eyelashes to be. It is also intensely black in color. I don't usually wear false eyelashes but I hoard them in my makeup bag for some strange reason. The ones pictured here are super cheap and amazing from Liftly.
I just found my holy grail brow product in Dior's Brow Styler Ultra Fine Precision Pencil. This pencil is so incredibly fine! It makes every stroke look like real brow hairs. I have tried everything for eyebrows, and this is my favorite.
LIPS AND CHEEKS:
I only own a few lipsticks because I am pretty picky about them. One I always use is Chanel's Rouge Coco in 418 Misia. This is one of those colors that would suit anyone! I never apply from the tube, I tap it on as a sheer stain with my fingers. Favorite lipstick ever. I also recently ordered LadyKin's One Touch Bling Glow Lipstick in Fall Rose and fell in love with the color and formula. It's also only six dollars, so that's a bonus.
I never wear just one shade of blush…I usually mix about three and put them in different places around my temples and cheeks. I'm obsessed with Narsissist Cheek Studio for this reason! The colors are to die for! Also obsessed with Becca's Beach Tint Shimmer Souffle in Guava. This is the perfect natural flush/skin luminizer.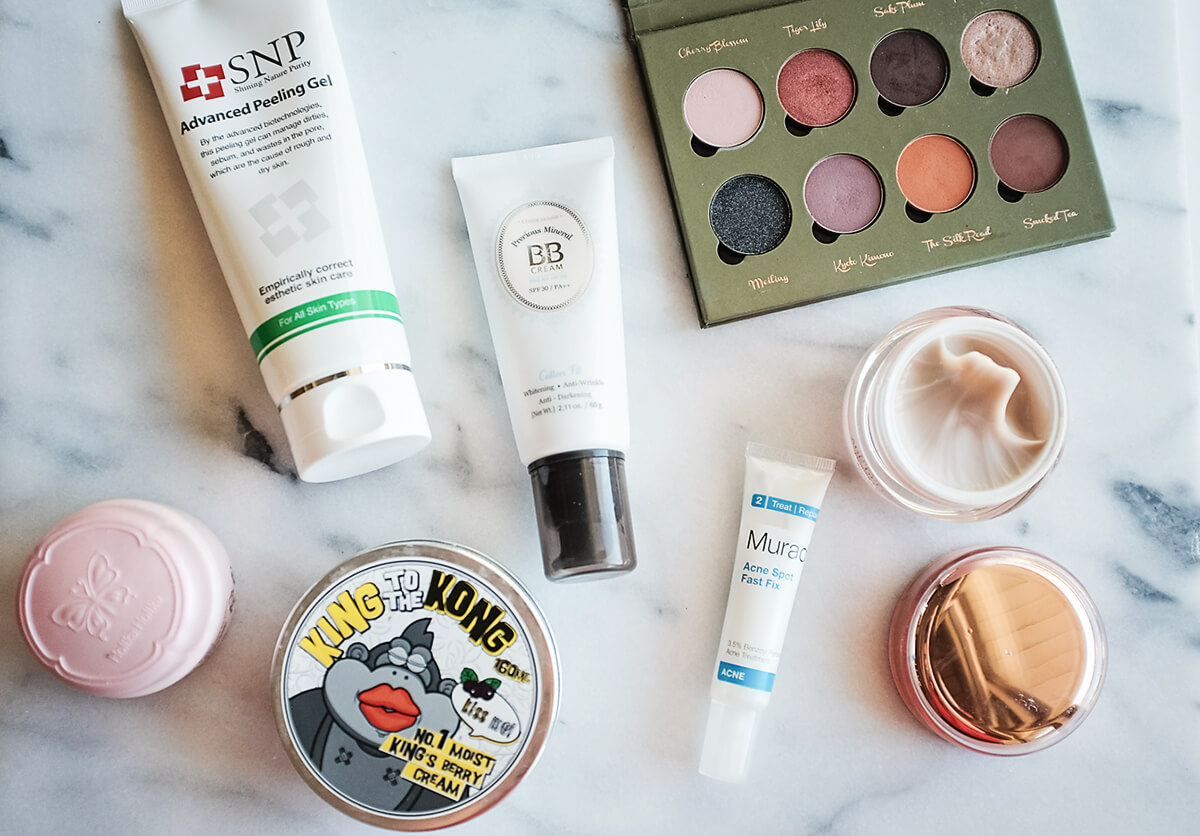 Above are a few recent acquisitions worth mentioning that I've added to my say time skin routine….
Clockwise from top left: SNP Advanced Peeling Gel , Etude House Cotton Fit BB Cream, Velvet 59 Exotic Lotus eyeshadow palette
Holika Holika Real Skin Finish primer, Mizon King to the Kong moist cream, Murad Acne Spot Fast Fix, Etude House Age Firming Cream