'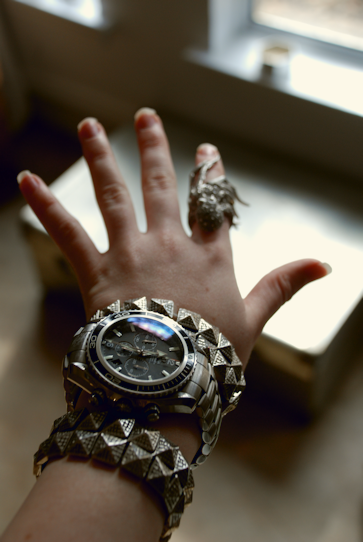 I'm borrowing my mom's Omega Seamaster watch today-I've also got on studded bracelets from F21 and my beloved Antonio Palladino octopus ring.
I wear this ring a lot but it never seems to make its way into pictures because I always take it off to eat, to write, to type-I have to admit it is a little encumbering.
The jacket is from Topshop-purchased two years ago. Marni chrome heel wedges. The vintage patched Levi's I'm wearing are my favorite pair of jeans I own. 
I'm just wearing this to get lunch at the mall with my best friends Viky and Stefanie.
I have a
lot
of email to get back to-I'm sorry for the delayed replies, I'll try to get to most of them tonight!
xox jane