Since the second the first pictures from the Ann Demeulemeester Spring 2009 show leak, I have been in love with these lace-up sandal boots. Making a spring/summer version of the indispensable lace-up boots from
Winter 2008 was an amazing idea and I'm loving the new
colors-particularly the white, and I rarely ever like white shoes!
Much to my frustration, I have not been able to find a good up-close detail picture of them until today. You may remember this post I made about the Ann D collection a while ago. Even though you can see the totally amazing lace-up action in the front, it's difficult to tell what is really going on with this shoe.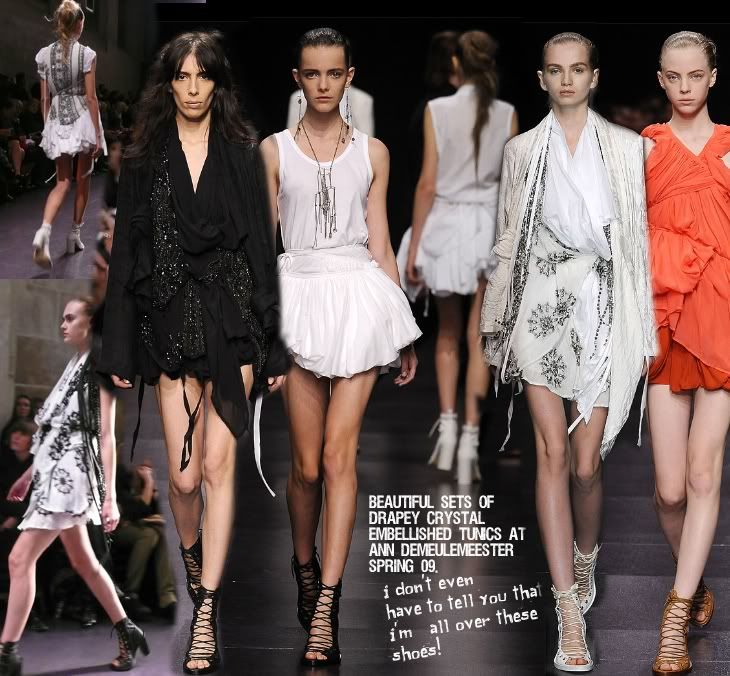 Because I was never able to find a good, up-close picture of this boot, I pictured it in my mind as having the same curved talon-like wooden heel as the high-heeled lace up boots from Winter 08.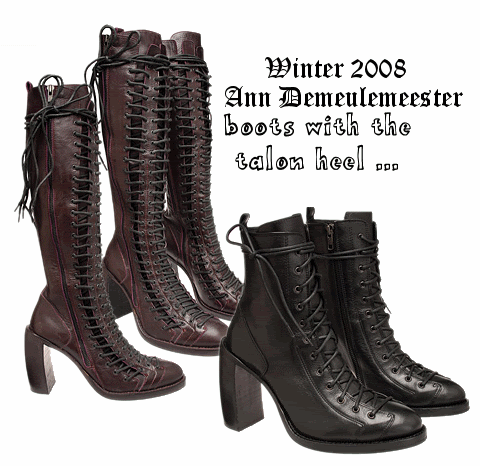 Since I was sick of waiting for a decent up-close picture of these shoes to emerge, I had sketched up my own interpretation of how this shoe would look up close and personal.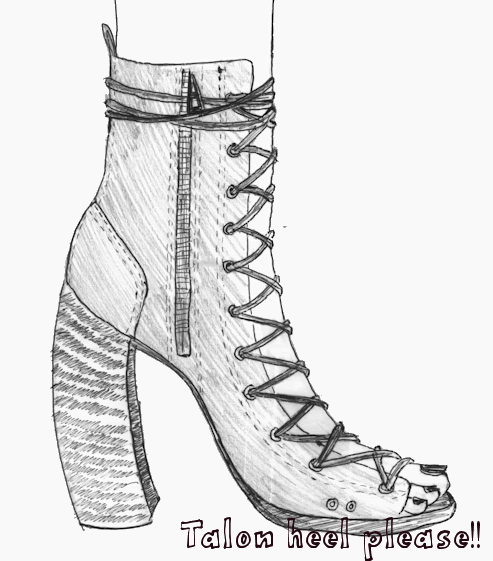 (excuse my poor drawing skills-I am a shabby sketcher, I know)
But today when I was browsing Ann Demeulemeester Spring 2009 thread at the Fashion Spot…I was both elated to find the first close-up picture of this shoe….and sorely disappointed to see that the heel was not the 'talon'. The sleekly curved, awkwardly jutting, claw-like wooden heel I have been that imagining on this shoe was in fact a neat little tapered wooden stub.

Pictures are from Why-Lip

In any case, these shoes are still absolutely gorgeous-talon heel or not.
I would be thrilled to have these shoes in my closet-and I'm very happy to see Ann Demeulemeester offering up some colors we wouldn't normally expect from her (in shoes and clothing).
It's just that for me, the talon heel takes this boot from 'bad ass' to down-right predatory.
I can only hope that there is a variation of this boot that has the 'talon heel'-I'll start doing some research to find out.
xox Jane