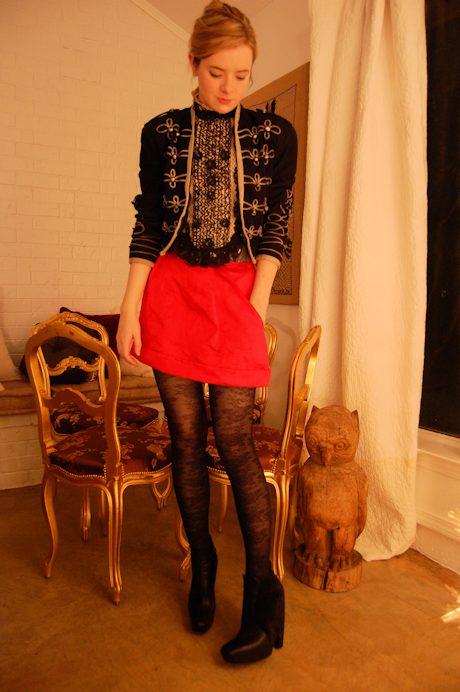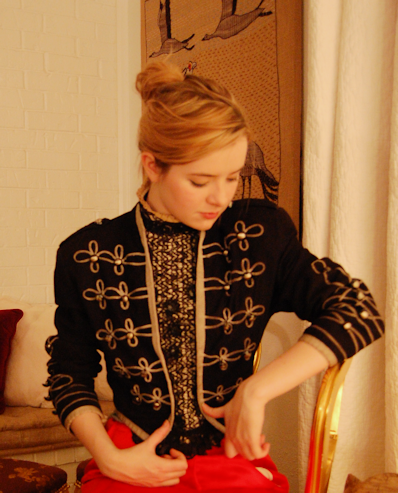 Two weeks ago I spotted this band jacket at Archive Vintage (an amazing boutique here in Dallas run by the talented Kerry Bonnell) whilst shopping there with Jackie from V.O.D. But I didn't buy it until this Wednesday! It's soo fun to style, I've been playing with a ton of different outfits with it.
It's vintage Perry Ellis and it's ultra-suede with this grey industrial cord-like trim and eppaulettes.
I am wearing them with a bib from the Urban Outfitters Andersend & Lauth collaboration, a red silk miniskirt from a label called Mischen, Betsey Johnson tights, and Balenciaga Fall 2006 ankle boots.
I see Garance Dore and Refinery 29 are doing features on band/military jackets too-check them out!
***I am also very excited to announce that I (and many other bloggers-including That's Just My Vibe, the respective Queens of Style, and Mademoiselle Robot) are working together on a top secret project for Vice-can;t say much now but I'll let you in on the details as soon as I get the go-ahead!***